Does Hobby Lobby Price Match?
Accessing great deals when shopping for items from large retailers is possible by leveraging a company's price matching policies. The idea behind price matching policies is to keep a particular brand competitive.
So, is price matching part of programs? Yes. You only need to ensure that items are entirely identical to the ones you get from a Hobby Lobby store and not marked down. That suggests that Hobby Lobby will not match anything on a coupon or offer.
Also, Simplicity & McCall's patterns, Silhouette, Sizzix, and Cricut Cuttlebug, are the other brands that Hobby Lobby will not match. As such, insight into leveraging the Hobby Lobby price match program is critical.
What You Need to Know About Hobby Lobby
In its prime days, was known as the Hobby Lobby Arts and Craft Corporation, which suggests an Arts Sector Brand. Hobby Lobby is a well-established sector in the American subcontinent.
Hobby Lobby Steps In to Tame the Pandemic
Undoubtedly, COVID-19 has affected various sectors of the economy. For that reason, Hobby Lobby monitors all the latest developments regarding the pandemic from time to time. That is in a bid to ascertain whether associates and customers are implementing the laid-out rules and regulations.
Some of the measures that Hobby Lobby undertook, in this case, included the following.
Creating a website where customers can buy over 70,000 products.
Improving store cleaning.
Caring for workers and if anyone is suspected of having COVID-19 in line with the symptoms, they are sent directly to medical care.
Hobby Lobby Price Match FAQs
What Is Hobby Lobby's Price Adjustment Policy?
Hobby Lobby's price adjustment policy lasts for 14 days after purchasing an item. However, you need to produce the original receipt to enjoy a price adjustment. The program allows buyers to return to the store after acquiring an item.

Note that the item has to be discounted less than 14 days after you buy it, and the receipt must be intact if you want to get the price difference. For instance, after purchasing something worth $59.99 and it gets marked down to $49.99 in a sale within the next 14 days, providing your receipt can get you the $10.

Does Hobby Lobby Match Online Prices?
The company's website states that Hobby Lobby does not do online price matching at physical stores and vice versa. Also, the brand doesn't guarantee any promotions, discounts or prices offered at stores will be matched or available via its site and vice versa.
Does The Company Match Walmart?
According to Hobby Lobby's price matching guidelines, it is safe to assume that the company will match Walmart. The reason is that some of the items that both retailers sell are similar. As such, Hobby Lobby price matching to maintain competitiveness makes sense.

You also need to understand that Hobby Lobby will match Walmart's prices at physical stores only. That means that you should not expect to get such a deal when shopping on the company's website. Also, Hobby Lobby will not match Walmart items or coupons marked down from the original price.

Can You Enjoy Coupon Matching At Hobby Lobby?
The company's site indicates that Hobby Lobby does not match coupons from competitors. However, the brand makes up for the same by matching ads for competitors' items. Unfortunately, the deal is limited since the item must be exactly similar to the one Hobby Lobby carries.

Note that marking such an item down is not allowed, meaning it will not match anything discounted or whatever is on a closeout or clearance sale.

Does Hobby Lobby Match Amazon?
Most retailers do not match Amazon to remain competitive, and the same case applies to Hobby Lobby. On the other hand, Amazon does not match the prices of other sellers. That may be part of the reasons why Hobby Lobby decides not to compete with Amazon.
Insight Into Leveraging Price Matching/Adjustments Using DoNotPay
You can take advantage of the best prices out there using DoNotPay by following the simple steps below.
1. Search for Price Match on DoNotPay and select the product.

2. Select whether you were charged more than the advertised price or if you believe you are eligible for a price match.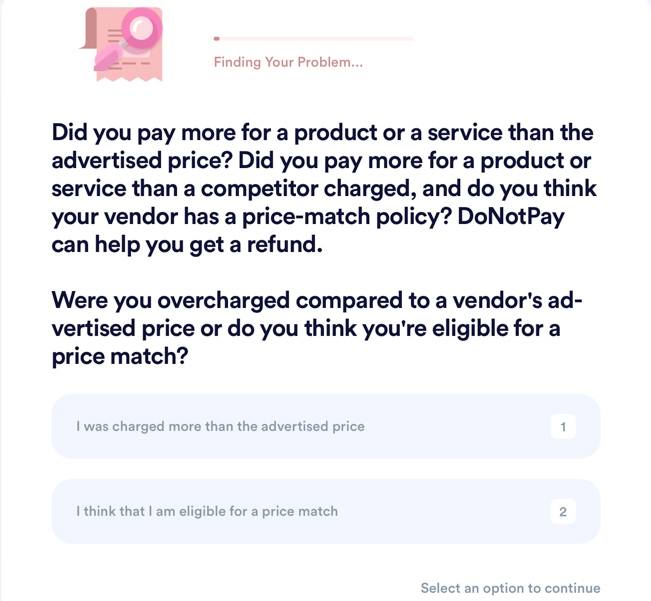 3. Provide the name of the product you purchased so we can see if it qualifies for a price adjustment. If you believe your desired item is qualified for a price match, we'll double-check for you.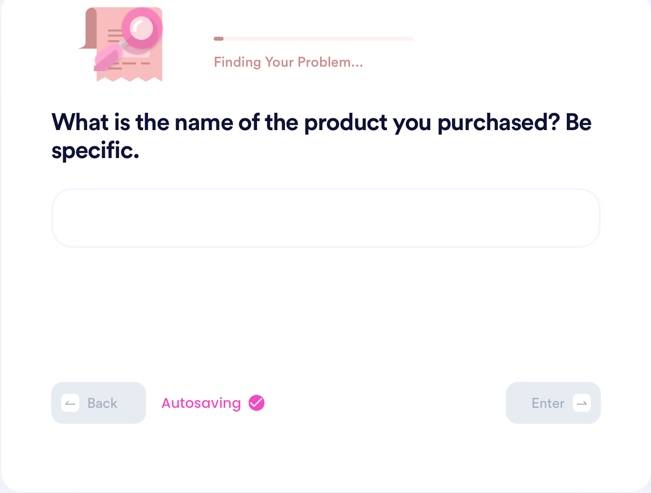 Why You Should Use DoNotPay to Access Price Matching/Adjustment Services
Easy – Filling out tedious forms and keeping track of all the steps involved in Hobby Lobby price matching is unnecessary when using DoNotPay.
Fast – Unnecessary time wastage is part of what you avoid by opting to use DoNotPay.
Successful – DoNotPay guarantees success by guiding you every step of the way.
Other Services Accessible Through DoNotPay
Best buy price match

What stores price match
The next time you go shopping, consider getting better deals through , which will ultimately attract savings. Also, you can ensure that price matching/adjustment services remain at your disposal by signing up with DoNotPay today!