Do You Have to Register to Vote Every Year? 
You're ready to follow through with your civic responsibility of registering to vote. However, is it like renewing your car tag? Do you have to register to vote every year?
Though it can be confusing, the answer is probably not. Unless your circumstances change, you don't have to register to vote annually. But how do you know if your circumstances warrant a change in voter registration, and how do you make those changes? DoNotPay can help walk you through the confusion of when you need to make changes to your voter registration and help make the process easier.
Can Anyone Register to Vote?
The short answer is no. Not everyone is eligible to register to vote. Federal requirements to vote include:
Must be at least 18 years old on election day
U.S.  citizenship is required
Although you must be at least 18 years of age on election day, you can register to vote at age 17 1/2 if you have a birthday before the election for which you plan to vote. In addition to federal eligibility requirements, states may have additional requirements that vary by state but may include that you are not serving a sentence for conviction of a felony involving moral turpitude or have not been found mentally incompetent by a judge.
How to Register to Vote
You must register to vote in the state of your permanent residence. Locate your state's requirements for voter registration and follow the detailed instructions carefully.
While the process varies from state to state, most states allow access to mail-in registration forms at your local:
Board of registrars' office
Election office
Public library
Other governmental offices
Department of Driver Services
School Registrar's office or the office of Vice President of Academic Affairs in any U.S. state (college students)
In addition, many states also offer online registration. Whether you register to vote online or by mail, you'll also need a valid driver's license or other valid identification, social security number, and the zip code on file with your DMV.
When Do I Need to Change My Voter Registration?
There are a few reasons you may need or want to change your existing voter registration.
You move within a state or county.
You move out of state.
You change your name.
You change your political party affiliation.
You haven't voted in the past four years.
You no longer wish to be registered to vote.
In each of these cases, there may be deadlines you need to meet before the election to vote in an election based on the new information. Many changes must be made within 30 days of the election. To make these changes, you will need to write to your county board of registrars' office or submit a new voter registration application, depending on your state requirements. Not paying attention to deadlines could lead to difficulty or an inability to vote on election day. 
DoNotPay Voter Registration Guides by State
You may refer to the following guides to understand voter registration guidelines in your state.
Is There an Easier Way to Register to Vote?
You may find yourself wanting to be a  part of the democratic process, but voter registration and changes are just too confusing and time-consuming. You may think you've completed the process but wonder if you are even actually registered to vote. DoNotPay understands how frustrating yet essential it is to register to vote or make changes to your registration. 
We're here to help.
DoNotPay can help you register to vote, cancel your registration, update your registration, or verify that you are actually properly registered to vote with just a few clicks and have you on your way to the most favorite parts of your day.
All you have to do is:
1. Search "voter registration" on DoNotPay.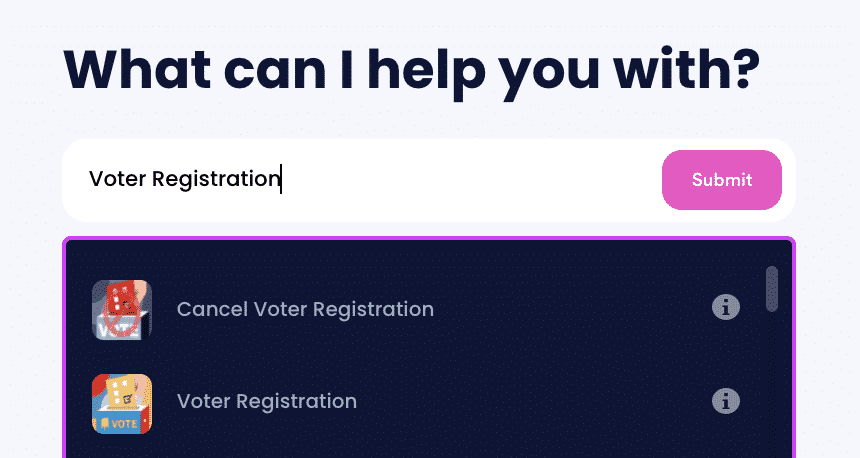 2. Select whether you want to register to vote, change your voter information, cancel your registration, or verify your registration.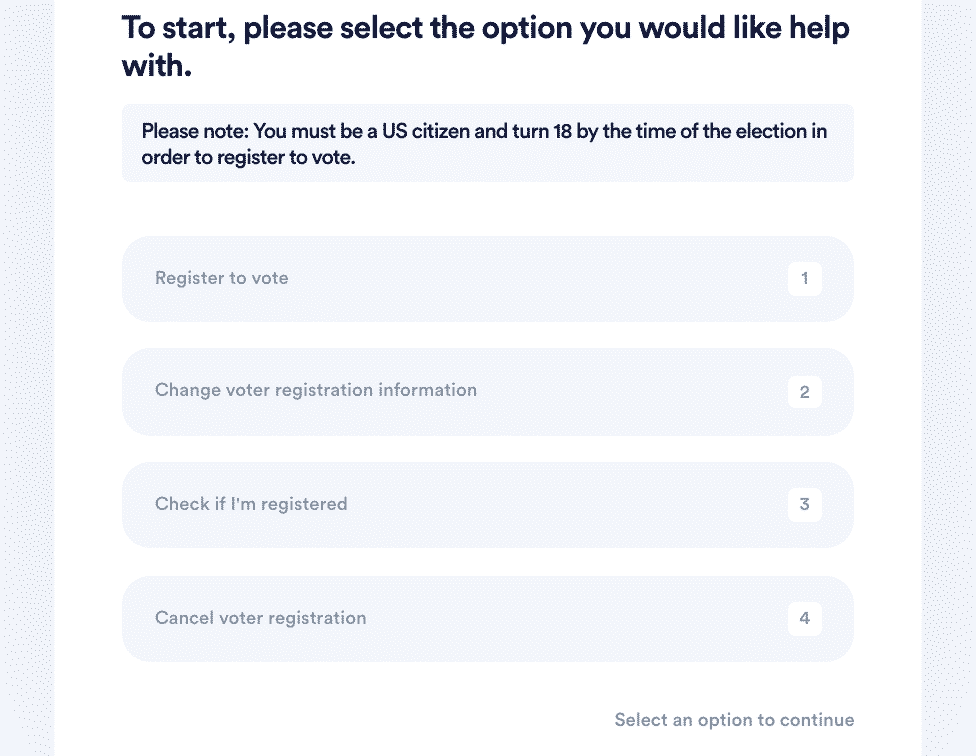 3. Enter the state you want to register in (or are registered in) and confirm that you meet the eligibility requirements. Answer a few questions about you to help us verify your identity and complete your application.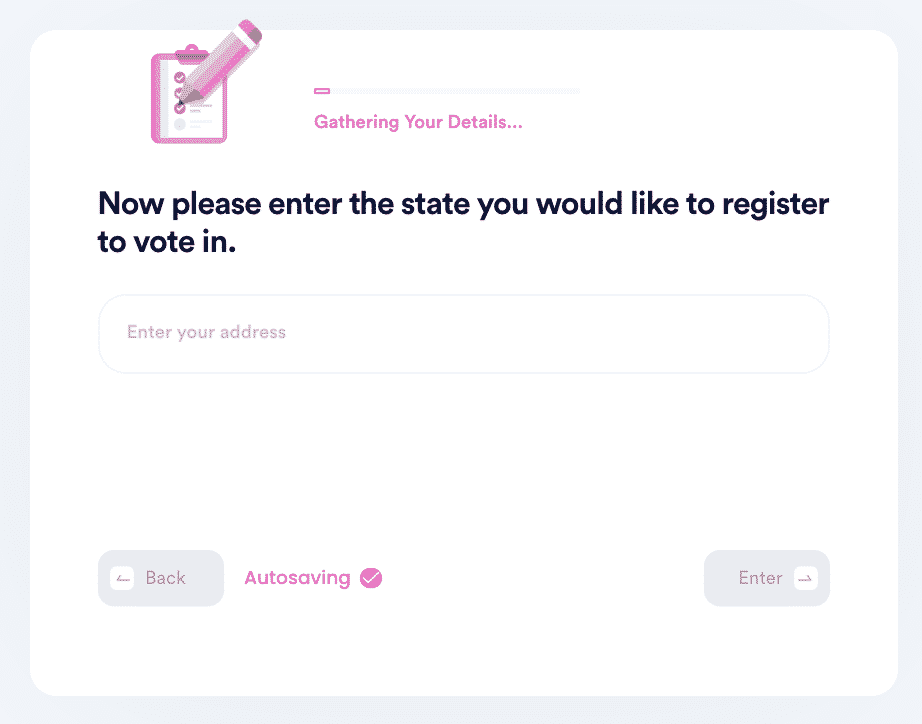 4. Provide your signature and verify that your information is correct.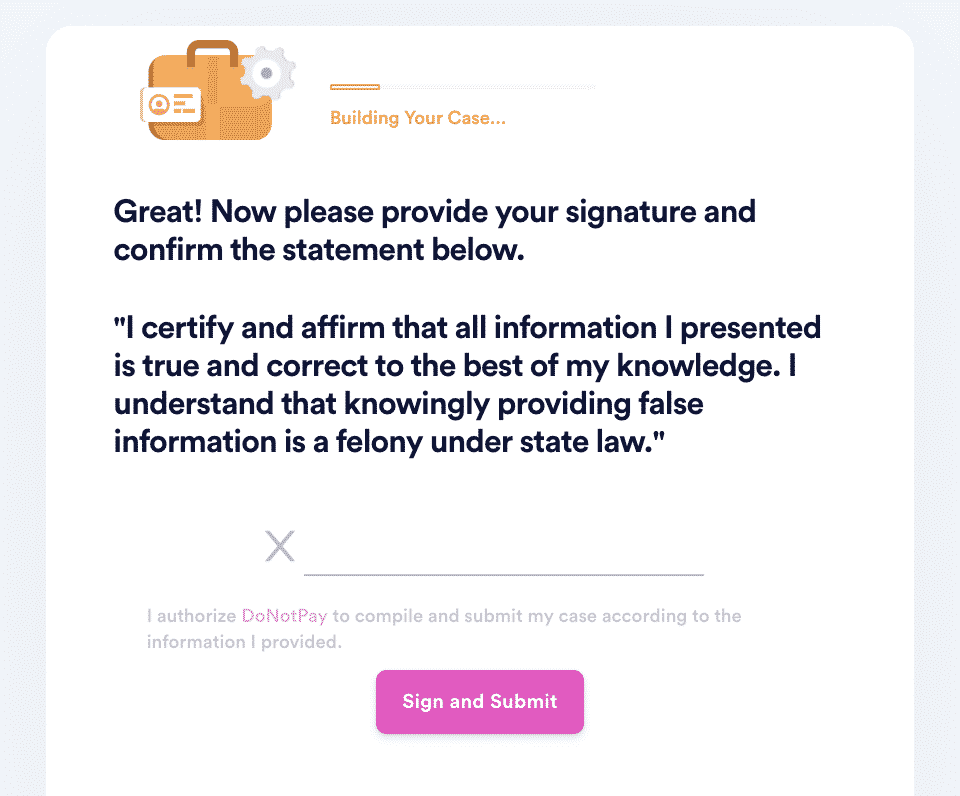 And that's it! DoNotPay will make sure your registration changes get sent to the right office, and your registration status is updated accordingly.
More Ways DoNotPay Can Help
Voter registration is just one of the many tasks on your to-do list that get put off longer and longer because the process is way too complex or takes away precious time from more important activities–like living the life you were meant to live. However, many things just must get done. Fortunately, DoNotPay is here to make them faster, easier, and more successful. 
DoNotPay provides help in many areas, including:
Why put a minute's more effort into your to-do list than is absolutely necessary? DoNotPay offers a method that can help you get the job done and provide you with the feeling of accomplishment that comes with striking one more thing off your list and putting you back in control of your day.