Use a Credit Card to Get Iberia Lounge Access
 while waiting for your flight can make all the difference between just another long and arduous airport layover or a calm, comfortable lounge experience. Unfortunately, lounge access has typically been just for travelers flying first or business class. Everyone else has had to contend with costly one-day passes, annual memberships, and frequent flyer miles, to get into an Iberia lounge.
One other solution even the most seasoned travelers don't realize is that they may have a . 
DoNotPay can help you find out if your card qualifies and how to apply right away.
What Comes with Iberia Lounge Access?
Iberia offers lounge access at almost 650 locations for travelers to relax, eat, drink and stretch while waiting for their flight. Depending on the specific location, Iberia lounge amenities may include:
Dedicated spaces designed for relaxation
Conference areas for meetings
PCs with internet access
WiFi
Private work areas
Restaurants with fine dining
Bars
TVs
Showers
Flight Information
Bathrooms with baby changing stations
How to Get Iberia Lounge Access on Your Own
Access to an Iberia lounge depends on the class of your ticket, the privileges of your membership card, and the type of credit card you use.
Access an Iberia lounge using your credit card

Chase Card, (Iberian transfer partner), you can convert your Chase Ultimate Rewards® points into Avios at a 1:1 ratio
Iberia Visa Signature® Card (earn Avios points)

Use a membership card to take advantage of an Iberia lounge

Get an Iberia Plus program membership card
Oneworld Emerald and Sapphire cards also apply
Accumulate Avios (Iberia's loyalty points) when you travel or make purchases with Iberian Group and partner airlines
Use your accumulated Avios points to upgrade your membership privileges or ticket class
Check for restrictions on lounge access based on flights, routes, airports, and airlines
You may need to present your loyalty card when entering an Iberian lounge

Use your ticket to access an Iberian lounge

Purchase a Business Class or First Class ticket
Check if your boarding pass is operated or marketed by Iberian Group
Check if your boarding pass is valid for Oneworld flights
Check if your flight is operated or marketed by Vueling
Check for additional restrictions based on airport or route
Researching which cards offer lounge access, filling in long applications, and converting confusing travel points are where many people give up. It doesn't need to be this way. DoNotPay can help you get into airport lounges around the world.
How to Get Iberia Lounge Access if You Can't Do It Yourself
If you can't find the time to deep dive into the world of credit card rules governing travel point conversions and restrictions based on airports or flights, there's an easy solution. DoNotPay is a fully automated AI program able to apply your flight details and type of credit card to determine whether you can get free access to an Iberia lounge.
Get Iberia Lounge Access with the Help of DoNotPay
Using DoNotPay to find out if you can get Iberia lounge access is as simple as filling out the information in the following steps.
DoNotPay will work for you and quickly determine if your  in a few easy steps so you can have a relaxing, stress-free travel experience. We will let you know if you have. We will also compile a list of the lounges with one-day passes at the airports of your choice and include where you can go to apply.
How to Get Lounge Access Using DoNotPay:
1. Tell us which airport you're flying out of or into.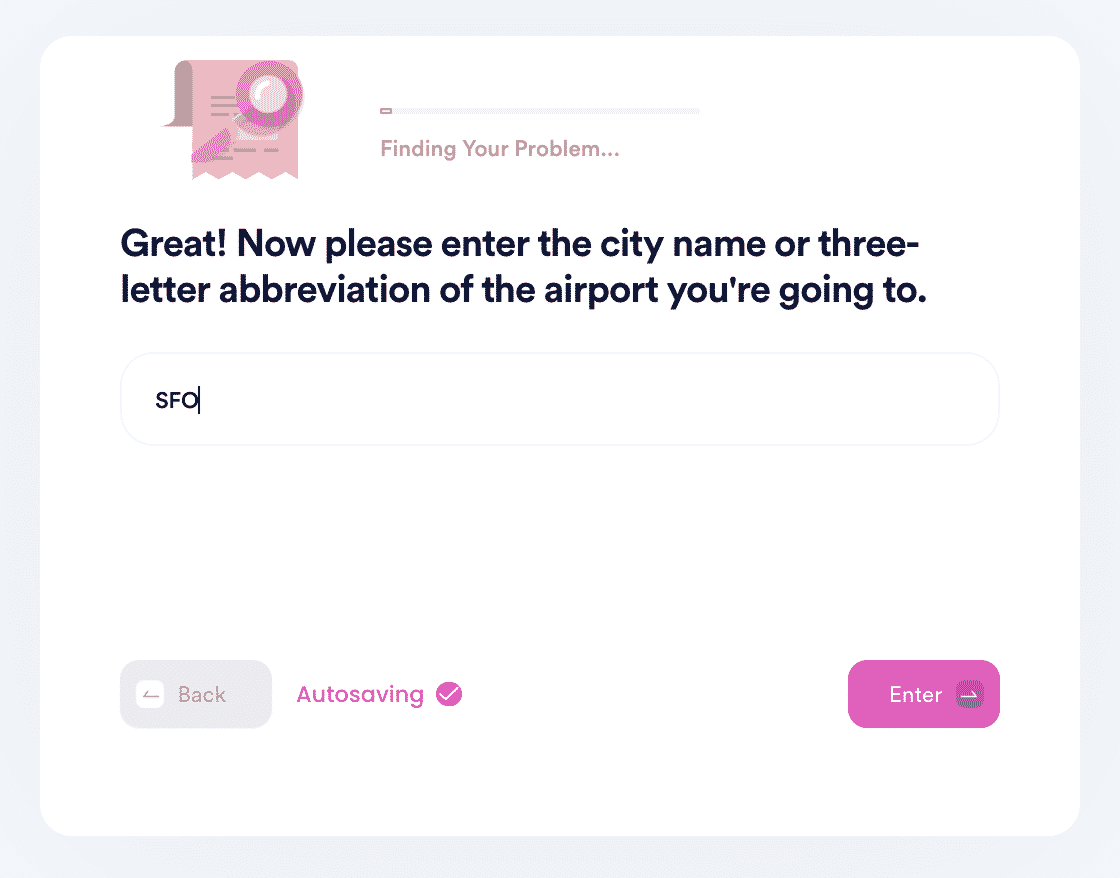 2. Select whether you have any of the special travel rewards or airline credit cards, or are flying in a premium fare class.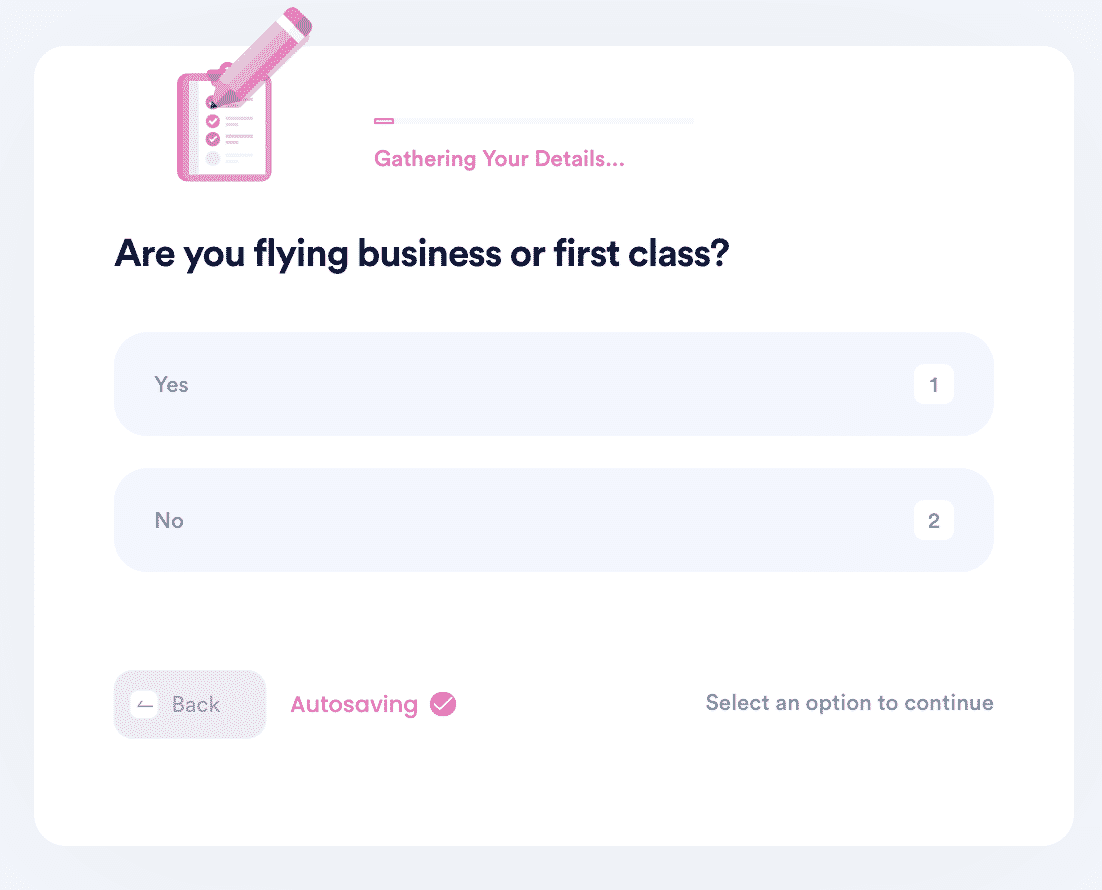 3. Enter which airline you're flying with.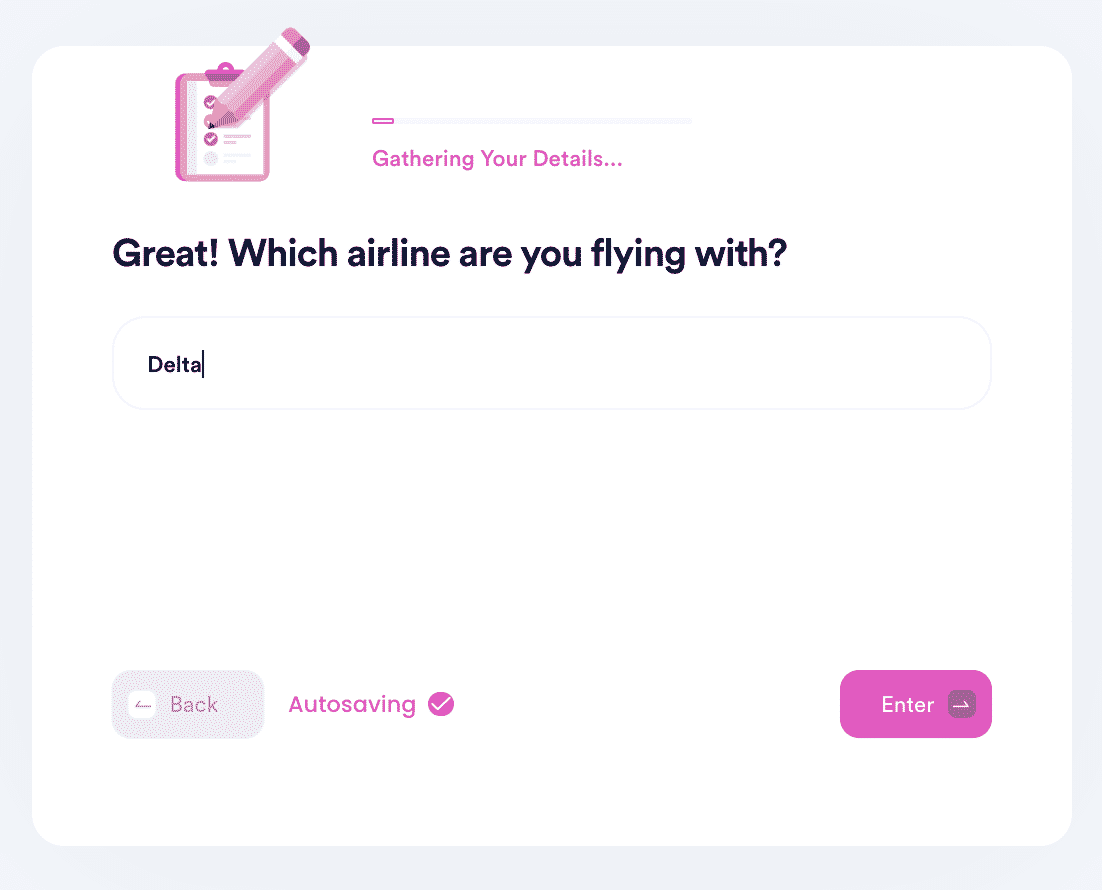 DoNotPay also Works across All Credit Card Companies and Airlines
If you are interested in exploring other opportunities to access lounges around the world other than an Iberia lounge, DoNotPay can help. For example, our automated program can tell you which of the following lounges you can access based on your flight and credit card company.
What Else Can DoNotPay Do?
DoNotPay is revolutionizing the ever-expanding and complex world of online services by using our AI program to filter through qualifications, applications, and restrictions for you. Check out a few of our other services where we can assist you.
DoNotPay saves you time and helps you avoid missing out on opportunities. Contact us today!