How to Register your Pet in the City of Dallas
If you live in the city of Dallas and need to register your pet, there are a few steps to follow. Many first-time pet owners in Dallas and pet owners who have just moved to Dallas don't know the process of pet registration. Between knowing where to go, what forms you need to fill out, and the fees associated with your particular pet, navigating the pet registration process can feel nothing short of overwhelming.
Thankfully, DoNotPay makes it easy for pet owners in the City of Dallas to register their pets. We're going to show you how you can register your pet with Dallas on your own and how DoNotPay makes pet registration easier with a seamless and automated registration process.
How to register your pet in Dallas on your own
If you own a pet in Dallas, you are required by the state of Texas to get a city pet license for dogs and cats that are 4 months of age or older. Pet licenses are required because they ensure that your pet is up-to-date on all of its vaccinations. In the city of Dallas, a pet is registered when it has been microchipped.
The microchip is approximately the size of a grain of rice. It is inserted beneath the surface of your pet's skin right between the shoulder blades. With a microchip, your pet will have a unique ID code used to identify the pet.
Registering Online
Dallas pet owners can register their pets online using the City of Dallas official website. You will need to submit all required documentation regarding your pet's rabies vaccination. You can also vaccinate more than one pet at a time using their online portal.
Registering by Mail or In-Person
Pet owners can also register their pets via mail and in-person. If you would like to register your pet by mail, you can mail your pet's rabies certificate to the following address:
3112 Canton St.
Suite A
Dallas, TX 75226
You will need to include:
Your registration fee
Vaccination records
Make it payable to The Department of Code and Compliance.
If you prefer to register your pet in person, you can bring all necessary documentation to the following address:
Department of Code Compliance
3112 Canton St.
Suite A
Dallas, TX 75226
(214) 671-2847
You can also send the necessary documentation to :
Dallas Animal Services and Adoption Center
1818 North Westmoreland Road
Dallas, TX 75212
(214) 670-8246
How to get your pet microchipped
If you need to get a microchip for your pet, you have four options as a Dallas resident :
Schedule an appointment at DAS
Microchip your pet by going to your

pet's veterinarian's office

Visit a mobile microchipping client
Contact the Spay Neuter Network
Once your pet is microchipped, you will need to register your pet's chip with your microchip company. In addition to this, pet owners must ensure that they always have the most current information on file. According to the Dallas ordinance, you are required to keep all of your pet's information up to date within 30 days of any change. Some changes include:
Your address changed
You got a new pet
Your pet passed away
How much does it cost to register your pet?
You are required to pay annual fees if you're a , according to the Dallas city code. These fees are as follows:
| | |
| --- | --- |
| Spay/Neuter Status | Pet License Fee |
| Sterilized Dog | $7 |
| Unsterilized Dog | $30 |
Registering your pet with DoNotPay
Registering your pet in Dallas involves various important steps. Whether you don't have the time or aren't sure how to navigate the process, DoNotPay offers an easier solution. What's even better is that you can register your pet right from your laptop and easily track the process. We'll help you navigate the process and tell you how much you owe in fees.
Here's how you can use DoNotPay to renew/register for pet licenses:
1. Go to the Pet Licenses product on DoNotPay.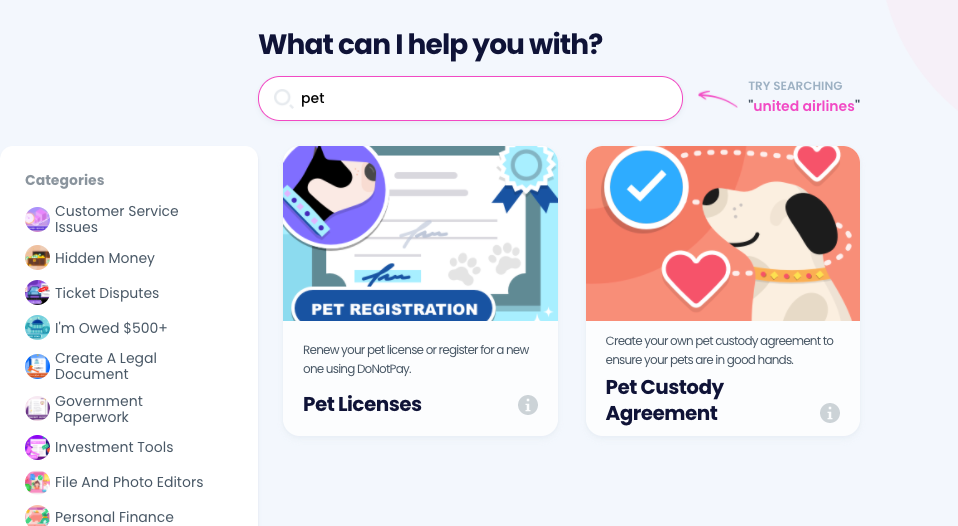 2. Enter the county or city you are looking to register your pet in.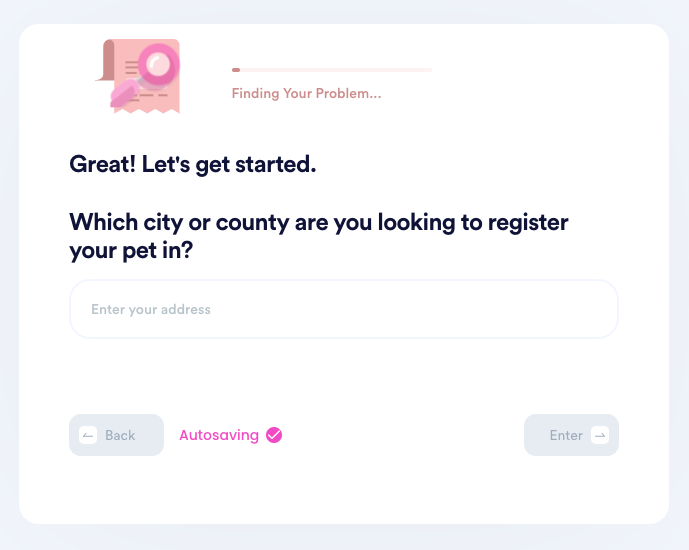 3. Tell us more about your pet, including the breed, gender, whether they are spayed/neutered, approximate age, and more.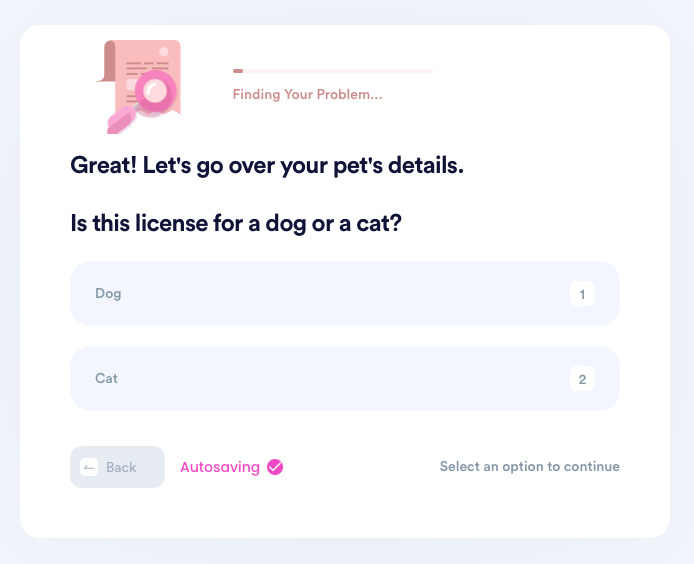 4. Upload evidence documents that prove that your pet has been spayed/neutered (if applicable) and a copy of the rabies vaccination certificate.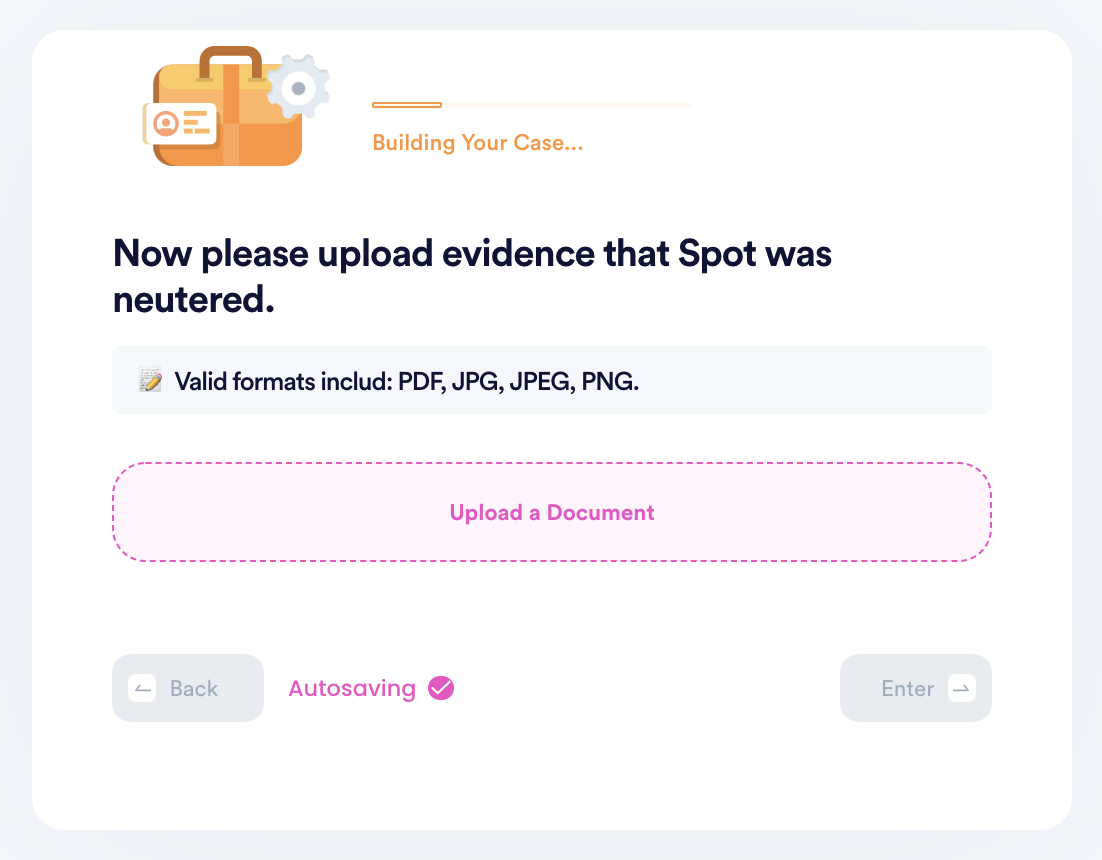 5. Enter your contact information, including email, address, and phone number.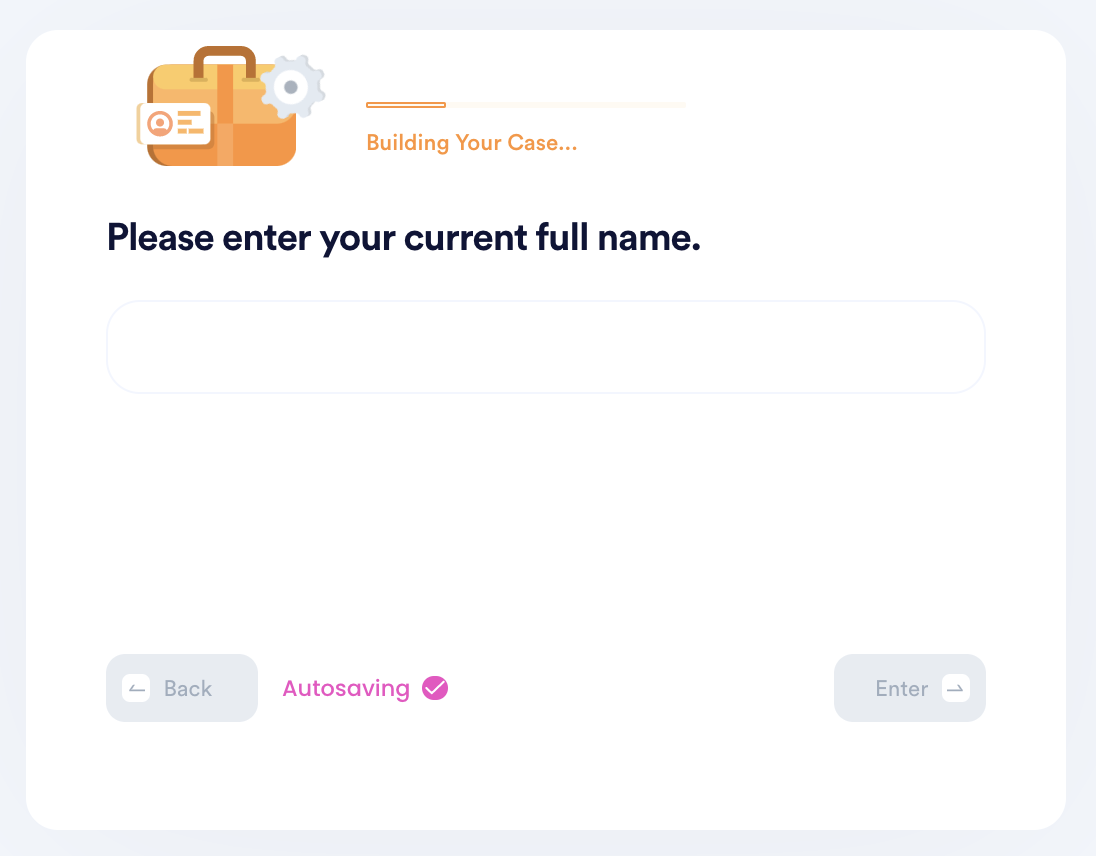 6. Complete your application by paying the license processing fee, so we can apply on your behalf!
And that's it! DoNotPay will file the rest of your application on your behalf with your local city/county government. We'll update you with confirmation and a license number once the application is complete.
Many pet owners find that registering their pets is a time-consuming process. You need to:
Find the right application
Include all appropriate documentation
Send the documents to the right place
Luckily, completing your pet's registration doesn't have to be a hard job. DoNotPay makes it easy for pet owners in Dallas to fill out the application and provide all of the appropriate paperwork. today to get the process started.