Cancel SmileBox from the comfort of your home with DoNotPay
SmileBox is an application for making collages, slideshows, and scrapbooks. Many enjoy using this app, but its creators have not been open with the methods they use to monetize their app, which has led to users looking for cancelation options.
Cancel SmileBox with the help of DoNotPay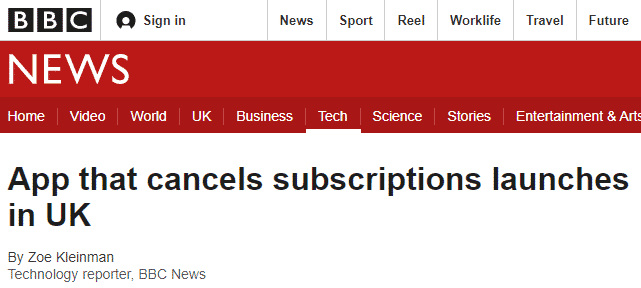 If canceling your SmileBox account seems like a problem, there's no reason to worry. You can cancel your subscription easily with the help of DoNotPay. Our app will help you cancel any subscription you no longer use without any fuss.
DoNotPay lets you cancel your SmileBox account without having to call or email anyone. Here are the steps you need to take:
Select Find Hidden Money

Find Upstore

Unsubscribe from the service
Within 48 hours, you will receive a confirmation that you have been unsubscribed.
How to cancel SmileBox on your own
Since SmileBox is a scrapbooking app, many decide to cancel their memberships pretty quickly. People tend to register to make a one-time scrapbook or collage, so most want to cancel their accounts as soon as they are done. The cancelation methods aren't simple, but it is possible to cancel your account and any future payments you might have.
| | |
| --- | --- |
| Can you cancel with | Yes / No |
| DoNotPay | Yes |
| Online | Yes |
| PayPal | Yes |
| Email | Yes |
| Phone | No |
| Letter | No |
| In-person | No |
How to cancel online from your SmileBox account
SmileBox allows you to cancel your account from the app or web browser. There are plenty of things to do, but you need to complete all of the following steps to make sure your cancelation is complete.
Select My Account

Go to the Membership section and choose Change Membership or Billing

Click Cancel Club Smilebox Membership

You will receive a confirmation of your cancelation on your email
How to cancel SmileBox by email
SmileBox allows you to cancel your subscription through an email. Here is what you will have to do:
Send an email to support@smilebox and ask them to cancel your account

When asked, provide all the necessary information

Wait for confirmation that your account has been canceled
How to cancel SmileBox through Paypal
If you've made your payment through your PayPal account, you can cancel your billing agreement and stop any future payments. PayPal offers an option to cancel any recurring payments you have. By doing this, you will no longer be able to reactivate your payment, but it won't cancel the contract you have with the merchant. This will only stop the recurring payments.
Here is what you need to do:
Go to

PayPal

and log in to your account

Click Profile on top of the page

Select My money

Go to the My pre-approved payments section

Click Update

Select the merchant whose payment agreement you want to cancel

Click Cancel

Wait for the request to process
What are the best alternative apps for SmileBox
If you're not satisfied with SmileBox, you can always look for an alternative app to use. There are plenty of scrapbooking apps that offer the same features as SmileBox, and even more.
App

Features

Price

Web-based and mobile app

Images personalization

Filters for photos

Background removal

Color replacement

Image sharpening

Filter overlay options

There is a free version with options to upgrade to one of two plans of $3.99 and $14.99 per month

Android and iOS app

Image search option

Integration with social media websites like Facebook, Instagram, and Snapchat

Video support

Option to add GIFs and stickers

Doodle feature

Free with in-app purchases

Android and iOS app

Image scaling options

Frames for photos

Option to add stickers

Filters and effects for photos

Video collages

Free with in-app purchases
Let DoNotPay monitor all of your subscriptions for unused services
People tend to pay for different services, but they don't actively use all of them. Instead of canceling the services, Americans spend around $84k each year on their subscriptions. Why? Many of them can be difficult to cancel, which makes users less willing to actually discontinue their services. With DoNotPay, you can rest assured that you will be able to cancel all of your inactive subscriptions without any problems. You can cancel any service with just a few steps:
Register an account through

Connect DoNotPay to your email or bank account

Let DoNotPay find all the subscriptions you have

Go through the provided list of subscriptions you no longer use

Unsubscribe from the services you don't need
What else can DoNotPay do?
DoNotPay can help you with different things that you need in your daily life. Here are some of the things we can help you to do:
Fight speeding tickets

Dispute traffic tickets