Cancel Sheer Cover in the Blink of an Eye With DoNotPay
Sheer Cover sells a wide range of makeup products. The company offers the Sheer Cover Studio membership with which you can have your favorite products delivered to your doorstep.
If you don't want to have the company deliver you products anymore, there are several easy ways to cancel your membership.
Cancel Sheer Cover Membership on Your Own
You can reach Sheer Cover customer service in three ways—via:
Phone

Email

Online chat
If you decide to contact Sheer Cover via phone or chat, remember to ask for a confirmation email.
Cancel Sheer Cover Studio via Phone
To cancel your membership with Sheer Cover via phone, you need to follow these steps:
Call the company at

1-800-506-6281

Provide your account info so that the agent can identify you

Explain to the agent that you want to terminate your membership

Request a confirmation email
Sheer Cover customer support is available from 9 a.m. to 8 p.m. EST.
Cancel Sheer Cover Studio via the Company Website
If you opt to have your membership canceled via email, you need to proceed as follows:
Open the Sheer Cover

Contact Us

page

Scroll down to the bottom of the page and choose

Email

Complete the required fields and add your account number

Write a message explaining that you want to cancel your membership

Click on

Submit
Cancel Sheer Cover Studio via Online Chat
You also have an option to cancel your account via online chat. To get this done, you need to:
Go to the Sheer Cover website

Open the

FAQ page

and scroll down to the bottom of it

Choose

Live Chat

in the lower right corner of the page

Start chatting and explain that you want to cancel your membership

Request a confirmation email
Bear in mind that the representatives are available from 6 a.m. to 12 a.m. EST, seven days a week.
| | |
| --- | --- |
| Can You Cancel Via | Yes/No |
| DoNotPay | Yes |
| Letter | No |
| Company Website | Yes |
| In Person | No |
| Phone | Yes |
| Online Chat | Yes |
Let DoNotPay Cancel Sheer Cover for You
Don't want to be bothered with reaching Sheer Cover customer service, writing emails,
and explaining the reason behind your cancellation? Use DoNotPay, and we will cancel the membership in no time.
Rely on our app to finish the cancellation process in the blink of an eye, and follow these simple steps:
Access DoNotPay from your

Select the

Find Hidden Money

feature

Type in the name of the company
After you complete these steps, DoNotPay will do the rest, and you will receive a confirmation email when the process is done.
We can also help you cancel:
Canceling Orders and Returning Sheer Cover Products
If you want to cancel your order, you can either call Sheer Cover at 1-800-506-6281 or reach the company via online chat.
In case you want to return a product, you need to do it within 60 days of receipt. You will get a full refund when you send the product to:
Sheer Cover Studio Returns
6 Commerce Way Arden
NC 28704
Has Sheer Cover Wronged You in Any Way? Sue It With DoNotPay!
If you feel like Sheer Cover wronged you in any way, you can use DoNotPay to sue the company in small claims court. People often avoid suing companies because of the time and paperwork the process requires. DoNotPay can make this process easy by doing all the paperwork and producing a winning argument for you.
For its legal work, DoNotPay has been awarded the ABA Brown Award for Legal Access.
Open our app in any , and rely on DoNotPay to win your case in small claims court.
Monitor All of Your Subscriptions With DoNotPay
You subscribed to a service a long time ago, checked the company's offers during the free trial, and forgot about it. As a result, you got charged for the unused service because it auto-renewed into a paid subscription.
People spend around $238 on services they barely use, but the world's first robot lawyer puts a stop to it! With our app, you can rest assured that this will not happen to you. To prevent auto-renewal charges, connect your email or bank account to DoNotPay, and our app will:
Identify all of the subscriptions you do not use

Offer to unsubscribe you from them
If you want to spend money only on subscriptions that you actively use, use our app to cancel your inactive ones!
Use DoNotPay's Virtual Credit Card To Stop Unwanted Charges!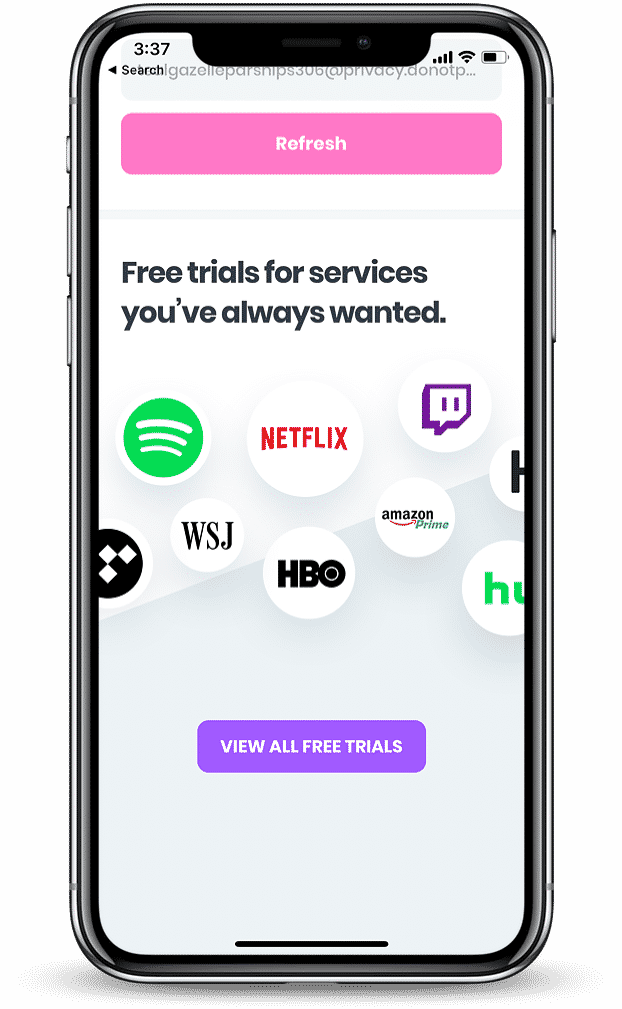 We often subscribe to some services for the sake of checking them out during their free trials. Companies rarely inform you when your free trial is about to expire, which is why your membership gets renewed automatically and you get charged.
DoNotPay offers a virtual credit card that you can use to subscribe to services without the fear of getting charged if you forget to cancel them on time.
Our virtual credit card does not hold any funds—when the free trial expires, the company will unsubscribe you automatically because it will not be able to charge you.
You will also get a temporary email account that you can use when signing up for subscription services. This way, your personal email won't get cluttered by spam or promotions.
DoNotPay Helps You Scam Scammers
DoNotPay helps you stay safe from scammers and fraudsters!
We have developed a Virtual Credit Card product that helps you sign up for free trials without revealing your real banking information to any suspicious company. We've joined our most popular feature with a Burner Phone functionality that allows you to verify online accounts with a temporary phone number.
That way, you'll be free to enjoy services while they're free of charge, eliminate the possibility of robocalls, robo texts, and spam emails from the shady companies, and forget about canceling the subscriptions altogether—our product does it for you!
DoNot Pay can even shield you from cyberstalking and online harassment and get you compensation for the crime you've suffered. We'll even help you take individuals or businesses to small claims court by drafting the relevant paperwork for you, accessing any public records that might bolster your case, and supplying you with a court script that you can read to the judge on the day of the hearing.
DoNotPay Is Helping You Out Left and Right
Not only can DoNotPay handle bureaucratic nuisances on your behalf, but we can make your daily life easier too!
No more waiting in endless phone queues to make a warranty claim for a faulty product or wasting the day away in mile-long DMV lines—our app will do the hard work for you! We'll call the reps of any company—even major airlines—and schedule appointments on your behalf in a matter of minutes!