Cancel your Apple News+ subscription quickly and smoothly
Apple News+ is a mobile app and news aggregator developed by Apple Inc. that allows its subscribers access to hundreds of magazines and newspapers. The magazine app Texture (previously known as Next Issue) was purchased by Apple in 2018 and was shut down by the company in 2019 in favor of Apple News+.
How to cancel Apple News+
If your Apple News+ subscription no longer scratches your magazine itch, we will take you through a few simple ways to cancel it:
| | |
| --- | --- |
| Can you cancel with | Yes / No |
| DoNotPay | Yes |
| Email | No |
| Phone | No |
| Letter | No |
| In-person | No |
| Company website | No |
| iPhone or iPad app | Yes |
| Mac Store app | Yes |
Cancel Apple News+ via your iPhone or iPad app
Open the

Settings

app on your iPhone or iPad

Tap on your name

Click on

Subscriptions

(if you don't see Subscriptions, tap on

iTunes & App Store

instead and sign in, then scroll down to Subscriptions)

Select the subscription you would like to cancel, or in this case, Apple News+

Click on

Cancel Subscription

. If there is no such option, this means that the subscription is already canceled
Cancel Apple News+ via the app on your Mac
Open the Apple News+ app on your Mac device

Go to

File

Select

Manage Subscriptions

Next to your Apple News+ subscription, click on

Edit

Click on

Cancel Free Trial/Cancel Subscription

button to confirm
Let DoNotPay help you cancel your Apple News+ subscription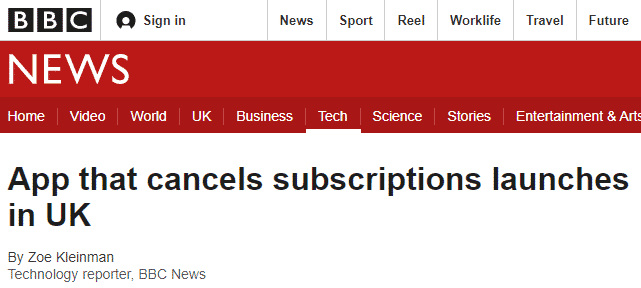 If you don't feel like wasting your time trying to cancel your Apple News+ subscription by yourself (and who could blame you), DoNotPay can perform this task for you. Follow these simple steps:
Log in via your

web browser

Select

Find Hidden Money

Type in "Apple News+"

Wait for our confirmation email 
Another way about it is to link your email or bank account to our app, which will identify the services you are paying for but not using (including Apple News+). 
What are the best alternatives to Apple News+?
You love staying in touch with world affairs and global trends; there is nothing more relaxing for you than flicking through the pages of a magazine. Thanks to technology, you can now browse hundreds of different magazines for a single monthly fee. Other than Apple News+, there are several other popular subscription services offering a variety of mainstream magazines on a digital platform. See how they compare:
Company

Pricing 

Benefits

Family sharing with up to five profiles

Downloadable content for reading offline 

More than 4,500 magazine titles on offer

"A la carte" pricing model

—

users pay for individual magazine subscriptions or even individual issues

Downloadable content for reading offline 

More than 6,000 magazine titles available, including selected Marvel comics 

Special text mode available to iOS users

Offers both an "a la carte option" and a Magzter Gold membership at $9.99/month

Access to 5,000 titles and premium articles from reputable newspapers

Family sharing with up to four profiles included of Magzter Gold

Downloadable content for reading offline 
Does Apple News+ offer a free trial?
Yes, you can sign up for Apple News+ and try it out for free for 30 days. Apple states that your subscription plan will automatically renew after the trial ends unless you cancel it beforehand.
Will Apple News+ let me pause my subscription instead of canceling?
No, there is no option to pause your subscription. The good news is that you can share the app with up to six family members, so even if you won't be using the app for some time, your other family members might be able to enjoy it.
Does Apple News+ prorate their cancelations? 
No. Nonetheless, if you're canceling Apple News+ after you've already been billed, you will be able to use it for the remaining time that you paid for. Note that if you cancel your free trial before the entire month expires, you will lose access to the subscription service immediately. In both cases, once your subscription is canceled, you will lose access to all of your saved articles.
Bumped into an issue with Apple News+? DoNotPay can help you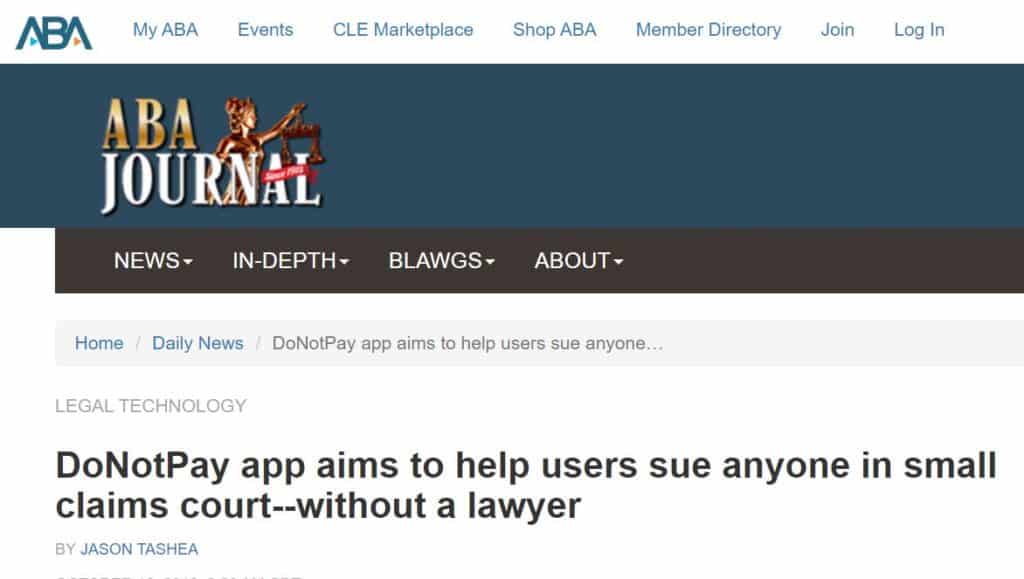 At DoNotPay, we're committed to helping regular people reach justice, particularly if they otherwise don't have good access to legal support. If you're struggling with a legal issue related to Apple News+, taking the matter to a small claims court could be your only option to solve it. Relying on cutting-edge AI technology, our world's first lawyer robot will assist you with the necessary documentation and streamline the entire court process. You can fully trust us to help you—our app has even been recognized by the American Bar Association and won the 2020 Louis M. Brown Award for Legal Access. 
DoNotPay automatically detects subscriptions you don't use
If someone were to ask you how much you were spending on various subscription services each month, would you be able to answer them? Chances are that you wouldn't, and you wouldn't be alone in this. The average American spent a substantial amount of $640 on digital subscriptions last year, according to an analysis done by the mobile app Mint for The New York Times. It's highly likely that a portion of that sum goes towards subscriptions you barely use.
DoNotPay can help you manage your subscription budget more efficiently by looking for online services that you should cancel as soon as you can. With DoNotPay, saving money becomes a walk in the park—all you have to do is link your email or bank account to our app, and we'll generate a list of recommended cancelations for you.
Prevent auto-renewed subscription fees with DoNotPay's virtual credit card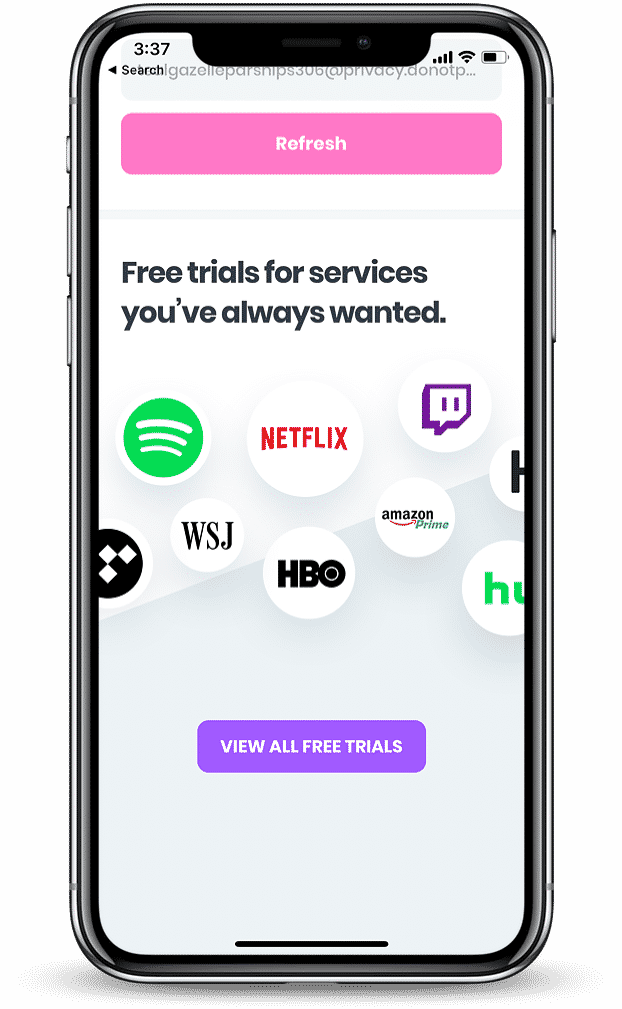 Do you still feel the burn from the last time you forgot to cancel a subscription service online and were charged a pricy subscription fee for something you didn't even use? If it's any consolation—we've all been there. 
On the plus side, DoNotPay has come up with the perfect, most efficient solution against auto-renewed unwanted subscription charges on the market today. Our Free Trial Card is based on a revolutionary principle that can probably save you one monthly rent's worth of money during the course of a year. The app searches for the "money leaks" in your bank account by identifying the services you should part ways with as soon as possible. It can also request the cancelation on your behalf.
This is how the Free Trial Card works:
Creates a random and unique credit card number for the sign-up 

Approves on "free trial" pages

Rejects on "subscription" pages
One added bonus is that our Free Trial Card can generate a random email address you can use while signing up for the free trial. By utilizing this address, you will be dodging irksome marketing newsletters and preventing the company from tracking your location. 
How else can DoNotPay help you?
You can experience DoNotPay in any web browser. Allow us to help you with all the annoying errands in your life, including:
Disputing traffic tickets

Fighting speeding tickets