Wondering Why Binance Won't Let You Withdraw? – Here's What You Can Do!
You've invested money in cryptocurrency and decided to use Binance as your trading platform. It's been great. Until you find out that It becomes increasingly frustrating when you realize how difficult it can be to reach out to their customer support for assistance.
DoNotPay is the easiest and most convenient way for you to unfreeze your account and successfully withdraw again. If you feel like you're getting the runaround, you need something that works. DoNotPay is here to assist.
You can use the aid of this trusty robot lawyer with a variety of issues and companies. Here are some of the most common Crypto Fund issues that we have answered and assisted with in the past:
Keep reading to learn more useful information in successfully withdrawing from your Binance account again.
What Is Binance?
Binance is a cryptocurrency exchange that allows you to open an account to buy and sell crypto funds. This exchange actually does more cryptocurrency trades than any of the others in terms of volume. This crypto exchange was created by Changpeng Zhao, and the company headquarters is in the Cayman Islands.
You can open an account on Binance and buy crypto. The goal is to use or sell crypto once it's increased in value. In this way, it's similar to investing in the stock market because prices rise and fall.
Why Can't I Withdraw from Binance?
There could be a number of reasons why you are from your Binance account. It's possible that the account is frozen or it's one of these instances:
If the account is new, a withdrawal lock is automatically implemented to ensure there is enough funding on the account. Both Debit and ACH accounts observe a 10-day withdrawal lock period.
There is a negative account balance and your account was suspended due to risk management.
Recent account changes. For your own safety, withdrawals are disabled right after changes are made to the Binance account. You must wait 48 hours to successfully withdraw again.
Policy violations such as the use of false information, use of proxy sites when accessing your account, facilitating viruses, showing suspicious behavior, or using the platform illegally.
What to Do If Binance Won't Let Me Withdraw for an Unknown Reason
We understand how frustrating it can be when you are unable to access or withdraw from your very own Binance account. You can submit a ticket request with details of your complaint through the Binance website or reach out to their customer support team through any of the following contact channels:
Binance Customer Support Number
(929) 228-3440
Binance Support Email Address
Not available
Binance Mailing Address
Binance

23 Lime Tree Bay Ave

George Town, George Town

Cayman Islands

Binance Website
www.binance.com
How Much Does It Cost to Withdraw From Binance?
The cost to withdraw cash from Binance depends on the type of cryptocurrency and the method you use to withdraw it. For most transactions, it's free to make a withdrawal using the ACH method. This can take a day or more to receive your funds in your traditional bank account.
If you need a wire transfer of your funds, it'll cost you $15 per transfer. You'll pay a 4.5 percent charge to use a debit card for the transfer. When you withdraw Bitcoin, it'll cost you 0.0005 percent of the amount.
How Long Does It Typically Take to Withdraw From Binance?
The length of time that it takes you to get your money depends on the methods. If you choose to use a debit card, it transfers in a matter of seconds, while a wire transfer can take a few hours and an ACH a few days.
What's the Fastest Way to Regain Access to Your Account?
Cryptocurrency is different from storing your money at the local bank or credit union. This can make it even more stressful and frustrating when or your account isn't accessible. You need to have a way to access your money and either spend it or transfer it to a traditional bank or credit union. You might have tried calling Binance or sending emails without any luck. You aren't sure of the problem, but you do know that you need to regain access to your account and the ability to withdraw funds. DoNotPay can help you do it.
Just follow these simple steps:
1. Search "Crypto" on DoNotPay.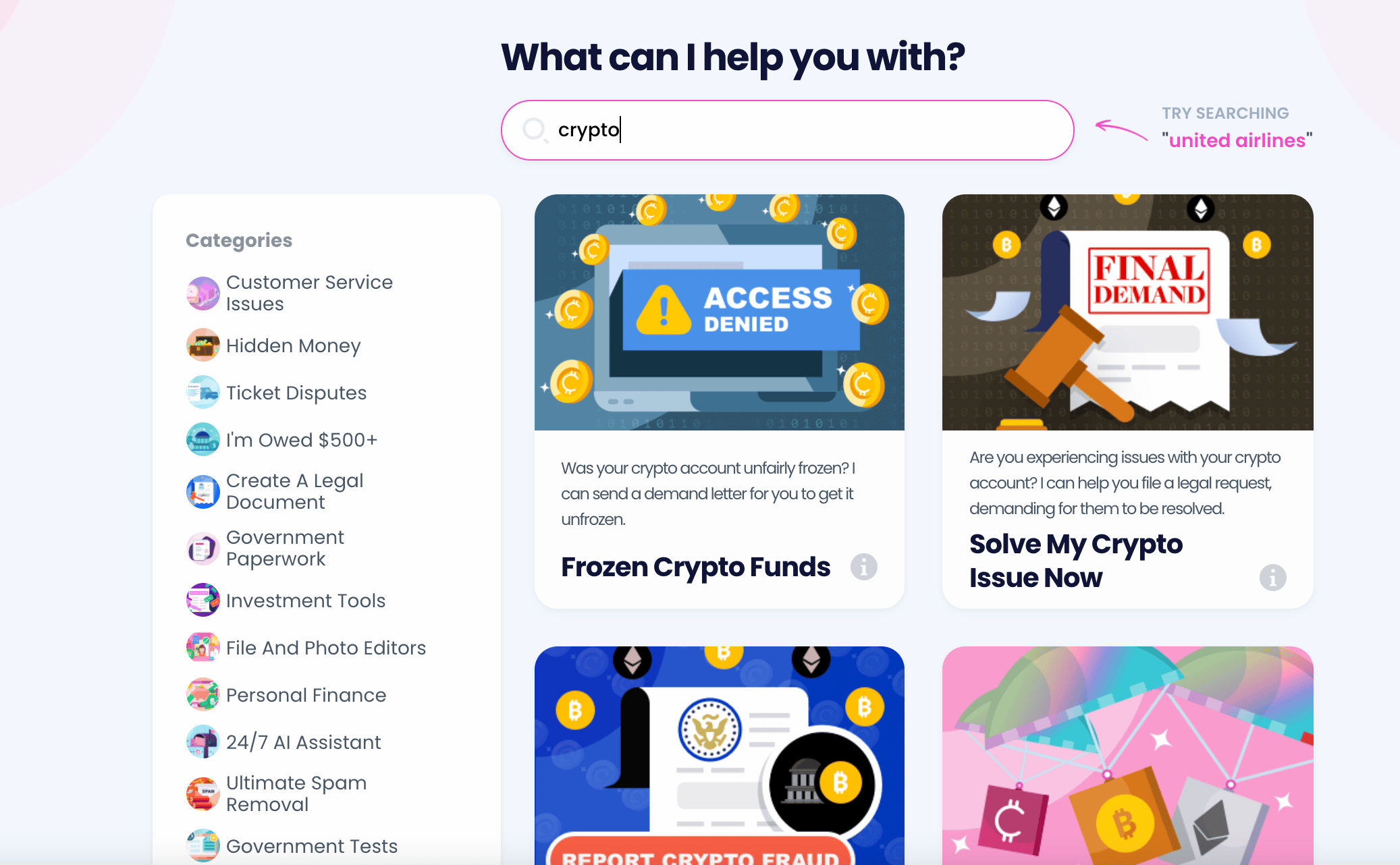 2. Select the crypto exchange platform you use.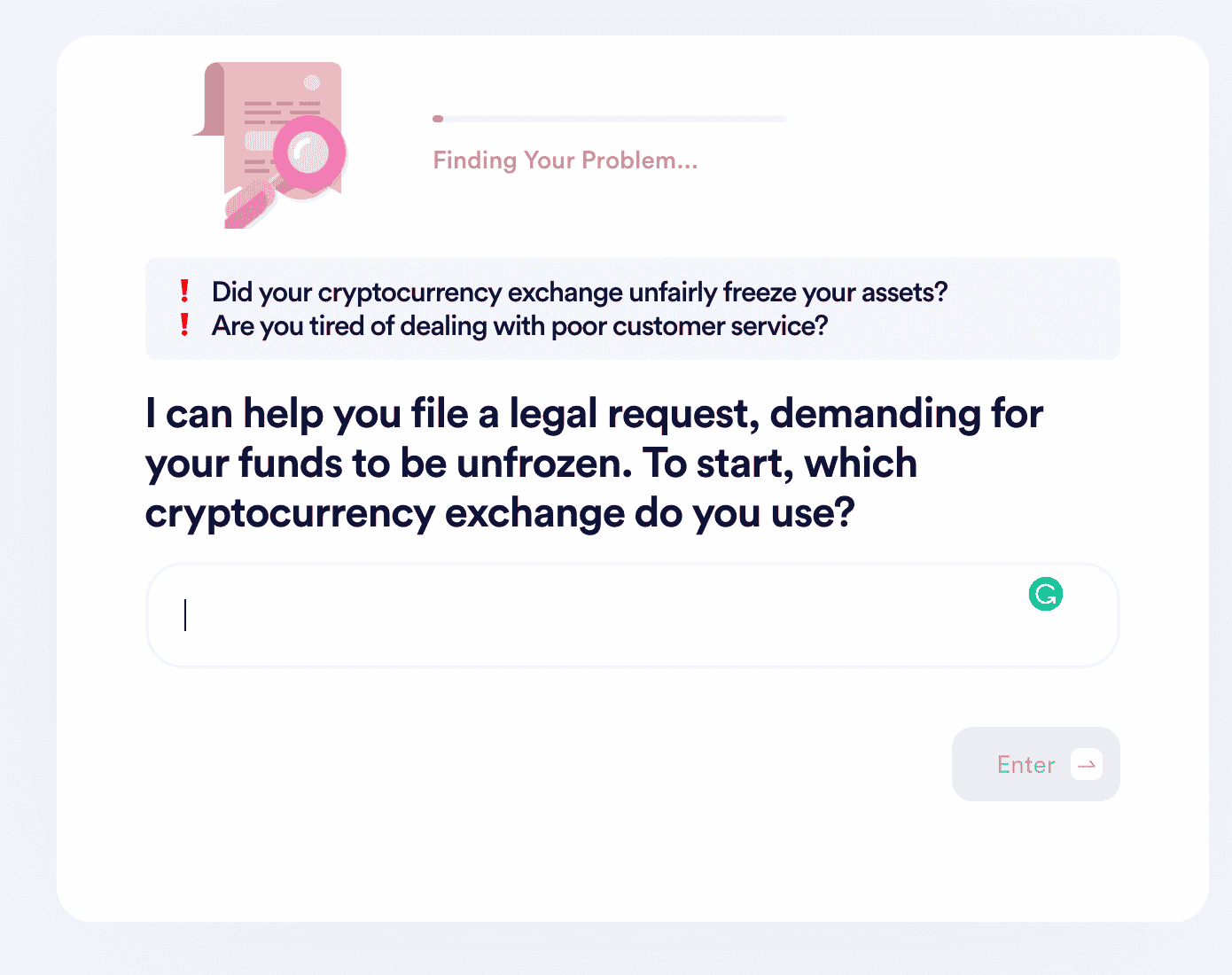 3. Tell us when this problem started and estimate the losses you incurred from your inability to make trades/cash out.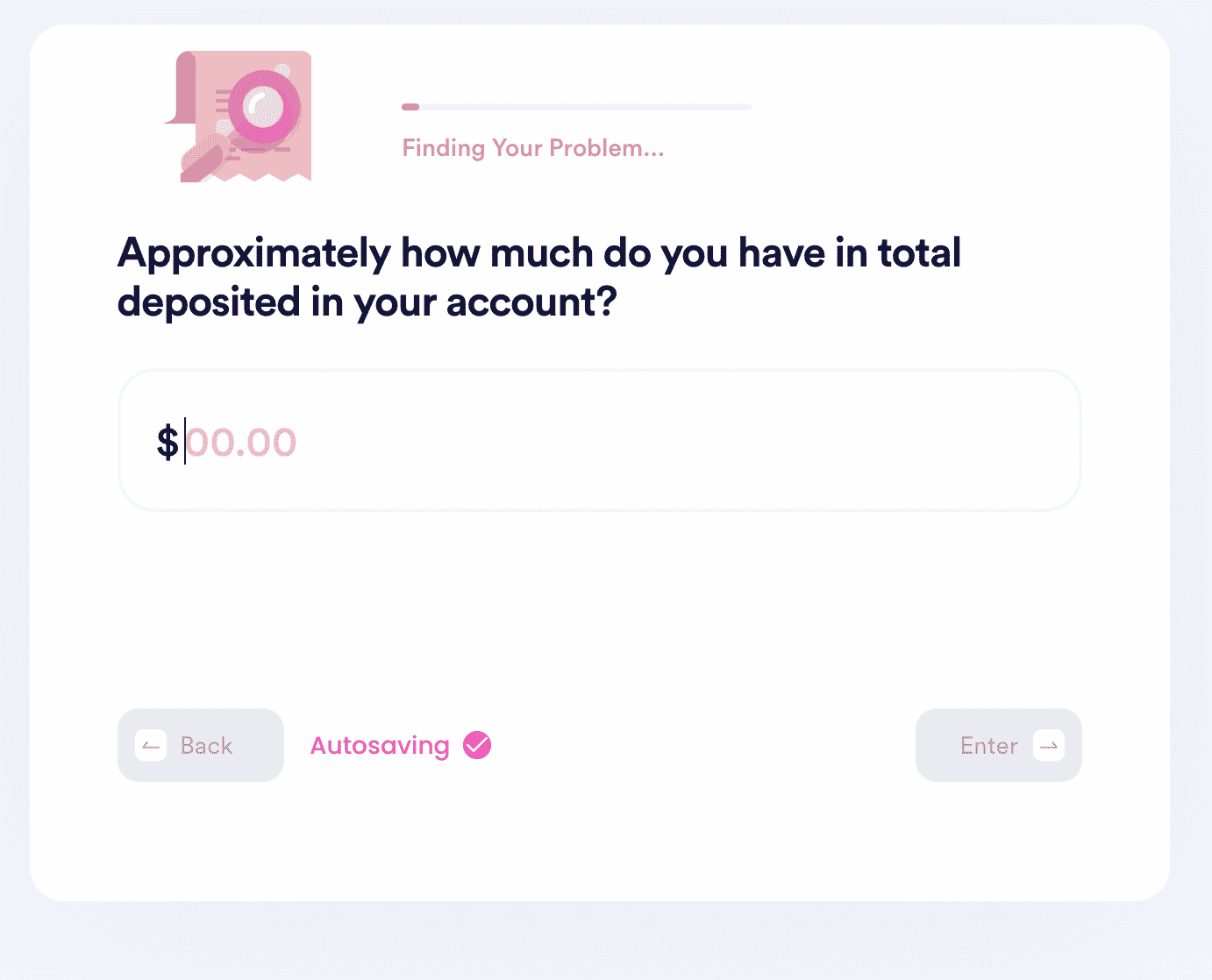 What Else Can DoNotPay Do?
Once you have access back to crypto funds and your Binance account, you probably have a variety of other tasks to perform. DoNotPay can make your life a lot simpler when you have the odd item you need to take care of immediately. Some of the things you can do with the DoNotPay app include:
today and without any further hassle.