All you need to know about a bill consolidation loan
According to a recent Charles Schwab survey, 59% of Americans live paycheck to paycheck. Most people out there are struggling with bills and other basic needs. They often have accumulated expenses and need to settle their debt desperately. Do you, too, have a similar problem?
If so, you might be thinking about taking a bill consolidation loan to solve this problem at once. We are here to tell you more about this option, what its advantages and downsides are, as well as suggest some other solutions to keep in mind. Before we move on to these, you should consider using our app to help you deal with massive bills.
Turn to DoNotPay for help with all your bills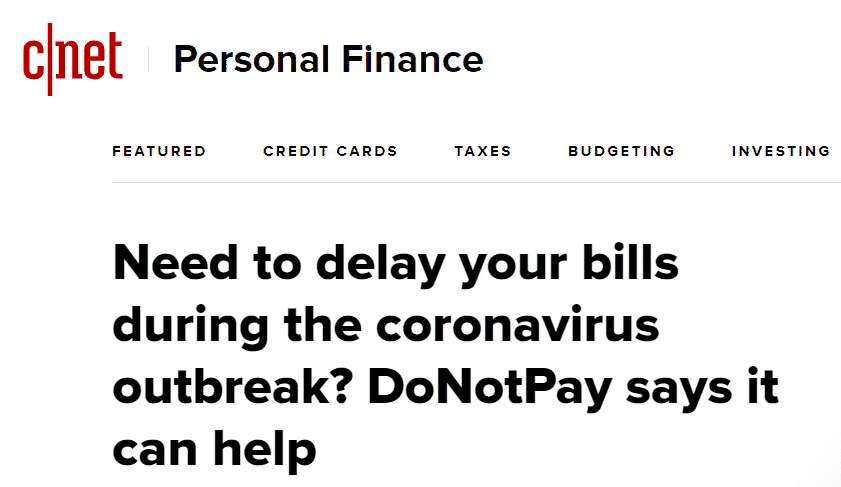 Whatever bills you may be struggling with, you can and should rely on DoNotPay to help you deal with them. We believe that you have the right to get any help you need without going through additional trouble or spending a small fortune. That's why we ask you to take just a few steps:
Log in to DoNotPay via a

Tell us what bills you need help with

Explain what kind of a problem you have (financial crisis, limited resources, or something else)

Tell us your full name, address, email, and other required details
Quite simple, isn't it? When you do this, we take over. All that's left for you to do is to relax and wait for DoNotPay to send you a confirmation. You can expect this to happen within 48 hours.
What is a bill consolidation loan?
Bill consolidation, also known as debt consolidation, refers to the process of joining all your accumulated bills together. You can then take a single loan to pay the total amount you get when you add all the debts—a bill or debt consolidation loan. When you consolidate everything you owe into a single loan, your chosen lender pays each service provider separately until all your debts are settled. Here are three categories of bills that can be consolidated:
Household bills (utilities, rent, mortgage, transportation, etc.)

Medical bills

Credit card bills
One of the benefits of using a bill consolidation loan is that it becomes easier to track your total debt. You get to forget all about multiple balances, each coming from a different lender. Another one is that you get significantly lower interest rates than you would for any other loan. When the rates are lower, you have greater chances of paying off your loan faster.
Who can grant a bill consolidation loan?
Depending on your credit score, the type of your debt, your financial situation, as well as what eligibility requirements you meet, you can choose from three different sources. Here's where to look if you decide to apply for a loan to consolidate bills:
Banks

Online lenders

Debt relief companies
Banks
Most people first turn to banks for a bill consolidation loan. Banks offer some of the best rates available, which makes them an excellent option. Keep in mind, though, that they have rather strict requirements. If you have a bad credit score (below 650) or you don't meet the minimum income requirement, you shouldn't even bother applying. Those with a high debt-to-income ratio should also turn to someone else.
Online lenders
Relying on online lenders has become quite popular recently. The main reason for this is that this is the fastest way to get a bill consolidation loan. If they approve your request, you can expect your funds in 48 hours after the approval. Another good side is that you can get approved even with a bad credit score. This might sound tempting, but you should also know that those with bad credits get the highest interest rates.
Debt relief companies
If you decide to turn to a debt relief company, you should check whether they have a bill consolidation loan to start with. Some of these companies only offer other solutions to get rid of your debt, which might not be what you need, so make sure you ask. The greatest advantage of choosing a debt relief company is that you can get a loan even if your credit score is low. Here are some of the best companies to consider and why:
| | |
| --- | --- |
| Best companies | What they offer |
| | Flexible repayment options are the main reason why so many people choose Discover—you can arrange repayment terms of up to seven years. The available loan amount ranges from $2,500–$35,000. What can be an issue here is that the recommended credit score is 680. |
| | If you're looking for the best solution for bad credit, you should turn to Avant—the minimum recommended credit score here is 600. In addition to that, the funds are usually available within one business day, and they offer a low minimum to borrow ($2,000). One of the downsides is that they charge an administrative fee of up to 4.75% and a late fee of $25. |
| | SoFi is the best option for large debts—they offer personal loans of up to $100,000. If you want to be approved for a loan that big, you will need a good credit score. The minimum amount you can borrow is $5,000. There's one thing that makes SoFi stand out—they offer unemployment protection. Should you get fired through no fault of your own, they will let you pause your payments. |
Should you consider personal loans to consolidate bills?
If you're thinking about this option, make sure that you first weigh the pros and cons. Here are some of the advantages:
Personal loans are unsecured, which means you don't risk losing your home if you fail to keep up with your monthly repayments.

The monthly installments for personal loans are fixed, which may make it easier to plan your budget.

You get to choose how much time you need to pay off the loan (usually up to five years).
Don't forget to take the following drawbacks into consideration:
Not all lenders offer the option of using personal loans to consolidate debt.

If you don't keep up with your monthly repayments, that can seriously damage your credit score.

The longer the term, the more you pay in interest.
Is it a good idea to apply for a loan to consolidate your bills?
While bill consolidation does come with certain advantages, that doesn't mean that this should be your first option. It is advisable to consider applying for any loan only when there's no other solution. There are quite a few more convenient solutions that you should take into consideration first.
No matter how good an offer you find and how low the interest rates may be, that doesn't change the fact that you'll still be in debt. Paying off a loan will eventually cost you much more than all those accumulated bills would, so, in the long run, this is more of a problem than a solution.
Another thing to consider is that you may not be able to get those lowest rates if you don't have a good credit score. If you accept higher interest rates, your monthly installments will be much higher. You may also be charged agreement and early repayment fees.
Use your credit card from time to time
Using a credit card to pay your monthly bills might seem like a convenient option, but you need to be aware of its disadvantages, too. You need to know that some service providers will charge you an additional fee for paying bills by credit card. Another even greater problem you should think about is that using your credit card too frequently can seriously damage your credit score. When it's an emergency, or you're paying a single debt on time, it's alright to choose this form of payment. If you have some accumulated bills, though, you'd better think about another solution. Paying massive bills by your credit card can also hurt your credit score.
Choose a more convenient way to deal with massive bills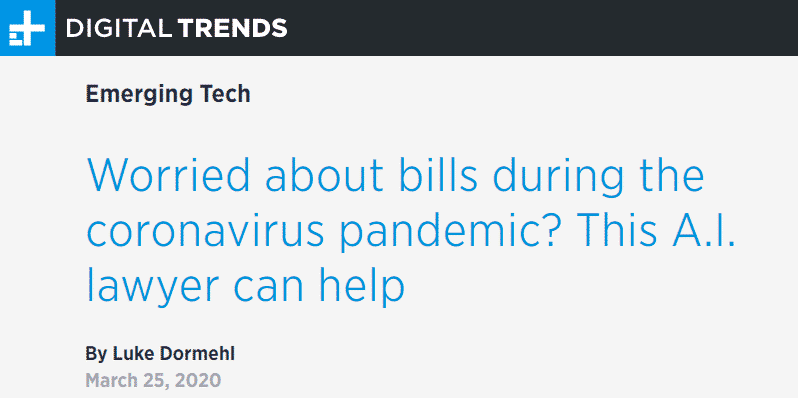 You should always keep loans and credit cards as alternative solutions, ones worth considering when other options are not at your disposal. More often than not, there are other ways to deal with massive bills that won't cause you additional trouble in the long run. Whatever bills you're struggling with, you should first consider some of the following:
Applying for a payment plan

Asking if you can get a discount

Asking for financial assistance
Applying for a payment plan
Most service providers have payment plans for people who meet certain eligibility requirements. If you come from a low-income family or you're just currently going through financial hardship, the chances are that they will have a special offer that you qualify for.
Make sure you contact your service provider to ask for more details about the payment plans they offer. Explain your situation so they can understand what kind of solution would work best for you. Cell phone and Internet and cable providers, for example, usually have a wide range of plans to choose from. Whatever bills you're struggling with, do not hesitate to check whether you can switch to a more affordable package.
Asking if you can get a discount
If you can't seem to find the right payment plan, there might be a discount scheme that fits your situation perfectly. There are so many providers who offer all kinds of discounts, but just don't talk about it—they wait for you to ask. Depending on your income, the number of family members, or some other factors, you may get a significant discount that will lower that otherwise exorbitant bill.
Asking for financial assistance
When you don't manage to negotiate your bill, you can move on to looking for financial assistance. Here are some of the best non-profit organizations and programs that provide financial assistance for those struggling with bills and other basic needs:
Organizations and programs

How they can help

This government-funded program provides help for people struggling to pay their home energy bills. It is primarily designed for low-income families, but even if you're just currently going through a financial crisis, you can apply for the program.

Dollar Energy Fund

's Hardship Program offers one-time financial assistance for people struggling with utility bills. The applicants are granted assistance on a first-come, first-served basis.

As the second main federal program providing help for the disabled, SSI is certainly worth considering. It offers help to the blind, the elderly, and people with disabilities. Applicants can also ask for help with food, clothing, and shelter.
Request an extension date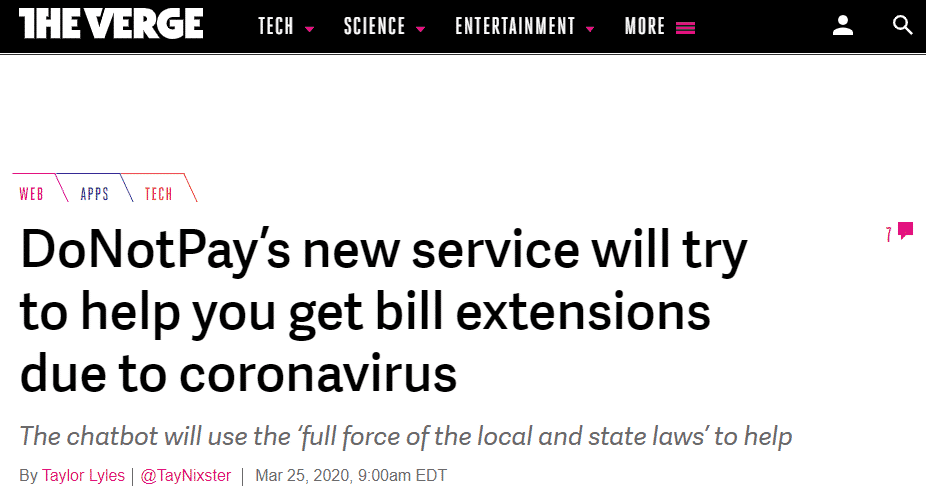 Asking for an extension date is a much more convenient option than applying for a bill consolidation loan. So many people are struggling with their monthly expenses that asking for a bill extension has become common practice. As a result, the majority of service providers out there approve such requests in most cases. They just need to know that you have a valid reason to ask for an extension, so be prepared to explain what your issue is. If you choose this solution, you can do the following:
Ask for an extension in person

Contact your service provider's customer support

Send a letter
If you want the fastest way to get this done, you should use our app to generate an extension letter for you and send it on your behalf. We just need a little bit of help from you—to provide the information necessary to include in the letter. You should explain what your current situation is and why you're struggling with your bills. You will also need to give us your personal information. When you provide the required information, our app will compose the letter. We will let you know as soon as the entire process is completed, which shouldn't take longer than two days.
Request a waiver on late fees
You can also ask for late fees to be waived if this suits you better. In a process similar to the one you need to go through when asking for an extension, they will ask you to explain on what grounds you're asking for a waiver. If you have a valid reason, they will probably allow your request. Should you decide to pick this option, here's how you can do it:
Go there in person

Call customer service

Hire a lawyer or a financial advisor

Send a letter
Since you're doing everything you can to save a few bucks everywhere you can, you should rule out lawyers and financial advisors. They are experts in the field, but their services are quite expensive, too. The most efficient and affordable way to ask for a waiver is to let DoNotPay compose a waiver letter for you. You can get this done in just a couple of steps. Your part of the job is to tell us what bills you need help with, explain why, and leave your full name, email, and address. We will deal with all the rest and send you a confirmation when we get the job done.
Know the consequences of not paying a bill
In case you don't manage to pay your bill, you should be prepared for the actions your service provider is going to take to make you settle the debt. Depending on the unpaid bills, these actions may differ. If you don't pay your phone or the Internet, they will probably just disconnect you first. Other providers will send a notice.
Regardless of their first steps, they can all hire a collection agency if you neglect your debt for a long time. Debt collectors can eventually take to court. That's why you need to learn how to deal with them and avoid the worst-case scenario. Here are some of the crucial things to do:
Learn about the way collection agencies work

Record every step you take and keep a paper trail

Offer to pay a part of the full amount
Use DoNotPay in a variety of other situations
In addition to massive bills that you're struggling with now, our app can also help you with disputing traffic tickets, canceling subscriptions, and so much more. Whenever you are about to face some potentially problematic situation, remember that DoNotPay is here to make every process smooth sailing. Here are some other things that we would be more than happy to do for you:
Dispute your traffic tickets

Fight your speeding tickets