Too Hot To Handle—Get Your Share of the Unclaimed Money in Arizona
Looking for unclaimed money in Arizona? You are in the right place! The state of Arizona holds over 1 billion dollars of unclaimed assets in its custody. With such a large amount, it is not unreasonable to assume some of it belongs to you.
Whether you suspect that there is a life insurance, uncollected paycheck, or old bank account waiting for you to claim it, there are available sources you can use to find out.
Our app is here to recommend the fastest way of getting your unclaimed assets. Start the search for your money today—with the help of DoNotPay.
Some Crucial Facts About AZ Laws for Finding Money
Each American state has its own set of rules when it comes to defining unclaimed property. It is necessary to get familiar with the regulations of the state of Arizona because if not, you can miss out on an opportunity to claim your money.
In Arizona, any asset with an identified owner that is under the custody of the holder for various reasons can become unclaimed after a certain period. That time is referred to as a dormancy period, and it lasts from three to five years for most assets.
The inability of the holder to get in touch with the property owner during the dormancy period eventually results in the property becoming abandoned.
Arizona will hold property only for holders whose last known address is in the state of Arizona. That means that if you move after you place your assets with the holder and fail to update the address, your property will be held by the state where you last resided.
Most states don't have a time limit during which you can collect your money from the government once it becomes abandoned. For Arizona, different rules apply. You have 35 years to try and collect your property from the government, after which the state claims full ownership of the unclaimed assets, and you lose your right to it.
By the Arizona statute, the identity of the property owners must remain confidential, except in databases available for searching and lists published once a year. That makes it difficult for the state to find original owners of lost assets. You have to perform the search on your own—and DoNotPay will present you with the easiest way of doing so.
Which Assets Can Be Defined as Unclaimed Money in Arizona?
When you start searching for unclaimed funds, you should consider all types of property. Omitting any of them can result in losing a significant amount of cash and missing out on an opportunity to ease your financial struggles.
Here is a table of the most common assets that constitute unclaimed cash in Arizona, as well as dormancy periods for each:
| | |
| --- | --- |
| Type of the Asset | Considered Abandoned After (years) |
| Checks and drafts | Three |
| Bank accounts | Five |
| Insurance policies | Three |
| Money orders | Seven |
| Retirement funds | Three |
| Traveler's checks | 15 |
| Shares in a financial institution | No specific provision |
| Wages and salaries | One |
| Safe deposit boxes | One |
| Property held by court or a public agency | Three |
Why Is There so Much Lost Money in Arizona?
Funds can become unclaimed in Arizona for various reasons. Some of the most common unclaimed fund cases are caused by:
People forgetting to pick up their last paycheck or a utility deposit

Banks going under and being unable to contact the customers

People moving and failing to update their current address with banks, brokerages, or any other financial institutions that issue checks

Deceased relatives

not leaving wills or naming the beneficiaries of their life insurance
It is not uncommon for people to forget some of their assets or, if the amount is small, be too ashamed to collect them. They also often think that the process of claiming the money will be complicated, time-consuming, or expensive—none of which is true. You can get rid of those false beliefs by letting DoNotPay provide all the necessary information and guide you through the process.
How To Search for Unclaimed Money in Arizona on Your Own?
The state of Arizona keeps the information of its unclaimed assets in a centralized database. The database is operated by the MissingMoney platform, in partnership with the Arizona Department of Revenue.
You search either by going directly to MissingMoney or accessing the official Arizona Department of Revenue website, which will direct you to MissingMoney.
Here is a step-by-step guide through the process by using MissingMoney:
Visit the website

Click

Search

Enter your name, city, and state/province

Hit

Search

Fill in the form with the required information (name, address,

Social Security number

, etc.)

Click

Yes, I can Claim

if you meet the requirements

Fill in the

State File Inquiry

form

Tap

Continue
You will be required to prepare and send legal documentation to prove your identity, ownership, or relationship to the person whose property you are trying to claim. After that, the file will be mailed to the Arizona State Treasury Department.
If you or your relatives lived in another state, it is advisable to search for your unclaimed property there as well. You can do it by accessing the National Association of Unclaimed Property Administrators (NAUPA) website, but you will have to perform the search for each state.
DoNotPay Will Make the AZ Unclaimed Money Troubles Go Away!
DoNotPay provides the most practical method of claiming your lost funds. Unlike all the other websites that require a lot of steps and an individual search of every state, DoNotPay offers access to all state and federal databases. You will be able to claim your missing assets with a few clicks!
Here is how the process goes:
Open DoNotPay in your

Navigate to the

Missing Money

feature

Fill in the required field with your personal information. Make sure to include your previous addresses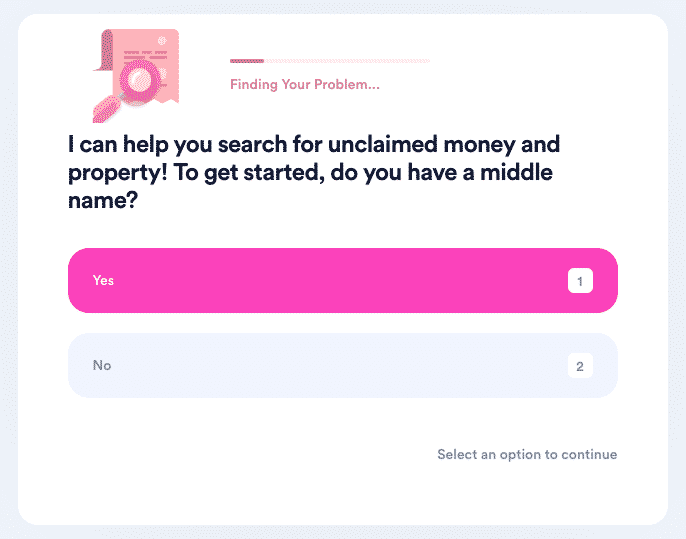 DoNotPay will perform a thorough search through all databases. In case it identifies a match and you are entitled to unclaimed funds, your next step will be to use the Claim My Property feature. You won't have to do much else—DoNotPay will even file a claim on your behalf! Don't hesitate and start the process today!
Don't Miss Out on Other Great Services DoNotPay Provides!
If you want to skip the lines for DMV appointments in Arizona or renew your driver's license faster, DoNotPay can help. Perhaps you have set your sights on passing the Arizona permit practice test? DoNotPay will provide the best service!
Interested in canceling various subscriptions, like GoDaddy or LifeLock? DoNotPay offers the fastest way. Applying for clinical trials in Arizona? DoNotPay will tell you all you need to know.
Access DoNotPay from your and let us assist you with:
Handling traffic tickets

Fighting speeding tickets