Can The Salvation Army help with bills?
Many households find themselves in a tight spot and need assistance to overcome financial difficulties. The Salvation Army is one of the organizations that can help deal with such adversities.
There is nothing shameful in being poverty-stricken, so all people who are struggling to pay their bills or experience other money-related problems should ask for help. The Salvation Army is not only focused on assisting with current issues but strives to offer long-term solutions to fight poverty.
With various assistance programs, the organization proved to be highly successful in helping people all over the world survive the hardships and get back on their feet. If you and your family are going through a crisis, The Salvation Army might be able to provide a solution.
What is The Salvation Army, and how can it help with paying bills?
The idea behind any of The Salvation Army's programs is to solve the ongoing crisis while working on a sustainable solution that will ensure long-term sufficiency for a person or a household in need.
It is an international non-profit, charity organization with a clear mission to fight poverty across the globe. Its guiding principle is that it helps people without discrimination. Active in every corner of the world, The Salvationists offer assistance regardless of gender, race, nationality, or sexual preference.
| | | | |
| --- | --- | --- | --- |
| Founding year | Number of Salvationists | Number of Beneficiaries | Active in |
| 1865 | 1.5 million | 23 million (in the States) | 130 countries |
The Salvation Army offers assistance with the following:
Rent or mortgage bills

Utility bills

Medical bills

Transportation costs

Food and clothing
The organization provides services through a network of local operation centers. The idea is to create programs and plans based on the needs of a particular area or community. Check out the structure of The Salvation Army in the States.
| | |
| --- | --- |
| Administrative Unit | Headquarters |
| Central Territory | Des Plaines, Illinois |
| Eastern Territory | West Nyack, New York |
| Western Territory | Long Beach, California |
| Southern Territory | Atlanta, Georgia |
Can The Salvation Army help with rent and mortgage bills?
One of the primary goals of The Salvation Army is to fight homelessness, so assisting with rent and mortgage is at the center of its attention. The organization offers various options to people who are experiencing housing problems.
You can turn to The Salvation Army in case:
You are facing eviction

You are homeless

You must leave your home due to domestic violence or a disaster
Whatever the reason may be, not having a roof over your head is one of the most stressful things that can happen. The Salvation Army is trying to fight homelessness in two ways:
Offering temporary shelter

Working with victims on finding long-term housing solutions
If you are behind on your mortgage or rent bills, you should turn to a local Salvation Army Family Service. It may have funds to provide emergency assistance. In case the funds are not available, the organization will suggest further steps you should take in resolving the issue. It may refer you to another institution or person that may be able to help.
The Salvation Army assists individuals in finding an affordable place to live in. Another critical service is the Transitional Housing, which provides shelter to people in search of a more permanent place of residence.
The organization takes a holistic approach to fighting homelessness, so besides permanent and transitional housing, it helps with employment, financial education, and budgeting to support the self-sufficiency of the beneficiaries.
How can The Salvation Army help with utility bills?

Keeping up with different utility bills can become a challenge, especially during the winter. The Salvation Army helps with financial and budget counseling in order to prevent shutoffs and manage your utility bills effectively.
The organization offers limited financial assistance to persons or families that are facing eviction, but the funds are only available from time to time. The Salvation Army does engage in local partnerships with energy companies and run donation programs to ensure heating, cooling, and electricity are available for community members who are struggling with finances.
You should understand that the organization does not focus on financial assistance programs. The Salvation Army is oriented towards emergency services and educating those affected by poverty to come up with permanent solutions in order to prevent future crises from happening.
There are a couple of programs that can help if you are not able to pay your utility bills:
HeatShare

People Care by Consumers Energy

Energy Assistance Service (EAS)

Evergy (Economic Relief Pilot Program)

Nicor

Gas Affordability Program (GAP)
HeatShare
HeatShare is partly funded by The Salvation Army donors and partly by local utility suppliers. It helps individuals pay for their gas and electricity bills, as well as with furnace repairs. Unlike other similar programs, the criteria for entering HeatShare is based on need and availability of funds.
The beneficiaries of the program are usually:
Senior citizens with low or no income

Disabled persons who cannot maintain their homes

Individuals affected by a family emergency
People Care by Consumers Energy
Consumers Energy is a major gas and electricity supplier in Michigan, so if you are a MI resident who struggles to cover the utility bills, you can benefit from this program. The company donates People Care bill credits to The Salvation Army, which distributes them to low-income Consumers Energy customers.
The program can also help with food, transportation, and medical costs, and you can check eligibility requirements and further details here.
Energy Assistance Service (EAS)
Energy Assistance Service is designed to help low-income users overcome energy crises and develop self-sufficiency to prevent future problems. The beneficiaries may get:
Assistance with bill payment

Enrollment in an energy company subsidy program

Case management services
In the process of getting help from EAS, the applicants must meet with a Case Manager, who will assess their eligibility and the level of support that they require. EAS aims to develop the energy and financial stability of individuals and households. The program is focused on residents of Western Michigan and Northern Indiana.
Evergy—Economic Relief Pilot Program
Evergy's Economic Relief Pilot Program is available for Missouri residents only, and you should be a person responsible for paying the bill in order to apply. The household's gross income must be below 200% of the federal poverty guidelines.
The program distributes the funds on the first to apply, first to receive basis and the sources are limited. If you get an approval, you can expect to get up to $65 for your energy bill during a 12 months period.
In case you do not qualify, you can check other programs available to Missouri and Kentucky residents here.
Nicor "Sharing" Program
This program is designed to assist Nicor customers with residential heating bills during critical times. It is one-time bill assistance funded by the customers and employees of Nicor. You can use the benefits of the program once a year.
Nicor "Sharing is available for Chicago residents and focuses mostly on disabled persons and army veterans. If you live in a wider Chicago area, you can check some of the other programs that you can use if you are facing an energy crisis in your home.
Gas Affordability Program (GAP)
The Salvation Army's Northern Division is the administrator of the program in partnership with local energy providers. GAP offers assistance to eligible customers with paying their monthly gas bills.
You can benefit from GAP in two ways:
By paying your monthly gas bills through affordable installments based on the household income

By getting your past-due bills forgiven or credited
The beneficiaries must be enrolled in the federal Low Income Home Emergency Assistance Program (LIHEAP). GAP users must cover their monthly payments on time, or they will be excluded from the program. The program's budget is $1 million, and the funds are distributed on the first to apply, first to receive a basis.
Can The Salvation Army assist with medical bills?
The Salvation Army does offer limited assistance with bills in case of a medical emergency. A local Family Service office may have funds at their disposal to help you cover piled up medical bills, although the resources are usually limited.
What you can expect if your local Salvation Army operation center has such funds is to:
Get prescription vouchers that can help with buying medication

Receive insurance co-pay if your medical plan does not cover the costs of the treatment
The organization may team up with local clinics, dentists, and colleges to develop programs with affordable primary medical and dental care for residents who cannot afford regular healthcare services.
If you have faced a sudden medical emergency and redirected your resources to solving the issue, The Salvation Army can help you cope with other expenses, so you can avoid falling into debts and poverty. You can apply for help regarding:
Transportation costs

Food and clothing

Seasonal expenses
Transportation costs
Some people have to sell their vehicles to cover their medical expenses, which leaves them struggling to get to work or see their physicians. The Salvation Army can cover the costs of transportation by providing bus and train tickets. It can also organize ad hoc emergency transports for disabled and sick persons.
Food and clothing
Medical bills can leave little room for food and clothing expenses. The Salvation Army locations have food shelves and pantries. Although food assistance is limited, it may be a short-term solution in desperate times. Many people face extreme poverty after complicated and demanding medical treatments, so a free meal may be a bare necessity.
Assistance with clothing is also essential for persons who became homeless because winters can be cruel in the northern parts of the country. Additional programs are available for the children whose parents cannot afford to buy them winter coats or shoes.
Seasonal expenses
The Salvation Army can help parents with seasonal costs, such as school books and equipment. Most beneficiaries of these programs are in the process of paying back debts for medical bills and cannot afford additional expenses.
What can DoNotPay do to help with bills?

You don't have to qualify for assistance from The Salvation Army to get help with your bills. Most people are not eligible for it, which does not mean that they are not struggling. Since The Salvation Army is focused on impoverished and homeless persons, you can turn to DoNotPay if you do not meet such requirements.
DoNotPay is a completely free app that is available to anyone. Our goal is to help you with various administrative issues and make sure that you will not need assistance from organizations like The Salvation Army.
We offer the services of the world's first robot lawyer to help you prevent unnecessary expenses and save the time you spend on mundane, nerve-racking tasks. Small costs may seem like pocket change, but that money can be directed into emergency funds that will mean a lot if a crisis occurs.
If you are struggling with bills, ask our virtual legal team to assist. The procedure is quick and easy:
Log on DoNotPay through your

Select Corona Relief from the menu

Choose the type of bill you need help with

Provide basic personal info and the kind of help you need

Wait for our robot lawyer to suggest the best solution
Utility bills, medical bills, or even internet bills and pricey subscriptions—we can help you cope with all of them, completely free of charge. A lot of people spend money on expenses that are unnecessary and damaging to the budget. Let us free you of those costs.
Is it possible to negotiate a bill?
The answer is yes, and you should give it a go before you do anything else. All bills have many surcharges and additional fees that don't reflect the actual usage of energy, water, or even the Internet. Some of them are deductible, and some are not, but there is no harm in trying to reduce the amount if you are struggling to pay.
These negotiations will not always work, but in most cases, you will receive some kind of relaxation. If you have low income, you can try negotiating all of your bills, so you can keep up with the payments and maintain a relatively normal lifestyle.
Is it possible to get an extension on the due date?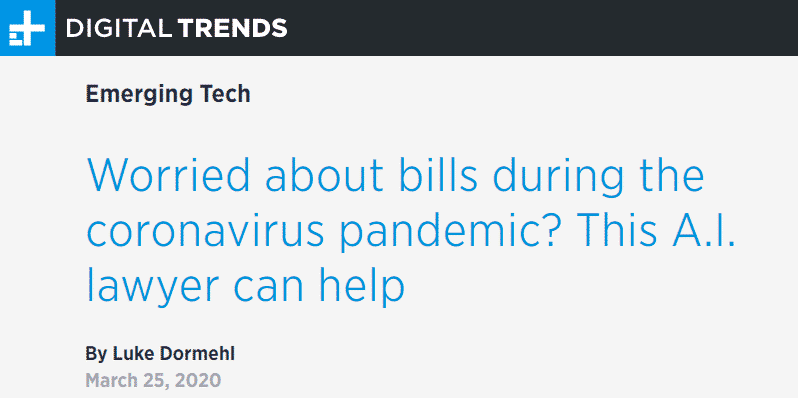 If you realize that you won't be able to pay the bill on time, you should immediately ask for an extension on the due date. That way, you won't be paying any late fees or interests if they apply. Getting an extension is usually not a big deal as most providers grant it readily.
DoNotPay can help with creating an extension letter for you. All you need to provide are the required details (dates, email addresses), and our robot lawyer will generate the letter and send it instead of you.
DoNotPay and the waiver on late fees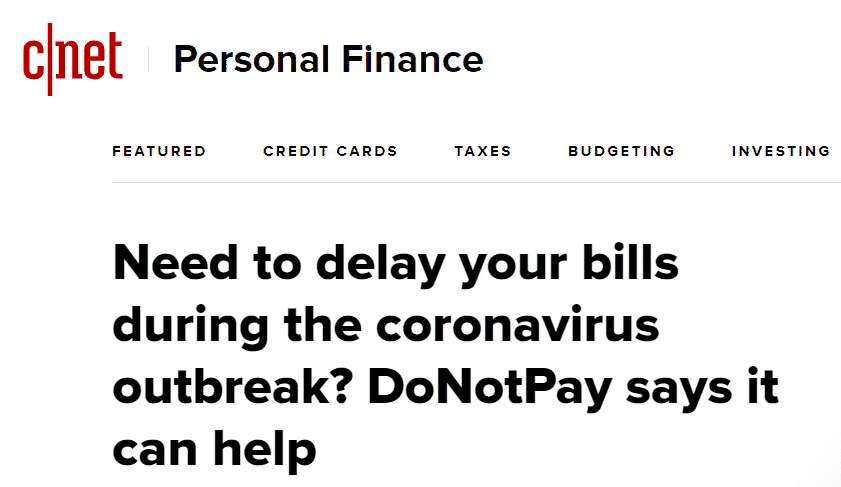 If you are seeking a waiver on late fees (and you should), there are a couple of routes you can take:
You can get a lawyer or a consultant to do it for you

You can talk to a customer rep over the phone or in-person

You can send a waiver letter by email
The last option is the easiest, as it saves a lot of time. In case you are not familiar with writing waiver letters, . Just give us the necessary information, and you can get it in a matter of minutes.
What happens if you don't pay your bills?
The consequences vary depending on the bill, but in most cases, they are inconvenient and unpleasant. If you are too far behind with your payments, the provider may decide to cut the services. This can be disastrous in the case of electric or heating bills.
If your debt piles up, the provider can sell it to a collection agency. This complicates things even further, as you may end up in court. You should try to avoid this situation as you may end up paying the agency expenses and interest rates on top of your original debt.
The best course of action is to work with the provider and find an appropriate solution together. Providers are usually willing to grant various relaxation like affordable payment plans and discounts.
You should avoid the following:
Getting a personal loan to pay the bills—

because the interest rates are high and you may end up owing much more in the end

Covering the bill with a credit card—

because you can quite quickly bury yourself in a complicated financial debt if you are not disciplined
Instead, you can take advantage of the financial counseling available through The Salvation Army and learn to manage your resources better and achieve stability in the long run.
What else can DoNotPay do to help?
DoNotPay can help you with various issues that make your life difficult even though they are not as severe as homelessness or extreme poverty. We are here to cut through the red tape for you and assist with fighting unnecessary fines and hidden expenses.
Don't hesitate to contact our robot lawyer to take care of the following:
Fighting speeding tickets

Disputing traffic tickets