Do The Right Thing and Report Tax Evasion Oklahoma
It can be very stressful to try and decide whether to . Chances are good; you have discovered that someone in your circle of friends, family, and acquaintances is breaking the law. It is never a good feeling. How do you know that you are doing the right thing by reporting them?
You are! Fraud is against the law, and it negatively impacts people, towns, and more. It takes from everyone. No matter how stressful it is, or how much you wish you could avoid it, reporting the fraudulent activity is something you should do. If you are unsure of how to start the process, we have you covered.
DoNotPay makes it as stress-free and easy as possible to do something you never imagined you would have to know how to do.
What Is Tax Evasion?
A person committing tax fraud or tax evasion is not simply making errors in how they file their taxes. If there is any chance that it is simply a one-time miscalculation, you may not need to report it.
The act of committing tax fraud means that someone is willingly and intentionally trying to avoid paying the taxes they owe to the government. This may involve:
Attempting to Use a False Social Security Number
Not Reporting All Income
Intentionally Not Paying the Taxes Owed
Lying or Falsifying Financial Documents
Failure to File Tax Returns
Making False Claims (Saying you sent money to a charity that you didn't)
Anyone can make simple human errors. However, sometimes it can become a criminal case. Often, it will be most noticeable in cases of employment and payroll tax fraud by the company employer or someone attempting to claim dependents that they should not claim.
Why Report Tax Evasion in Oklahoma?
As shown on the Oklahoma State Auditor and Inspector website, fraud and other abuse can add costs for the government or a reduction in services that will affect everyone. This means that someone who is failing to pay their taxes is ultimately taking away from the rest of their town, city, and government.
Taxes are money that specifically goes toward keeping:
Roads in Good Condition
Firefighters and Rescue Teams Paid
County and City Parks Beautiful
Pays Teachers
Ensures People Get Medical or Food Assistance If Needed
Anyone who isn't playing fairly with their taxable income and chooses to defraud the IRS should be held accountable for their actions.
How to Report Tax Evasion Yourself
There are several ways to report tax fraud or tax evasion in Oklahoma. Since reporting what you know is important, most states and government offices do what they can to make it easy for you.
Reporting Fraud Locally
You can report fraud to the Oklahoma Tax Commission or the Anti-Fraud Unit. The Anti-Fraud Unit serves all counties in Oklahoma, and you can contact them in person, by mail, email, or phone. This allows you to report what you know through writing a letter to express your concerns.

You can also use forms that are available online. To file a Citizen Complaint form against an individual or a business entity, you will need to be willing to provide details regarding what you know and evidence if it is available.

Reporting Fraud Through the IRS
If you want to use the IRS form, you can easily fill out Form 3949-A. This form will ask that you tell them about the situation, how you came to know about it, evidence, and more.

You will also need to fill in your personal information. This allows the IRS to contact you with their questions or if they need more information from you. It also allows you to collect rewards and incentives if the person or entity committing fraud is held accountable.

The downside to reporting through the IRS is that it can be complicated to fully convey what you have seen going on. Reaching a resolution or finding out whether they have even viewed your report can also happen slowly.
Who to Turn to For Help When Reporting Tax Evasion?
There isn't an easy way to remain anonymous when writing letters or filing an Oklahoma tax report sales tax evasion form. The IRS requires you to give your personal information, or they will not take the claims as factual.
If you want to report tax fraud but don't know where to start, DoNotPay has you covered. Create your own cancellation letter in 5 easy steps:
1. Open the DoNotPay Report Tax Fraud product.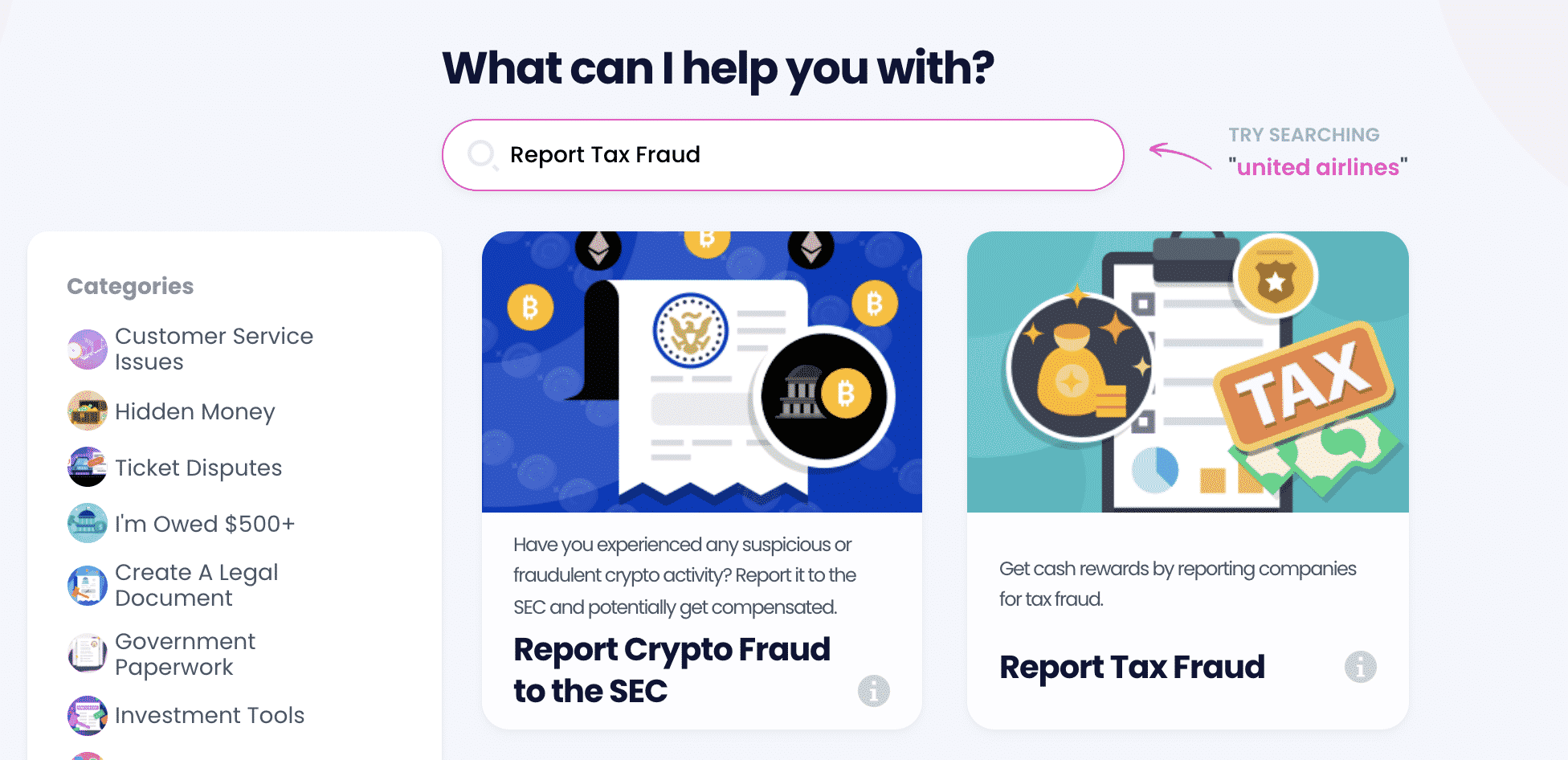 2. Enter the business you would like to report for tax fraud.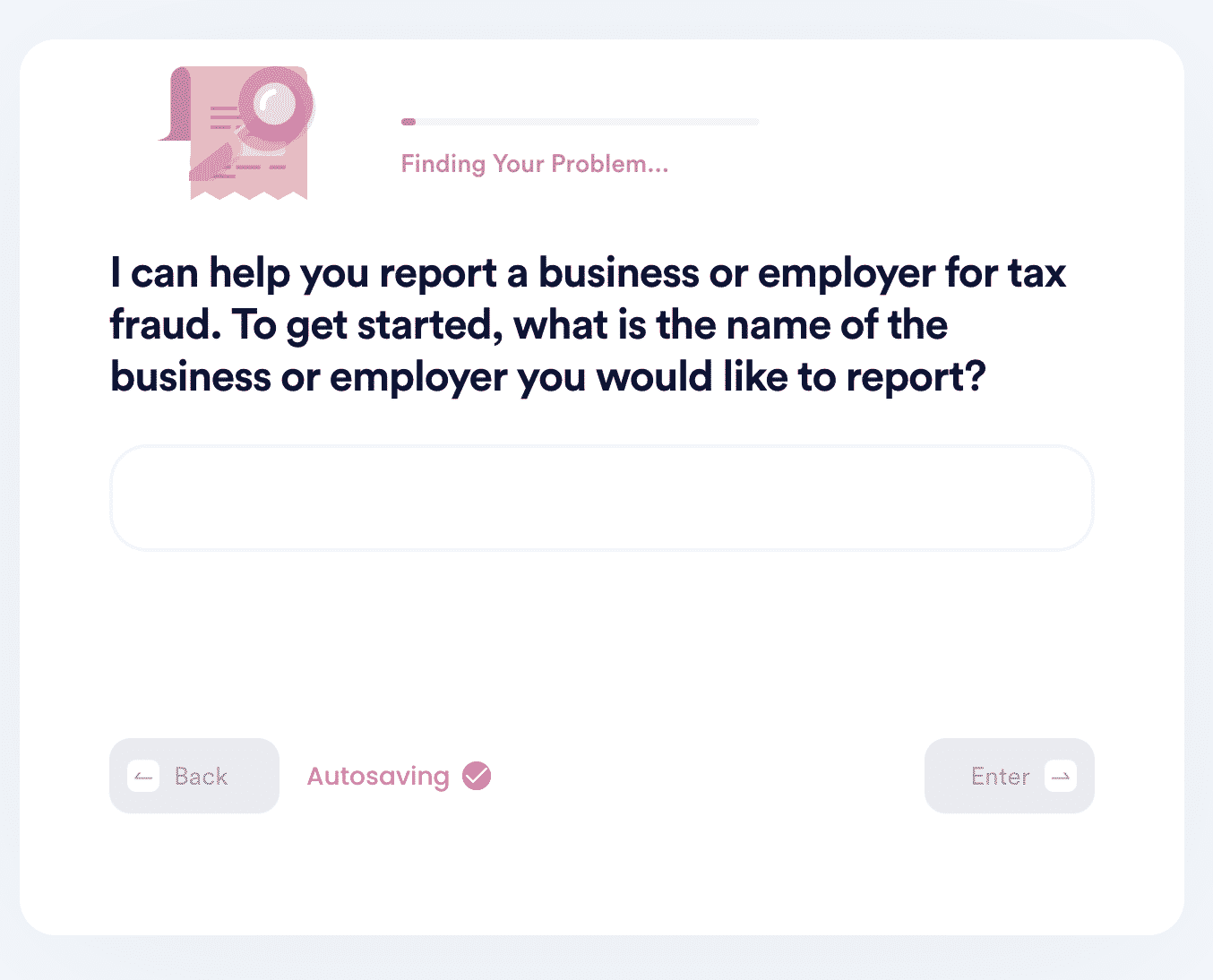 3. Provide the details of suspicious activity and as much evidence as you can provide.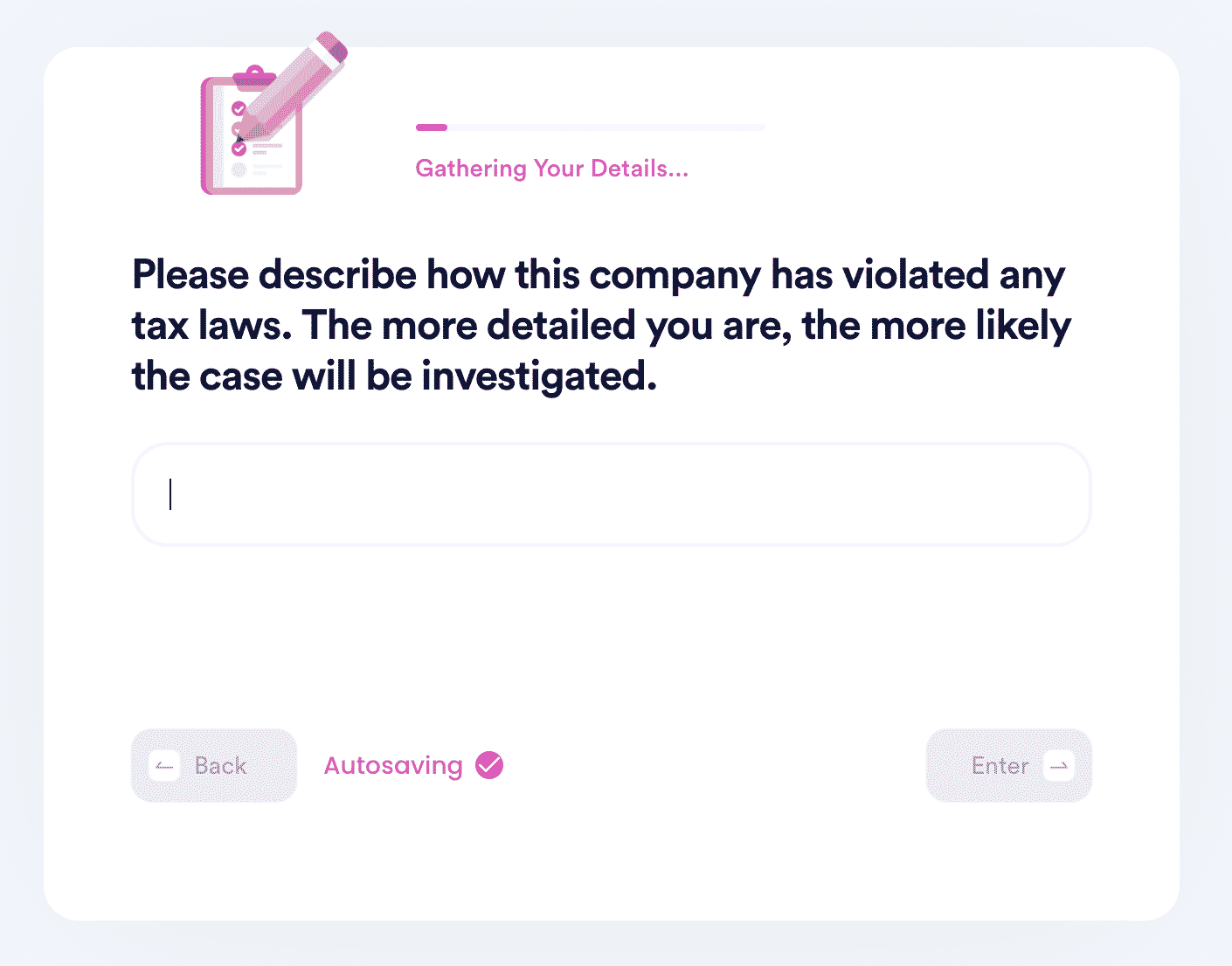 4. Confirm your contact information.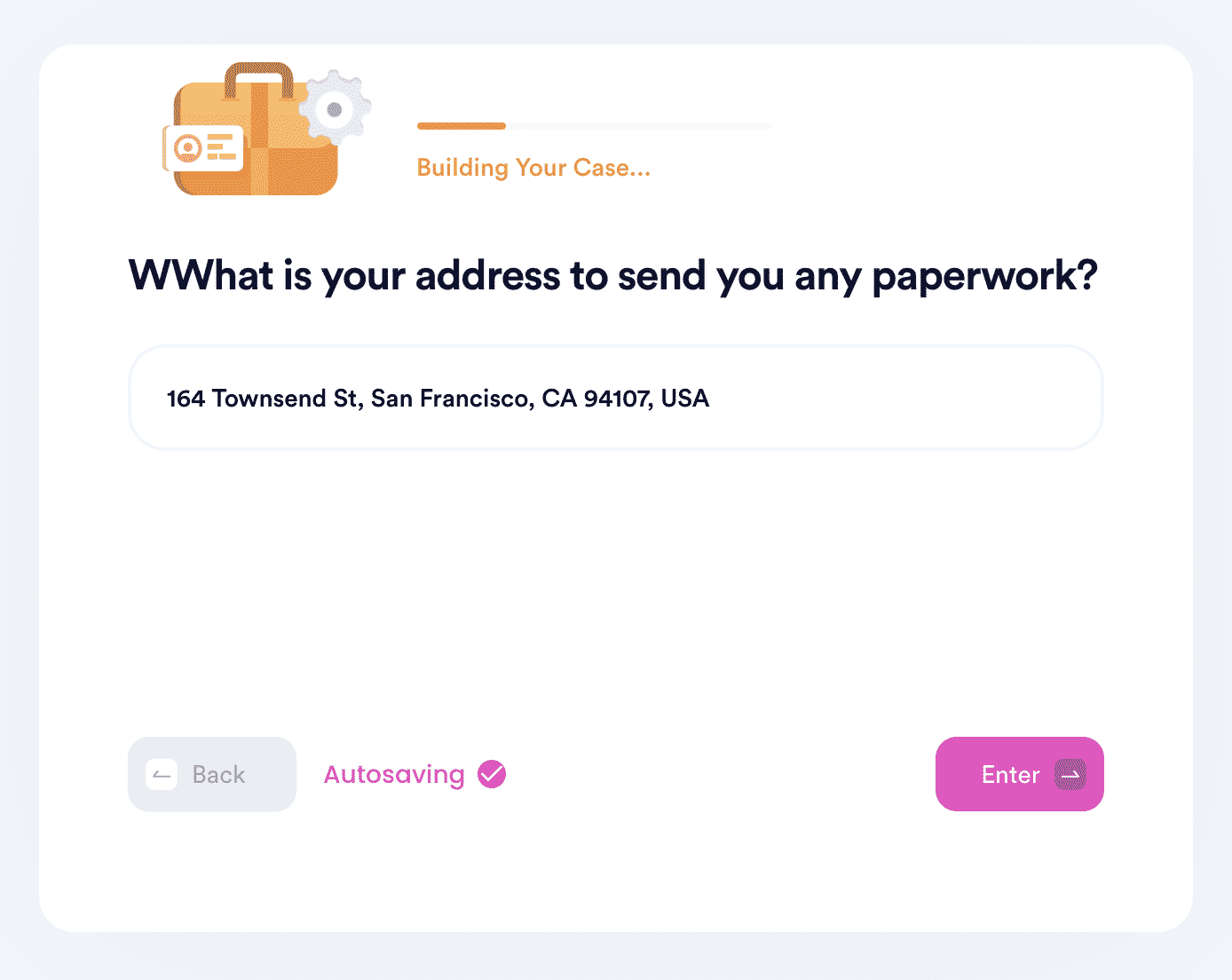 5. DoNotPay will automatically generate the official report and send it on your behalf. The IRS will contact you regarding cash rewards once the case is investigated.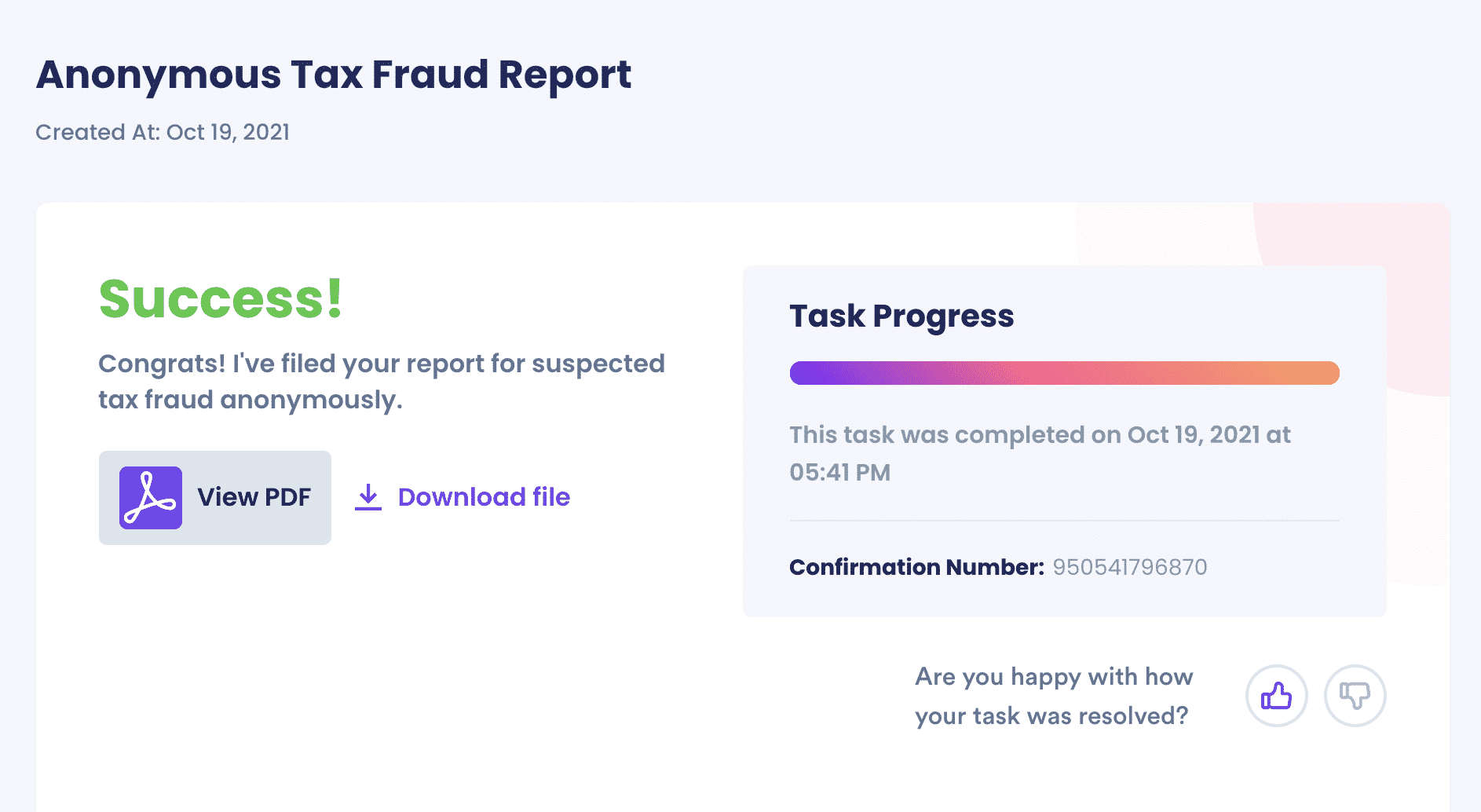 Using DoNotPay Is Quick and Easy
At DoNotPay, we take the frustration and uncertainty out of filing a report for and all other states. We do our part to ensure that your claim is done correctly to take it seriously the first time. We will also do the waiting for a response so that you do not have to.
It is easy to take advantage of our services. You will simply need to
Log In to DoNotPay and Select Tax Fraud.
Tell Us Who You Feel is Committing Tax Fraud.
Submit the Information You Have.
Confirm Your Personal Information
We Will Generate Your Claim and Submit Your Situation to the IRS.
The IRS Will Contact You When They are Finished Investigating the Issue.
You can live your life knowing that you have done the right thing by going after someone committing tax evasion. We will only reveal what we know about the government parties that need to know about it.
We can also help you maintain your privacy, though you will be giving up your ability to collect rewards.
Other Services Provided by DoNotPay
offers a variety of services beyond reporting someone for tax evasion. We also work across all companies, groups, and entities with just a click of a button.
If you want the simplest way possible to do what needs to be done, our online lawyers at DoNotPay are here to set things in motion. Just tell us what you need our help with.