New Management—How You Can Cancel American Utility Management in Minutes
AUM is a utility management and energy services company that helps property owners manage their utilities better. The company is known for adding unnecessary fees to its bills and randomly increasing the cost of utilities. In many cases, users are billed twice for the same utilities. While tenants have little say in how their building or house is managed, property owners can cancel these services and choose a more reliable billing provider.
Cancel AUM Utility Management With DoNotPay's Help

There's no faster way to cancel a service than with DoNotPay. You can take care of any unwanted subscription within minutes, all from the convenience of our app. To get rid of your American Utility Management subscription, all you have to do is:
Open the app in your

Press the

Find Hidden Money

option

Enter

American Utility Management
DoNotPay will take care of the rest. You won't have to worry about further bills coming from the service you've canceled. Our app will notify you once the cancelation is finalized.
How to Cancel AUM on Your Own
There are multiple ways to cancel American Utility Management services:
| | |
| --- | --- |
| Can I Cancel With | Yes/No |
| Phone Call | Yes |
| Letter | No |
| Email | Yes |
| Website | No |
| In-person | No |
| DoNotPay | Yes |
Cancel AUM via Phone Call
If you want to call AUM to cancel their services, you can do so by dialing their customer support line and requesting a cancelation. Here's how you do it:
Dial 866-520-1245

Ask to talk to a representative

Provide customer identification data

Request that the service is canceled
AUM will send a confirmation email after canceling your subscription.
Cancel AUM via Email
You can also cancel AUM utilities by sending an email to customerservice@aum-inc.com. Include your account number and customer details in the email and request that they cancel your subscription.
Where to Find Alternatives to American Utility Management
If you require a billing service but don't want to deal with AUM's fraudulent practices, you have plenty of other options. Consider a few alternatives after canceling your American Utility Management services.
Company

Pricing

Benefits

$595.00 one-time payment

Flexible rate structure & modifiable bill formats

Transaction rollback capability

Varies depending on location and type of property

Provides services in nearly every state

property management software integration
Track Your Unused Subscriptions With DoNotPay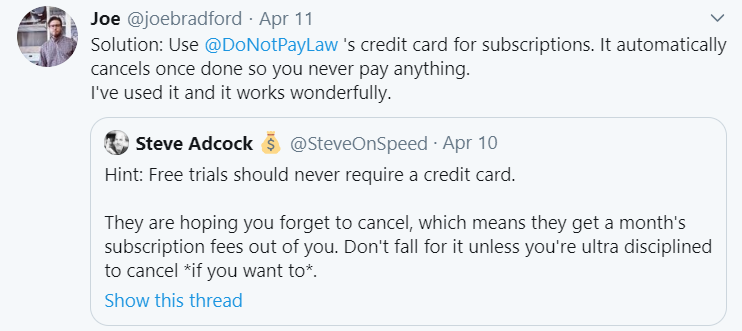 Americans spend a lot of money on subscriptions. Many of these subscriptions end up being unused, while still charging the users. It's estimated that Americans waste more than $300 every year on subscriptions that they don't use.
DoNotPay can help you avoid wasting money on unused subscriptions. All you have to do is connect the app to your email or bank account. Our app will then track your active subscriptions and simplify canceling them.
If AUM Has Wronged You, Sue Them With DoNotPay's Help

American Utility Management is known for billing users for higher amounts with nothing to back those charges up. If you feel that the company has overcharged you or refuses to cancel their service, enlist the help of the world's first robot lawyer app.
DoNotPay has been recognized by the American Bar Association Louis M. Brown Award for Legal Access and has helped countless individuals with lawsuits in small claims court. Download the app to use our services and fight back against AUM. You can get your money back and enact revenge against the company that unnecessarily raised your bills.
DoNotPay Can Help You Take Care of Various Daily Tasks

Simplifying cancelations is just one of the many features DoNotPay offers users. Our app can help you dispute a parking ticket in any city as well as lower your bills. If you want to stop a stalker, we have your back. Are you getting too many calls and want to mess with robocallers? Our app can take care of the problem and show you how to get payback.
DoNotPay offers a slew of features that can help you with day-to-day tasks and nuisances. Open the app in your and find out what we can do for you.
Here are some things we simplify for our users:
Disputing traffic tickets

Fighting speeding tickets