Bill consolidation loans for bad credit applicants
In the unpredictable financial climate that we live in, falling behind with your bills and other payments is not unusual. A lot of people are struggling to keep up with student loans, credit card payments, utility, and medical bills.
If you find yourself juggling the financial obligations, especially if you tend to forget to cover some of them because you are in a tight spot, a consolidation loan may be a solution. It is a way to put your finances under control, at least in terms of deadlines and visibility.
You should be aware that there is no universal model that fits every person, so you must try to understand the kind of loan you are taking and make sure that it is going to help you manage your debt better.
DoNotPay can help you deal with your bills

Before you go out seeking a consolidation loan, try to manage your bills without getting deeper into debt. Most of us cannot afford the expertise of lawyers and financial consultants, so DoNotPay may be the kind of assistance that you are looking for.
It is a free app that offers the services of the world's first robot lawyer to help you stay afloat in the sea of overwhelming administrative tasks that we all face daily. If you are behind with your bills, or you are dealing with unfair fines that are damaging to your budget, contact DoNotPay, and get our virtual legal squad to advise you.
The procedure is simple and free:
Log on DoNotPay via your

web browser

Select Corona Relief from the menu

Have a chat with our AI legal team regarding the issue

Wait for our robot lawyer to suggest the best course of action for you
Whatever problem you have to deal with, it is always best to ask for professional advice, especially if you need to cut through the red tape, which tends to be too demanding for someone in the middle of a crisis.
Request an extension on the due date with the help from DoNotPay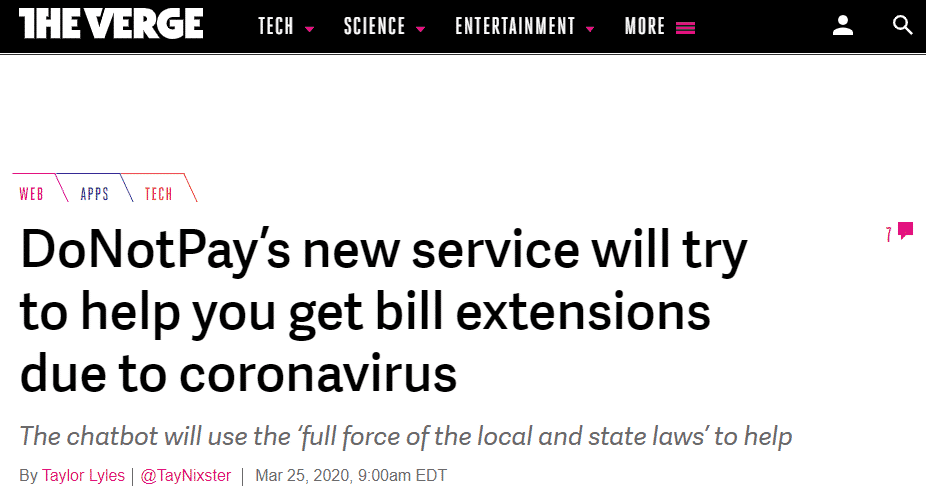 As soon as you realize that you won't be able to make the payment by the due date, you should immediately ask for an extension. It doesn't matter if you are late with your utility bills or your credit card or loan payments. Getting an extension is a standard relaxation measure that is easily granted, and you should take advantage of that.
DoNotPay can jump in to help you by creating an extension letter if you don't have the time to do it. All you need to do is provide the necessary details, and our robot lawyer will compose and send the extension letter on your behalf.
It is essential to keep your utility company or your loan lender updated regarding your situation, especially if you are in a financial turmoil. Many people start avoiding communication with the suppliers when their debts start piling up, but that is the worst thing that you can do. Present your issues to the other interested party, and try to come up with a solution together.
DoNotPay can assist with waivers on late fees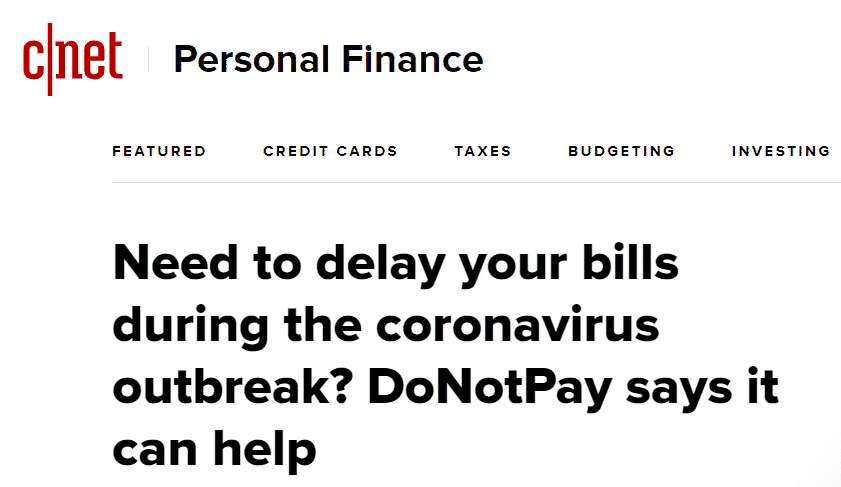 Saving as much as you can is essential for people in a financial tight spot, so if you can get a waiver on late fees, don't hesitate. The process may not be as simple as getting an extension on a due date, but it's not overly complicated either.
These are your options:
You can have a lawyer or some other consultant to do it for you, but with their fees, you should not go for this option

You can do it yourself by making an appointment with a customer representative, which may require some time 

You can send a waiver letter via email
The last option is the easiest as it is free of charge and doesn't take much time. If you are reluctant to take it because you are not sure how to write a proper waiver letter, ask DoNotPay to do it for you. You should provide the necessary information, and our virtual legal team will create a professional waiver letter and send it in your stead.
What are consolidation loans, and can they help?
Consolidation loans are the type of personal loans that you take to cover old loans from various lenders with different interest rates and due dates. In case you have piled up bills, you could use a consolidation loan to get rid of the debt quickly.
It is crucial to know that the best consolidation loans are available for persons with good credit scores. If your credit is bad, you may find it tricky to get a favorable option to consolidate your debts under one loan.
You should look for loans that will allow you to cover all your old debts, but with lower interest rates than the ones you already have. Bad credit may not disqualify you for the right amount, but it will take the interest rates higher.
Most lenders consider persons with bad credit to be a more risky investment, so they secure their position with high interests. If the new rate cannot be lower than the current ones, the consolidation loan is not an adequate solution. Check the table below, which is the summary of hypothetical accumulated debts.
| | | |
| --- | --- | --- |
| Creditor | Amount | Interest rate |
| Power company (utility debt payment plan) | $1000 | 0% |
| Personal Loan Lender | $4000 | 24% |
| Credit Card Company | $4000 | 19.5% |
| Medical Card Issuer | $10,000 | 21% |
Only if a consolidation loan can cover all the items (you need to get $19,000) with the interest rate lower than 24% should you consider applying for it. 
The benefits of bill consolidation loans 
One of the primary benefits of debt consolidation loans is that it brings all your monthly payments together and gives you a clear overview of how much you need to cover and when. Many people get lost in numerous installments and bills, mix or miss the due dates and end up falling behind because of oversights and not the lack of resources.
If you are struggling with resources, a consolidation loan will not release the financial pressure, but it will help you focus on one larger payment instead of a multitude of small ones. This may help you have a better understanding of your budget, which is the first step towards proper debt management.
A consolidation loan gives you a fresh start to a certain extent, but you should pay attention to the following:
The monthly installment has to fit into your budget

The interest rate needs to be lower than those on your existing loans and credit cards
The cons of debt consolidation loans
If you have a low credit score, chances are that consolidation loans are not going to be beneficial to you. Although they will allow you to gather all your debts in one place, the interest rates will be high, so you may end up paying more in the long run.
Consolidation loans are not favorable, and you should not view them as a relaxation measure. They are simply more convenient for people who have a hard time dealing with the paperwork. You should be aware that failing to meet the demands set by the lender will result in the same, if not worse, consequences as with your old loans and debts.
How to get a consolidation loan if you have a bad credit score?
Bad credit does not imply that you won't be able to get the loan—it means that the terms will not be the most favorable. If you believe that a consolidation loan would be a solution to your current problems, make sure you explore all the possibilities. Not all lenders are the same, and with some patience and persistence, you may be able to get a decent deal.
Before you sign anything, try to improve your starting position by:
Ameliorating your credit score

Comparing offers from different lenders

Adding a co-signer

Working on your debt-to-income ratio
Upgrading the credit score
Since upgrading your score requires time, you can work on it only if the situation isn't urgent. A low credit score is the main obstacle between you and a good consolidation loan, so improving it even for a few points can mean a lot.
The below table can help you determine what's your score according to FICO.
| | |
| --- | --- |
| Credit Score | Rating |
| Up to 579 | Bad |
| 580–799 | Good |
| 800 and more | Excellent |
You can also check your current rating with all three credit agencies once a year. Use it to check for errors because they may happen. Incorrect statements and unregistered payments are all damaging to your score.
Make sure you follow through with your monthly installments, bill payments, and credit card balances. Being on time can be beneficial for your credit.
The idea is to move from bad to good credit score because it can take 5% off the interest rates once you get approved for the consolidation loan. With high amounts, even the smallest deductions can relax your budget significantly.
Comparing offers from different lenders
A bad credit score means that you won't be able to negotiate a lot, but comparing the offers will allow you to understand what's on the market and whether it suits your needs. You should look for the following:
Pre-qualifications

—This means that the lender will do a soft check before they give you a quote, which won't hurt your score further

Direct payment

—The payment will go directly to the creditors, and you won't be tempted to reallocate the funds to something else
If the lender needs to do a hard check before the approval, you should know that it can lower your credit, so try to avoid such establishments.
Adding a co-signer
Adding another person to co-sign the contract can significantly improve your score and get you a much better deal. It will work only if that person has a favorable credit score. Some lenders do not allow co-signers.
You should be aware that both you and your co-signer will be responsible for the loan, and taking it will affect their score as well.
Debt-to-income ratio improvement
When it comes to consolidation loans, the lenders may look into more than just your credit score. This is good news for bad-credit applicants because the following can improve your chances of getting a better deal:
Solid income

Respectable work history

Education
The higher and more stable your income is, the better the chances are for getting a favorable loan. 
Where to get the consolidation loan if your credit is bad?
Low credit score applicants are usually not eligible candidates for loans from prominent financial institutions. If you are unable to reach a good credit score, chances are one of the major banks will reject your application.
The best way to get a consolidation loan is to apply at:
Credit unions

Online lenders
Credit unions
Credit unions are nonprofit institutions that offer debt-consolidation loans at relatively low rates, which makes them ideal for applicants in financial hardship. The rates go up to 18%, which is lower than what you can expect from other lenders.
There is a membership to be paid. To become a member, you need to live or work in the area that the credit union covers. The good news is that they don't charge origination fees, and sometimes have more flexible loan terms.
You should be aware that applying for a loan from a credit union requires a hard credit check, which can damage your already low score. In case you manage to get a loan, it will most likely be a direct-to-creditors type of payment. 
Online Lenders
The best thing with online lenders is that they provide consolidation loans in the form of fast funding. This means that you will be able to finish the entire procedure online and receive the funds in no longer than a week.
You should be careful regarding the establishment that you are signing the deal with, and make sure to check:
Interest rates

—They can be quite high and amount to 36% if your credit score is low

Origination fees

—Sometimes these fees can be significant, and you have to apply for a larger loan to receive the amount you need to cover your debts because the fee is deducted from the proceeds
Are there any alternatives to consolidation loans?
Depending on how much you owe and what your current financial situation is, there are a few alternatives to debt consolidation loans. You should look into them even before you apply for a consolidation loan, especially if your credit is bad. Here are some of the options:
Credit card balance transfer

Debt Management Plan

Bankruptcy
Credit card balance transfer
Transferring the balance from a credit card with unfavorable rates to a new card with 0% interest is not a bad solution. Unfortunately, if your credit score is low, you will probably not be able to apply for the 0% rate credit card. You can make an appointment at the bank and see what your chances are. If a hard credit check has to be performed, don't apply because it will decrease your score.
Debt Management Plan (DMP)
The Debt Management Plan is offered by the National Foundation for Credit Counseling (NFCC). This nonprofit organization works through local agencies to assist people with bad credit scores nationwide.
Once you become a member, NFCC will create a plan for you, which means that they will take over your debt and bills and settle them with your creditors. You will be required to pay a monthly installment to your agency. There is a monthly NFCC membership fee ($20–$50) that you will have to pay while you are participating in the program.
You should be aware that your annual credit report will state that you are on a DMP, which may make you ineligible for future credits. Working around this problem is not impossible, but you would have to maintain excellent credit scores for quite some time before you can qualify for new loans.
Bankruptcy
Regardless of how ominous it sounds, bankruptcy is a valid solution if you reach financial rock-bottom. There are several types of bankruptcy, so you should seek advice from a financial counselor on what is the best course of action in your particular case.
You can wipe out most of your unsecured debts by declaring bankruptcy, including piled up utility and medical bills. It will not free you of your student loan. Another downside is that it will stay on your credit score for ten years, and make you ineligible for any other loans or credit cards.
What else can DoNotPay do for you?
In case you are in financial turmoil, you probably don't have the time or the patience to deal with a million mundane tasks that seem to pile up as soon as you turn your attention elsewhere. While you are focusing on serious problems, DoNotPay is here to:
Fight speeding tickets

Dispute traffic tickets