How to Access Your UCI Medical Records the Secure Way
When it comes to looking for your , you may find that you struggle to figure out exactly how to apply for them. Most of the time, it's just to make a simple request with the Medical Center, but other times you may have to provide different forms of proof or fill out different forms to get what you need.
If you end up in one of these difficult situations receiving medical records, you have no need to worry. DoNotPay can easily help you to figure out how to navigate the process of receiving these documents with as little hassle as possible, whether you need them on paper or electronically.
Why Would I Need My UCI Medical Records?
There are a few different reasons you may need to have access to your medical records.
When going to a new health provider
Proof of medical needs
Proof of medical procedures
Legal documentation needs
No matter which of these situations apply to you, you should know that those records are something you should never be denied access to. However, there are some medical issues that may not be easily obtained because of restrictions by either the facility or HIPAA.
What Restrictions Might Certain Medical Records Have?
There are different restrictions that pertain to obtaining medical records. As a general rule, you have the right to access any of your personal medical information without issue. However, some documents are going to be more difficult to receive than others.
STD documentation
Mental health notes
Substance abuse notes
Medical records belonging to someone else, such as a child
How to Request Medical Records from UCI
It is simpler to receive your UCI Medical Center medical records than it may be in some other locations. Medical records are kept long enough to make sure you have plenty of time to get them.
MyChart
UCI Uses a portal system called MyChart. Using this service, you can easily access most of your medical records on your own whenever you need them. There is much more that can be done in the portal as well, such as talking to your doctor or scheduling new appointments.
Printed Copies
To receive printed copies of your medical records, you must first go online to the UCI website for the Authorization for Release of Health Information form. After filling out the form to completion, you can turn it into UCI, and get your medical records.
UCI Online Portal
UCI Health 
UCI Health Medical Records Email
roi@hs.uci.edu
UCI Mailing Address
UCI Medical Center

Building 25

101 The City Drive South, Route 118

Orange, CA 92868

UCI Fax Number
714-456-7576
Though it can be easy to request medical records on your own, you may find out you have trouble filling out the proper documentation in order to receive your records. In cases such as these, it's important to get help making sure you navigate this process correctly.
How to Transfer Medical Records to UCI
Transferring your medical records to UCI can be simple, so long as you know how to go about it. In general, it is best done by:
Getting medical records yourself from one facility to hand-deliver to the other facility
Requesting your previous doctor to transfer from facility to facility
If you find yourself struggling to transfer records to UCI for future medical use, DoNotPay can help you get your needed documents moved over both quickly and simply.
UCI Medical Record Request Fee
are free to acquire online using the portal. The online method is not only simple to use but entirely cost-free.
However, there is a charge to receive your medical documents on paper. The first 20 printed pages are free, but each page after will run you $0.25 per page needed.
Get Your UCI Medical Records With the Help of DoNotPay
If you find yourself struggling to receive your medical records from UCI, it may be time to enlist the help of DoNotPay. With their help, you are sure to receive your records much more quickly and easily than if you were to attempt to do it on your own.
DoNotPay knows how to write your health care provider a simple, clear, and effective letter that will get your health records in no time. All you have to do is take three simple steps:
1. Look up medical records on DoNotPay's website.

2. Enter the name of the health care provider you'd like to receive medical records from.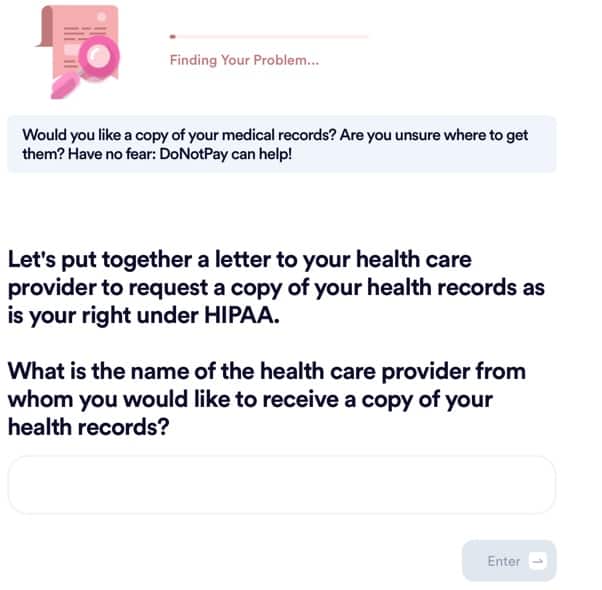 3. Answer a few questions about your provider and where you'd like to send the records.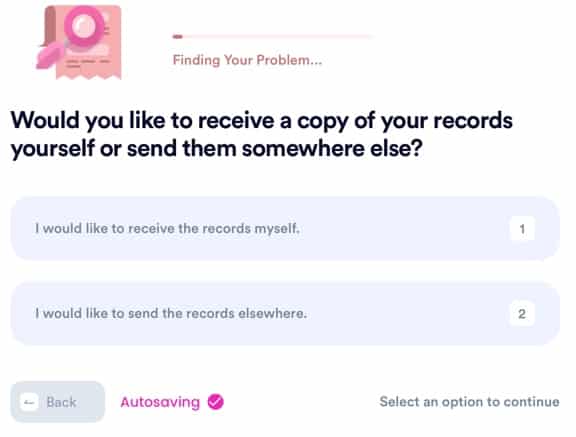 DoNotPay is able to get you your medical records with hardly any effort on your end. Even if you're trying to receive records from a different facility such as Kaiser Permanente, Mercy Hospital, Baptist Health, or Cleveland Clinic, you're sure to find comprehensive help with DoNotPay.
What Else Can DoNotPay Do to Solve Problems for You?
DoNotPay can do so much more than just help you receive your medical records from any medical facility. DoNotPay can help you with needs that are not even medically related as well, including:
DoNotPay is always here for you when you need us. When you are ready to get medical records or use one of the other services, simply contact DoNotPay.