How to Contest Traffic Tickets in PA Without a Lawyer
There is no more sinking feeling than looking in your rearview mirror and seeing the flashing lights as you are pulled over by law enforcement for a traffic violation. Some Commonwealth of Pennsylvania traffic tickets are much more serious than others. Regardless of whether you believe the traffic stop was fair or not, you still need to address the traffic ticket in a court of law.
Your traffic ticket will tell you the date and time you are expected to appear in court. You must appear in the specified court which will depend on the county in which you were stopped. It will also tell you the traffic violation you are being charged with. If you believe that you did not take the actions you are charged with, you are allowed to dispute your traffic ticket at your court date.
The Commonwealth of Pennsylvania utilizes a points system where each moving violation is worth a certain number of points. Each person is allowed to accumulate a certain number of points during a specific amount of time.  If you exceed the allowed number of points, the Commonwealth of Pennsylvania can and will suspend or revoke your driving privileges. Traffic tickets become a part of your permanent driving record and will affect the severity of your sentence for future violations as well as show a pattern of illegal activity. It can also affect how much you pay for car insurance.
If you are having trouble deciding how to handle your , DoNotPay can help.
What Are the Most Common Traffic Tickets in Pennsylvania?

The most common traffic violations that lead to  are:
Exceeding the speed limit
Running a red light
Failing to signal a lane change
Failing to stop at a stop sign
Not wearing your seatbelt
Failing to stop for a school bus
Texting while driving
Reckless driving
Driving under the influence
Options for Responding to a Traffic Ticket in Pennsylvania
When you get a traffic ticket in the Commonwealth of Pennsylvania, you can either dispute the violation or pay your ticket. 
The first step of responding to a traffic ticket in Pennsylvania is to show up in court on the day and time specified on your traffic ticket. At that hearing, you will hear the charges against you and be asked how you plead. If you plead guilty, the judge will let you know the cost of your fine and the number of points that will be taken against your license. If you do not agree to the violation you are being charged with, you plead not guilty and your case will move on to a new date and a trial. Contesting the charges means that you will need to prove that you did not deserve the ticket beyond any reasonable doubt.
Negotiations will take place between you and the district attorney. They will be the ones who decide whether your case needs to go to trial, They can also decide to reduce or even dismiss the charges. Depending on the severity of the charges, you might want to consult or even retain an attorney.
Reasons for Contesting a Traffic Ticket in the Commonwealth of Pennsylvania
There are several reasons you may want to contest a traffic ticket. These include:
You do not think you were speeding.
You believe that there was a police error involved in your traffic stop.
The speed limit was not marked.
If a radar gun was used, question the calibration.
You were not the one driving when the speed limit was exceeded.
You believe that you were driving with the flow of traffic.
There was a medical emergency.
You were trying to get to a bathroom.
You were late for an important interview.
Late picking up a child from daycare, would result in a fine.
Late for work.
Late for a doctor's appointment.
Bringing home hot food that you did not want to get cold.
Late for a court appearance.
Late meeting significant other.
Late for a family event.
Late for a concert or sporting event.
Late for church.
Late for a wedding.
Late for a funeral.
Is Contesting a Traffic Ticket in the Commonwealth of Pennsylvania Worth the Trouble?
It is always worth the trouble to contest a traffic ticket. With the point system for traffic violations, it is always worth it to attempt to contest a ticket. Even if you cannot get the charges dismissed, reducing the number of points you are penalized for is an important factor. This is especially true if you are a repeat offender and have had a lot of tickets. The threat of losing your license due to too many accumulated points is very real.
What Happens if I Ignore My Pennsylvania Traffic Ticket?
There are negative consequences if you decide to ignore your traffic ticket. If you ignore your Pennsylvania traffic ticket, you will lose your case and be declared guilty in absentia by the court. You will not have had the opportunity to defend yourself. You will be required to pay fines that are much higher than if you had appeared in court.
Many traffic citations in Pennsylvania are issued through the mail. In many cases, the owner of the vehicle who receives the mailed citation was not the driver at the time of the violation. In this circumstance, it might be tempting to ignore a violation. Ultimately failing to appear for a court date or failing to pay your fine could result in a bench warrant.
How to Contest Your Traffic Ticket on Your Own
If you choose to contest your Pennsylvania traffic ticket on your own, follow these steps:
Check all of the details of the ticket.
Make sure your name is right.
Look at the details of the violation itself.
Were you the driver at the time of the citation?
Do you agree with the charges on the traffic ticket?
Make a note of the court date on your traffic ticket.
Go to your court date.
Talk to the district attorney.
Tell your side of the story.
Listen to what they offer and see if that is more or fewer points than the violation cited on your traffic ticket.
Decide whether to pursue your not guilty plea or pay your fine.
If you plead not guilty, your case will be continued.
Appear at your next court date.
If you decide to take points and the tine, then pay your fine and fees to the court cashier.
How to Contest Your Traffic Ticket in Less Than 2 Minutes
If you are having trouble contesting your traffic ticket on your own, let DoNotPay help. According to Money, DoNotPay has successfully challenged more than 160,000 traffic tickets.
Here is how they do it:
Log-in to DoNotPay and go to the Ticket Disputes category. Select the correct product based on your traffic ticket.

 

Upload a photo of your citation.

 

Provide us with some details on why you believe the citation issued is a mistake.

 

Select whether or not you want the letter mailed to the traffic ticket issuer on your behalf! 
That's it! You'll receive an appeal letter that contains state vehicle codes to boost your case.

 
Why Use DoNotPay to Contest a Traffic Ticket in Pennsylvania?
When you use DoNotPay to contest a traffic ticket, you get results that are:
Fast. You can get started in less than 120 seconds.
Easy. Answer a few simple questions about your ticket.
Successful. More than 160,000 overturned traffic tickets show just how successful using DoNotPay is.
We can also assist you with the following inquiries:
What Else Can DoNotPay Do for You?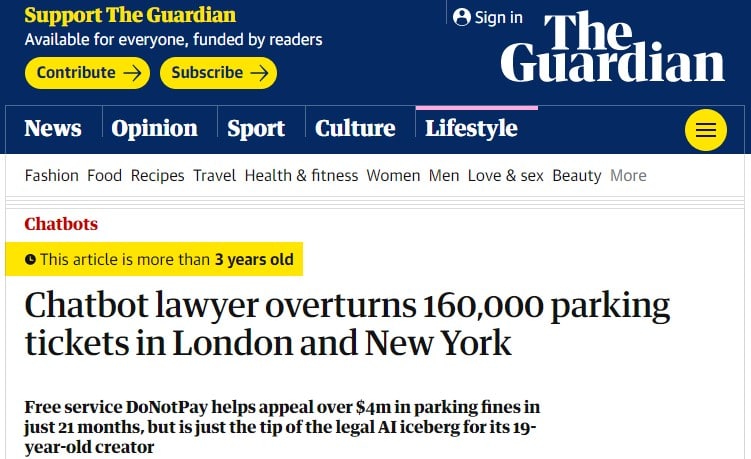 DoNotPay can do more than just help you with your traffic tickets.  Here is just a sampling of what other problems DoNotPay can help you solve:
DoNotPay can help you solve problems in every area. Visit DoNotPay today and see what all they can do for you.