How to Fight a Traffic Ticket Without a Lawyer
If you have received a traffic ticket, it means you are accused of violating a traffic rule. With the revelation that over 41 million US drivers receive a traffic ticket each year, the chance of receiving some kind of traffic ticket remains high. Learning how to is a critical step to avoid losing money on tickets. Whether it is a parking ticket or a speeding ticket, DoNotPay can help you make the best case possible for voiding or otherwise not paying the ticket.
What Are the Common Types of Traffic Tickets?
Some of the most common traffic tickets that most drivers encounter include:
Traffic violations
Example
Speeding
Failure to observe speed limits
Distracted driving
Using a mobile phone while driving
Driving without a license

Driving without a license
Driving with an expired license

Running a red light or stop sign

Failure to stop at a stop sign
Failure to stop at a red traffic light

Leaving the scene of an accident
Hit-and-run cases
What Are My Options For Handling Traffic Tickets?
Once you receive a traffic violation, you have the following options to resolve the issue:
Admit guilt and pay the ticket
Contest the traffic ticket
Attend driver's training
Request mitigation hearing
Why Should I Fight a Traffic Ticket?
Paying a traffic ticket doesn't make it go away. It means you are admitting to the offense. The record can stay with you for the next 18 months. Several traffic tickets trigger additional fees, fines, and harsh penalties that may result in loss of license. When you challenge a ticket, you are saving your money and reputation.
What Are the Consequences of Traffic Misdemeanors?
Traffic violations categorized as misdemeanors may result in a fine, a jail sentence, or both. Some of the common misdemeanor offenses include:
Reckless driving
Drag racing
Driving under the influence (DUI)
Leaving a scene of an accident
When Can a Traffic Violation Become a Felony?
A traffic offense is regarded as a felony in most states if it injures a person or damages property. Individuals accused of this offense are taken into custody and allowed to post bail.
What Happens If I Ignore a Traffic Ticket?
Ignoring a traffic ticket could result in the suspension of your driving license. Once the license is suspended, it becomes hard to drive. It is always advisable to respond to your traffic ticket as soon as possible.
Is It Advisable to Fight a Ticket If I Have a Commercial Driver's License?
Because commercial drivers have higher professional responsibility, authorities are always quick to impose harsh penalties for their violations. It is advisable to challenge traffic ticket allegations even with a commercial driver's license. If you are concerned about how a traffic ticket will affect your license and employment, work with a traffic lawyer for lesser fines, penalties, and fees.
How to Fight a Traffic Ticket On Your Own
Most people prefer to pay a ticket rather than fight it, but there are times fighting for a ticket is worth it. Use the following steps to fight a traffic ticket:
Dispute the police officer's personal opinion: if you have received a ticket that requires the officer to exercise some personal judgment regarding the situation, you can challenge the judgment
Dispute the evidence: call to question the officer's observations and presentation of evidence
Present evidence the traffic violation was a mistake of fact
Submit that your driving was justified: you can also point out errors in the ticketing process
Argue the ticketed driving was necessary to prevent harm
How to Fight Traffic Tickets with the Help of DoNotPay
Here's how to using DoNotPay:
Log-in to DoNotPay and go to the Ticket Disputes category. Select the correct product based on your traffic ticket.

Upload a photo of your citation.

Provide us with some details on why you believe the citation issued is a mistake.

Select whether or not you want the letter mailed to the traffic ticket issuer on your behalf!
That's it! You'll receive an appeal letter that contains state vehicle codes to boost your case.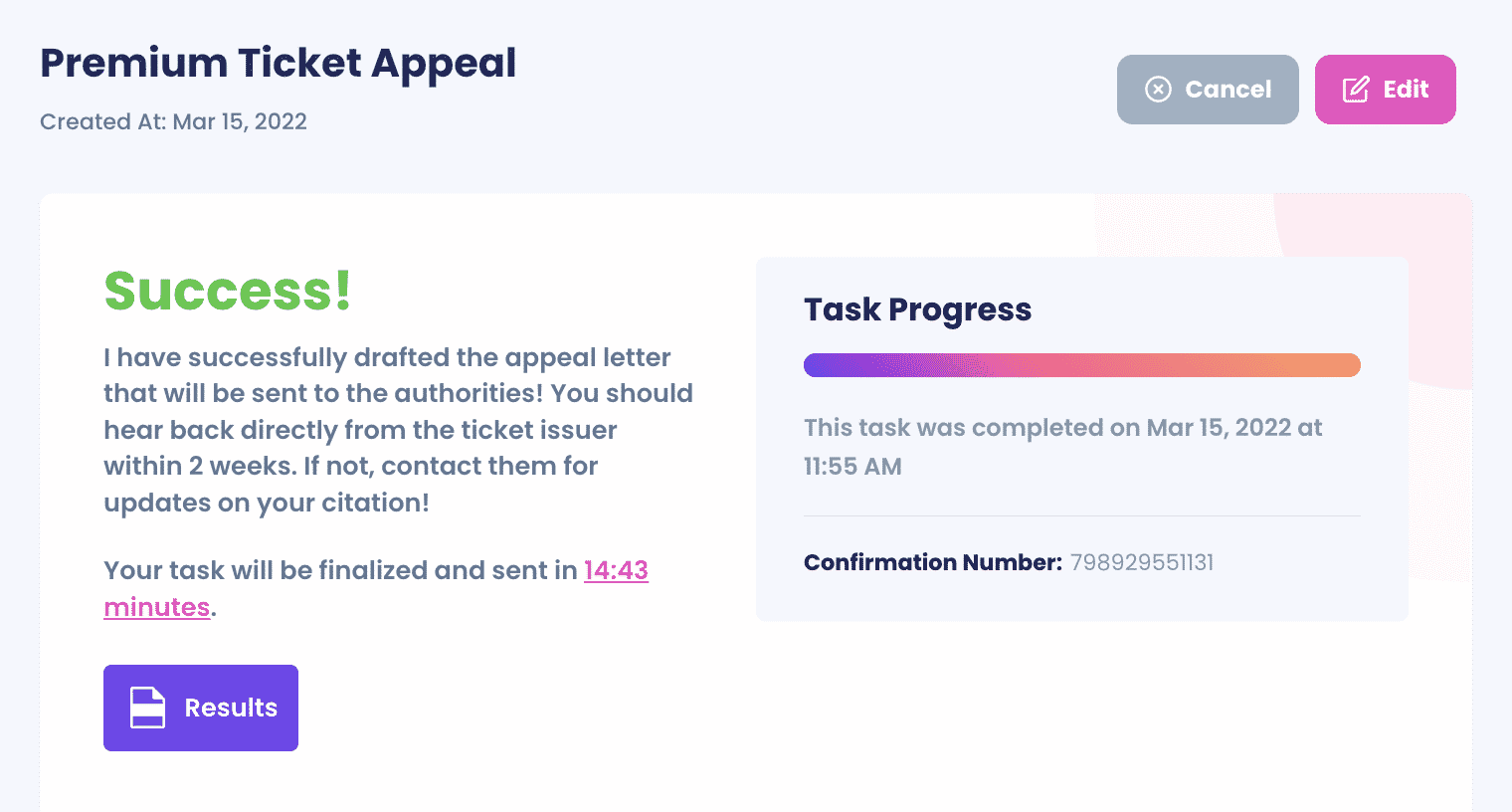 It's really that simple! Look out for your traffic ticket issuer's response to discover whether you won!
Fight a Traffic Ticket without a Lawyer with DoNotPay
Thousands of traffic tickets are issued each month in the United States. Currently, the average fine cost stands at around $150. However, you can pay as much as $2000 in some states, depending on the type of violation. Traffic tickets are more than just a passing inconvenience. It can eat up much of your budget and result in criminal charges with dire consequences. If you have received a ticket, the best step is to fight it. DoNotPay can help you make the best case possible for voiding or otherwise not paying the ticket. Join us today to learn more.