A Step-by-Step Guide to Finding Old Traffic Tickets Quickly
Millions of Americans who believe they are law-abiding citizens are stunned to find out that they're actually wanted, criminals. What's worse? If you're one of those millions with , then there could be—and probably is—a warrant for your arrest floating around somewhere. Not to panic, DoNotPay is here to show you how to find out if you're on the ten-most-wanted list for parking in a bus lane and forgetting all about it.
Two Kinds of Traffic Tickets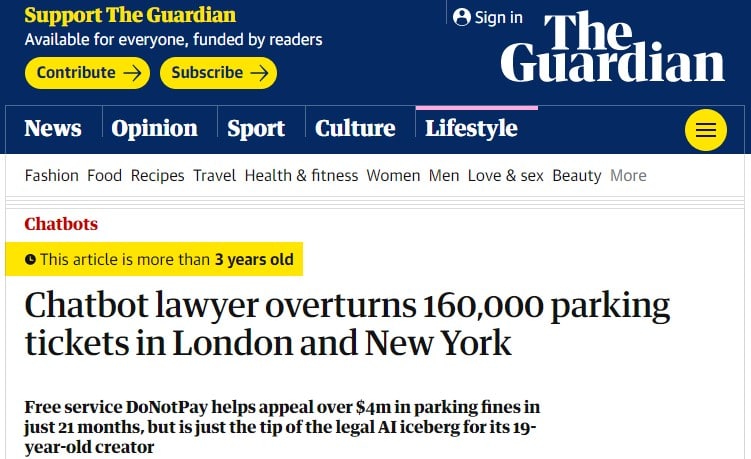 There are that cause these forays into minor criminal behavior—parking and moving violations.
Parking Tickets
Almost any city in the country has rules about where you can park when you can park there, and for how long. Many cities also require you to pay to park on congested city streets and will issue citations for any violation of the parking laws. Yes, your taxpayer dollars are spent on giving you parking tickets.

Private businesses also have rules regarding parking on their property, but those tend to have a blunt-force solution—pay the company who towed your car, or put the boot on it, when you overstayed your welcome in the parking deck or lot. You may get a city ticket in a private lot; that depends on your state and city.

The thing about parking tickets? They're not what they used to be. The old-school meter maid has turned in her pink pad for a digital camera, and your ticket is more likely to come in the mail than on your windshield–which means you're more likely to miss it altogether.

Moving Violations
Speeding tickets, passing a stopped school bus, or driving with expired tags are a little harder to forget since you're actually pulled over with a blue-light special, forced to sit in complete embarrassment, and wave at your friends as they drive by on the way to school drop-off. The upside of a moving violation ticket is that you get it on the spot and the helpful officer explains to you how you have to go to court or pay the fine. Your kids will never let you forget.

There are more serious moving violations than a rolling stop; there are some moving violations that are actual crimes
Every state's laws vary, but these are pretty consistent.
Driving without a license
Collision causing injury
Driving under the influence
Consequences of Unpaid Tickets

If you don't pay your traffic tickets or go to court to dispute the charges, then you're facing both financial and criminal penalties.
Increased Insurance Premiums
Even if you ignore a citation in the mail, your insurance company does not. They get a copy of all your tickets, and increase the dreaded points on your insurance with every ticket—and your premiums. If you accumulate too many tickets, they drop your coverage altogether.
Risk of Arrest
This is arguably more serious than a higher insurance premium. If you get a traffic ticket, you have a certain number of days to pay the fine, which indicates you acknowledge guilt or contest the ticket in court. The court date, time, and courtroom are listed on the ticket itself, so you have no real excuse for not showing up. You can go to court to defend yourself, hire an attorney (you'll get dozens of letters offering to help), or blow it off. Don't blow it off—the courts do not find that amusing and the judge will issue a bench warrant for your arrest.
Since you're not a hardened and dangerous criminal, they won't send anyone looking for you. They play the odds that you'll get another ticket, and when that happens, boom—they issue the outstanding arrest warrant.
In some states, the DMV will suspend your license if you've got enough unpaid tickets and citations. It's a rude awakening to make an appointment to renew your license, only to find out you don't have one anymore.
How to Find Old Traffic Tickets
If you're worried you've got outstanding tickets, it's easy to find out. Here's how.
Contact your state DMV, either online or by phone.
If you call the DMV, ask for copies of your tickets. They have access to records and can send them digitally.
Contact the county court where you got the ticket, and pay the fine, or work out a payment arrangement.
The Easiest Way to Dispute Your Traffic Tickets — and Win!
You're still free to dispute any outstanding citations. If you want to dispute the ticket but don't want to hire an attorney, hire DoNotPay instead. We're an AI attorney that works fast and accurately—getting you the best chance to have the ticket expunged. It's simple—here's how.
Log-in to DoNotPay and go to the Ticket Disputes category. Select the correct product based on your traffic ticket.
Upload a photo of your citation.
Provide us with some details on why you believe the citation issued is a mistake.
Select whether or not you want the letter mailed to the traffic ticket issuer on your behalf!
That's it! You'll receive an appeal letter that contains state vehicle codes to boost your case.
A few mouse clicks, and you're all done, and can go about the business of paying the tickets or clearing your record.
What Else Does DoNotPay Do?
DoNotPay can help you with lots of the paperwork you need to take care of for your car—here are just a few.
DoNotPay can also lend a hand if you need to file complaints, find missing money, or even get flight compensation.