How to Get a South Carolina Traffic Ticket Dismissal In Minutes
Most driving offenses in South Carolina will attract a traffic ticket. A traffic ticket comes with consequences such as penalties, suspension of a license, and heavy fines. Failure to pay the fines could land you in jail. Getting a ticket dismissed can save you from so much trouble and keep your driving record clean.
However, getting your can be a challenging task. Most people opt to just pay the fine due to the long procedure involved in ticket dismissal.
DoNotPay is an online service that helps drivers get their tickets dismissed quickly and we can assist no matter what state or city you're in. We have represented troubled drivers and successfully sought traffic tickets to be dismissed in:
Keep reading to learn more about how you can keep your record clean and fight that unjust traffic ticket without hiring a lawyer.
Types of Traffic Tickets in South Carolina

There are several types of traffic tickets in South Carolina divided generally between moving and non-moving violations
Driving under influence – Any driver caught driving under the influence of any substance will get a ticket. This is because of the danger the driver puts both to himself as well as other road users.
Speeding – South Carolina has speed limits and marked speed signs for all road users to see. Any driver who speeds will attract a speeding ticket. A ticket is given according to the speed surpassed beyond the required. A speeding ticket will also attract a demerit point on your driving record.
Driving license under suspension – Any driver that keeps driving while their license is under suspension will be given a ticket and get demerit points.
Driving without insurance – It is illegal to drive without insurance and this can land you in the arms of traffic law enforcement officers.
For your , one way is you would have to pay additional fees to the magistrate's court. Refer to SECTION 56-1-464 of the South Carolina Traffic Code, providing for the fees on top of the fines you would have to pay, provided that it does not involve reckless driving or DUI charges.
| | |
| --- | --- |
| Offense | Penalty |
| 1st Offense | $500 |
| 2nd Offense | $1000 |
| 3rd Offense | $1,500 |
| 4th Offense | $2,00 |
How to Appeal My Traffic Ticket in South Carolina
There are several ways to have your traffic ticket in South Carolina dismissed. Each one entails additional costs on top of the fine you need to pay if you can't have it dismissed.
Take a driving course
Taking a driving course is the surest way to dismiss a traffic ticket. Driving courses are government approved and help to get your ticket dismissed.
Plead not guilty and go to court
If you plead not guilty, you will be required to go to court. Ensure you present yourself before the court before the deadline to avoid further charges.
The court may require you to pay the fine first then you can be paid back if you win the case. During the trial, your attorney or yourself can urge out and get the traffic ticket dismissed by a judge.
Use third-party agents
Third-party agents such as DoNotPay help their clients to fight traffic tickets, this is because of the possible consequences they carry. DoNotPay works immediately to ensure that your ticket gets dismissed and your driving record restored.
Pay the fine and request ticket dismissal based on a good driving record.
How to Best Pay Your Traffic Ticket in South Carolina?
When you want to pay for your traffic tickets in South Carolina you would have to find the municipality that issued your ticket. Have your information on hand, name, license number, and the citation ticket number.
It is most recommended to pay online by visiting their Court Payments page.
How Does Traffic School Work?
Traffic school course is approved by the government and once you enroll you can be in a position to mask your traffic ticket and eventually get it dismissed from your records
How to Fight a Traffic Ticket in Court
The only way you will be able to fight to get your traffic ticket dismissed is by pleading not guilty. You will then be required to appear before a judge within 30 days and before the deadline to avoid additional fines.
You can either hire an attorney to represent you or contest the traffic ticket without a lawyer. The aim is to prove to the judge that you deserve to have the ticket dismissed.
There's no need to feel intimidated when appearing in court by yourself. A lot of people have done this successfully with the help of DoNotPay! If the judge rules in your favor, the traffic ticket will then be dismissed from your records.
Is Contesting a Traffic Ticket in South Carolina Worth the Hassle
Absolutely yes! If your ticket has attracted serious consequences such as a huge fine or suspension of your license, then it is worth contesting to get it dismissed.
What Happens If I Ignore My Traffic Ticket?
One of the biggest errors you can make is when you ignore the traffic ticket issued to you in South Carolina. Ignoring them would mean
Your driving license can be suspended.
You can be jailed.
You can be charged additional fines.
Your insurance can go up.
Your details can be forwarded to debt collecting agencies for money owed
Contest Tickets In South Carolina in Less Than 120 Seconds
A traffic ticket can lead to loss of money, a demerit to your driving record, or worse your driving rights being taken away from you. Fighting to dismiss your ticket is therefore very important. It can get challenging if you are doing it by yourself.
The Business Insider was witness to DoNotPay's state-of-the-art AI technology that has helped more than 160,000 clients with their traffic tickets both in the US and the UK. Yours could be next. Get DoNotPay to draft your appeal letter and use it in your arguments in Court too.
Here's how to get started:
Log-in to DoNotPay and go to the Ticket Disputes category. Select the correct product based on your traffic ticket.

Upload a photo of your citation.

Provide us with some details on why you believe the citation issued is a mistake.

Select whether or not you want the letter mailed to the traffic ticket issuer on your behalf!
That's it! You'll receive an appeal letter that contains state vehicle codes to boost your case.
It's really that simple! Look out for your traffic ticket issuer's response to discover whether you won!
What Else Can DoNotPay Do?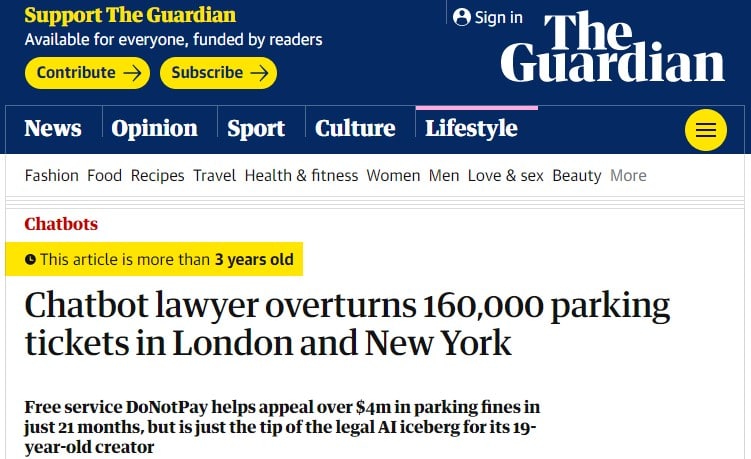 Getting your traffic tickets settled is only one of the many ways DoNotPay can make your life easier. You can use the robot lawyer's help with:
DoNotPay helps you get your ticket dismissed quickly. Sign up today and restore your driving merits.