Have You Been A Victim Of SBA Loan Identity Theft?
Identity theft is a bigger problem than many people realize until they become a victim themselves. Then they do not know what to do to resolve the issue.
If you think that someone may have used your information without your permission to obtain an SBA loan, that is identity theft and we are going to discuss the steps you can take to protect yourself and what you should do if you have already become a victim.
Knowing who to contact and how is the best way to prevent further fraudulent activity. Filing the proper reports is also the best way to build a case against the person responsible.
Keep reading to find out about the Identity Theft product and how it can simplify the process of reporting identity theft and fraudulent activity.
SBA Loan Identity Theft
The Small Business Administration (SBA) is the division of the federal government that focuses on small businesses. Whether you are starting a small business, growing a small business, or maintaining a small business, the SBA likely has access to the resources you need.
Due to the pandemic, the SBA was tasked with helping small businesses connect with emergency small business loan funds.
| | |
| --- | --- |
| Economic Injury Disaster Loan Assistance Fraud (EIDL) | This program provides funding to help small businesses who lost revenue due to the pandemic. The funds are to assist with operating expenses and financial obligations the business is having trouble meeting due to lost revenue. Identity thieves apply for the loans under your name hoping they receive funding before you ever realize what happened. |
| Paycheck Protection Program Fraud (PPP) | Known as a PPP loan, these are SBA-backed loans intended to help small businesses maintain employees by assisting businesses with paying employees rather than letting them go due to the loss of revenue since the pandemic began. Once again, identity thieves will apply for funding fraudulently hoping they can receive the funds before you notice. |
Unfortunately, with so much hardship and distress, identity thieves are quick to take advantage of an already bad situation. Some people became victims of .
Tips For Monitoring And Preventing Identity Theft
Here are some tips for preventing and identifying identity theft.
Check your credit reports regularly and thoroughly.
Review bank and credit card statements regularly and thoroughly.
Use strong secure passwords, different ones for each account.
All statements with personal information should be shredded before being thrown away.
Never share your personal information like your social security number.
Taking Action After SBA Loan Identity Theft on Your Own
These are the forms you must fill out and who you should notify if you suspect has occurred.
For EIDL identity theft, you must go to the SBA Office of Inspector General website. There you will download an identity theft letter which will provide detailed instructions on which forms you will need to file. In any identity theft claim through the SBA you will need to complete an SBA Declaration of Identity Theft Form.
The SBA often backs the loans offered but they do not fund them. You should determine what bank funded the loan and notify them as well.
Go online to the FTC Identity Theft website and file an identity theft report.
Notify The Credit Bureaus
You should notify all three major credit bureaus. It is also important to place a fraud alert or credit freeze to stop any further fraudulent activity.
Taking Action With DoNotPay After SBA Loan Identity Theft
There are a lot of forms to fill out and a lot of people to notify. In addition to those listed above, you will probably need to file a police report as well. Are you unsure if you will remember everyone to contact? You are in luck because DoNotPay can assist you with all of the forms and with notifying those who need to know.
Here's how to deal with identity theft using DoNotPay:
1. Search "identity theft" on DoNotPay and select the type of incident you would like to report.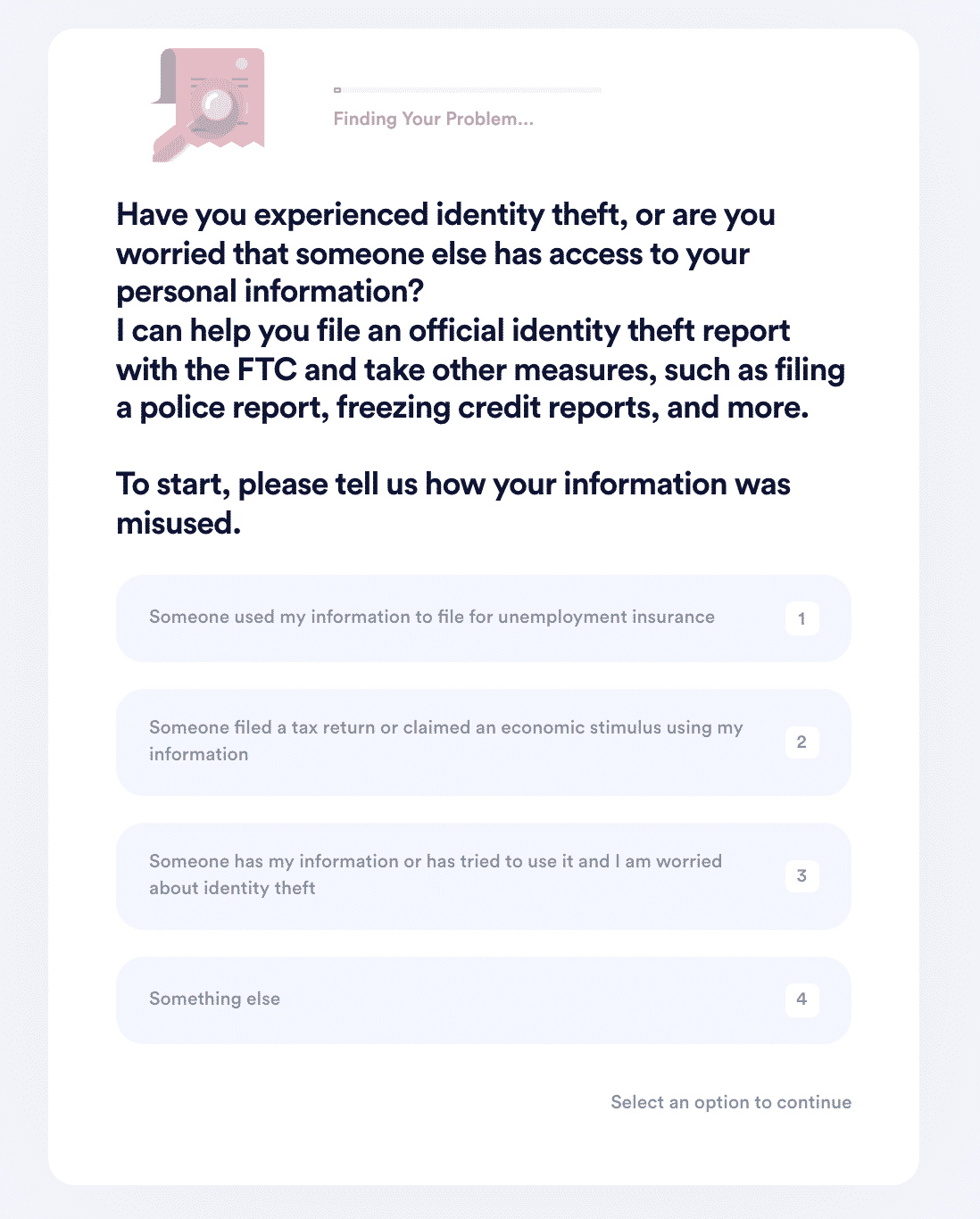 2. Tell us more about the incident that occurred, including the location, date, time, financial loss, and any suspect information you may have.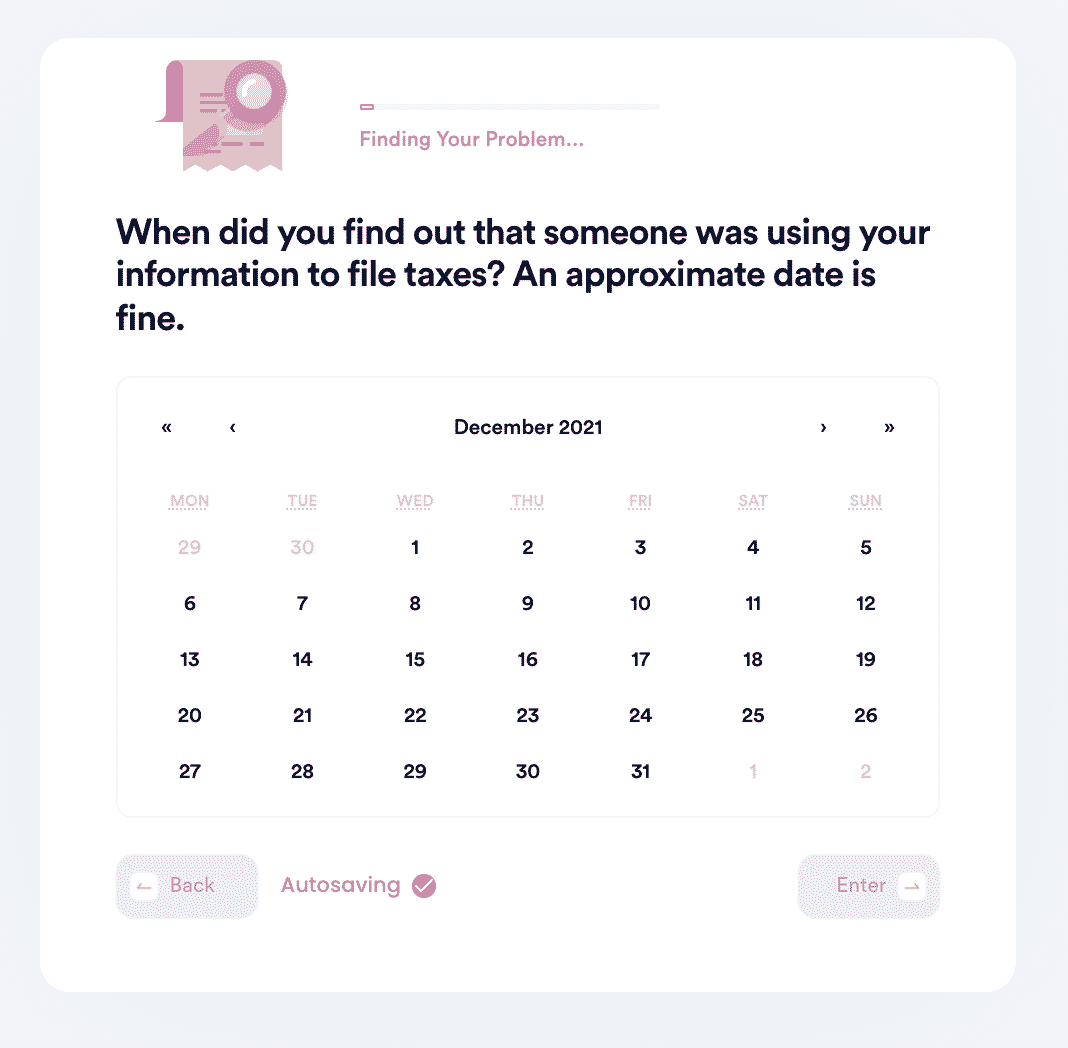 3. We'll identify whether you should file an FTC report, contact the IRS, freeze your credit report, contact state agencies, or file a police report. Once we guide you through the best options, we'll automatically submit the reports on your behalf!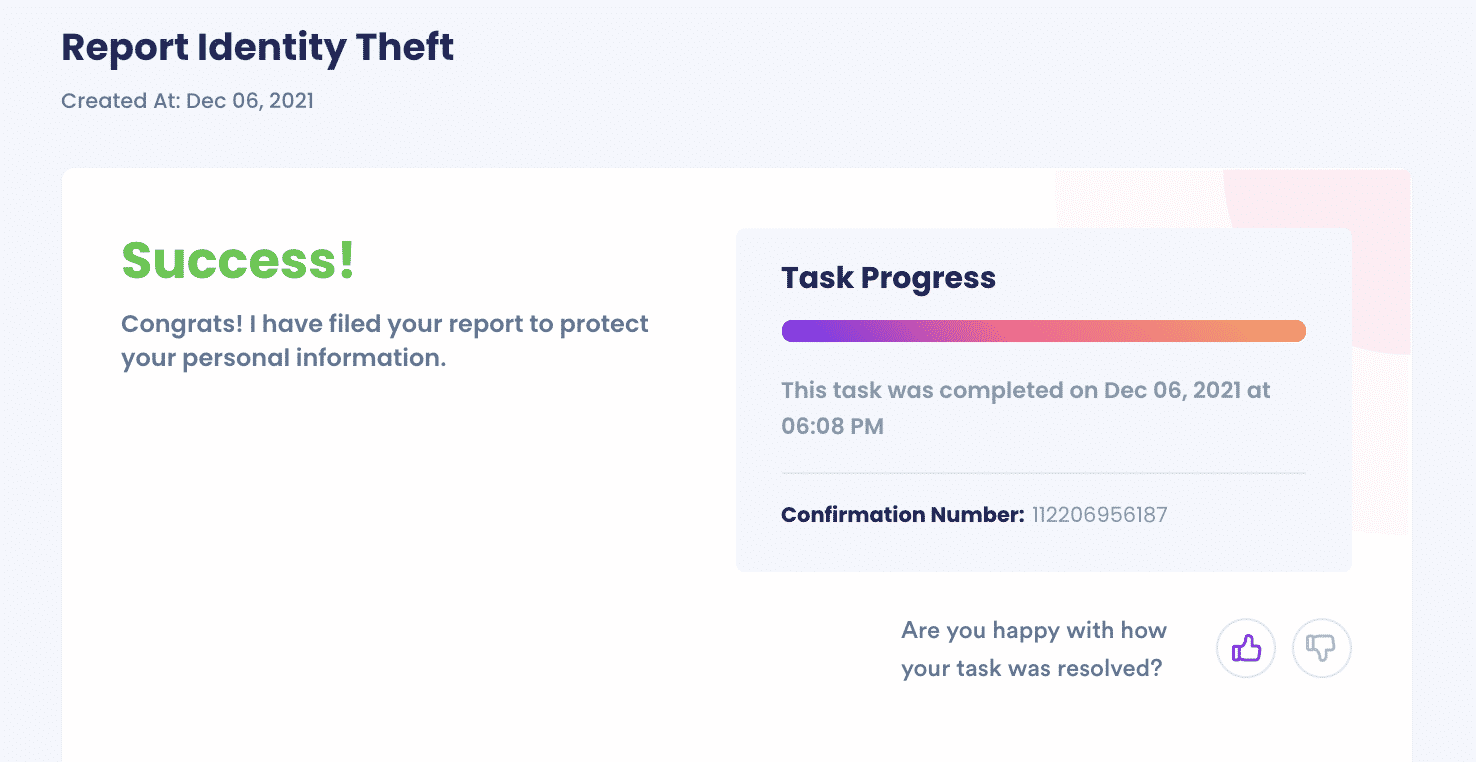 And that's it! DoNotPay will make sure your issue gets sent to the right place. We'll upload confirmation documents to your task for you to view, and if the contacts need more information, they will reach out to you personally via email or mail.
Save Time And Money With DoNotPay
Do not wait until you have already become a victim. Be proactive. If you have already become a victim, catch fraud early and prevent further damage to your credit report.
DoNotPay can help you with the following:
Products to Fit Your Needs
There are so many ways to save money and time with the products of DoNotPay that you will run out of things to do before you run out of ways to save. There are too many products to list them all here, but here are a few to get you started on saving.
Sign up and see how DoNotPay can help you today.