Get the Scoop on Submitting an OSHA FOIA Request
The Freedom of Information Act (FOIA) request submission can be a drawn-out process in general but especially with the Occupational Safety and Health Administration (OSHA). How and where you send your request depends on your location and the type of records you seek.
Luckily, you don't have to go it alone! We'll walk you through the process and share our tips and tricks so that you file your OSHA FOIA request in no time.
Understanding the OSHA Freedom of Information Act Before Your Request
According to the FOIA, the general public should have access to OSHA's records by filing a written FOIA request unless the records fall under the FOIA exemptions.
The info, records, or documents you're looking for may already be available on the OSHA website, so filing a FOIA request could be unnecessary. You can browse through the following web pages to try and find what you need:
You can also visit the OSHA website and use the search box in the top right corner of the page or check the frequently requested FOIA documents at the bottom of the page.
OSHA typically processes FOIA requests in the order they come in. The agency will, however, respond to simple requests faster compared to the more complex ones.
To discuss expedited processing or ask questions about FOIA fees, contact the OSHA national office or regional office FOIA coordinators before you start the requesting process.
How Can I File a FOIA Request With OSHA?
Check out an overview of all the methods of sending your FOIA request to OSHA:
| | |
| --- | --- |
| Can I Submit a FOIA Request Via | Yes/No |
| DoNotPay | Yes |
| Phone | No |
| Online | Yes |
| Email | Yes |
| Fax | Yes |
| Mail | Yes |
| In Person | No |
File Your OSHA FOIA Request Online
OSHA doesn't have a FOIA request form, but if you want to submit your request online, you should visit the National FOIA portal and do the following:
Click on

Start Your Request

Enter

OSHA

in the search bar

Tap on

Start FOIA Request

Fill in your contact information

Describe the records you're requesting

Upload the required documents if you're

seeking records on yourself

State the amount of money you're willing to pay and whether you want a fee waiver

Explain why you want expedited processing if you do

Click on

Submit Request
File Your OSHA FOIA Request via Email
You can send your FOIA request letter to OSHA via email to foiarequests@dol.gov.
File Your OSHA FOIA Request via Fax
To submit your FOIA request via fax, send it to the national OSHA FOIA officer at (202) 693-1635.
If you're looking for records regarding OSHA inspections or activities in a specific state, you should send your request to the regional FOIA coordinator. Find the fax number for the region you need in the list below:
| | |
| --- | --- |
| Region | Fax Number |
| CT, MA, ME, NH, RI, and VT | (617) 565-9827 |
| NJ, NY, Puerto Rico, and the Virgin Islands | (212) 337-2371 |
| D.C., DE, MD, PA, VA, and WV | (215) 861-4904 |
| AL, FL, GA, KY, MS, NC, SC, and TN | (678) 237-0447 |
| IL, IN, MI, MN, OH, and WI | (312) 353-7774 |
| AR, LA, NM, OK, and TX | (972) 850-4150 |
| IA, KS, MO, and NE | (816) 283-0547 |
| CO, MT, ND, SD, UT, and WY | (720) 264-6585 |
| AZ, CA, NV, HI, American Samoa, Guam, and the Trust territories of the Pacific | (415) 625-2534 |
| AK, ID, OR, and WA | (206) 757-6705 |
File Your OSHA FOIA Request via Mail
If you want to file your OSHA FOIA request with the national OSHA FOIA officer, mail your request letter to:
U.S. Department of Labor - OSHA
FOIA Officer
Rm. N3647
200 Constitution Ave., NW
Washington, D.C. 20210
If the records you're seeking are specific to a state, mail your FOIA letter to the appropriate address depending on your region. You can find all the addresses on the OSHA's FOIA page.
Use DoNotPay To Submit Your OSHA FOIA Requests
If you want to file your FOIA request online, but it seems like it entails too many steps, we know a better way!
Using DoNotPay to send your FOIA request to OSHA is fast and convenient because we do all the heavy lifting.
All you have to do is:
Open DoNotPay in a

web browser

Choose our

FOIA

feature

Type in

OSHA

Tell us

whether you want expedited processing or a fee waiver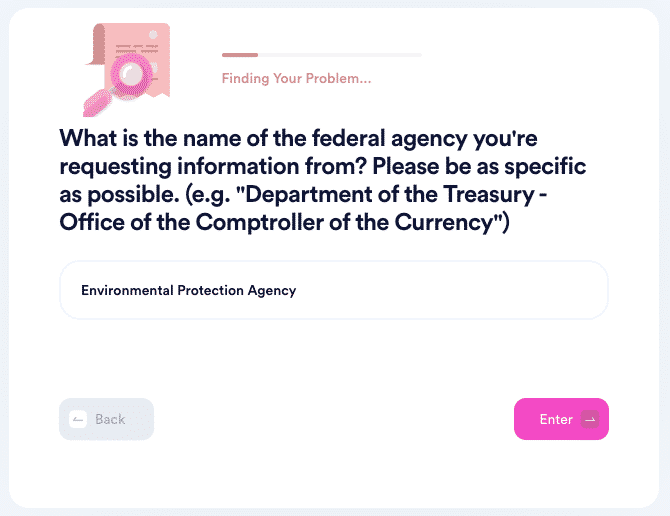 Our app will take care of the remaining steps. We will use your info to whip up a FOIA request letter and send it to OSHA.
DoNotPay is so much more than an app. You can check out our wide selection of FOIA articles that will answer any questions you may have.
With our assistance, you'll: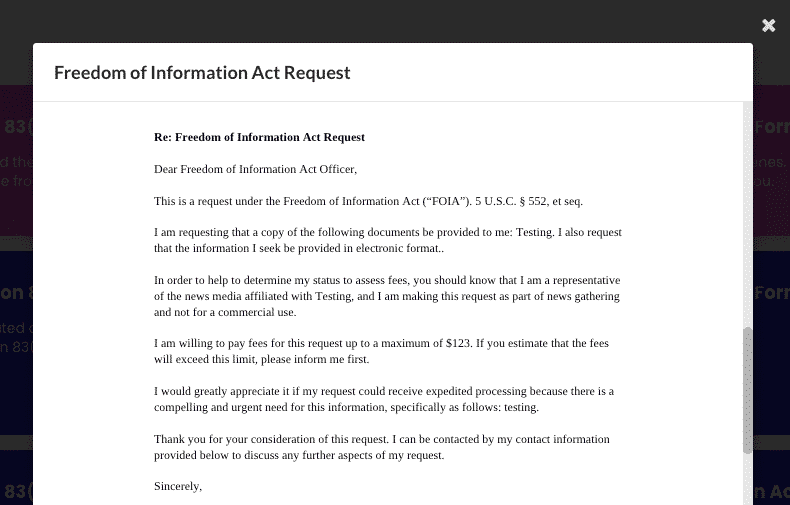 Tired of Companies Not Taking You Seriously? Use DoNotPay To Put a Stop to It
If you're sick of companies that violate your consumer rights, DoNotPay is here to help. If you're struggling with reporting robocalls, requesting a refund, claiming any type of warranty, scheduling a DMV appointment, reporting spam text messages, or anything else, our robot lawyer will help you sue any firm or individual in small claims court.
With DoNotPay, you can also sign up for any free trial, cancel any subscription, avoid getting charged after your free trials end, and much more!
Want Your Money Back? DoNotPay Is Here To Help
Are you looking for your missing money? Do you want to get a refund for a delayed or canceled flight? Are you trying to flip the script on illegal robocalls and earn money off them? DoNotPay will assist you in dealing with any of these pesky issues!
We can also help you bypass phone number verification, sign up for clinical trials stress-free, ace any government test in a jiffy, and block spam emails for good.