Fight North Carolina Traffic Tickets Without a Lawyer and Win
In North Carolina, individuals can waive a traffic offense by paying the fine and court costs before the court date, except for felony charges, or charges involved in driving with a suspended license. The costs of waivable offenses can even be paid online, meaning that dealing with a traffic ticket doesn't even require you to leave your own home.
If you want to dispute , in most cases, you will have to hire a lawyer to fight your case in court. Luckily, DoNotPay offers a way to dispute traffic tickets for free through our Traffic Tickets product.
Types of Traffic Offenses in North Carolina

In North Carolina, there are two types of  a driver can receive.
Moving violations – These occur when a driver commits an infraction of the law when the vehicle is in motion. Examples of moving violations include speeding, running a stop sign or red light, drunk driving, or texting and driving.
Non-moving violations – These either occur when the vehicle is not in motion or that do not pertain to how the driver is driving the vehicle. This type of violation can include parking offenses, seat belt offenses, or faulty equipment such as a broken taillight or an improper muffler.
Three Reasons Why It Is a Good Idea to Dispute a Traffic Ticket
You might proceed to simply paying the fine to avoid any further trouble or to refrain from needing a lawyer for court hearings. However, pleading guilty has some drastic consequences and you should probably give your decision a thought.
Here is a look at why you should plead not guilty to a North Carolina traffic ticket:
North Carolina's point system. Drivers in North Carolina maintain the privilege of driving through a points system. Each time a driver is convicted of a traffic offense, points are assessed against their license. If the driver accrues at least 12 points within three years, they face suspension of their license.
Possible increase on insurance premium or even policy cancellation. Insurance carriers providing auto liability policies in North Carolina are permitted to increase a driver's premium if they are convicted of a moving violation.
Lost job opportunities. Traffic convictions will appear on an individual's driver history and can be viewed by employers if the individual is applying for certain types of jobs or is attempting to obtain a commercial driver's license.
How to Dispute a Traffic Ticket in North Carolina
Many people pay off a traffic ticket to avoid the difficulty of fighting the charge, even if they don't agree with the ticket. By doing so, they are admitting guilt for the offense, points are assessed against their license, and they can even face a license suspension if they have had too many other tickets.
In North Carolina, traffic citations include instructions on how to dispute the ticket. If you wish to dispute or plead not guilty, you generally will have to appear at a court hearing at the date and location listed on the citation or hire an attorney to attend the hearing on your behalf. Hearings are held in the county or municipality where the ticket was issued.
Drivers in North Carolina are not required to hire an attorney to represent them. However, for offenses that carry consequences including a fine of over $500 or jail time, drivers are provided the services of a court-appointed lawyer upon request. DoNotPay can guide you through the process so that there is no need for a lawyer when appealing your NC traffic ticket.
Dispute Traffic Tickets Without a Lawyer Through DoNotPay
If you are still in doubt about relying on a robot lawyer to make your case, this could change your mind. According to Money magazine, DoNotPay has gained global recognition for successfully handling over 200,000 traffic tickets and that was back in 2016!
Users simply need to answer a few questions about their situation to receive a list of laws that can help strengthen their argument and increase their chances of winning the appeal. The Traffic Ticket product can help with both moving and non-moving violations.
Here's how to get started on fighting your North Carolina traffic ticket:
Log-in to DoNotPay and go to the Ticket Disputes category. Select the correct product based on your traffic ticket.

 

Upload a photo of your citation.

 

Provide us with some details on why you believe the citation issued is a mistake.

 

Select whether or not you want the letter mailed to the traffic ticket issuer on your behalf! 
That's it! You'll receive an appeal letter that contains state vehicle codes to boost your case.

 
It is that simple. You should hear back from the issuer of your traffic ticket within two weeks.
What Else Can DoNotPay Do?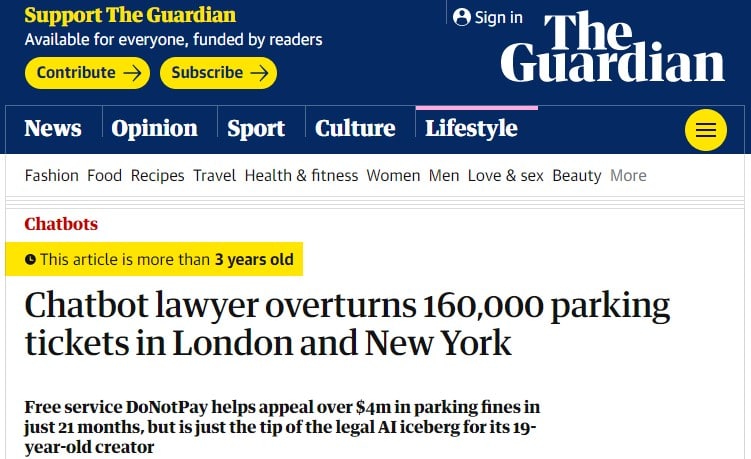 Aside from North Carolina, DoNotPay is well-versed on traffic laws across the US. Some of the most common tickets we've handled include:
In addition to helping drivers easily dispute traffic tickets, DoNotPay assists with several other expensive or time-consuming tasks. Take a look at the pages below to learn more about some of our other products.
Learn more about all the ways DoNotPay can save you time, effort, or even money by .