Dispute Monterey County Traffic Tickets and Win
In 2019, the United States had 195 million licensed drivers and 41 million of those drivers received tickets. This means that, in any given year, you have a one-in-five chance of earning a traffic penalty. There are over 5,000,000 tickets written every year in California. Very few of those tickets will be contested simply because most people don't know that they can contest them.
DoNotPay can help you challenge  as well as other locations in the US in just a few easy steps. We can also help you fight ticket issues in LA, New York City, Las Vegas, and other locations in the state of California. Let's take a look at how DoNotPay can help you avoid paying costly tickets as well as provide assistance with other legal issues.
Types of Traffic Tickets in Monterey County, CA
You'll be surprised at how much money the city government makes out of traffic tickets. Here are the most common types of  you can expect in Monterey County:
Speeding Tickets – Driving over the speed limit.
Red Light Tickets – Beating the red light or even going past the white line when stopped at an intersection could earn you a Red Light ticket.
Cell Phone Tickets – The use of cell phones while driving could be heavily frowned upon as it tends to distract you and could lead to road mishaps.
It seems these tickets are indeed easy to earn but there's no need to worry. DoNotPay makes contesting them a breeze.
How to Dispute a Traffic Ticket in Monterey County, CA

There are a few ways to dispute a ticket in Monterey County. According to the Monterey County website, one way to contest a ticket is what is called Trial by Written Declaration, and here is the process.
Vehicle Code section 40902 allows a defendant to contest citations in writing, without having to make a personal court appearance. Trial by Written Declaration is available in cases involving infraction violations of the Vehicle Code or of local ordinances adopted under the Vehicle Code.
The following steps must be met in order to qualify for a Trial by Written Declaration:
Full bail must be paid
Violation(s) must be vehicle code infractions only
No accident was involved; and
No failure to appear or failure to pay fines on the case.
You may also choose an in-person hearing in which you testify on the facts of the case. The officer who issued the citation will be called to testify in court. You must also be prepared to provide facts, papers, or witnesses to support your argument during the trial.
At your arraignment hearing, you may request a court trial (you must schedule this with the clerk). You can seek a trial from the Clerk's Office by phone or mail if you do not want to attend an arraignment hearing but still want a trial. You must post bond for this option of only having to appear in court once on the date of trial, according to Vehicle Code Section 40519.
To be eligible for a court trial without having to appear for arraignment, you must meet the following requirements:
Bail must be posted
Violation(s) must be infractions only
No prior failure to appear on the case; and
Entry of a not guilty plea in writing (court forms)
As you can see, the process can be quite lengthy and frustrating. DoNotPay can simplify this process and get your case settled quickly.
Contest Tickets in Monterey County in Less Than 120 Seconds
DoNotPay has been featured in Business Insider with an article that details how we have helped 160,000 people with their traffic tickets. We can help you, too.
Here's how to get started:
Log in to DoNotPay and go to the Ticket Disputes category. Select the correct product based on your traffic ticket.

 

Upload a photo of your citation.

 

Provide us with some details on why you believe the citation issued is a mistake.

 

Select whether or not you want the letter mailed to the traffic ticket issuer on your behalf! 
That's it! You'll receive an appeal letter that contains state vehicle codes to boost your case.

 
It's really that simple. Look out for your traffic ticket issuer's response to discover whether you won.
Do I Have to Hire an Attorney to Contest Traffic Tickets?
DoNotPay allows you to successfully contest a ticket without the need to hire a lawyer.
However, if you feel the need to hire someone, here are a few tips to keep in mind:
Do your research and choose a reputable lawyer. There are many scammers out there, and it is easy to be taken advantage of.
Find a lawyer that specializes in parking violations.
Lawyers are costly and can range from $100 to over $1,000, sometimes costing more than just paying the ticket.
What Else Can DoNotPay Do?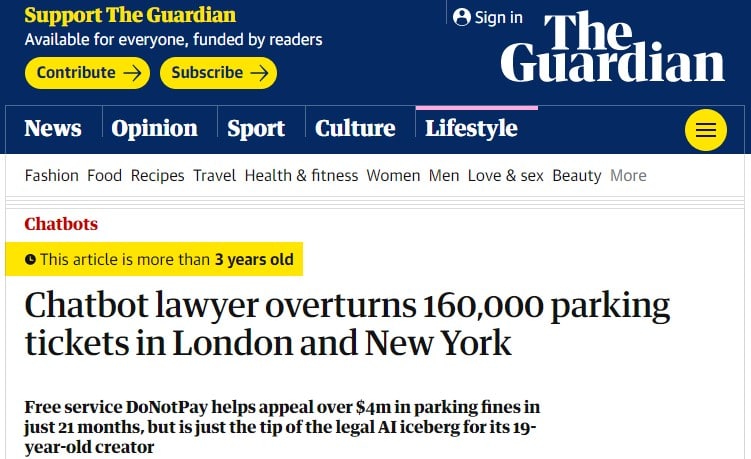 In addition to helping you with your traffic ticket, DoNotPay can do so much more.
You don't have to just pay that traffic ticket. You have the right to .  to make the best case on your behalf and avoid paying an unfair fine.  and discover all the tasks you can accomplish with just one app.