How To Lease A Car With No Money Down
Even when you're excited about leasing a car, the process itself can cause some anxiety. If you're looking for a simple path through the stressful experience of a car lease negotiation, you have come to the right place.  We are here to walk you through the quickest and easiest system for getting the deal on a car lease with zero down and low monthly payments.
If the only thing that's been holding you back has been the stress of the process itself, you're in luck. You have no rapid-fire haggling with salespersons (who you're sure are out to take advantage of you) in your immediate future. Instead, you can sit back and rest assured that you are in good hands.
The tested and proven lease negotiation system at DoNotPay will take care of the tricky bits for you.
Why Should You Negotiate Your Car Lease?
In the United States, there aren't many situations that allow you to negotiate prices. When you're checking out at the grocery store or paying your utility bills, you don't have much wiggle room to negotiate the bottom line. The same is not true when it comes to automobiles, whether you're looking to buy or lease. Often, you're able to get a much better deal just by pushing back and/or questioning the associated costs.
Major Issue to Negotiate 
If you've never leased a car before, you may not be aware just how much wiggle room you have. While there are certain costs that can't be negotiated (such as taxes and some specific fees), other values are open to questions and scrutiny on your end.
There are many things you can haggle over with a lease. The biggest one is the vehicle's capitalized cost, or price. Just like when you're buying a car, you should be prepared to negotiate the cost of the vehicle.
Doing your research so that you can negotiate the price of the vehicle itself is key.
Other Issues to Negotiate
Other factors that can be negotiated when leasing a car include the following:
Interest rates
Mileage caps
Advertising fees
Documentation fees
"Shipping" and/or "shipping and handling" fees
When you're not sure what the terms mean or why you're being charged for certain items and services, it's hard to feel confident during negotiations. More stressful still, depending on your personality type, any type of confrontation at all might make you decide you'd much rather walk or ride a bicycle everywhere for the rest of your life than go through with a car lease negotiation.
Fortunately, it doesn't have to be this hard. With DoNotPay, there is another way.
How Can I Prepare for Negotiating a Car Lease?
When you are preparing to negotiate for a car lease negotiation session, there are several factors you will want to have a handle on. 
| | |
| --- | --- |
| The current market price/value of the car you want to lease. | This way, you know if the price you're being quoted falls over or under the going rates. |
| What the current rates are at other dealerships in the area. | This knowledge allows you leverage to angle for lower charges. Otherwise, you can say you're happy to take your business elsewhere. |
| What information you need to negotiate for the best deal. | As mentioned above, the most important information you'll need is the capitalized cost of the vehicle itself. |
You can use Google, ask around to gather information from knowledgeable friends and family members, and actually do a day or two of in-person comparison shopping, making phone calls or showing up in person to see what information you're able to glean without putting the pressure on yourself to reach a deal or sign on the dotted line that specific day.
You might also think about these options for leasing a car with no money down.
Increasing your credit score will help you qualify for better loan conditions if you need to completely finance your automobile purchase.
Obtaining a co-signer may also enable you to purchase a vehicle with no down payment.
Always shop around to several dealers and lenders; the more you know about vehicle loan rates and terms, the better bargain you'll be able to get.
Even a tiny down payment is preferable to none, so put off buying a car until you can save up some money.
Of course, all of this is very time-consuming. But rest assured: there's an easier and more efficient way.
Let DoNotPay do the heavy lifting for you.
Negotiate a No-Money-Down Car Lease with DoNotPay
If you're looking to negotiate a car lease, particularly one with no money down, the process could not be simpler. With DoNotPay's streamlined system, you'll have your lease negotiated in no time, with none of the added worry and stress of taking care of the negotiation yourself in real time.
If you want to negotiate your car lease but don't know where to start, DoNotPay has you covered in 4 easy steps:
1. Tell us the make, model, and color of the vehicle you're looking to buy.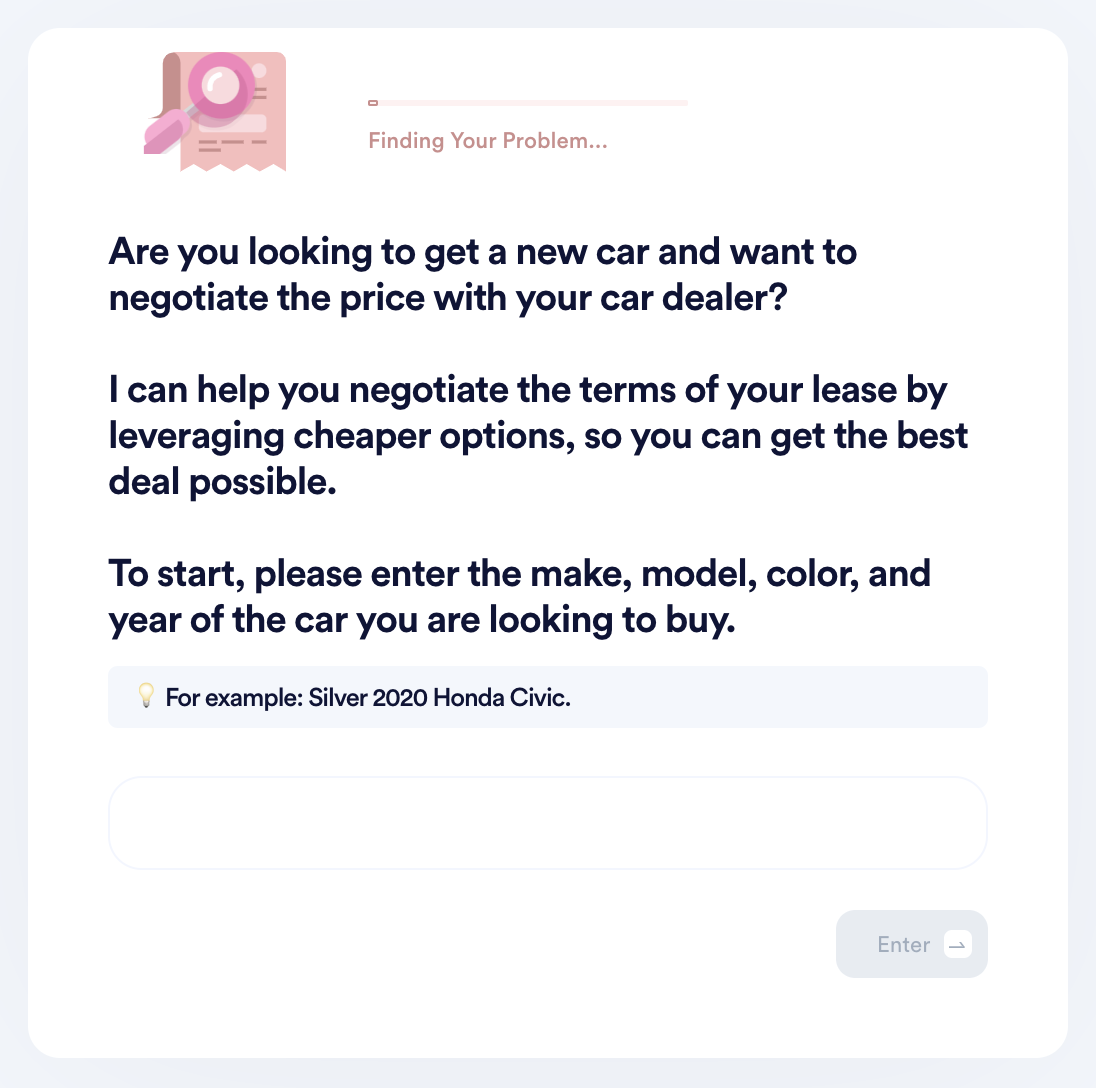 2. Tell us which dealership you would like to negotiate with.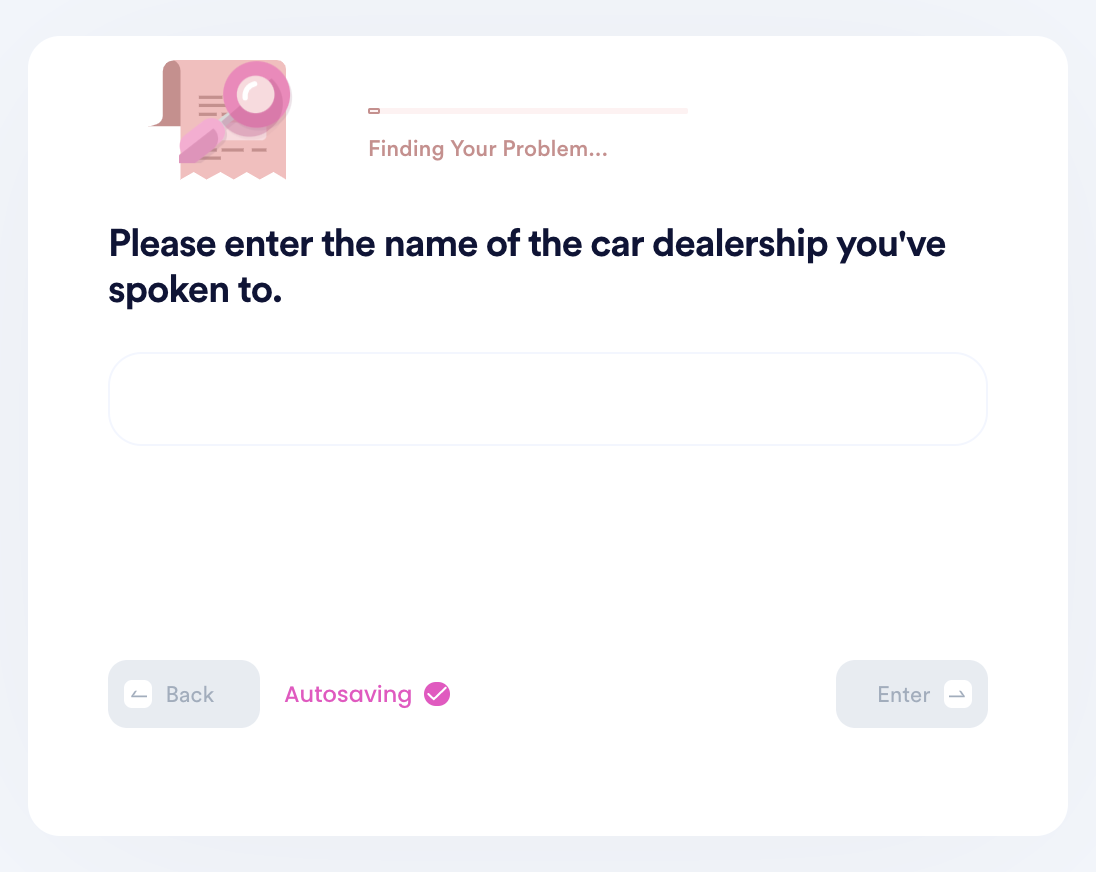 3. Tell us about the quote you received, including the lease term, total (capitalized) cost, money factor, and mileage allowance.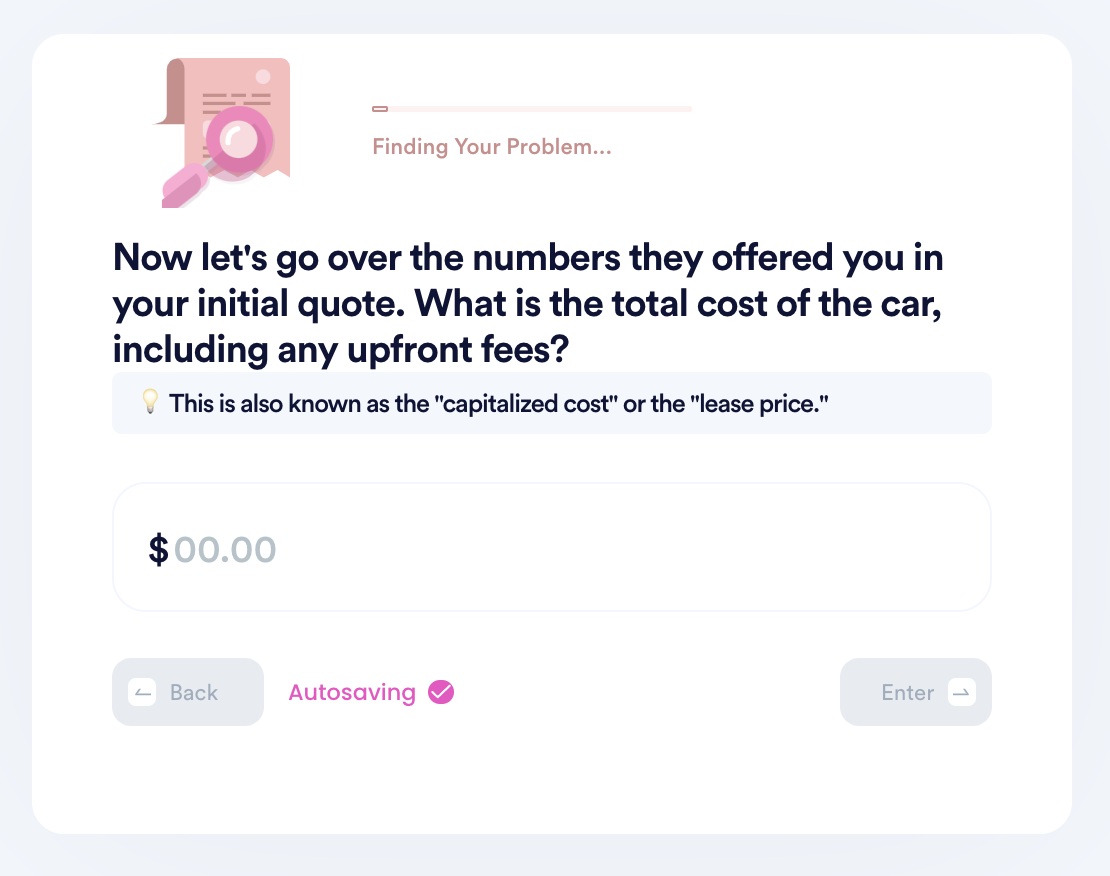 4. Tell us the name of the dealership representative you spoke to so we can contact them on your behalf.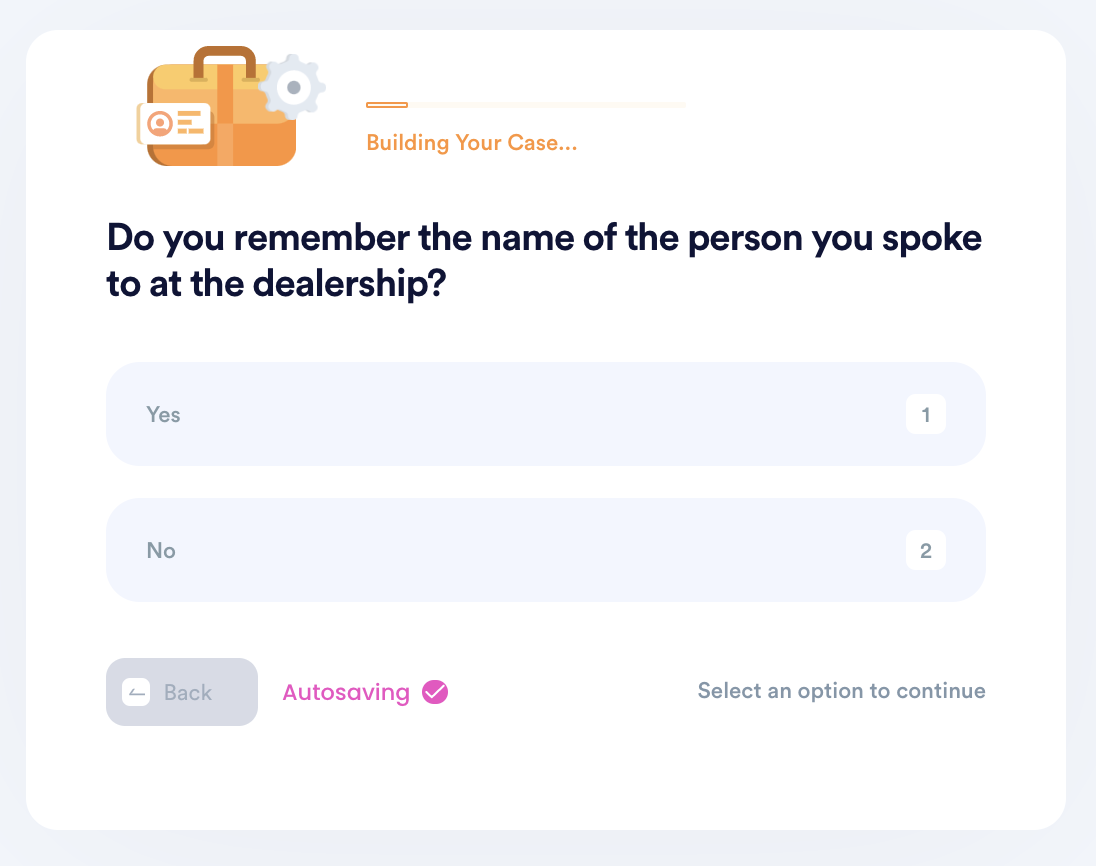 DoNotPay Is Here for You
In addition to helping you negotiate or renegotiate a car lease, DoNotPay can help you solve a wide variety of everyday problems you might encounter.
Streamline and simplify your life by leveraging the power of the tested and proven systems at DoNotPay.