How to Negotiate a Car Lease Residual With DoNotPay
How to does not have to be tough. However, suppose you've never leased a vehicle before; you may be unfamiliar with the process used during the leasing process, or which aspects of your leasing agreement are subject to negotiation when you arrive at the dealership.
Sometimes it takes a long period to complete the negotiations. DoNotPay, the world's First Robot lawyer who helps solve people's problems, is here for such issues. With our vast knowledge and experience, we will walk you through some of our best strategies for negotiating a car lease so that you can drive off a lot of confidence about your selection.
Can You Negotiate a Car Residual Value?
It is critical to understand that the leasing firm sets the car's residual value. It is neither fixed nor negotiable by the dealer. As a result, lease companies may provide varying residual rates.
, the deal may still be salvageable. It may be prudent to look for a better deal and contact another leasing firm. You may discover a more advantageous residual rate, but the difference is unlikely to be significant.
What Are the Benefits of Leasing a Vehicle?
For numerous reasons, leasing an automobile may be more enticing than purchasing:
If you're comparing leasing to financing a similar vehicle, lease payments will typically be lower than monthly loan payments.
A lease may need a lower down payment than financing a car.
You may be able to buy a brand new car with all the newest bells and whistles even if you previously couldn't afford the identical vehicle.
Leasing may be less expensive than purchasing and selling a vehicle every couple of years if you always want to drive the latest model.
In most cases, a manufacturer's warranty will cover your vehicle.
You are not responsible for selling or trading the car at the lease's end.
Familiarize yourself with the terminology used with car leasing:
| | |
| --- | --- |
| Residual Value | That's the expected value of the car when the lease ends. This figure is set by the leasing company and comes from a third party's analysis of the marketplace and vehicle. |
| Capitalized Cost | Also known as the cap cost, this figure is the car's price. Usually, on top of the cap cost, you will have to pay taxes and additional fees. |
| Money Factor | This is how the interest rate is stated in leasing. To make this rate easier to understand, multiply the figure by 2,400. |
Is It Right to Lease a Car?
Choosing between purchasing, leasing, and waiting can be challenging, and you'll want to weigh the advantages and disadvantages of each choice. If you want a low down payment and affordable monthly payments, a lease may be the best option, especially if you want a new vehicle with cutting-edge technology. Alternatively, a second-hand automobile may be a possibility.
If you are more concerned with long-term savings and are content with driving the same automobile for several years, purchasing a car may be a better option than leasing. If you are in the market for a car but can't afford a new one, a certified pre-owned vehicle offers many of the same benefits (such as a guarantee) at a reduced price.
What Documentation Do I Require to Lease a Car?
To initiate a lease, you will need to provide the following information:
Name
Birthdate
Contact information (phone number and email address)
Address history spanning five years
Status of marriage Number of dependents
Particulars of employment
Bank account information (name of bank, sort code, account number)
Particulars of income and expenditure
Obtain a duplicate of your driver's license card.
When applying for a lease, you must bring the following items with you:
The government issues your legitimate driver's license.
Payslip from the most recent pay period.
A null check.
Additionally, the finance institute may specify other things.
How Can I Lower My Car Lease Payment?
The following steps will help you lower the car lease payment
Strike a deal on a reduced interest rate.
Choose a longer lease period for your car.
With a down payment, you can lower the lease price.
Make use of a co-signer.
How to Negotiate a Car Lease With the Help of DoNotPay
If you're interested in but aren't sure where to begin, DoNotPay has got you covered in four simple steps:
1. Tell us the make, model, and color of the vehicle you're looking to buy.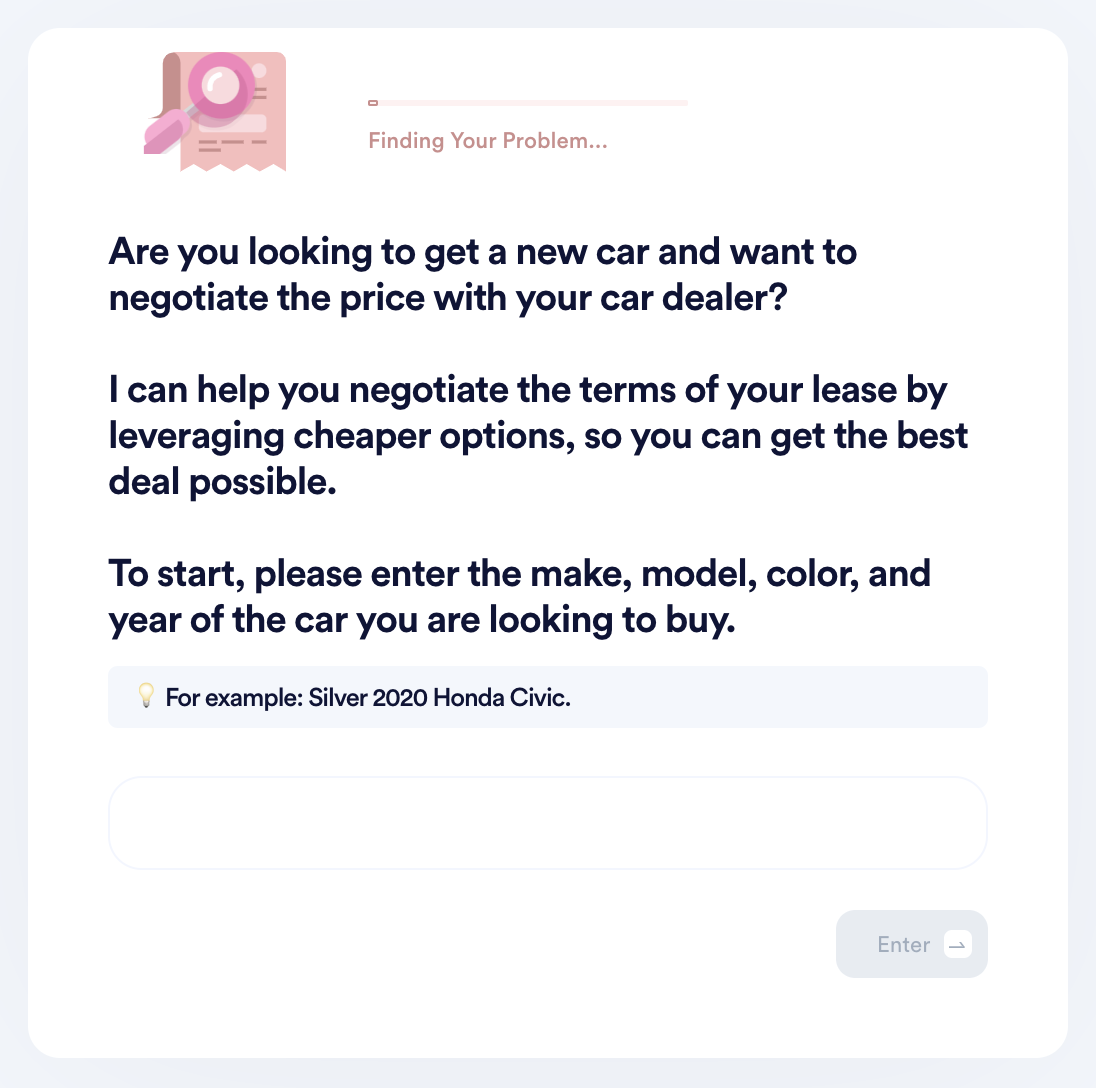 2. Tell us which dealership you would like to negotiate with.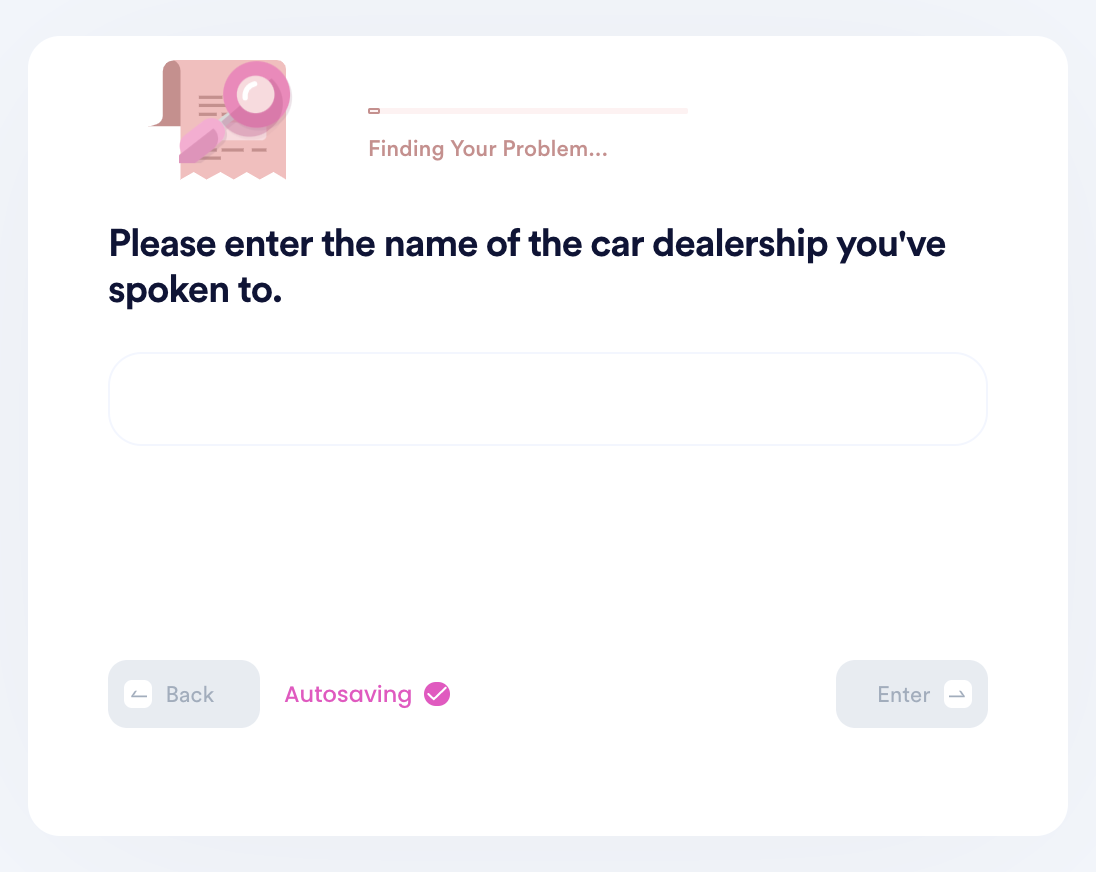 3. Tell us about the quote you received, including the lease term, total (capitalized) cost, money factor, and mileage allowance.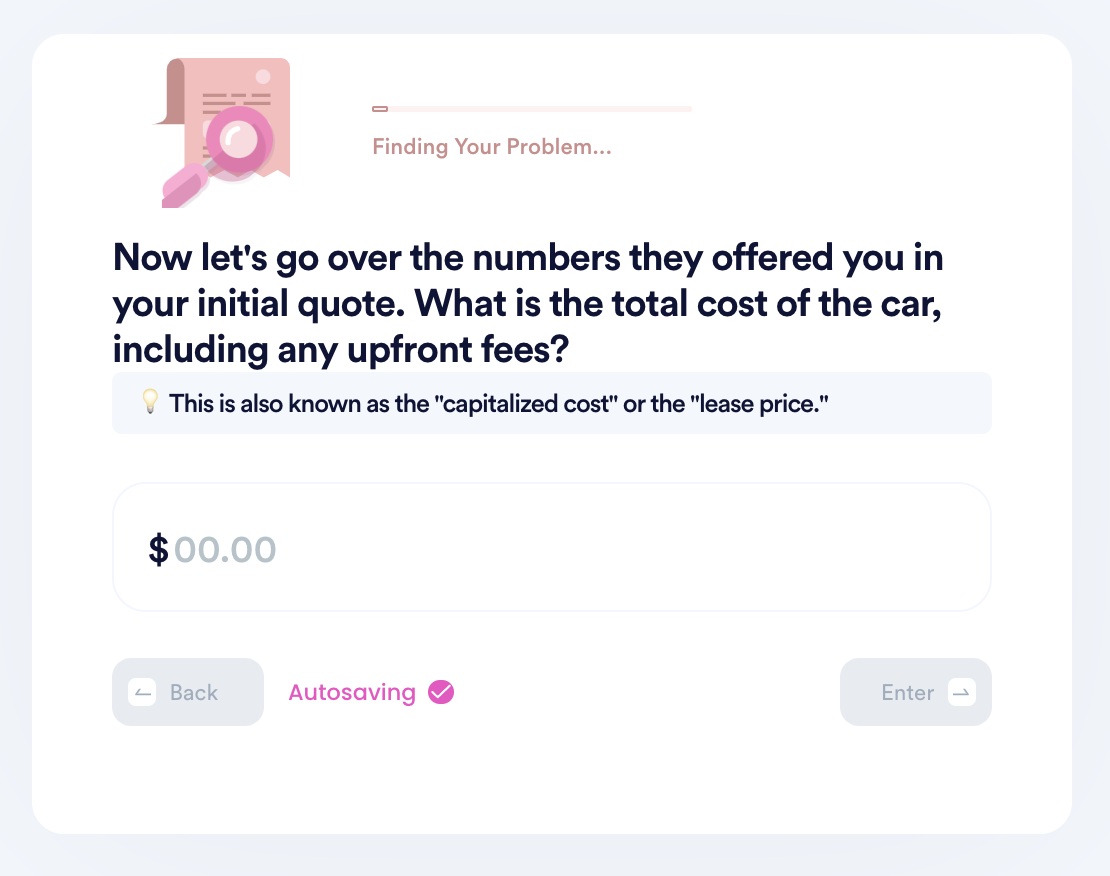 4. Tell us the name of the dealership representative you spoke to so we can contact them on your behalf.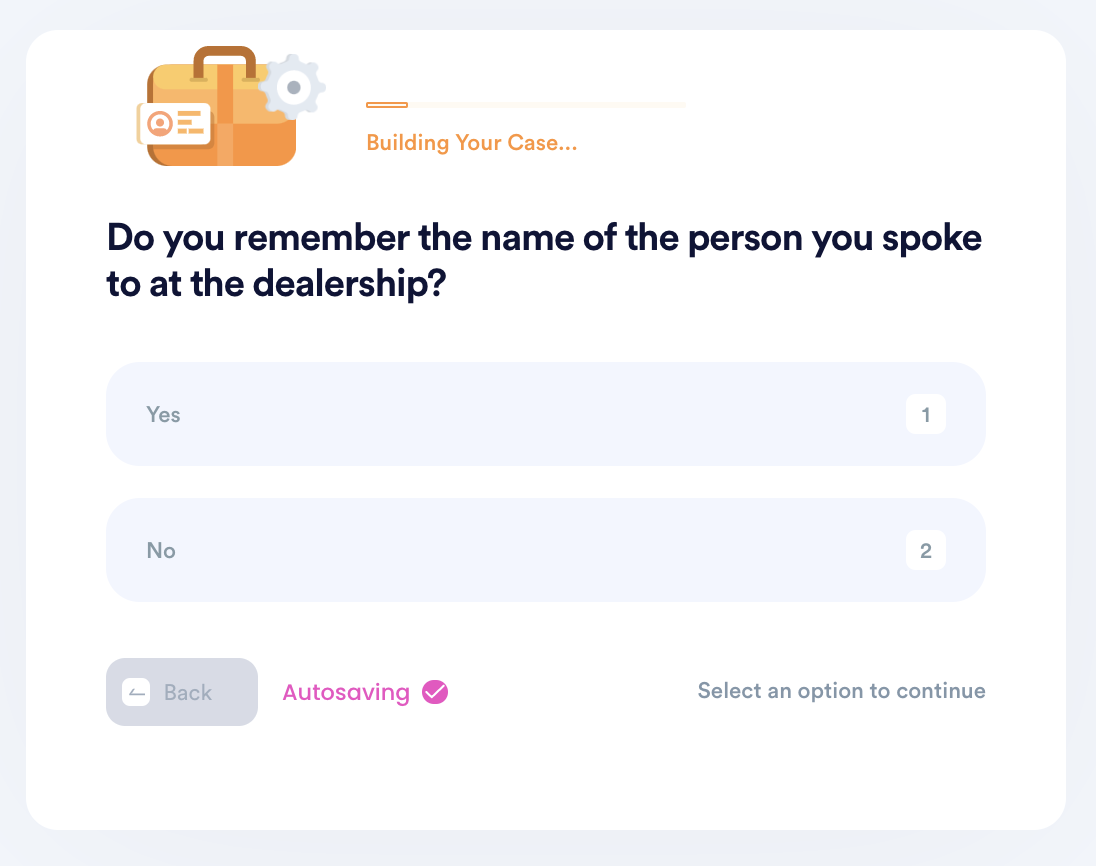 Why Use DoNotPay to Solve the Car Lease Negotiation
If you're wondering how simple it can be, consider the following benefits of adopting DoNotPay:
Quick
One of the several reasons you may decide to forego shopping for the best car leasing price is time. This is eliminated with DonotPay, as you do not need to spend hours resolving the issue.
Easy
It's obvious how intimidating the process of negotiating a car lease may be. Utilize DoNotPay to save the hassle of shopping around or cramming difficult items. They have specialists who will guide you through the laborious process and negotiate the best automobile lease pricing for you.
Sufficient
DoNotPay simplifies the process of negotiating a car lease, so you can relax knowing they'll negotiate the best deal for you. They constantly take care of business in an efficient manner.
DoNotPay Is a One-Click Solution That Works Across All Entities
DoNotPay facilitates conflict resolution and is accepted by various institutions, including federal agencies, municipal governments, and commercial businesses. DoNotPay may be able to assist you with the following:
What Else Can DoNotPay Accomplish?
is just one of many things DoNotPay can help you with. Some content series that you could visit include: