Can You Renegotiate a Car Lease?
More than 25% of new automobile purchasers opt to lease rather than buy a car. For many, that's because leases allow you to make lower monthly payments while driving a brand-new vehicle. Can you renegotiate a car lease? Yes.
Quotes for car leases aren't set in stone.
Never sign a lease without first negotiating the rates.
Your leasing institution will ultimately decide whether or not you can renegotiate your car lease. And some banks will refuse to amend lease terms if you've already entered into a contract. If you haven't signed your lease yet, you can modify the conditions to meet your needs. And DoNotPay can help.
Why should you Negotiate your Car Lease?
Negotiating your car lease will save you a lot of money. The tag price, or the vehicle maker's estimated selling price, is assumed in most leases.
Still, you may be able to haggle thousands of dollars off the cost of the vehicle you choose, depending on its price. Every $3,000 you save on the vehicle's purchase price equates to around a $90 monthly payment reduction. Negotiating the car's pricing can reduce the monthly payment and a lower buyout price during lease termination.
What is Negotiable in a Car Lease?
Most leases offer a low annual mileage allowance, sometimes as low as 10,000 miles. Depending on the institution, you can choose more. You can also change the loan length from 2 to 5 years.
Is a Car Lease Right for You?
Some people prefer to lease a vehicle, while others prefer to make payments and earn equity. The choice is up to you. But think about the benefits of either practice before moving forward.
A car lease offers a set of advantages including:
Light Monthly Payments
If you're anxious about your monthly expenses, a lease can help. In most cases, the monthly bill is significantly lower than a car loan. Some consumers even choose a more luxurious vehicle than they might otherwise afford.
No Resale Anxiety
Do you hate bargaining? If that's the case, you undoubtedly dread the thought of reselling your used automobile to a car dealership or a private party.

With a lease, all you have to do is return the vehicle. But at that time, you might worry about lease termination costs for abnormal wear or exceeded mileage.

Tax Savings
A lease might provide you with more tax benefits than a loan if you use your vehicle for work. Because the IRS permits you to write off depreciation and financing charges as part of each monthly bill, you might save significant funds.
Regular Maintenance
Leased vehicles must undergo regular maintenance. That means you'll always be driving a well-kept car.
What should I Prepare for when Negotiating a Car Lease?
Remember these two points:
You should conduct a thorough market analysis to find the best car lease terms nearby. Look into any leasing offers before going to your leasing institution.
As a starting point for your talks, look for manufacturer incentives and offers. Visit a few different auto dealerships and compare rates. This is engaging and time-consuming, but it will save money.
Negotiating Car Leases with the help of DoNotPay
Negotiating lease conditions and saving big bucks doesn't have to be stressful. DoNotPay can conduct all the market research and negotiate a financially friendly car lease for you.
If you want to negotiate your car lease but don't know where to start, DoNotPay has you covered in four easy steps:
1. Tell us the make, model, and color of the vehicle you're looking to buy.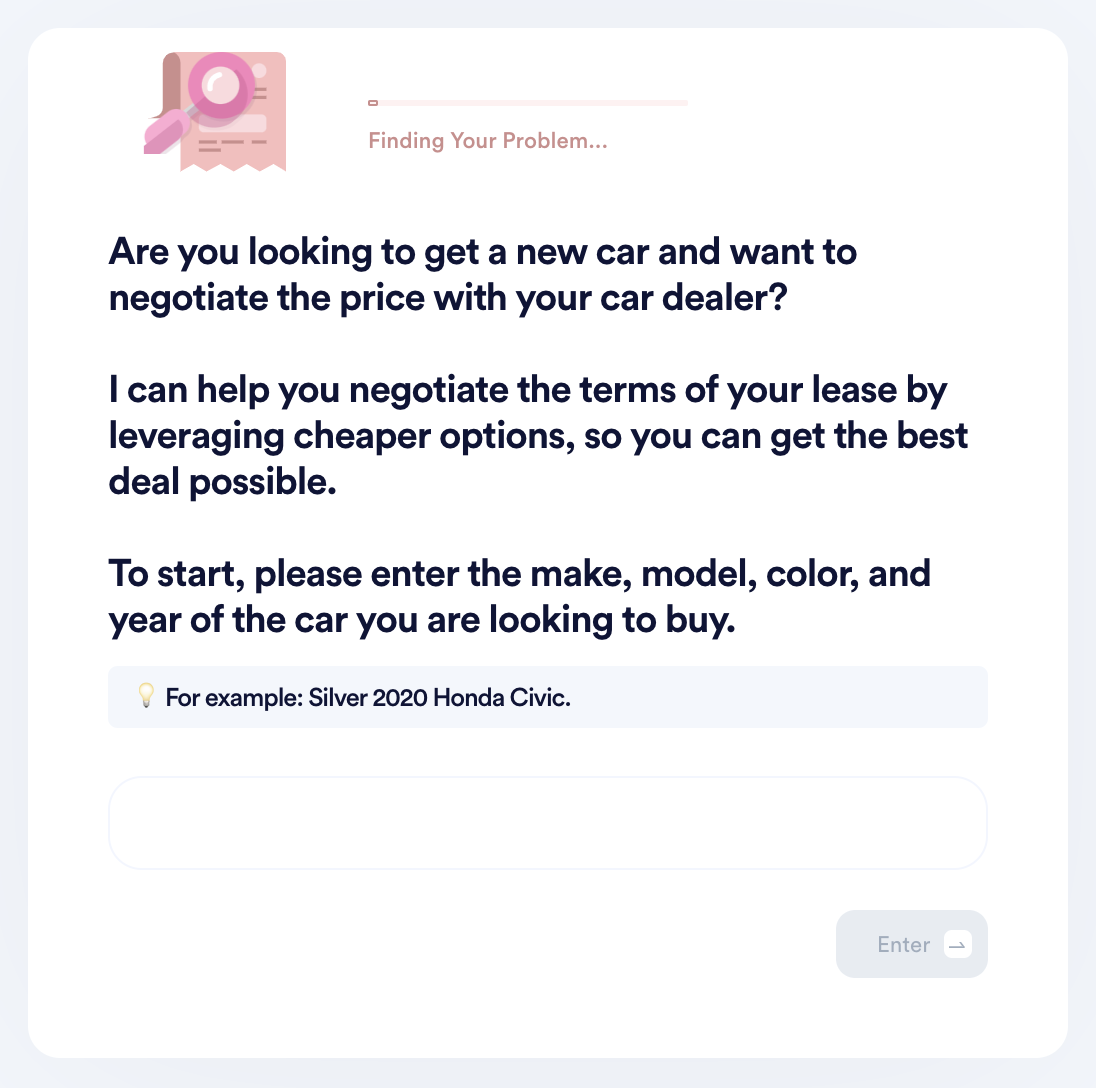 2. Tell us which dealership you would like to negotiate with.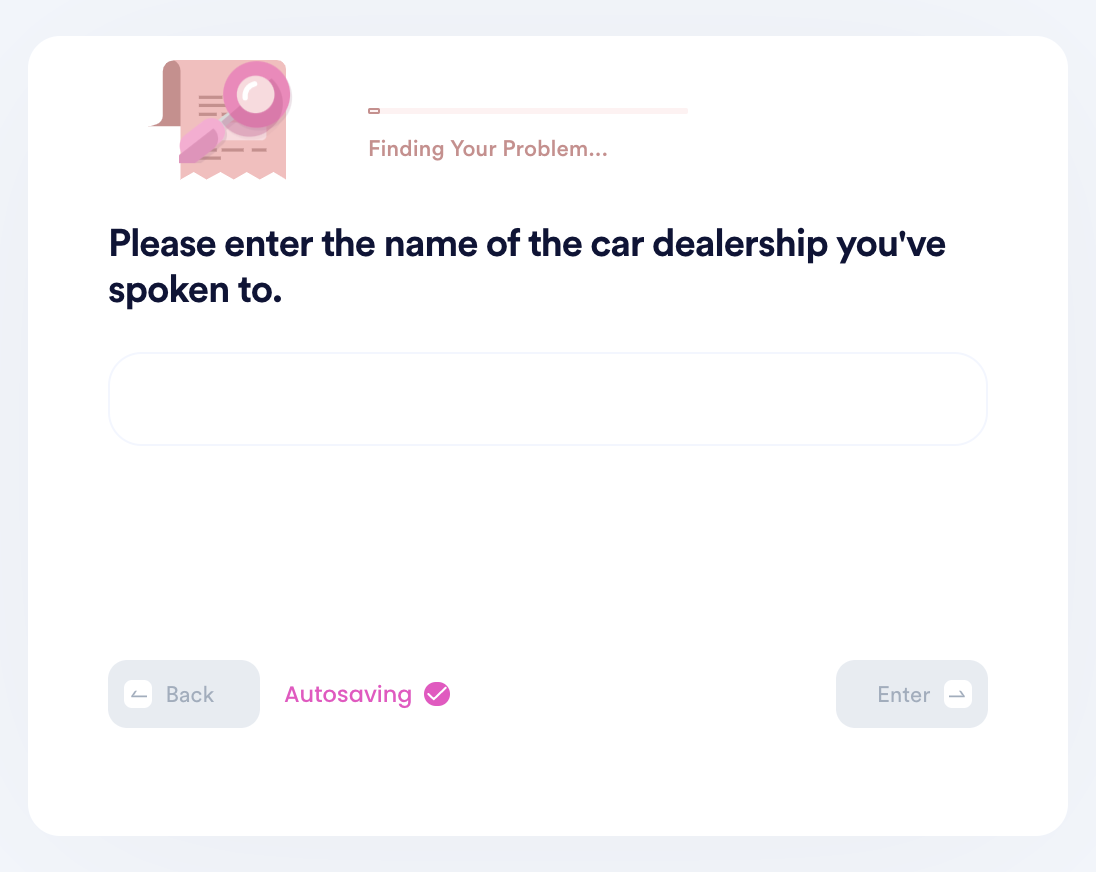 3. Tell us about the quote you received, including the lease term, total (capitalized) cost, money factor, and mileage allowance.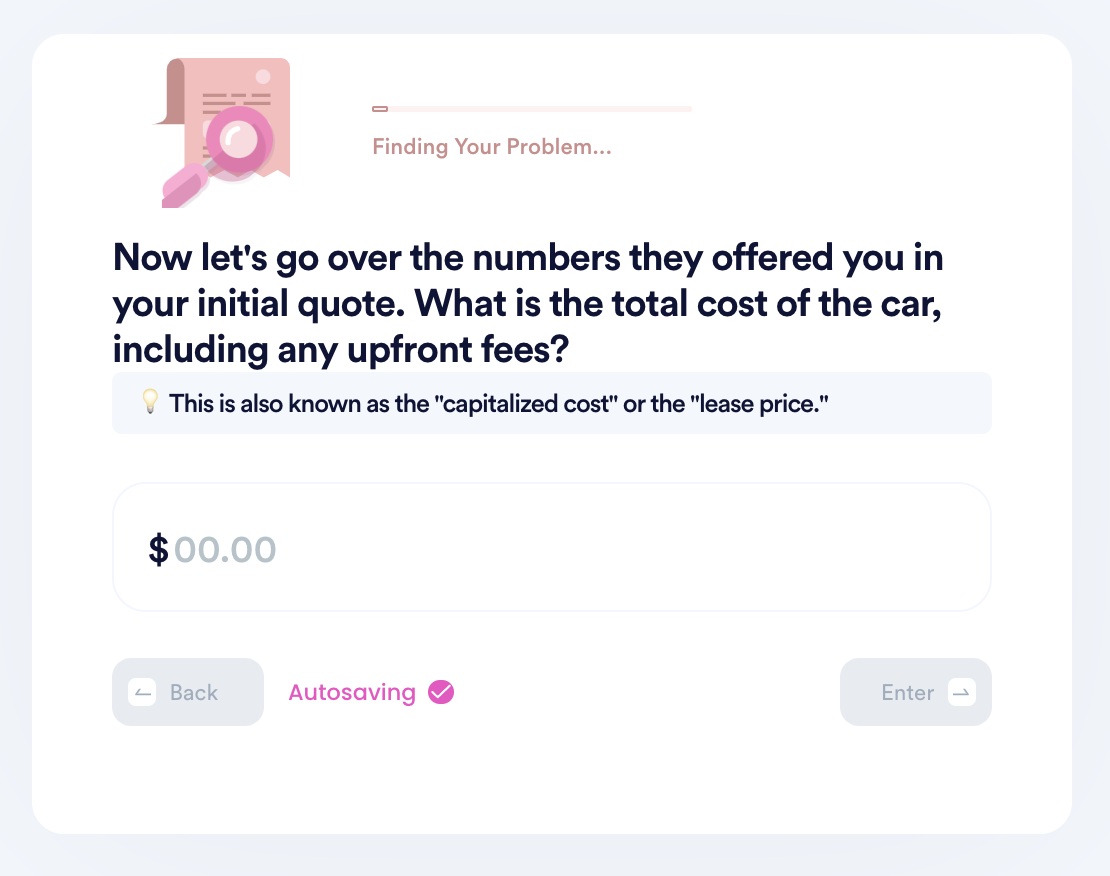 4. Tell us the name of the dealership representative you spoke to so we can contact them on your behalf.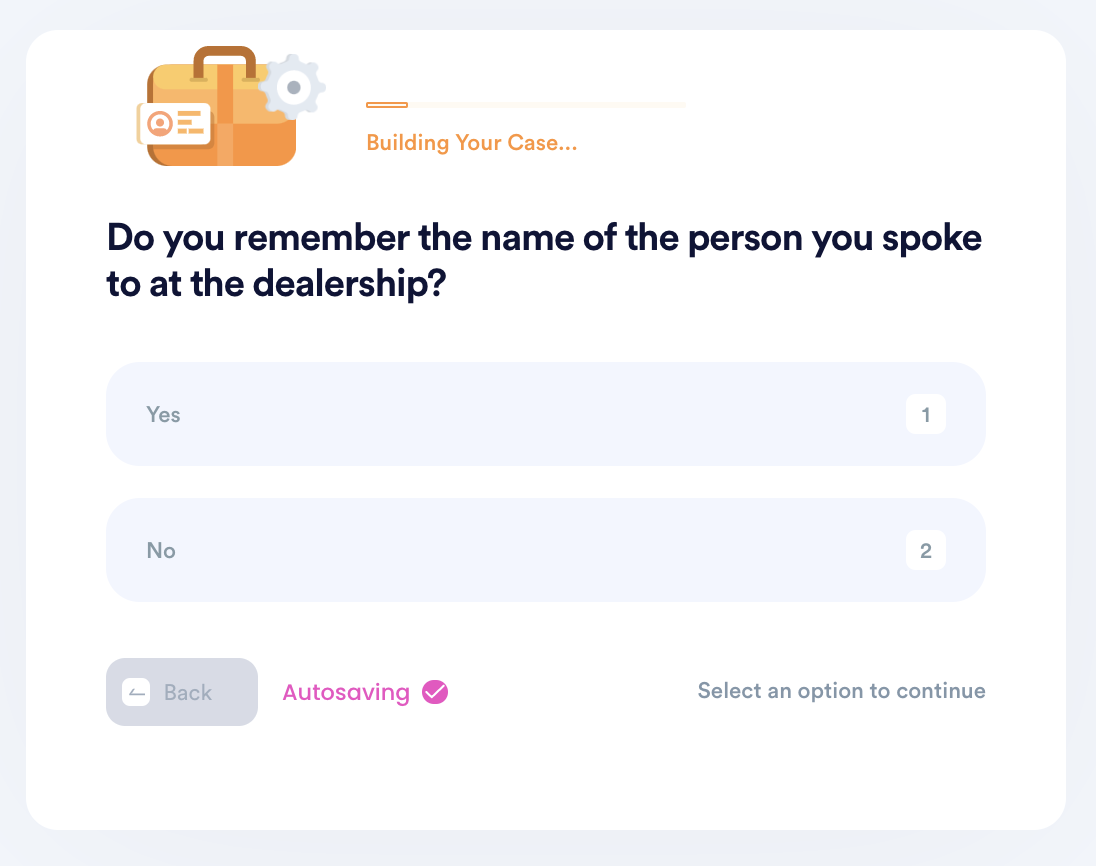 It's that easy!
Why Use DoNotPay to Negotiate Your Car Lease?
DoNotPay is the easy, quick and reliable way to negotiate the best terms for your lease. You will save money and get the best deal.
DoNotPay Works across all Auto Dealers
Whether you're looking for a work truck or a sports car, the app can help. DoNotPay will facilitate your car lease negotiations regardless of which leasing institution you are dealing with.
But that's not all. We offer other services, such as hotel upgrades and paying bills online.
What else can DoNotPay Do?
There you go! You are now sufficiently equipped to work negotiate a great car lease agreement with your leasing institution. Check out some of the other ways DoNotPay can help, and try the today.