How To Lower Your Car Lease Payment: Save Yourself Some Money Each Month With These Helpful Strategies
If you want to know how to lower your car lease payment, you are not alone. Many customers make a spur-of-the-moment decision to lease a new automobile. It frequently occurs when the salesperson says you may lease a much more costly automobile for the same monthly payment as if you bought and financed one.
This is because, with a lease, you only pay for the estimated depreciation throughout the lease period, plus interest and specific fees. You never truly own an automobile; it is only rented to you for a few years. That seems straightforward, but in practice, it may be perplexing and complicated - especially if you've never rented a vehicle before. The most pressing question is how to lower your car lease payment.
While leasing a new automobile rather than purchasing one usually results in reduced monthly payments, you may do even better with little planning and negotiating. The first steps are to understand how leasing works, discover what you can negotiate, and build the best deal possible — not simply the lowest monthly cost.
Why Should You Negotiate Your Car Lease?
You have come across a significant question: whether to negotiate a car lease or not. Let me help you explore why you need to negotiate your next car lease.
Did you know that the price of a car is always negotiable? The concept of negotiability also applies to leases and interest rates. On the other hand, car dealers will never give you the most incredible bargain on the first quote. As a result, by leveraging cheaper choices from other dealerships while remaining firm, you may bargain the price down to save a few hundred or even thousands of dollars on your vehicle.
Secondly, if all other circumstances remain the same, the lower the price you negotiate, the less depreciation you may have to pay for throughout the life of the lease. This might also result in a decreased monthly leasing cost.
Negotiating the rate that you pay for your car lease can also help by:
Lowering the amount of risk you take on by leasing the vehicle
Proving to the lender that you are the type of person who won't back down
Helping you to earn more flexible lending terms in the future
What Should I Prepare for Negotiating a Car Lease?
Did you know that negotiating is an art form rather than a skill? As a result, if you want to have a successful negotiation, you must first educate yourself on the process, the requirements, and how to achieve the greatest bargain.
Understand how a car lease works. Before commencing the negotiation process, it is ideal to understand the basics. It is not difficult to learn how to negotiate a vehicle lease. 
However, suppose you have never leased a car before. In that case, you may be unfamiliar with the terminologies used throughout the leasing process, and the aspects of your leasing agreement are up to negotiation when you arrive at the dealership.
If the dealership analyzed your credit score and gave it a rating of less than 670, that suggests it is fair or worse. In such a circumstance, leasing may be more expensive than purchasing. The best approach to take here is to improve your credit score before applying for an auto lease.
Here are some pointers to get you started:
| | |
| --- | --- |
| Be Timely with Bills | Pay all of your bills on schedule to avoid late payments, collections, and charge-offs from appearing on your credit report. |
| Reduce Credit Card Debt | Reduce your credit card debt to enhance your credit usage ratio. |
| Prepare a Down Payment | In addition to your credit report, you also need to prepare your down payment and co-signer. However, there are a few cases where the down payment is not mandatory. |
| Do the Research | Shop around for prices from several car dealers. |
| Get Payments Up-to-Date | Bring any past-due accounts up to date, and deal with any charge-offs currently on your report. |
| Credit History | Keep old credit cards open since they can help you build your credit history and reduce your credit use. |
| Find a Deal | Look for manufacturers' leasing specials. |
| Negotiate | Begin by negotiating the capitalized cost. |
How Can I Lower My Car Lease Payment?
The key to getting an affordable lease is minimizing the difference between the capitalized cost and residual value. You can reduce the difference by negotiating a low capitalized cost or obtaining a lease deal with a built-in cap-cost reduction.
A second option is to bargain for a cheaper interest rate. Obtaining the best interest rate is critical when leasing a car since it significantly impacts monthly payments. It is important to note that having a poor credit score frequently results in a higher interest rate and larger payments. So, if you want to negotiate a lower rate, you'll need to have strong credit and a decent payment history. Before leasing an automobile, obtain a copy of your credit report.
Consider extending the period of your automobile lease. While you may like driving a new vehicle every few years, consider that the shorter the lease period, the greater the costs. If you want to save money on automobile leasing payments, go for a four- or five-year lease period.
Solve the Car Lease Negotiation with the help of DoNotPay
If you want to negotiate your car lease but don't know where to start, DoNotPay has you covered in 4 easy steps:
How to negotiate your car lease using DoNotPay:
If you want to negotiate your car lease but don't know where to start, DoNotPay has you covered in 4 easy steps:
1. Tell us the make, model, and color of the vehicle you're looking to buy.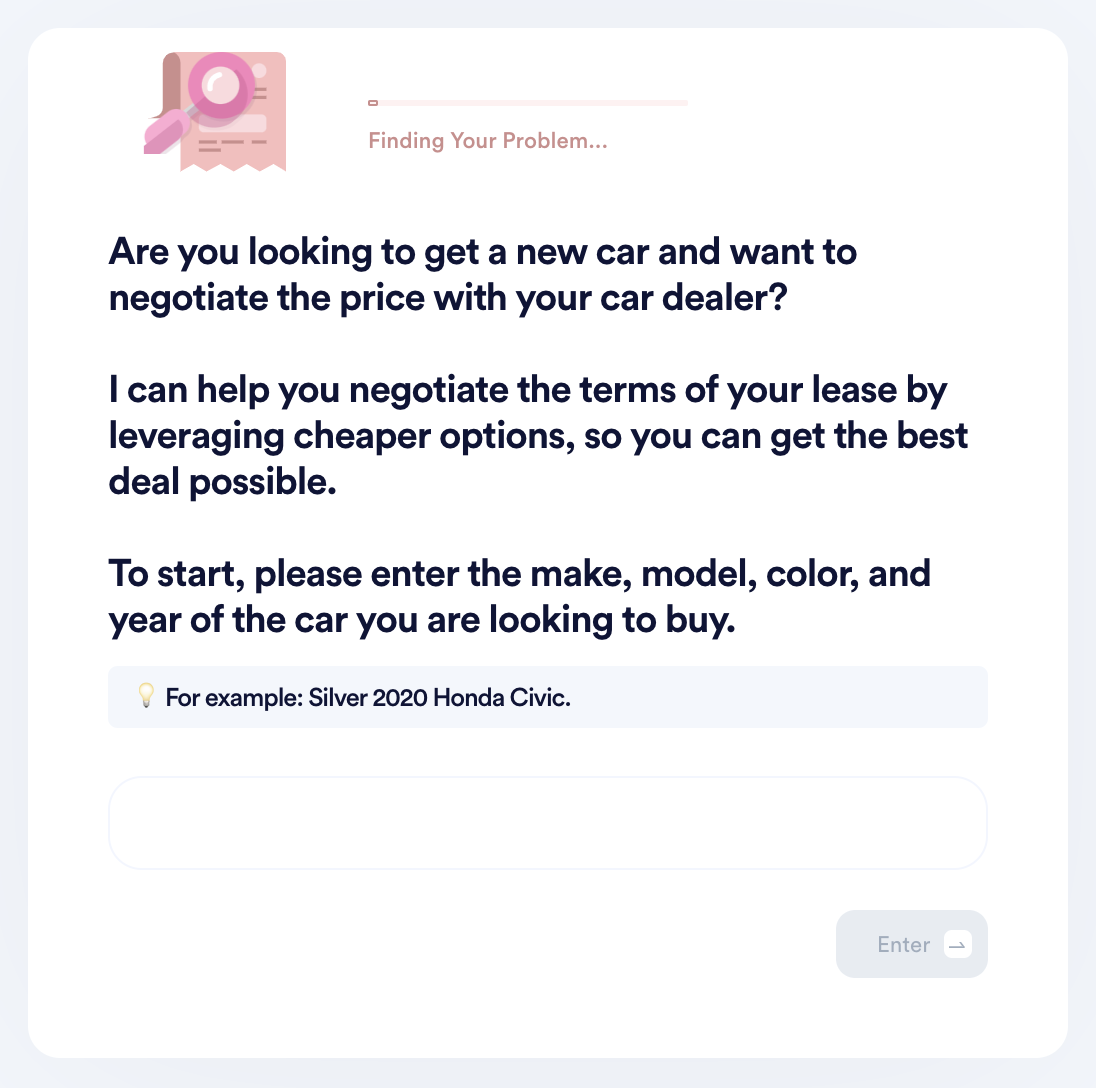 2. Tell us which dealership you would like to negotiate with.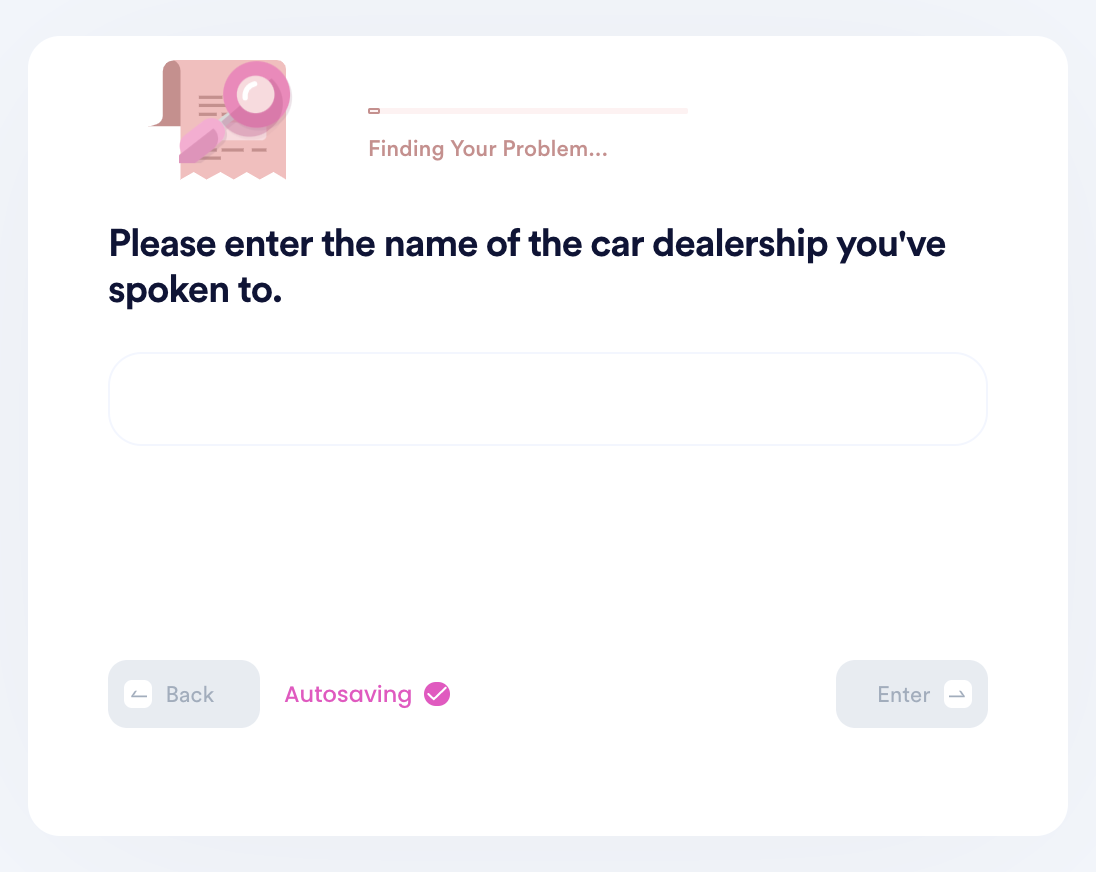 3. Tell us about the quote you received, including the lease term, total (capitalized) cost, money factor, and mileage allowance.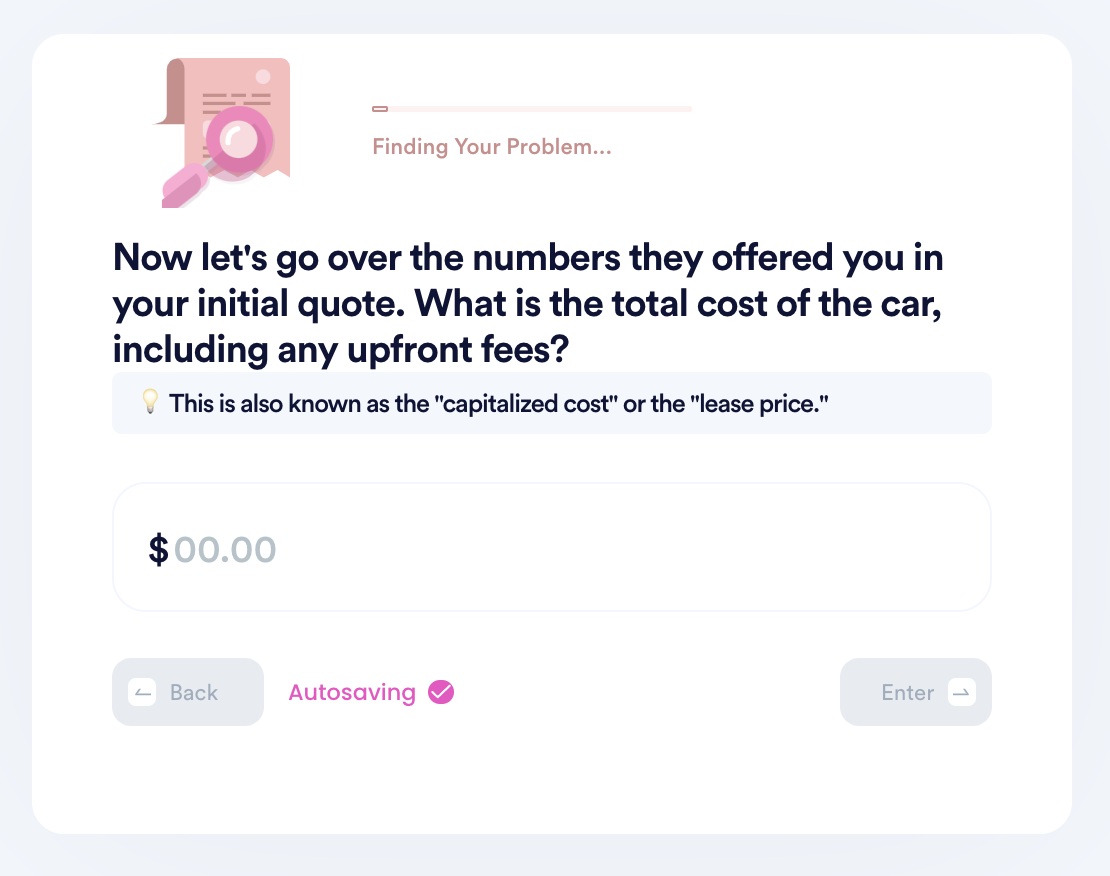 4. Tell us the name of the dealership representative you spoke to so we can contact them on your behalf.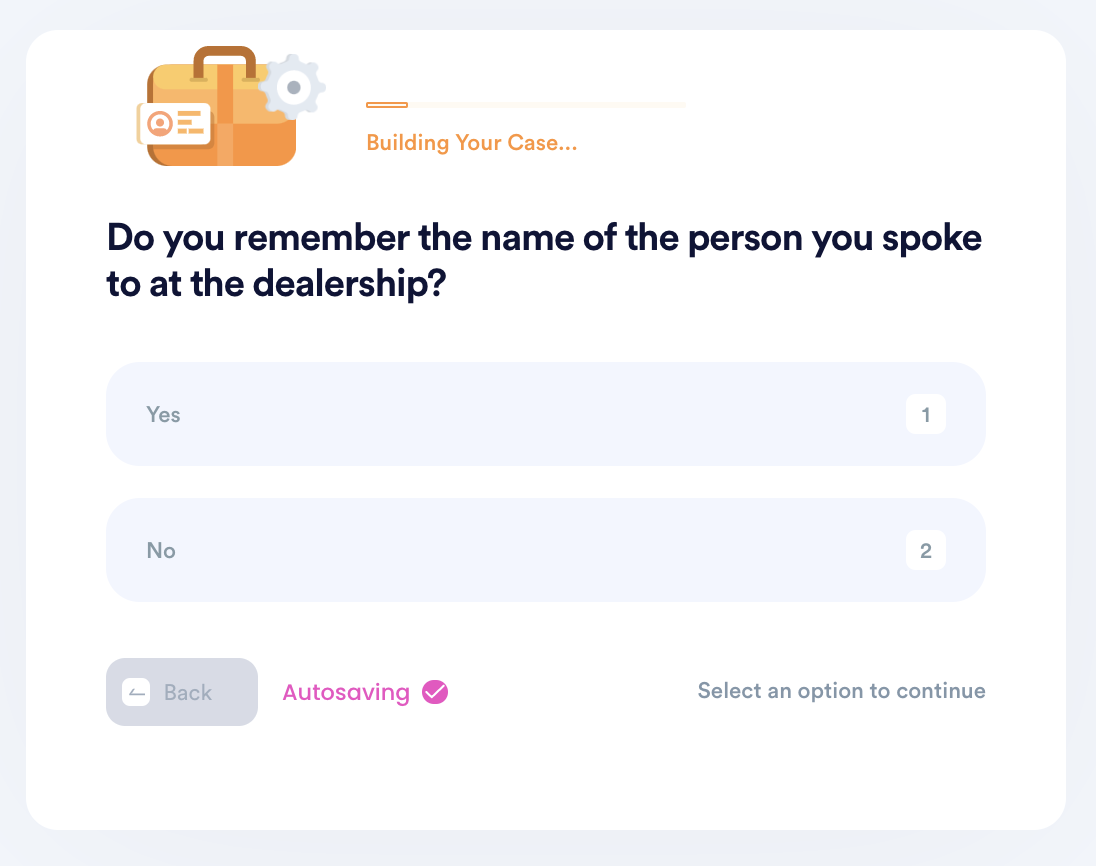 Why Use DoNotPay to solve the Car Lease Negotiation?
If you are questioning how easy it can be, here are some advantages of choosing DoNotPay;
It is Fast
One of the many reasons you may give up shopping for an optimum car lease price is the time consumed. With DonotPay, this is scrapped as you don't have to spend hours solving the issue.
Easy
It is clear how daunting the car lease negotiation process can be. Use DoNotPay as you don't have to struggle to shop around or cram hard things. They have experts to carry out the tedious process and get you the most appropriate car lease price.
Sufficient
DoNotPay makes the process of car lease negotiation easy such that you can rest knowing they'll get the car lease price case for you. They always take care of matters in a way that gets the job done.
DoNotPay Works Across All Entities With the Click of A Button
DoNotPay helps resolve a dispute and is accepted by many organizations, including federal agencies, municipal governments, and commercial companies. DoNotPay can help you with the following problems:
Hotel Upgrades
Pet license
SEC Complaint
Utility Outages
Take Down Personal Information
Death Certificates
File Police Report
Divorce Certificates
What Else Can DoNotPay Do?
Lowering your car lease payments is just one of many things DoNotPay can help you with. The site can help you to: