What Are The Best Car Lease Negotiation Services
You need a reliable vehicle so you can take your kids to school, drive to work, run your errands, and keep up with all the extra-curricular activities your family is engaged in. In a perfect world, you'd get a new car every couple of years that's fuel-efficient, safe, and comfortable. The reality is, buying a new car every year or two isn't really an option, but leasing a new vehicle is. In fact, leasing is the perfect way to get the vehicle you want.
You may not realize this, but around 25% of new cars aren't purchased, they're leased. There are many reasons people choose to lease rather than buy, but the biggest reason is that leasing is less expensive than buying. Still, you could end up overpaying for a vehicle lease. With DoNotPay, you can negotiate a lower rate for your car lease without sacrificing safety or style or you can
Is a Car Lease Right for You?
When it's time to replace your current vehicle, you're faced with a choice. Should you jump in and purchase the vehicle or does a car lease make more sense? When weighing your options, consider the following:
| | |
| --- | --- |
| Monthly Costs | For the most part, leasing a vehicle results in much lower monthly payments than buying. If you're concerned about keeping your payments low, a car lease is probably a good idea. |
| Upfront Costs | When you buy a new vehicle, you'll need to put between 5% and 20% of the price down. You'll only need to have 2 to 3 months of payments upfront for a car lease. |
| Maintenance & Repairs | Leasing a vehicle generally means that you aren't going to have to pay for regular maintenance and repairs. On the contrary, ownership makes these things your responsibility. |
| A New Car Every Couple Years | The average car lease is three years. When your lease is up, you get the chance to pick out a new, late model car that you can drive for another three years. |
Why Should You Negotiate Your Car Lease?
One of the things that most people don't really know about leasing a car is that the lease price is always negotiable. In fact, car dealerships expect customers to try to get a better deal. But be aware that these people are professionals and they know how to get the upper hand in negotiations. Still, it's well worth the effort to work with the dealership to get a lower down payment and lease payment on a car you'll lease for a couple of years.
What Do I Need to Know to Prepare for Negotiating a Car Lease?
Before you head over to the car dealership to take on a seasoned leasing agent, you'd be well advised to spend a little time learning about car leases. The more you know about car leases, average lease prices, and other important information, the better your chances of getting a good deal. Some of the things you need to know include:
Learn the Terminology - Understand the terms associated with car leases so you can talk the talk while you haggle for a better deal.
Know Prices in Your Area - Research the average cost of a vehicle lease in your city or state so you can negotiate a fair price.
Shop Multiple Dealerships - The first rule when it comes to negotiating is don't take the first offer. Keep your options open and pit one dealership against the other to get a good deal.
Be Flexible - One of the keys to successfully negotiating a lower lease payment is being open to another make or model of vehicle.
Can I Really Lower My Car Lease Payment?
Absolutely! You have to remember that car lease payment agreements aren't set in stone. There is always a little room for negotiation. If you persist long enough and you present your case well enough, you'll have car dealerships clambering to make a deal with you. Negotiating a lower down payment and a lower monthly payment leaves more money for other important things in your life.
Negotiate Your Car Lease and Get a Lower Payment With the Help of DoNotPay
If you're not completely comfortable with the process of negotiating a vehicle lease on your own, that's ok. You can still reap the rewards without having to discuss interest rates, payments, and lease terms with a pushy car salesman. DoNotPay can negotiate your next new vehicle lease for you so you get a great deal without the hassles.
How to Negotiate Your Car Lease Using Donotpay:
If you want to negotiate your car lease but don't know where to start, DoNotPay has you covered in 4 easy steps:
1. Tell us the make, model, and color of the vehicle you're looking to buy.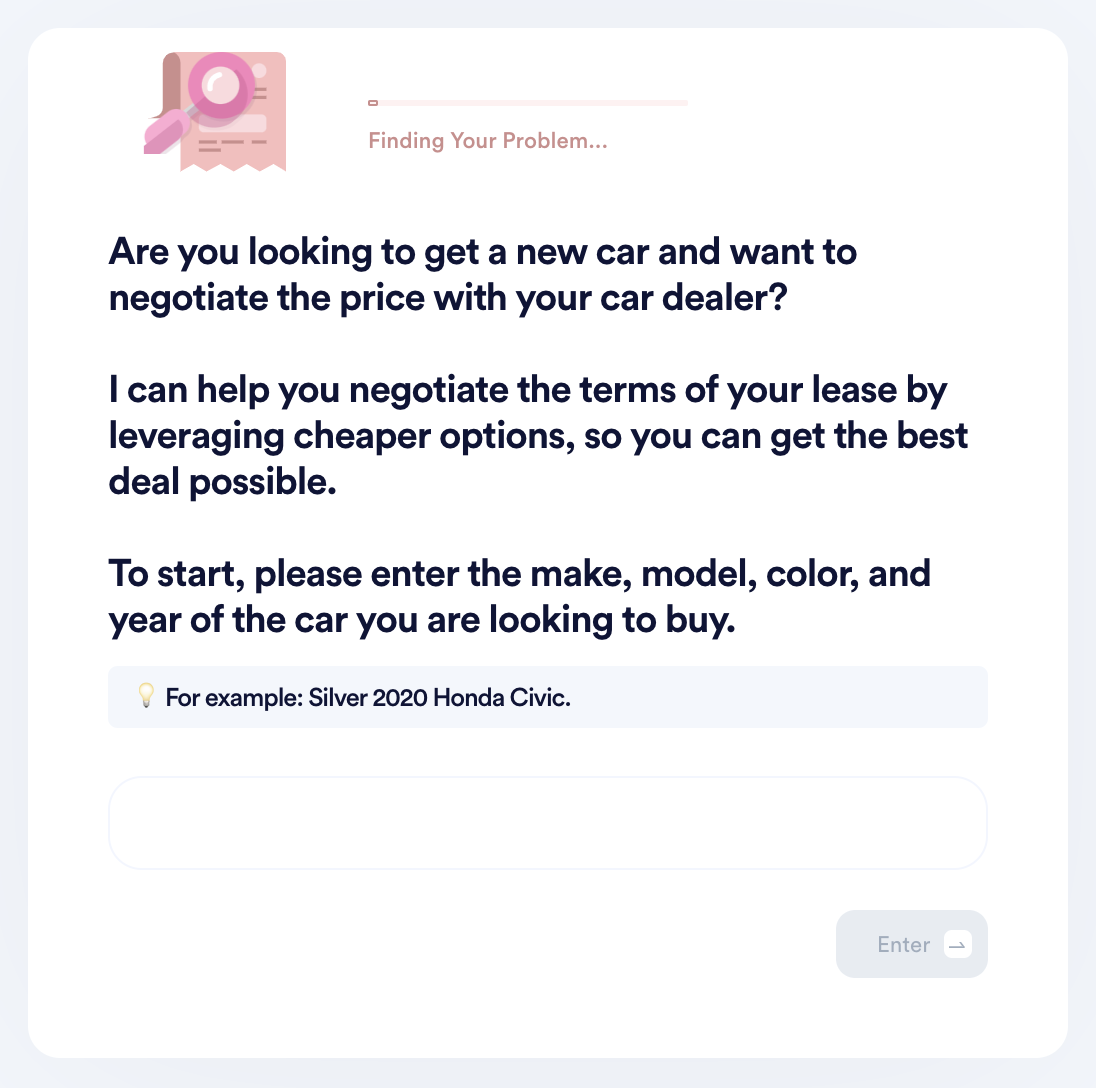 2. Tell us which dealership you would like to negotiate with.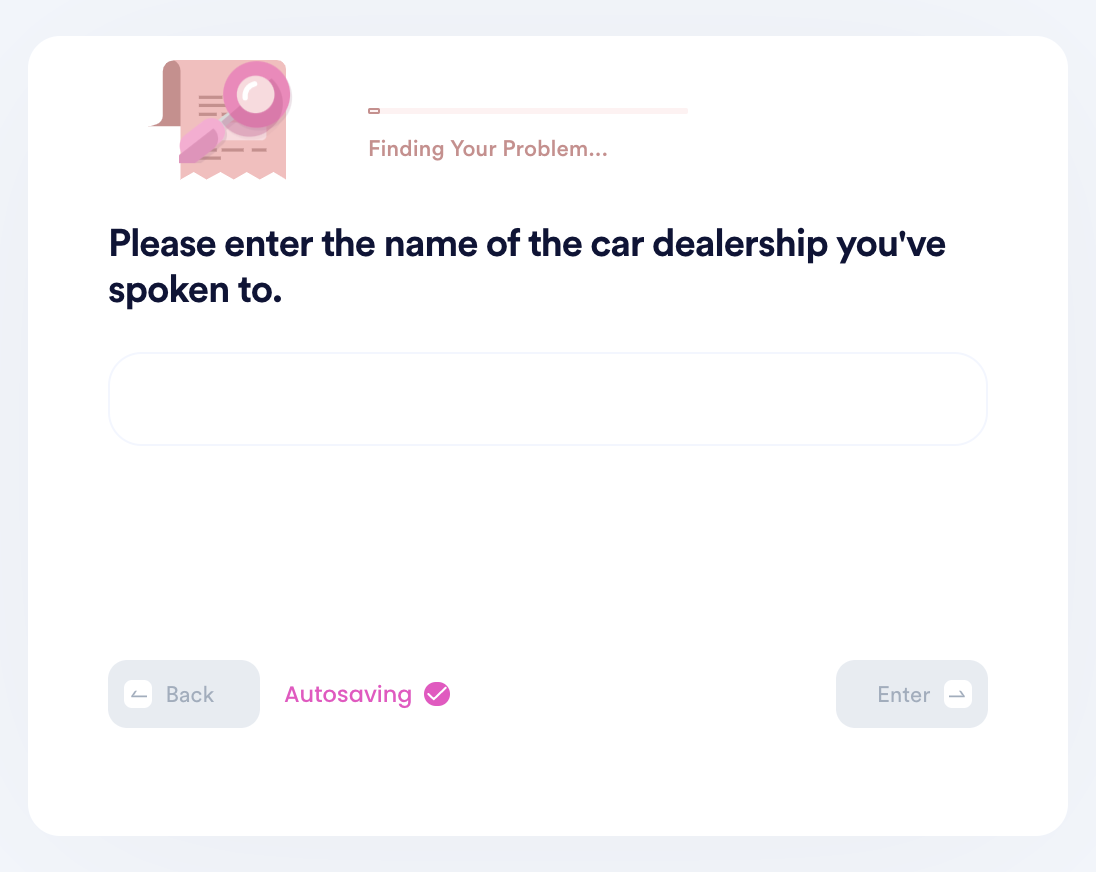 3. Tell us about the quote you received, including the lease term, total (capitalized) cost, money factor, and mileage allowance.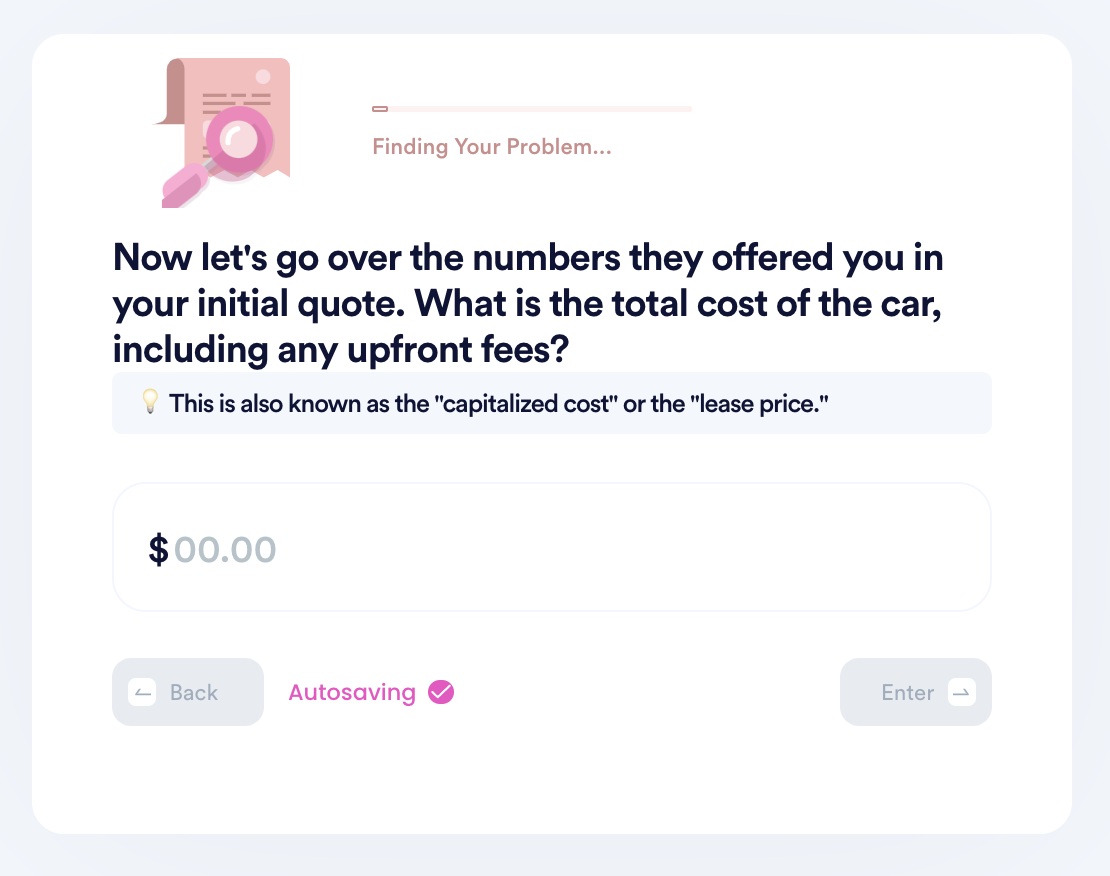 4. Tell us the name of the dealership representative you spoke to so we can contact them on your behalf.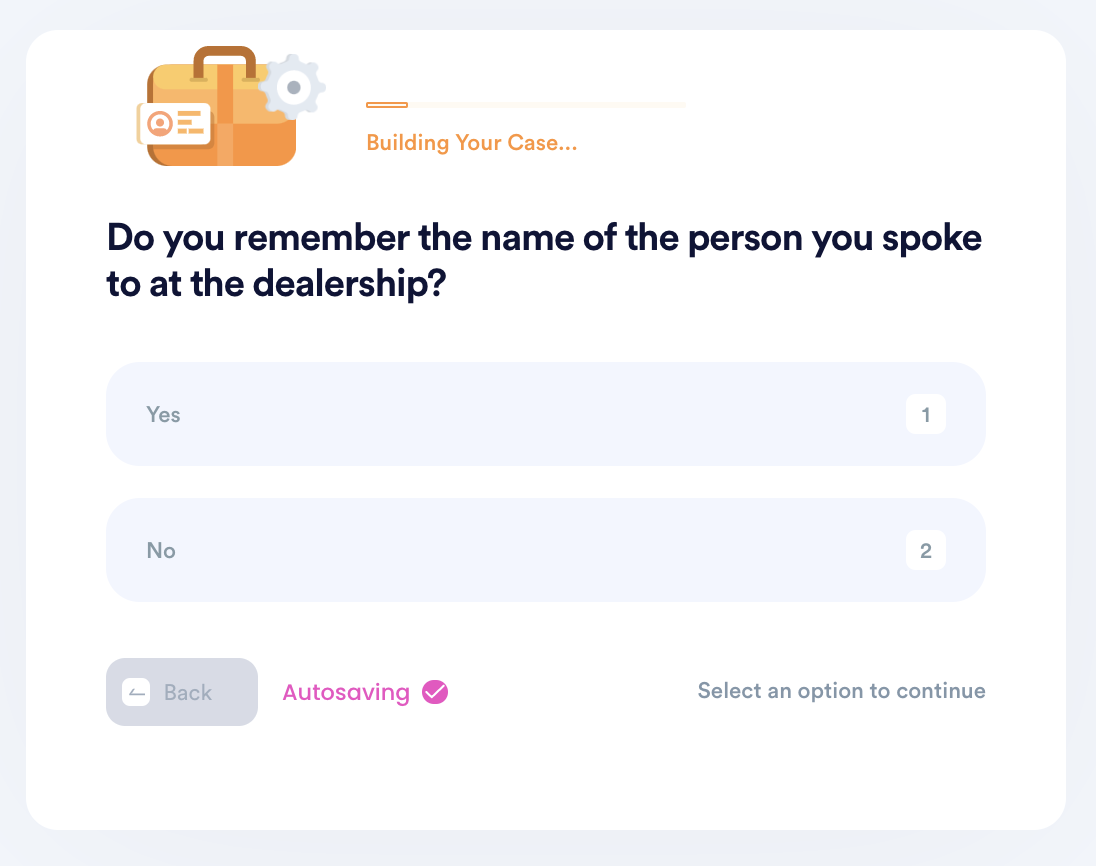 Why Use DoNotPay to Negotiate Your Car Lease
Getting a better deal is always a good thing. That's especially the case when you're leasing a new car. With DoNotPay, you'll get the lowest possible down payment, a monthly payment you can easily handle, and the terms you need.
Speedy Process—You don't have to spend hours locked in negotiations with your local car dealerships. With DoNotPay, enter a little information, click, and go to present your best offer.
It's So Easy—You don't have to struggle to figure out how to approach a car dealership or leasing agent to get a better deal on a car lease. DoNotPay handles everything for you.
Celebrate Success—In short order, your will result in a lease that you're comfortable with and a car you love.
DoNotPay Helps You Negotiate With Any Car Leasing Company or Group
Life can be expensive and it's good to take advantage of every opportunity you can to reduce your costs. DoNotPay can help you keep your finances in order by . Just enter a little bit of information about yourself and the car you want to lease. Click the button and wait for the dealership to come back with a lease agreement that meets all of your demands.
What Else Can DoNotPay Do?
While reducing your vehicle lease costs is great, it's only one of the many things that DoNotPay can help you with. Known as the world's first robot lawyer, this innovative product is capable of managing a huge variety of tasks. Just a small sampling of what DoNotPay can do includes:
Create Standardized Legal Documents
Forget about hiring a high-priced lawyer to perform simple tasks like negotiating a new vehicle lease. Leave the tedious work to DoNotPay and enjoy your new car knowing you've got extra money in your pocket.