Do You Need an Identity Theft Lawyer in NYC? Let DoNotPay Help
If you need because you suspect other people have gained access to your personal data or if you're experiencing the issue right now, you don't have to tackle what comes next by yourself. Let DoNotPay help.
According to the "Consumer Sentinel Network Data Book" by the FTC, last year, identity theft was one of three common fraud issue categories. Among identity theft cases, credit card theft had the most incidences, with over 167,000 individuals having their personal information used to open fraudulent credit card accounts.
Identity theft can really cause chaos for your financial life. If you do happen to fall victim to identity theft in NYC, it's important you don't hesitate to report it and take the appropriate actions. Hiring an identity theft lawyer in NYC can be expensive. A better alternative to ensure all the proper actions are taken properly is using DoNotPay — the world's first robot lawyer.
What Is Identity Theft | Why You Require an Identity Theft Lawyer in NYC
Identity theft occurs when another person commits fraud using your personal information. This identity thief may use your personal data to:
Acts like these can really damage your credit status. It can take a lot of money and a long time to restore your good name. This is why you may be looking for an .
It doesn't matter who you are — you can fall victim to identity theft. Seniors and children seem to be the most vulnerable. Unfortunately, child identity theft can go years before it's detected. Victims won't even know their victims until they enter their adult years and try to apply for credit cards or loans.
Seniors frequently share their personal data with caregivers and doctors. The number of offices and individuals that have access to the personal information of these seniors puts them at a high risk for identity theft.
Signs You May Be Victim of Identity Theft in NYC
You may not realize you're a victim of identity theft immediately. Signs that you may be an ID theft victim include:
You have a check bounce or your bank statement doesn't look right.

You receive debt collection calls for accounts you haven't opened.

You start receiving unfamiliar bills or your bills go missing.

Your

Experian credit report

will seem inaccurate.

You notice unauthorized and unfamiliar activity on your credit report or credit card.

You can't file your taxes because another person already did in your name.

You have a warrant for your arrest.

You receive notification that your personal data was exposed in a data breach.
How to Prevent Identity Theft
The best way you can help prevent identity theft is by signing up for some type of identity theft protection program or service. There are several out there. While these types of services can't actually prevent identity theft from occurring, they can alert you immediately when it occurs to help you limit any damage and recover quicker.
Aside from becoming a member of an identity theft protection service, you can help prevent identity theft by:
| | |
| --- | --- |
| Freezing Your Credit | By freezing your credit, nobody can request or look at your credit report. |
| Collecting Your Mail Every Day | It's fairly easy for criminals to grab your utility bills, credit or debit card statements, pre-approved credit card offers, or tax or healthcare forms right out of your mailbox and steal your identity. Don't let your mail sit in your mailbox for very long. |
| Reviewing Your Bank and Credit Card Statements Regularly | You should look at your bank and credit card statements often. Identity thieves could make small charges using your credit card or bank account information to see if they can get away with it. |
| Shredding Sensitive Documents That Contain Your Personal Information | While it's so much easier for criminals to get their hands on people's personal information through online data breaches and phishing scams, they still do it the old-fashioned way too — dumpster diving. |
| Creating Different and Long Passwords for All Your Accounts | According to the FTC, secure passwords are complex, long, and unique. You want different passwords for different accounts. Don't use the same password for all your accounts. |
So, while your credit is frozen, nobody (including you) can:
Apply for a loan

Open an account

Get a new credit card
Don't use information that's related to your identity, such as:
Your birthday

Parts of your name

Your initials

Last four of your

social security number
What to Do if Your Identity Is Stolen
To minimize the damage, it's important that you file an identity theft report and lock down your information. As soon as you realize you're a victim of identity theft, you'll want to:
1. File an identity theft insurance claim (if applicable)
2. Call the identity hotline number for the Federal Trade Commission to file a complaint at 1-877-438-4338.
3. Notify all the different companies where the identity theft occurred (banks, utilities, credit cards, etc.).
4. Call the NYC police department.
5. Place a fraud alert on all credit reports. Contact:
Equifax 1-800-685-111

Trans-Union 1-800-916-8800

Experian 1-888-397-3742
6. Have your credit frozen.
7. Subscribe to a credit monitoring service.
8. Contact the DMV to have them issue you a new license number in your name.
9. Tighten security on all of your accounts.
10. Scan your bank and credit card statements for unauthorized charges.
11. Look over your credit reports to see if there are any mystery accounts.
12. Call 1-800-269-0271 (Social Security Administration Hotline).
As you can see, there are a lot of steps to take when you become a victim of identity theft. You can spend thousands of dollars to have an identity theft lawyer NYC handle it for you, or you can use the services of DoNotPay to streamline the process as much as possible.
How to Deal With Identity Theft Using DoNotPay
1. Search "identity theft" on DoNotPay and select the type of incident you would like to report.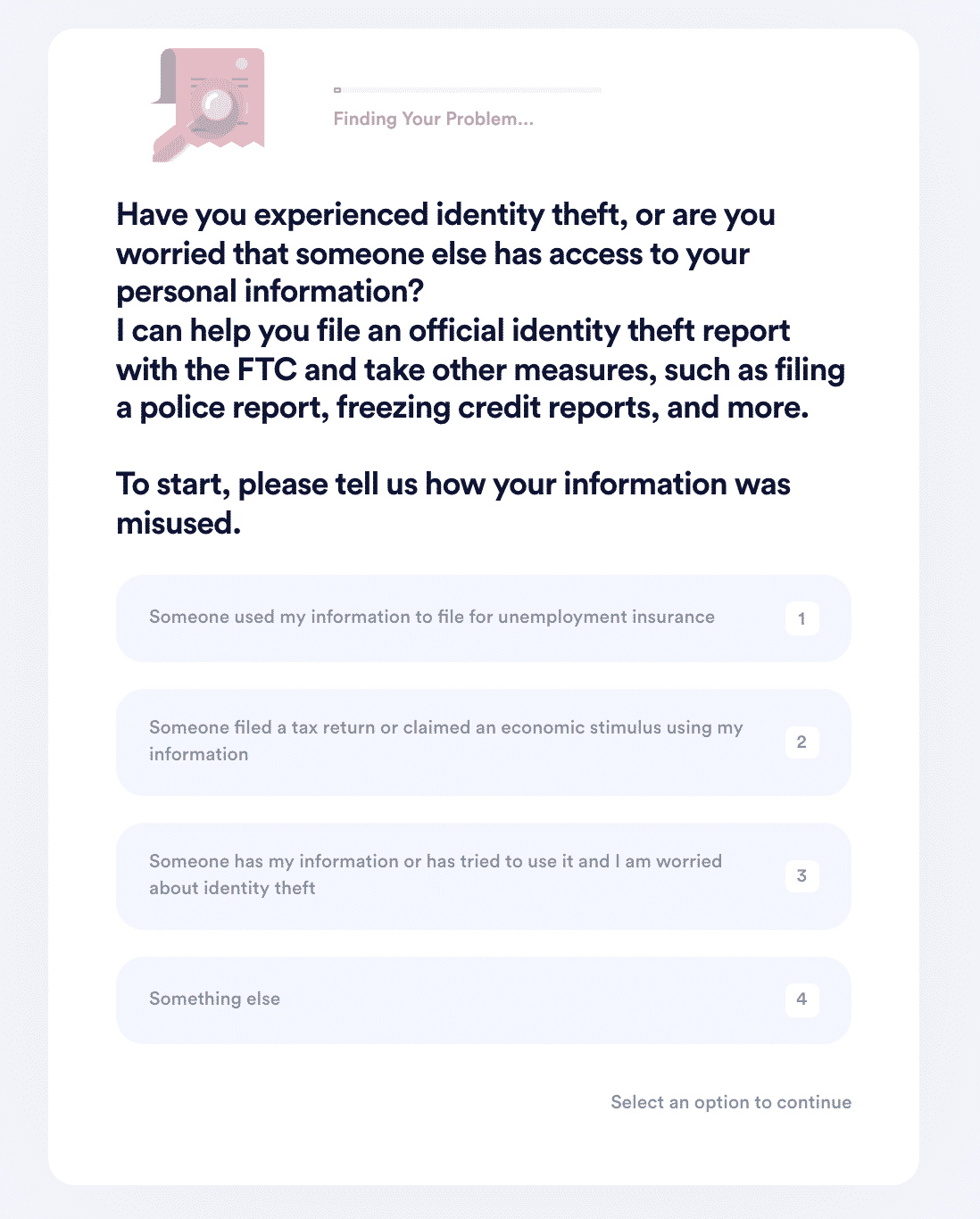 2. Tell us more about the incident that occurred, including the location, date, time, financial loss, and any suspect information you may have.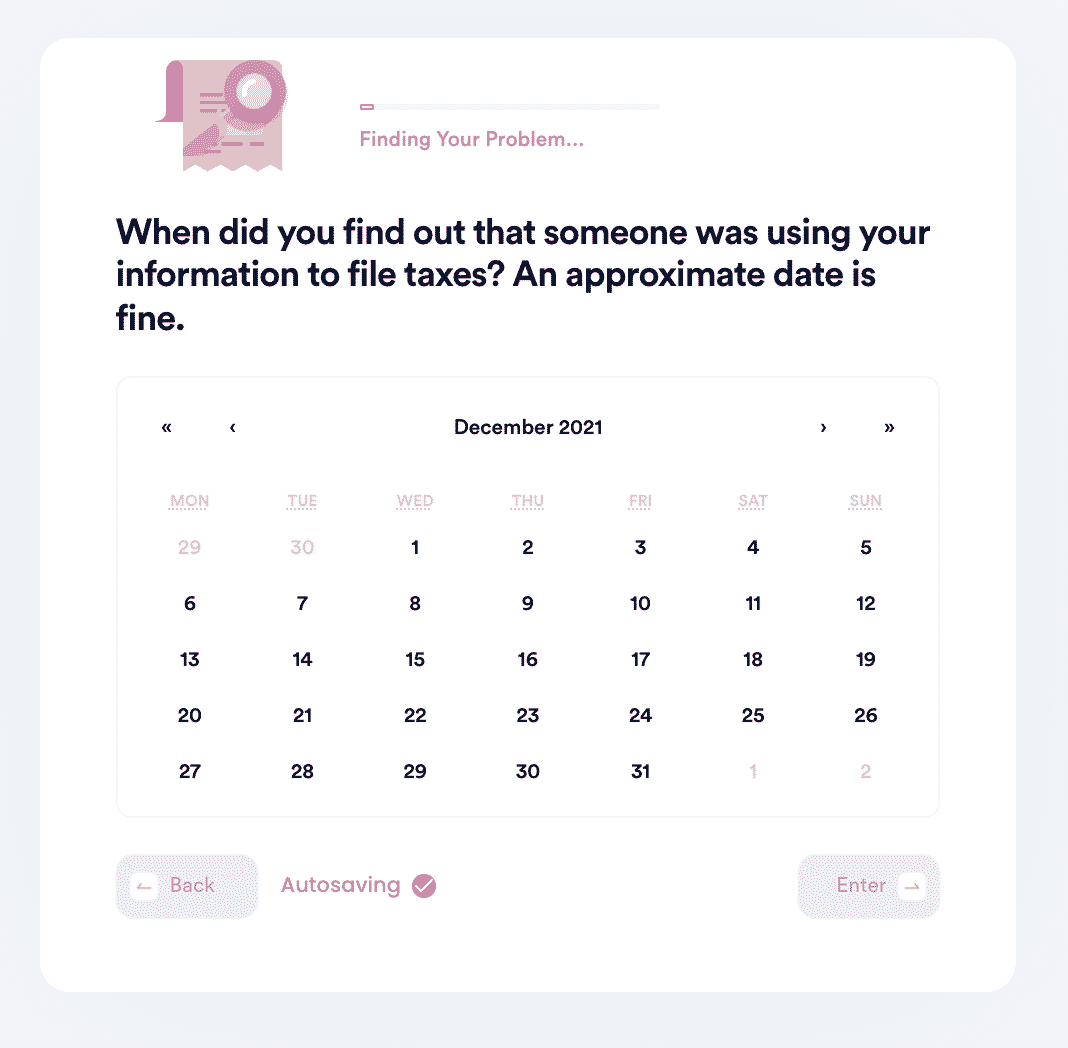 3. We'll identify whether you should file an FTC report, contact the IRS, freeze your credit report, contact state agencies, or file a police report. Once we guide you through the best options, we'll automatically submit the reports on your behalf!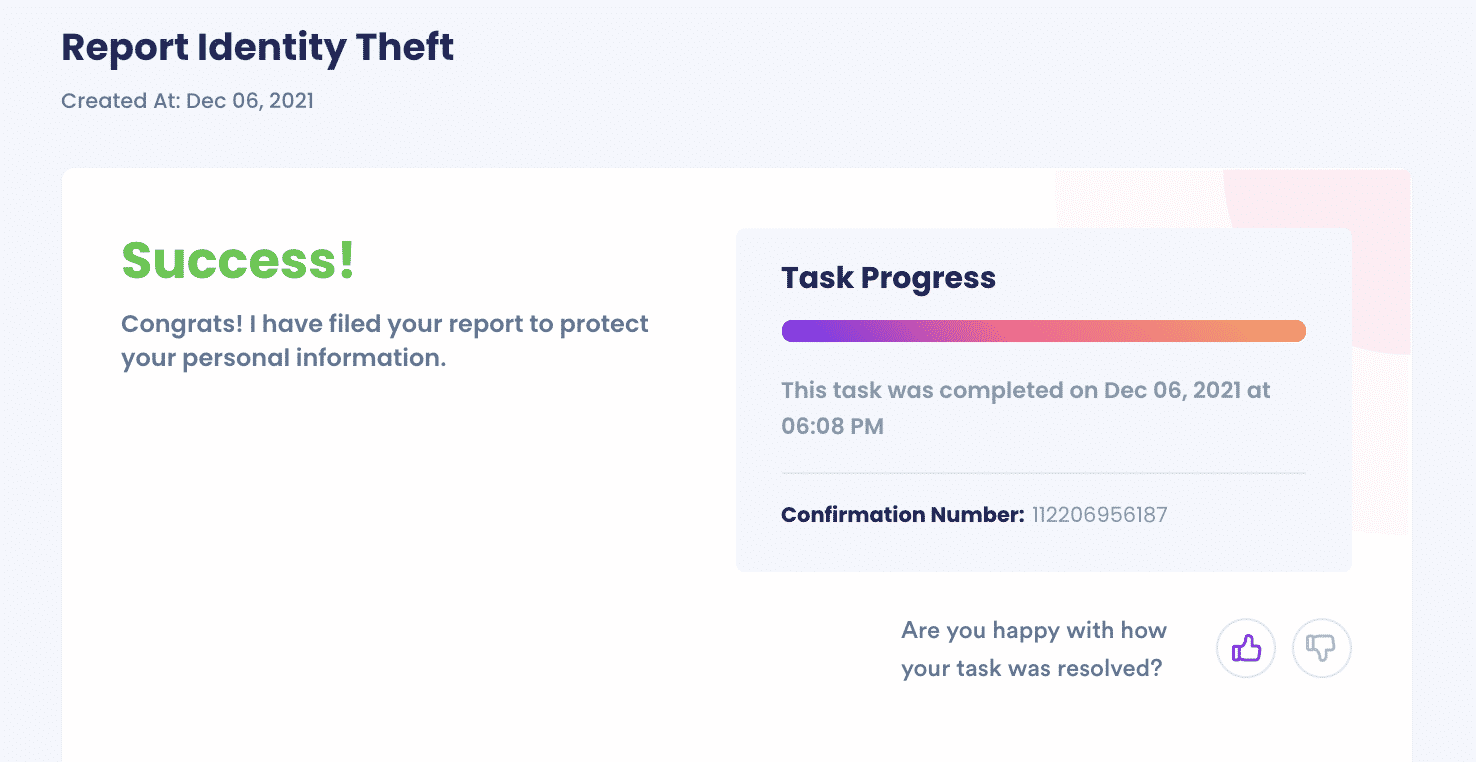 And that's it. DoNotPay will make sure your issue gets sent to the right place. We'll upload confirmation documents to your task for you to view, and if the contacts need more information, they will reach out to you personally via email or mail.
Why Use DoNotPay to Solve Your NYC Identity Theft Problem
DoNotPay can report your identity theft for you, to ensure that nothing is missed. Some ways DoNotPay can help with your identity theft problem include:
What Else Can DoNotPay do?
There are a number of different services DoNotPay can help with to resolve matters, solve issues, and save you money. For instance, if you're a victim of identity theft, and you know the person, we can help you sue. DoNotPay can also help support you through:
These are only some of the many different services DoNotPay offers to make your life easier. DoNotPay gets things done efficiently and quickly while you get on with the rest of your life.