How to Easily File a Police Report in San Antonio
Do you need to file a police report in San Antonio but don't know how? If you've encountered a crime of any kind, whether it be having some items stolen, like a wallet, a package, or a phone, or even a car accident like a hit-and-run, or even being the victim of a scam, you may not be clear about what your next steps are. But regardless of the crime, you should always file a police report.
Unfortunately, due to lack of information, many people either fail to properly file a police report or waste a lot of time trying to navigate the process. Here at DoNotPay, we believe that filing a police report should be an easy and quick process. If you need to file a police report, DoNotPay is here to help. We're going to show you just how you can successfully on your own and why using our product can help you get your report filed, without the unnecessary hassle.
What Type of Reports Can Be Filed Online?
Various situations may warrant a police report. The San Antonio police department offers a variety of incident types that you can report online. Some incidents include:
| | |
| --- | --- |
| Burglary of a vehicle | You experienced theft inside your locked or unlocked vehicle with items totaling under $2,500. |
| Property vandalism/graffiti | An unknown person intentionally damages or destroys your property with damages valued at $2,500 or less |
| Vehicle vandalism/graffiti | An unknown person intentionally damages or destroys your vehicle with damages valued at $2,500 or less |
| Lost property | You were in possession of one of your properties (i.e. purse) in the city of San Antonio and no longer have it |
| Shoplifting | Theft of merchandise in a shop or money taken from a cash register at a retail store valued at $2,500 or less |
| Theft | Property taken without permission valued at $2,500 or less |
What Do You Need to File a Report Online?
If you want to move forward with filing a police report with the San Antonio Police Department, you will need to include specific information to get the process started. When filing a report, be sure to include the following information.
Detailed information about the victim: This includes information such as their name, address, sex, ethnicity, phone, and email address.
Scene of the incident: Include information about the scene of the incident including where the incident took place, date, and time.
Information on the stolen or damaged property: Be sure to include specific information about the property that was stolen or damaged in the crime.
Additional information: Include any additional information that can help in the report.
Steps to Filing an Online Police Report in San Antonio
You can file a police report online for an incident that occurred in San Antonio. Here is a step-by-step guide on how to initiate a report on a crime.
Go directly to the San Antonio Police Department website.
At the bottom of the page, click "Start a police report".
From there, you will need to select the type of incident that has occurred and click, "Start Report".
Fill out the information.
If you're looking for other options to file a police report, you can also file a report online or in-person in San Antonio.
File a Report by Phone
You can file a report by calling 911 or by calling 210-207-7273, which is the SAPD's non-emergency number.
File a Report In-Person
You can file a report in person by visiting your local substation. San Antonio has various substations including:
North
South
East
West
Central
Prue
Use DoNotPay to Successfully File a Police Report
Filing a police report isn't always the easiest process. There are often various steps involved with filing a report, depending on the city and what kind of incident occurred. Let DoNotPay file a police report on your behalf. Filing a report shouldn't be a stressful process. You should be able to quickly and successfully file a report without little hassle on your part. Whether you were a witness to a crime or a victim of one, DoNotPay will walk you through the process.
Through the new Police Report product, we'll help you file the police report for you by walking you through all of the evidence necessary and contacting the police on your behalf. This product is not anonymous. Your information will be provided to the police upon filing.
Here's how you can file a police report using DoNotPay:
1. Search "police report" on DoNotPay and select the type of incident you would like to report.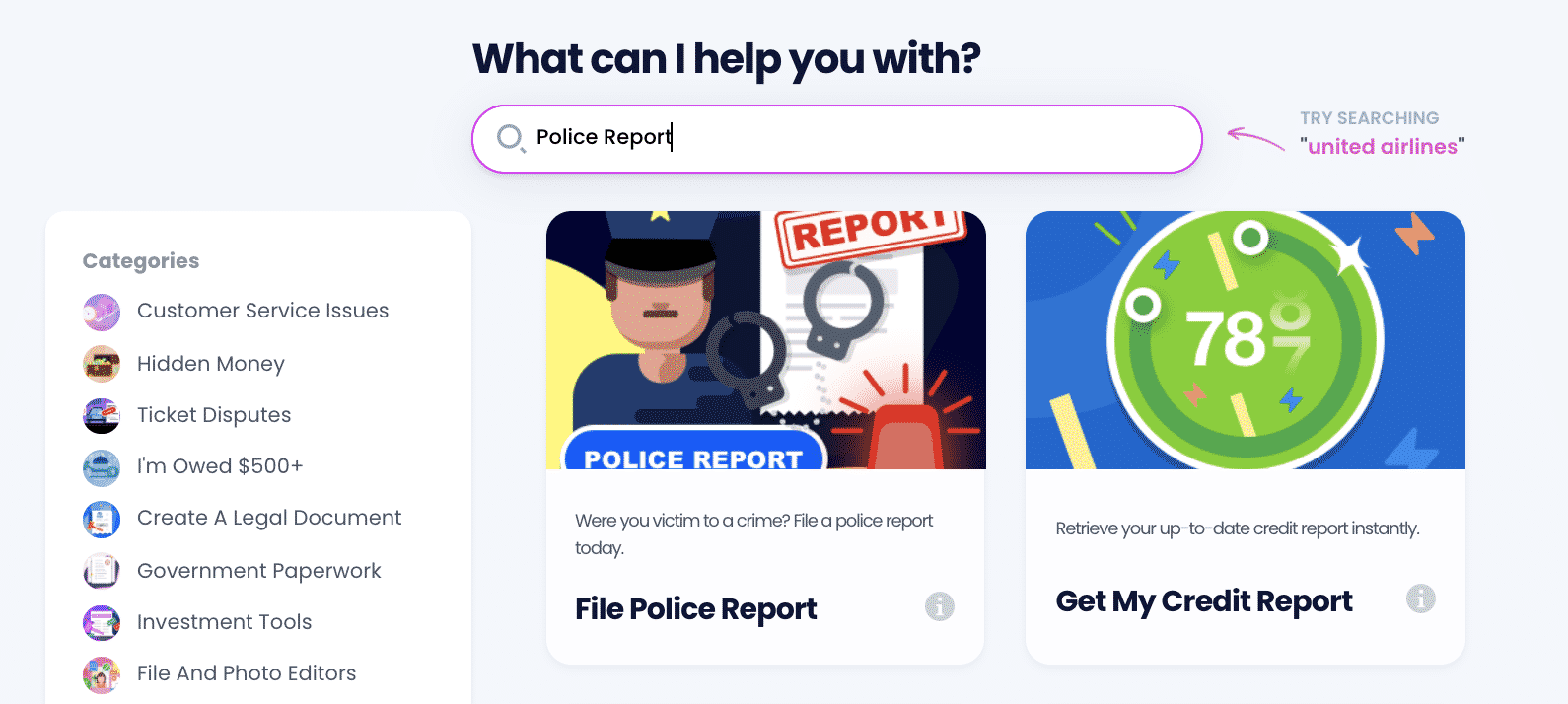 2. Tell us more about the incident that occurred, including the location, date, time, and sequence of events. Include information on financial losses, personal injuries, or property damage that happened as a result.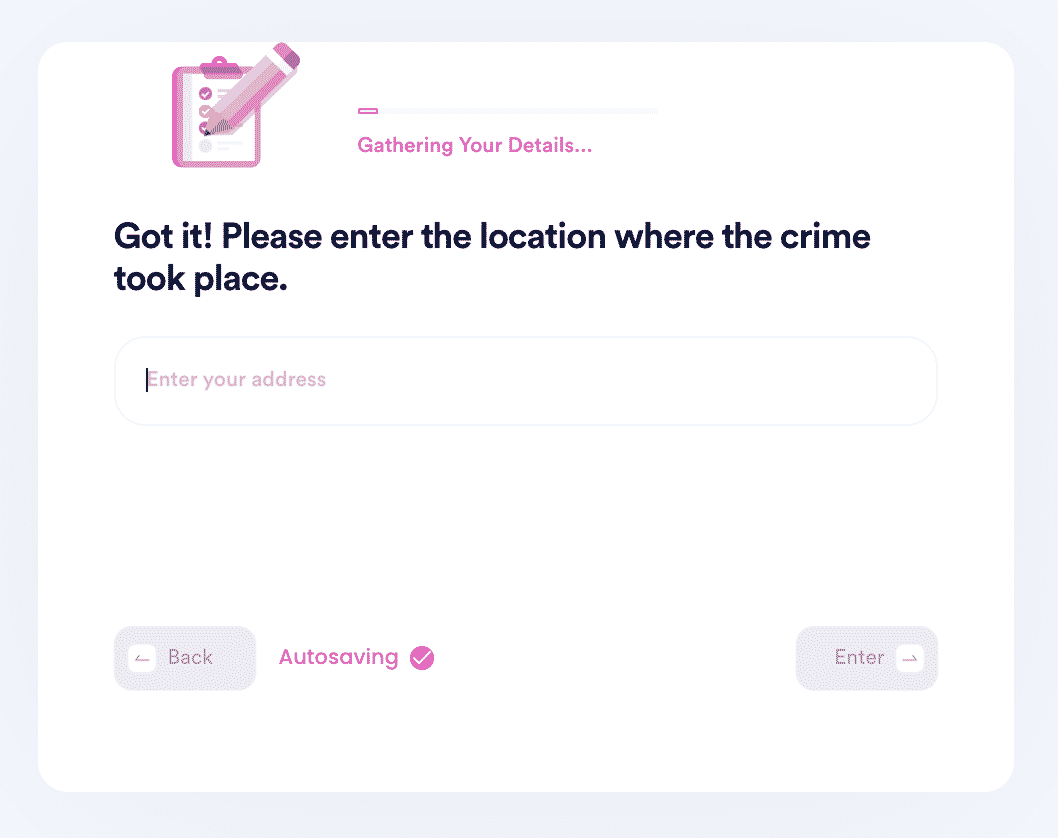 3. List any suspects or witnesses you are aware of, verify your contact information, and submit.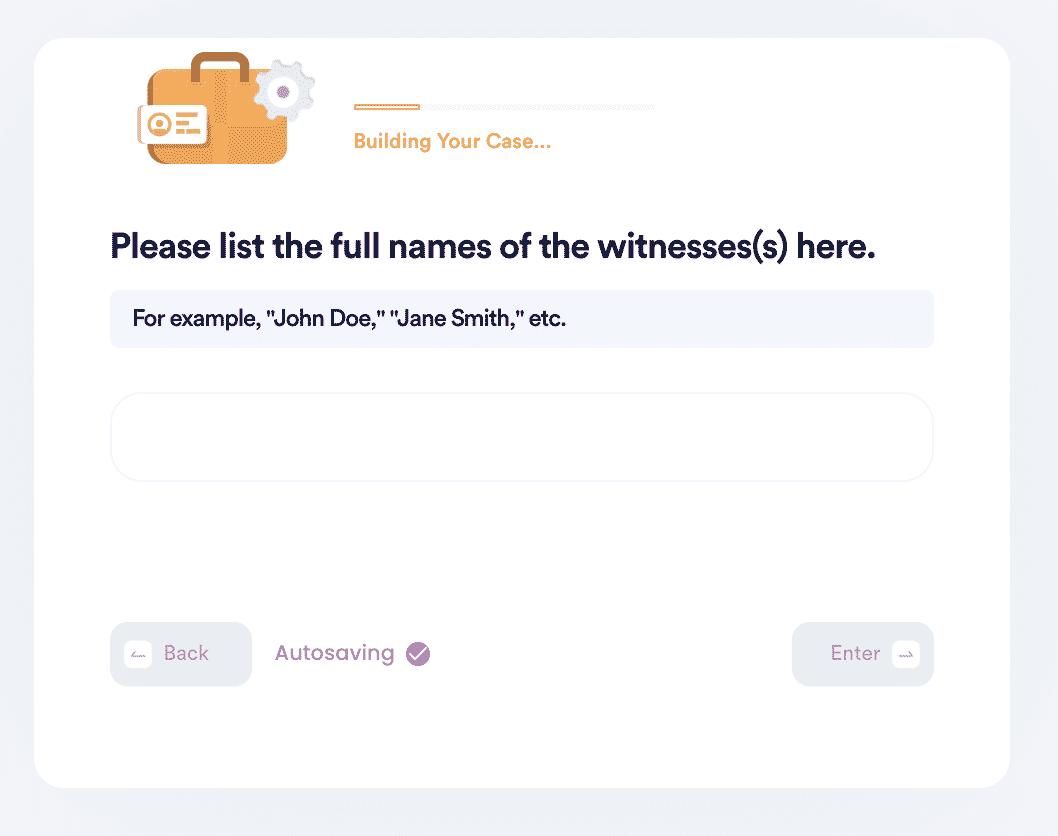 And that's it! DoNotPay will on your behalf to the police department that regulates the district where the incident occurred. You should hear back from them with further questions and status updates within 2 weeks.
Why Let DoNotPay Initiate the Process for You?
DoNotPay is fast, easy, and successful at collecting the evidence from you and ensuring the report gets to the right party. Sign up today to get started.