How to Easily File a Police Report Online in NYC
If you've witnessed or were a victim of a crime, you need to file a police report online in NYC. While this might seem simple enough, filing police reports in NYC can be challenging. However, one of the most important things you can do after a crime or incident is to file a formal police report. You should still file a police report in NYC even for non-violent crimes. Filing a police report NYC online or in person can be intimidating. The good news is, you can let DoNotPay handle this for you. DoNotPay will file the police report for you and you end up walking away with all the requirements met that are required to file police reports effectively.
Reasons to File NYPD Police Report Online 
In many cases, you can file your police report in NYC online, depending on the case. If it's a more serious case, you'll want to visit in-person or call the police station to file your report.
If you're wondering when to file a police report NYC online, some reasons are:
| | |
| --- | --- |
| Criminal mischief | Intentional property damage under $250. |
| Graffiti |  Scratching, drawing, or etching on property. |
| Petit larceny | If you have property taken without your permission that's valued at $1,000 or less. |
| ​​Lost Property | If you leave property behind in a public place by accident. |
Typically, you'll file your report at the local police station where the incident occurred. However, for cases like identity theft, you'll also file a report with the FTC (Federal Trade Commission). Call 911 right away if it's an ongoing problem or emergency instead of filing a report.
What Is Required for Filing a Police Report in New York City?
To file a police report online in NYC:
The incident must have occurred within the five NYC boroughs (Brooklyn, Bronx, Staten Island, Queens, or Manhattan).
You need to be 18 years old or older.
You need to have a valid email address.
The crime wasn't recorded on video.
You don't know the person who committed the crime.
You're the property owner or the employee/employer or parent/guardian of the property owner.
If you're reporting graffiti, you'll have to upload a photo of the graffiti.
Keep in mind, it's a crime to intentionally file a false police report. The NYPD Online Reporting Service doesn't take stolen or lost vehicle license plate reports or stolen cell phone reports either.
How to File a Police Report in NYC by Yourself
For a NYPD file police report, you'll want to know the basic steps.
Crimes Just Witnessed or in Progress 
If you've just experienced or witnessed a crime, or a crime is in progress, your first step is to get to safety.
What Should You Do Next?
Remain calm and call 911 right away. Try to be alert and make mental notes of your surroundings. As you speak with the 911 dispatcher, keep the following in mind:
Provide the dispatcher with the specific address if you can.
Provide them with the street name or certain landmarks around you, if you don't know the exact location. You'll want to provide the dispatcher with as many details about the location as you can. Is it a car accident or a hit-and-run?
Let the dispatcher know if anyone is hurt or if anybody requires medical assistance.
Take note of the perpetrator's or victim's physical characteristics, including details like:
Race
Weight
Height
Eye color
Hair color
Scars
Tattoos.
Take note of the clothes the perpetrator or victim is wearing, including the color and type of clothing. Are the individuals in a car or on foot? Take note if there are any weapons involved.
Don't touch or destroy any potential evidence that could help the police like any clothing or objects that might have hair, fingerprints, semen, blood, or skin on them. If you require foreign language assistance, a translator can be connected to all 911 calls. Don't ever make prank calls to 911. Doing so will take dispatchers away from other callers who could be in danger. Prank 911 calls are also punishable by law.
Crimes That are Not in Progress 
You may report the crime to various agencies like the NY State Police, MTA police, or Port Authority Police, depending on the location of the crime, and if the crime location falls under their jurisdiction. Otherwise, you may visit your local precinct or file a police report online for certain types of reports.
Sexual Violence Crimes 
If you're a victim of sexual violence and are in immediate danger, call 911; otherwise you'll want to call the 24-hour NYPD Special Victims Division hotline at 646-610-7272.
As you can see, there are a lot of tedious tasks involved with a NYC file police report online. Why not use DoNotPay to help file police reports online in NYC on your behalf? They'll walk you through all the necessary evidence and even contact the police for you.
How to File a Police Report With the Help of DoNotPay 
If you want to file a police report but don't know where to start, DoNotPay has you covered in 3 easy steps:
1. Search "police report" on DoNotPay and select the type of incident you would like to report.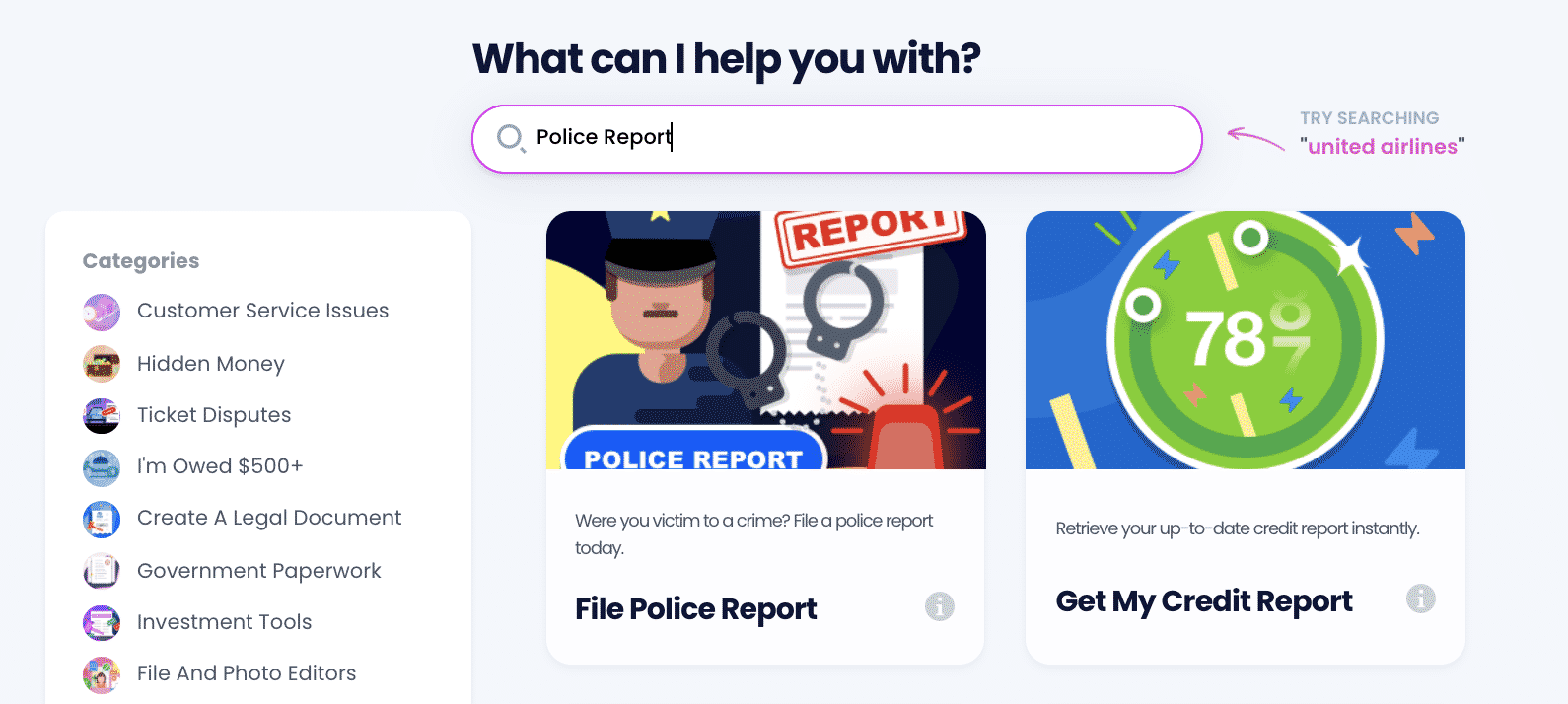 2. Tell us more about the incident that occurred, including the location, date, time, and sequence of events. Include information on financial losses, personal injuries, or property damage that happened as a result.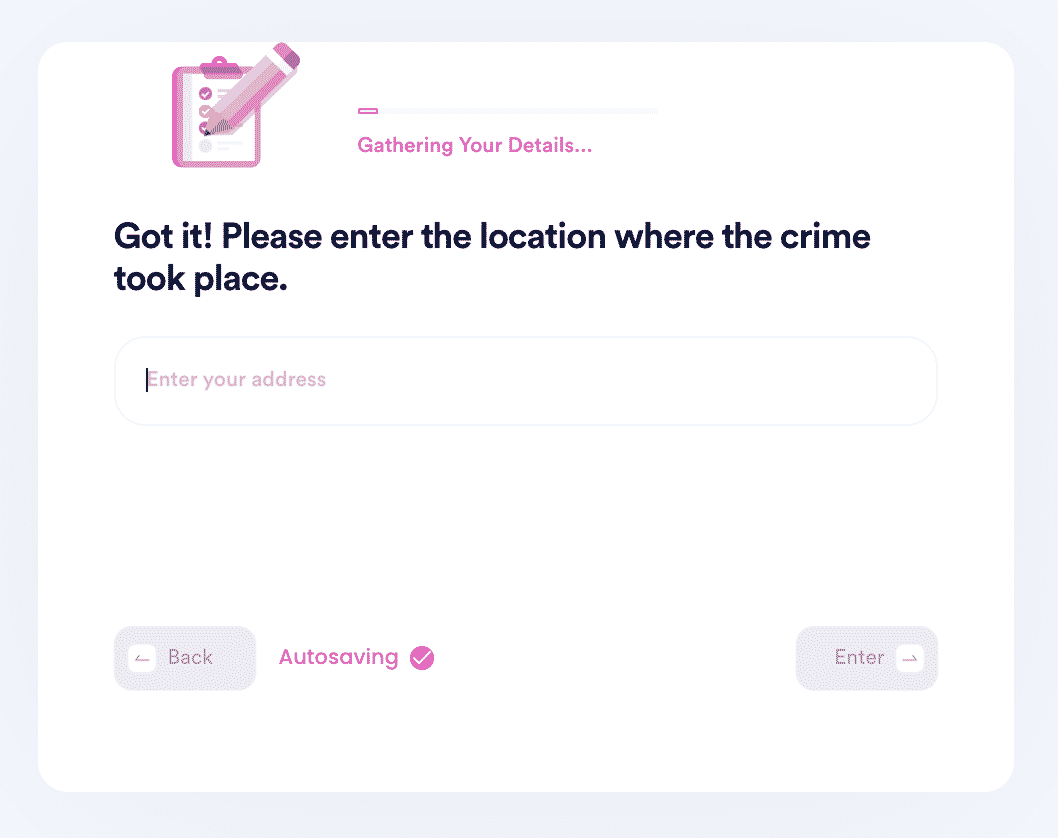 3. List any suspects or witnesses you are aware of, verify your contact information, and submit.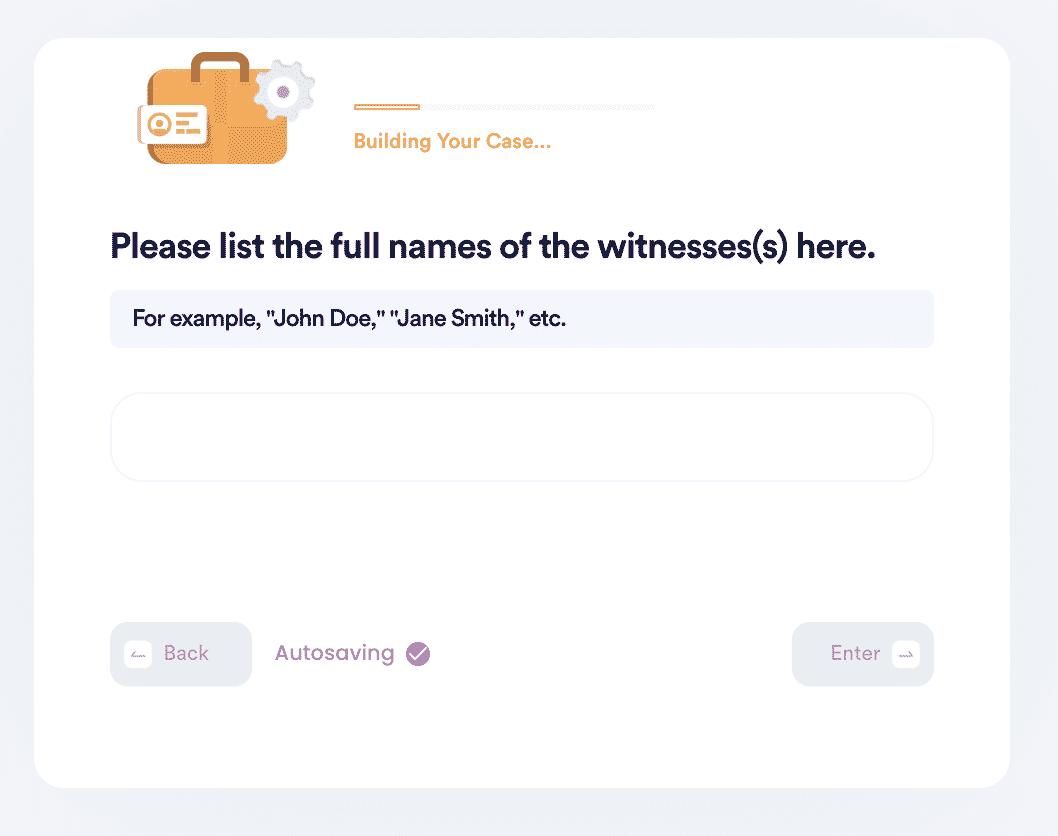 Why Use DoNotPay For Your NYPD Filing a Police Report Task?
DoNotPay will file the police report for you. This allows you to feel confident that the situation is being handled and you don't have to worry about the whole process. DoNotPay is:
Quick: There is no spending hours trying to figure out how to file a NYC police report for things like battery, stolen property, graffiti, lost wallets, stolen phones, scammers, identity theft, or theft.
Simple: There is no struggling to fill out long and tedious forms or having to keep track of all the involved steps in filing a NYC police report.
Successful: You can feel safe and confident knowing DoNotPay will handle everything for you and make the best case for you.
What Else Can DoNotPay Do?
You probably didn't even realize how helpful DoNotPay can be. Not only can DoNotPay help you with filing a New York City police report, but they have a whole array of other services available to you. Some examples are:
DoNotPay solves numerous issues with a simple click of a button. We can assist you in filing a police report online in NYC for a number of different cases. However, we also help with so much more.