How to Successfully File a Police Report for Stolen Items
No one wants to experience getting their , but unfortunately, it does happen. If an unknown person stole your property, you may be wondering what steps you should take next. Many people believe that they're left with no options with little information. The good news is that you can file a police report if your items have been taken.
Here at DoNotPay, we know how devastating it can be to have something that belongs to you stolen. We also know that the steps after can feel a bit overwhelming. To make things easier, we're going to show you what steps to follow if your and how using DoNotPay can make reporting stolen items a lot simpler.
Types of Reports That Can Be Filed Online
There are select incidents that can be filed online. It's important to note that if a crime is too serious, it will likely need to be filed at the station if a crime is too serious. In general, you can file a police report online for the following incidents.
Lost property: You have lost your property and are unsure whether it was stolen.
Harassment: If you are experiencing harassment, such as harassing phone calls with no known suspects.
Theft: Your property was stolen, and there has been no illegal contact with the thief.
Vandalism/graffiti: Someone has altered, modified, or defaced public or private property.
Burglary (vehicle): Property was stolen from your vehicle.
Tampering (vehicle): Someone has tampered with your motor vehicle, including vandalism and graffiti.
Information Required to File a Report Online
There is some basic information needed to file an online report. Be prepared to include the following information:
Detailed Information About the Victim
The report will need detailed information about the victim involved in the incident, including:

Their name
Address
Sex
Ethnicity
Phone and Email address

Scene of the Incident
The report will also need to include the scene of the incident, such as where the incident took place, the date, and the time that the incident occurred.
Information on Stolen Property
Give a detailed description of the stolen information. To the best of your ability, describe what it looks like for better identification.
Additional Information
Include any other additional information that can be used by the authorities to help identify your stolen items.
Steps to File a Police Report on Stolen Items on Your Own
There are various steps involved in filing a police report online. We're going to walk you through the process step-by-step to help you successfully file your report online.
Identify your local police department's website. Once you're on the website, locate the link that takes you to their online police reporting system. Keep in mind that not every police station will have an option for you to file a report online. Police departments that don't have an online system mean that you will need to make your report in person.
The next step is to select the appropriate type of incident. The police department should have each incident you can file labeled separately. Click the appropriate incident for stolen items.
The next step is to gather information. Before starting your police report, it's important to gather all of your information. This is because some police departments only allow a certain amount of time to complete your application. Refer to the section above if you need help with what information to gather.
Next, enter all of the information you've gathered to fill out the report. Most police reports do not allow you to submit anonymously, so be sure to provide all of your contact information.
Lastly, submit your report, and be sure to print off a copy.
Use DoNotPay to Quickly File a Police Report
Do you need help filing a police report online for your stolen items? Let DoNotPay help you get the process started. When your personal belongings are unexpectedly taken, filing a police report can feel overwhelming. DoNotPay will gather information from you and submit the report on your behalf.
Here's how DoNotPay can help.
Please note: This product is NOT anonymous. Your information will be provided to the police upon filing.
Here's how you can file a police report using DoNotPay:
If you want to file a police report but don't know where to start, DoNotPay has you covered in 3 easy steps:
1. Search "police report" on DoNotPay and select the type of incident you would like to report.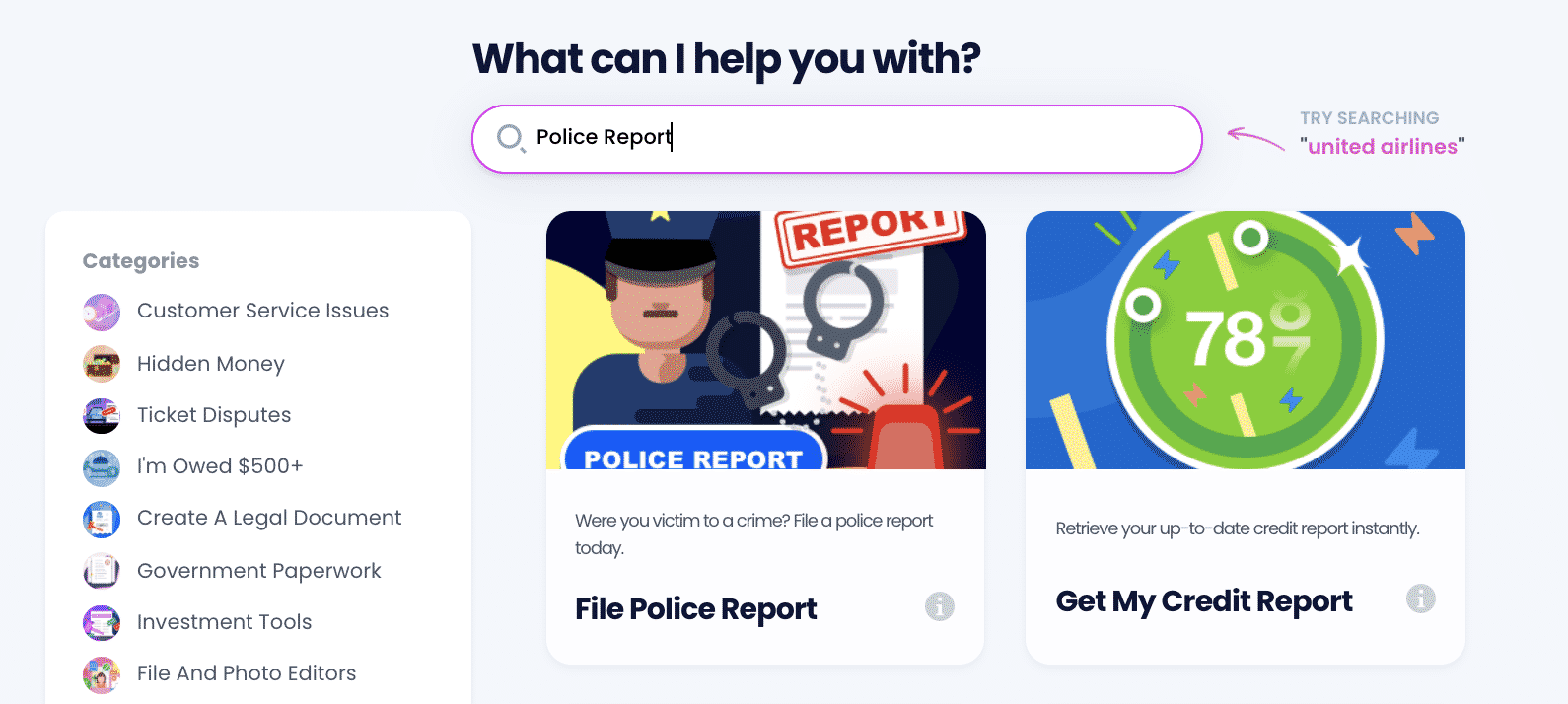 2. Tell us more about the incident that occurred, including the location, date, time, and sequence of events. Include information on financial losses, personal injuries, or property damage that happened as a result.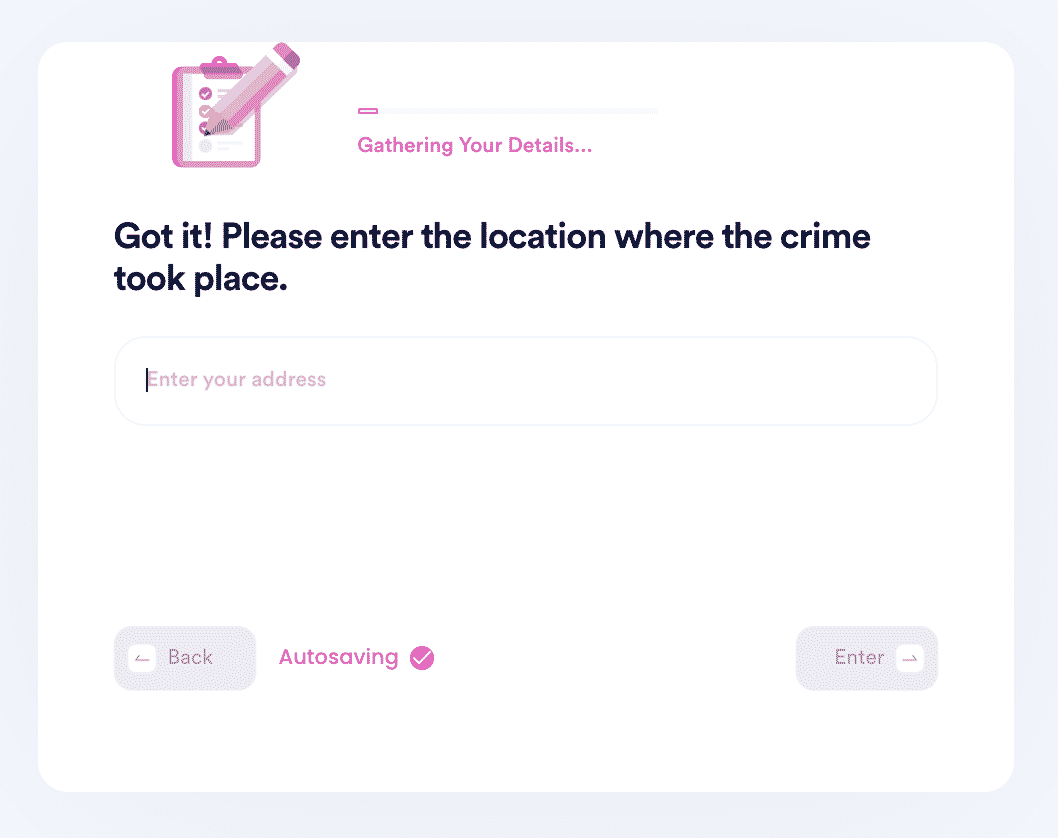 3. List any suspects or witnesses you are aware of, verify your contact information, and submit.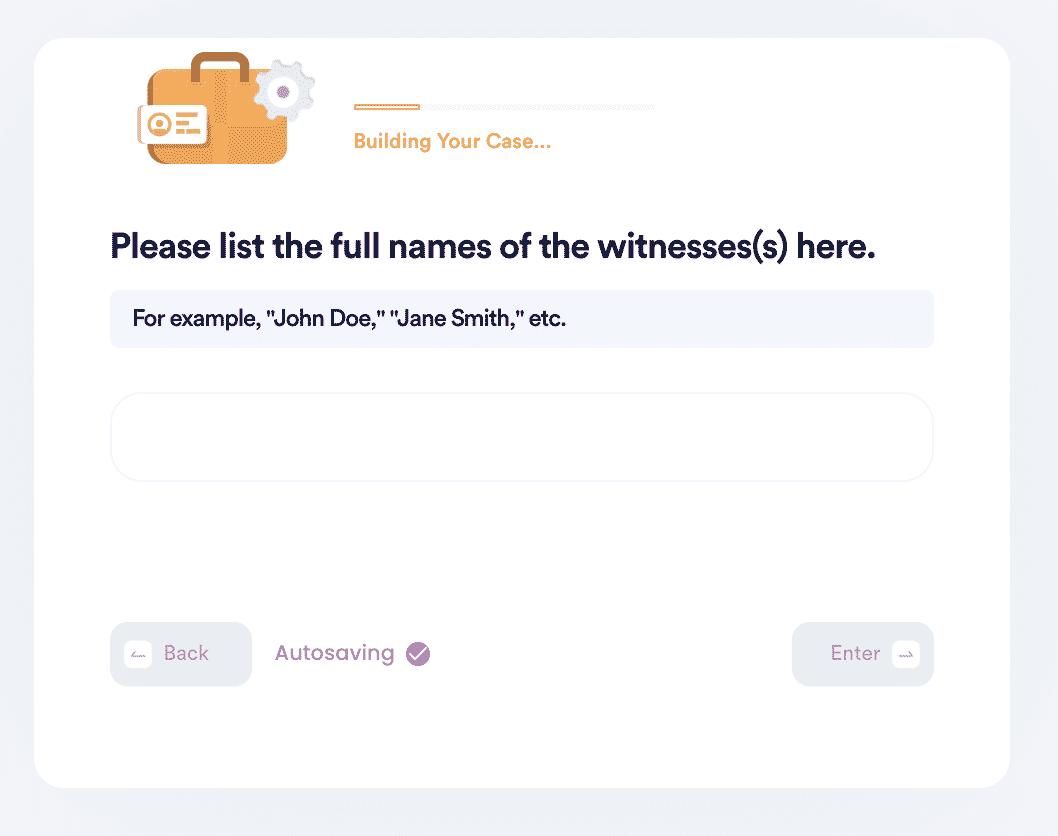 And that's it! DoNotPay will file the police report on your behalf to the police department that regulates the district the incident occurred in. You should hear back from them with further questions and status updates within 2 weeks.
Quickly filing a police report should be easy. Unfortunately, filing a report online isn't always simple, depending on the incident and the police department. At DoNotPay, we strive to simplify the process for you. If your items are stolen, we will file a police report on your behalf. If you're ready to successfully file your report, !