Did You Witness or Were You a Victim of a  Hit and Run? File a Police Report Now With DoNotPay
Whether you're involved in a hit and run or witnessed such an accident, you have to report this incident to the police. This can help you get compensated for the damage you incur.
Filing a police report for a hit and run can sometimes be long and frustrating. You'll be required to provide information related to the runner's vehicle, witness information, and possibly make a trip to the local police station. All this can be overwhelming. DoNotPay is your perfect partner for filing a hit-and-run police report. With our Police Report Product, we will walk you through all the pieces of evidence needed for your report and contact the police on your behalf.
What You Need When Filing a Police Report for Hit and Run
You must carefully document the hit and run accident for your police report, as with any collision. You need to provide the following information:
The car's license number
A description of the runner's vehicle color, model, and make
The direction that the other vehicle was heading
Pictures of damage on your vehicle
The time, date, and location of the incident
It would also help to ask witnesses to provide other details about the incident. For instance, you can ask them to provide their names and addresses to assist in further investigation.
How to File a Police Report for Hit and Run
You can file a police report in writing to the nearest police or your state highway patrol offices or call the emergency number to report the incident. If you are physically unable to contact the police, occupants in the vehicle should make the report on their behalf.
In-Person Reporting
You can either report a hit and run with the officers at the accident scene or visit the nearest police station. If you're unable to locate the nearest police station, use the following directory.

Once you visit your local police station, you will be asked a series of questions about the incident, as the officer writes them down. Provide accurate information, or you may end up facing charges for filing a false police report.

Reporting through the Emergency Number
To file a hit and run police report through the emergency number, call 911. You can ask another person to call the emergency number for you if you cannot do so. You must be ready to provide detailed information about the emergency like:

freeway on/off ramp information
cross streets address
number of people who need help (whether bleeding, unconscious, or without a pulse)

Allow the dispatcher to hang up rather than doing it by yourself.
I Am Unable to File a Hit and Run Police Report. What Should I Do Next?
Factors like severe injuries might limit your ability to report a hit-and-run incident immediately. If that's the case, another person can file the report on your behalf.
Unfortunately, the other person you trust to file the report might miss crucial information to complete this process effectively. Luckily, DoNotPay has a product that you can use to file a police report easily, and all you will need is to answer a few questions, and DoNotPay will contact the local police on your behalf. 
Use DoNotPay to File a Police Report for Hit and Run
If you want to file a police report but don't know where to start, DoNotPay has you covered in 3 easy steps:
1. Search "police report" on DoNotPay and select the type of incident you would like to report.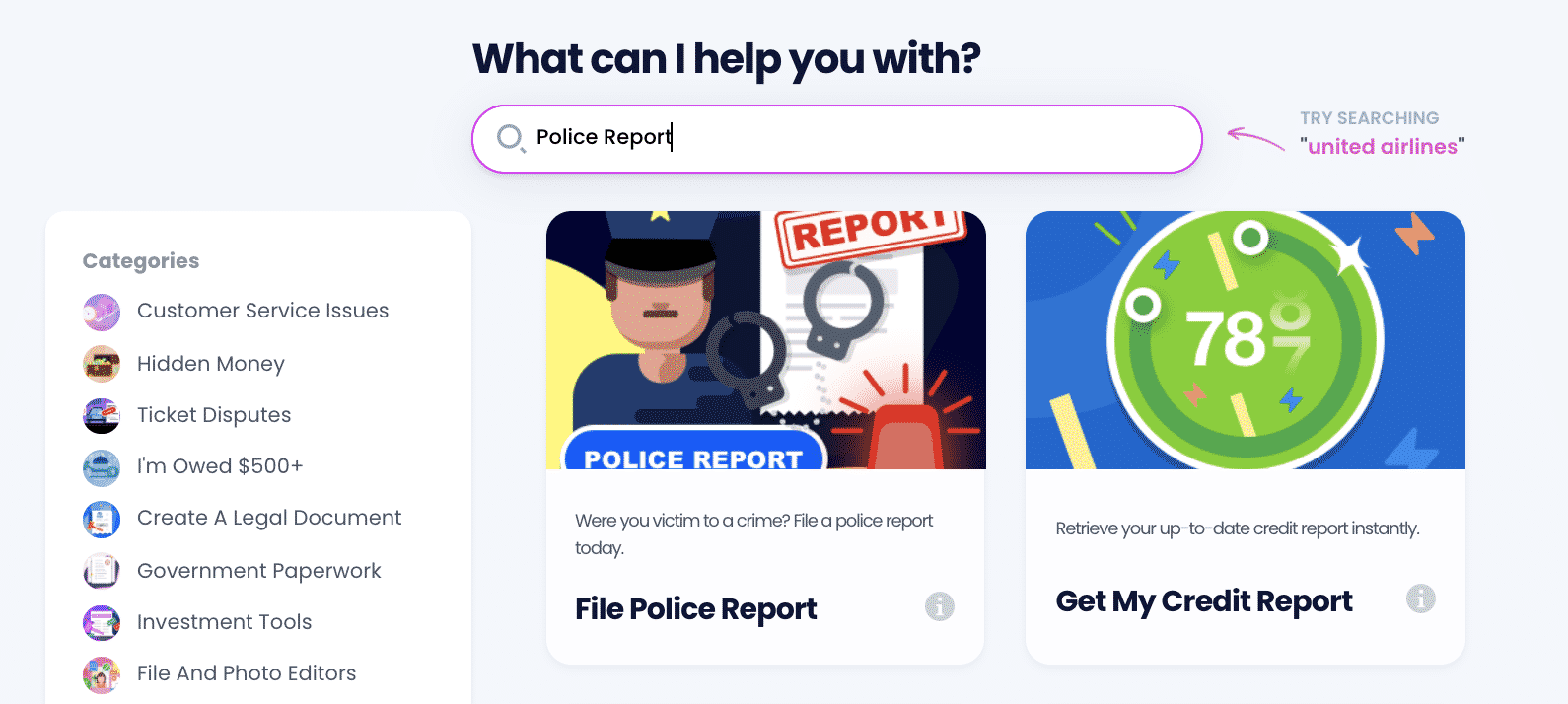 2. Tell us more about the incident that occurred, including the location, date, time, and sequence of events. Include information on financial losses, personal injuries, or property damage that happened as a result.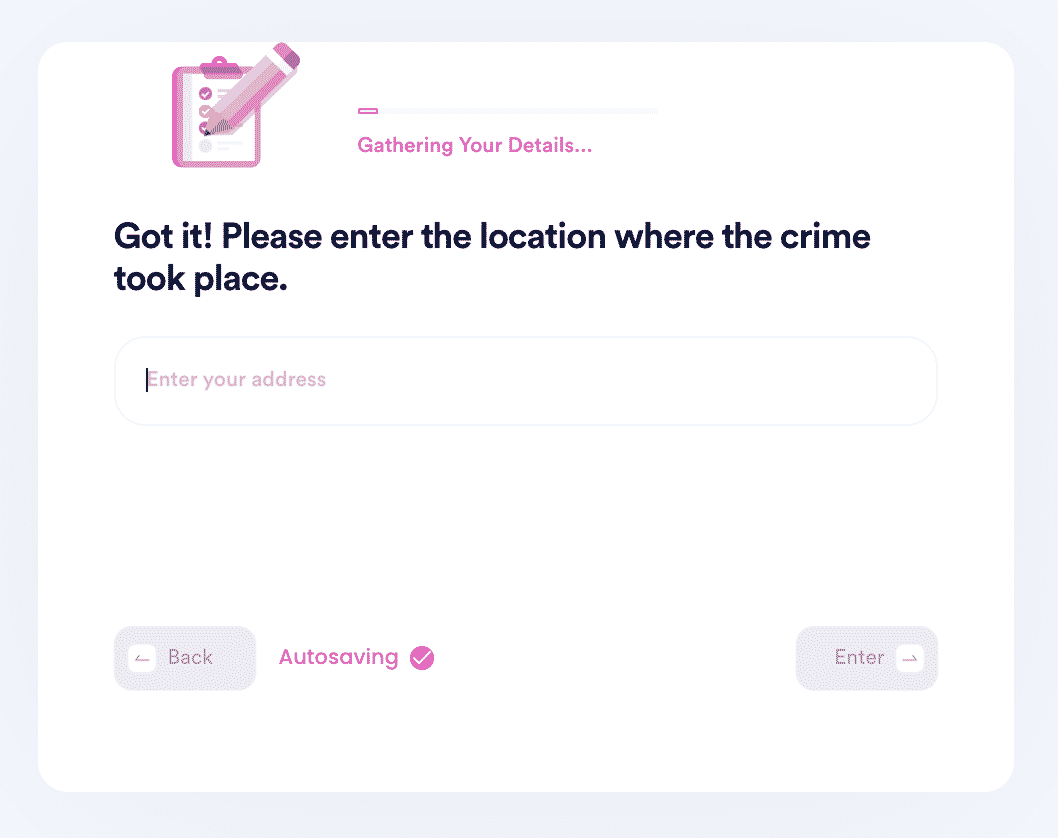 3. List any suspects or witnesses you are aware of, verify your contact information, and submit.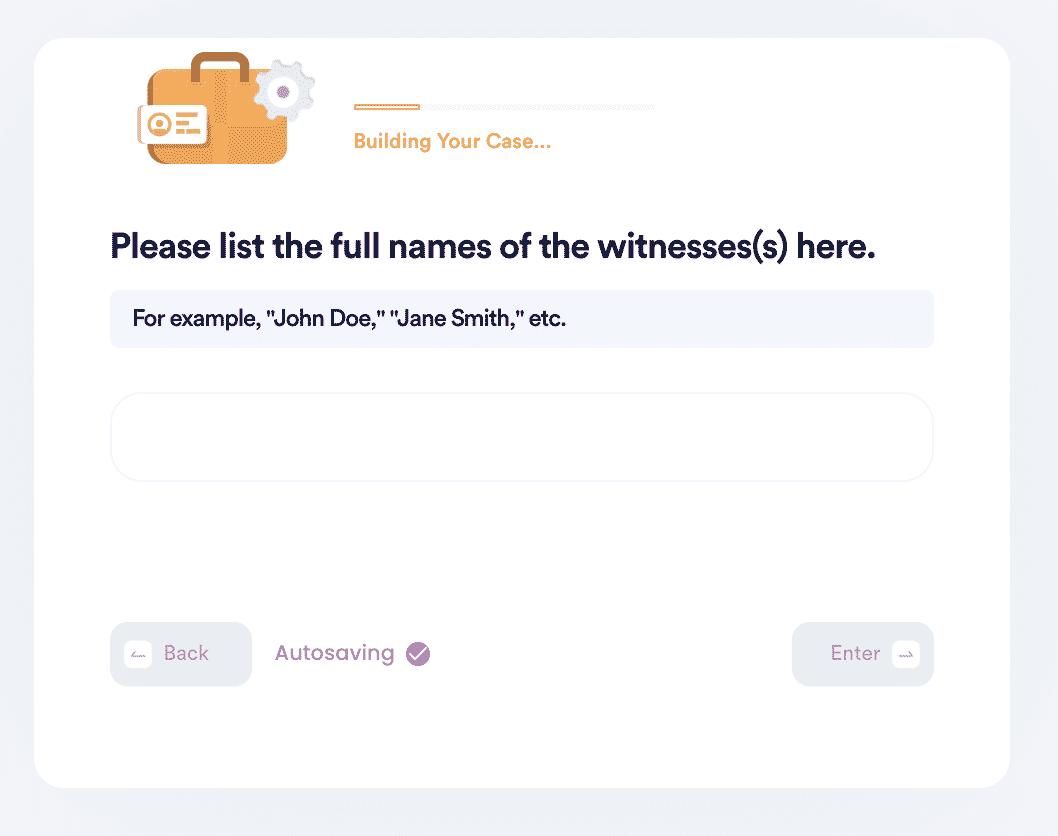 Reasons Why Filing a Police Report for Hit and Run With DoNotPay Is the Best Idea
DoNotPay is your perfect solution for filing a hit-and-run police report. You can enjoy the following benefits from our services:
Fast Services: with us, you don't have to worry about spending hours reporting a hit and run incident
Easy: with the three steps provided above, you don't have to struggle to fill out tedious forms and answer several questions while filing a police report
Effective: Once you file a report, you can rest assured knowing that your police report is filed the right way
Contact us today to learn more about our Police Report product or other exciting services and features.