Were You the Victim of a Crime? Did You Witness One? Learn How to File a Police Report in Georgia Easily
Whether you're a victim of a crime or only witness one, it's a traumatic event. It leaves you wondering, what are you supposed to do now? Your first step needs to be filing a police report with the local authorities. You can do this in person, on the phone, or online.
If you've seen the type of crime that you can report online, it's always going to be the easiest way to report what happened to you or what you saw. However, it isn't always easy to online, and you might need to find an easier way. With the DoNotPay app, you can file a Georgia police report quickly and without a lot of hassle.
What Types of Reports Can Be Filed Online?
There are many types of crime, and not all of them can be reported online. Before you start the process of reporting a crime, you need to know if you can report it online or if you need to go into your local Georgia police station to report it. Here are a few types of crimes that you can file a police report in Georgia online for:
| | |
| --- | --- |
| Criminal Mischief | This crime occurs when a person intentionally damages property for no other reason than to cause damage. An example would be teenagers throwing rocks through windows. |
| Petit larceny | This is the theft of property worth less than $1,000 and stolen when you weren't around. This can include a laptop stolen from a locker or a stolen piece of jewelry during a party in your home. |
| Graffiti | Anytime someone paints, etches, or scratches something into someone else's property, it's graffiti. The most common example is spray-painted pictures and words on the side of a building. |
| Lost Items | Technically, this isn't a crime but if you lose your bookbag after you set it down on the subway and forget it, you can report it to the police who will return it to you if it's found. |
What Is Required to File an Online Report?
When you want to file a police report in Georgia online, there are a few requirements that need to be met. These requirements may vary by the different law enforcement agencies in Georgia, and you need to know the requirements in the location where you plan to file your police report. However, some of the most common requirements include:
Type of crime
Your age needs to be over 18 years old
You can't know the name of the suspect
Valid email address
How to File a Police Report in Georgia on Your Own
In Georgia, there are many law enforcement agencies where you can file a police report online. Although the Georgia Bureau of Investigation (GBI) investigates crimes, they aren't the types of crimes that you can report online.
When you're ready to file a police report in Georgia, and you want to do it online, you need to start by identifying where the crime was committed. You'll need to file the report with the local city police department or the sheriff's office.
On the law enforcement's website, you should be able to find all the necessary information. If it takes too much time or seems like a hassle, the DoNotPay app can help.
How to Easily File a Police Report in Georgia With the Help of DoNotPay
Witnessing a crime or becoming a victim of one can leave you struggling to determine your next move. If you've already tried to file a police report in Georgia online on your own, you know what a hassle it can be. You need an easier way to take care of the process. With the DoNotPay app, you can easily file that police report and move on with the rest of your life.
If you want to file a police report but don't know where to start, DoNotPay has you covered in 3 easy steps:
1. Search "police report" on DoNotPay and select the type of incident you would like to report.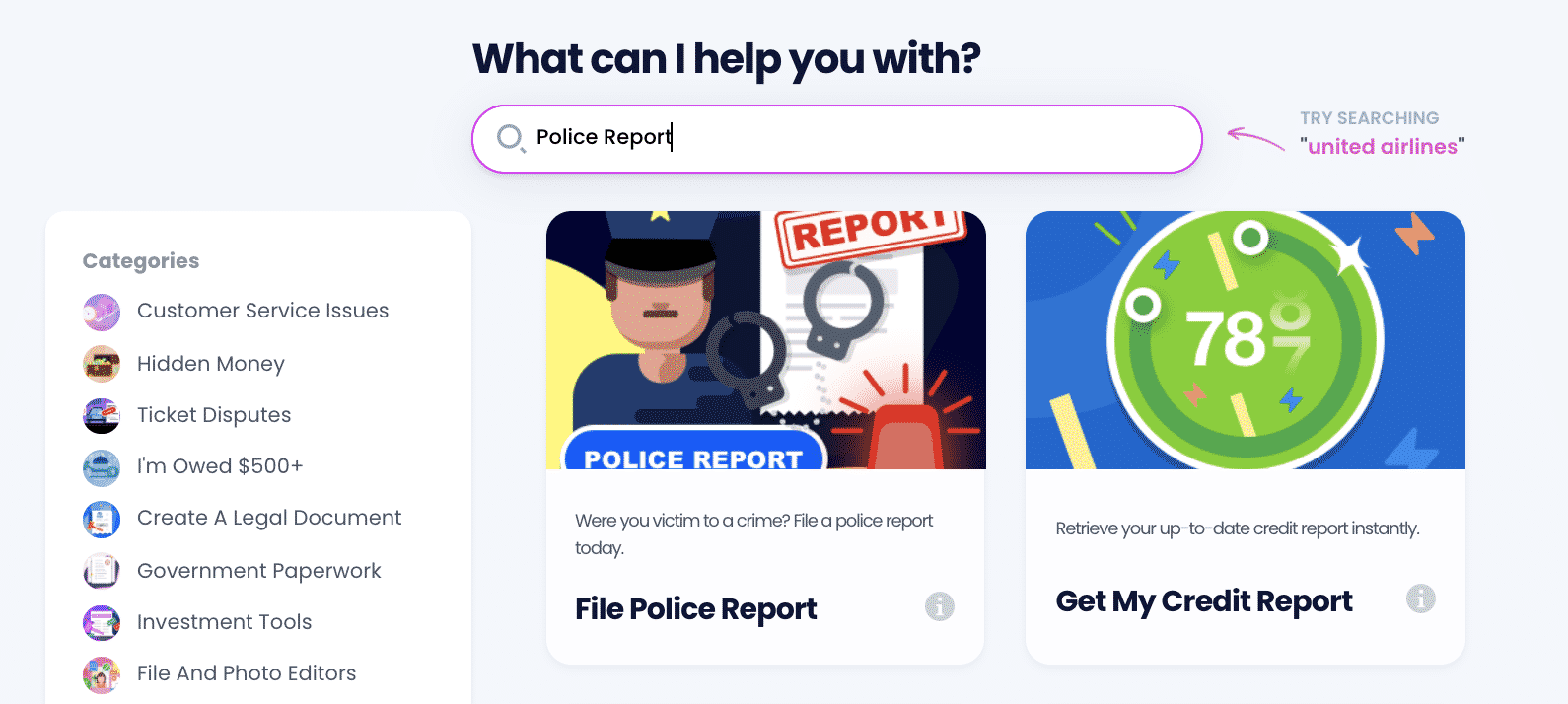 2. Tell us more about the incident that occurred, including the location, date, time, and sequence of events. Include information on financial losses, personal injuries, or property damage that happened as a result.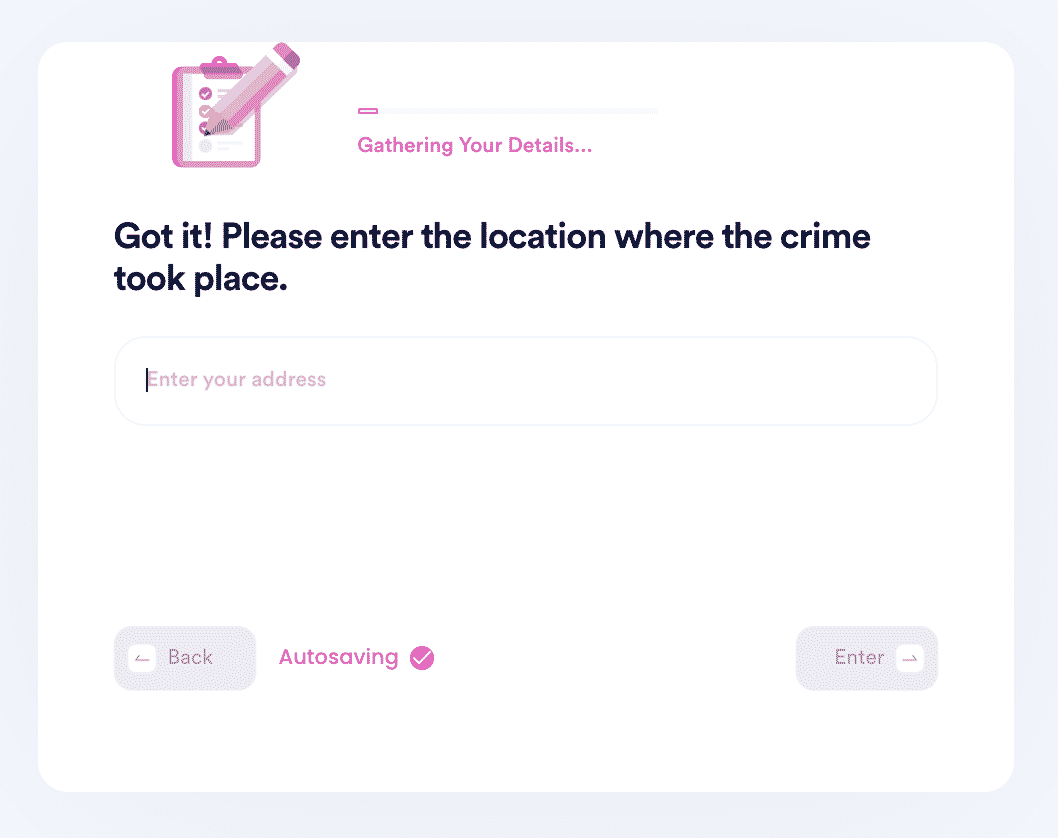 3. List any suspects or witnesses you are aware of, verify your contact information, and submit.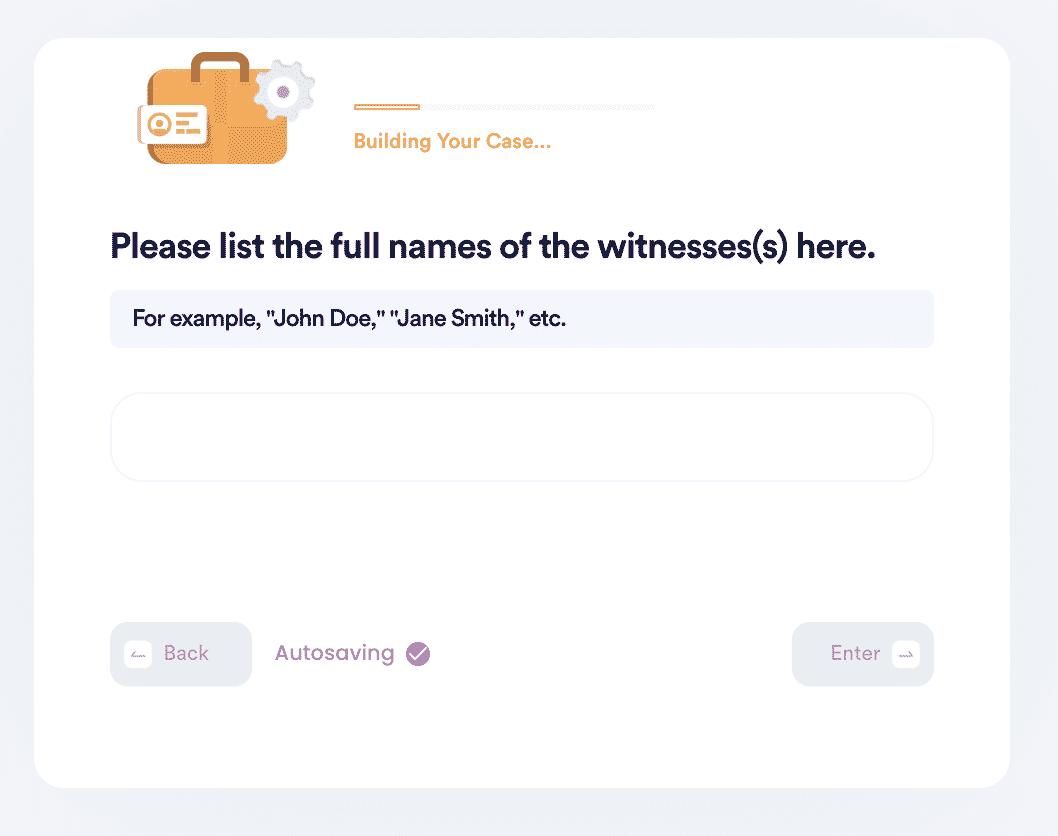 Why Use DoNotPay When You Want to File a Police Report in Georgia?
While you don't want the hassle of trying to file a police report in Georgia on your own, you want to know that DoNotPay is the best choice. Here are the three main reasons that people opt to use the DoNotPay app:
It's successful!
It's fast!
It's easy!
DoNotPay Works Across All Companies/Entities/Groups With the Click of a Button
After you , you'll be so happy with the results that you'll recommend the app to all of your friends. The DoNotPay app can help your friends and family file a police report in Georgia and beyond for a variety of crimes. Some of the most common include:
What Else Can DoNotPay Do?
When you discover how easy it is to file a police report in Georgia with DoNotPay, you'll wonder how else the app can help. DoNotPay can help you with a variety of tasks, including:
Use DoNotPay to file a police report in Georgia today!