How to Fight a Traffic Ticket In California and Win
Over three million traffic tickets get issued in California annually. The California Vehicle Code outlines traffic laws and the penalties for violating them. These laws are enforced by the state's DMV. If you get convicted of a traffic infraction, you're likely to pay anything from $600 to $700. That's enough reason to learn .
You can dispute your traffic ticket and have the penalty reduced or voided altogether. Hiring a lawyer is an easy way to fight a traffic ticket. However, that's not the most affordable and effective way to contest the ticket. It takes time to find a lawyer you can work with, not to mention the costs involved.
DoNotPay provides a more convenient way to fight traffic tickets and avoid the related consequences. The chatbot lawyer has an incredible success rate in voiding traffic tickets. Even if you're guilty of the infraction, using DoNotPay to contest a California traffic ticket can lead to fine reductions.
Types of Traffic Tickets in California

In , the traffic ticket you'll receive depends on your violation.
The top three traffic violations are:
Infractions
Misdemeanors
Felonies
Infractions often attract fines and no jail term, while traffic misdemeanors may attract heftier fines and considerable jail time. Felony traffic charges have a maximum fine of $10,000 and may lead to a one-year license suspension.
How to Dispute a Traffic Ticket in California
If you think your traffic ticket got issued unfairly and want to dispute it, you can either appeal yourself or hire an attorney to appeal on your behalf. However, taking care of everything yourself is expensive and time-consuming. You may not know how to fight a traffic ticket in California, the documents required to lodge an appeal, how to draft the letter, or whom to send it to.
The DoNotPay bot can help you  in less than two minutes, saving you valuable time and effort. Generally, the convenient option for disputing traffic tickets is the more viable one, and there's no better tool to use than DoNotPay. The best part is that you can access the bot via your  or download the DNP app to your phone.
Do I Need a Lawyer to Fight a Traffic Ticket in California?
No, you do not need a lawyer to dispute a traffic ticket. Hiring a lawyer is expensive, not to mention the challenges involved in finding a reliable one. Your best bet is using DoNotPay to beat that traffic ticket. The robot lawyer will provide you with a script that you can use alongside your appeal letter to boost the chances of having your traffic infraction dismissed.
Can a Traffic Ticket Be Reduced?
Yes, using DoNotPay to appeal increases the chances of having your traffic ticket reduced or quashed even if you're guilty of the violation. Regardless of the severity of your violations, the chatbot lawyer gives you a fighting chance.
What if I Ignore a Traffic Ticket? 
When you receive a traffic ticket in California, you may be tempted to ignore it. However, that only aggravates the situation. Most people do it because they can't afford to pay the ticket. If that's the case, request an installment payment plan. Generally, extensions of payments aren't allowed, so ensure you pay the ticket on time or risk additional fees.
How to Pay a Traffic Ticket in California
These are your options if you want to just pay the ticket and get over with it:
Online
Online payments using your credit card. This is a convenient payment method but it warrants a $2 fee.
By Phone
Call (909) 481-4228 or (760) 241-9529 24 hours a day.
By Mail
Send a money order or check to:

Superior Court of California, County of Bernardino

Attn: Financial Services

BOX 15005

San Bernardino, CA 92415-5005

In-person
Go to the San Bernardino Superior Courthouse.
However, before you pay your traffic ticket, we advise you to explore the available options for disputing it, including using the world's first robot lawyer.
Dismiss California Traffic Tickets in Under Two Minutes
As reported by VentureBeat, the DNP bot has overturned over 160,000 traffic tickets and still counting. The service will help you save time and money by allowing you to dispute California traffic tickets in under two minutes.
To get started, just do the following steps:
Log in to DoNotPay and go to the Ticket Disputes category. Select the correct product based on your traffic ticket.

 

Upload a photo of your citation.

 

Provide us with some details on why you believe the citation issued is a mistake.

 

Select whether or not you want the letter mailed to the traffic ticket issuer on your behalf! 
That's it! You'll receive an appeal letter that contains state vehicle codes to boost your case.

 
Indeed, you won't find a service that will help you  this easily. Take advantage of DoNotPay and have your ticket dismissed in as little as two minutes. It's that easy.
DoNotPay allows you to successfully fight traffic tickets in New York City, Los Angeles, California, and Las Vegas, among other states/cities.
What Else Can DoNotPay Do?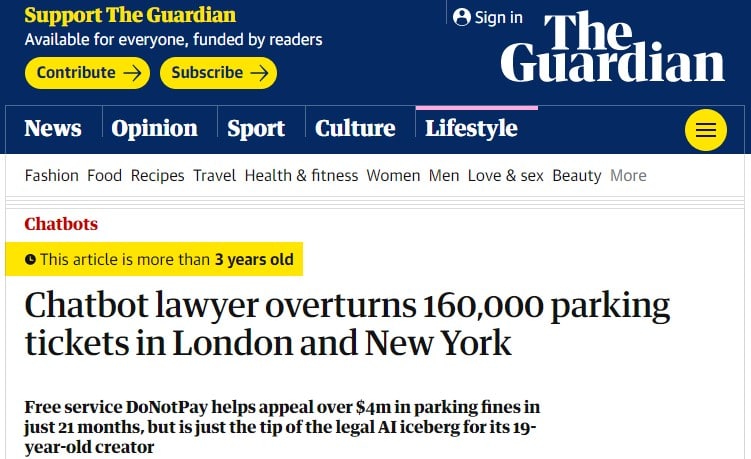 DoNotPay is the ultimate robot lawyer, and here are only a few other concerns that it can help you with:
Are you the recipient of an unjust California traffic ticket? No need to succumb to red tape and bureaucracy.   today and discover convenient ways of dealing with any legal issue that you are battling.