Can You Challenge Horry County Traffic Tickets?
Horry County adopts strict laws under the State of South Carolina, which insists on road safety and reducing traffic deaths to zero. Therefore, traffic tickets can go as high as $200 for speeding in a bid to ensure that motorists follow the stipulated regulations.
Once you have been issued a , you have the option to pay it right away or plead not guilty. Some people may choose to pay the fine right away but admission of guilt may have more long-term consequences than you know.
Contesting traffic tickets can be quite difficult, especially if you have to appear in court to follow the proceedings. However, DoNotPay has a Traffic Tickets product that will help you contest the ticket even without a lawyer. 
Types of Traffic Tickets in Horry County, SC

There are different types of . They include
Speeding Tickets – Violating speed limits in Horry County is viewed as a misdemeanor and treated as a crime under the South Carolina laws. Such cases can result in a jail term in addition to high penalties.
Red Light Violations – Did you know that you shouldn't cross the white line at an intersection when there is a red light signal? Crossing the white line will lead to a traffic ticket that you must attend to.
Cell-phone Traffic Tickets – You are not supposed to operate your phone while driving. Doing so could lead to a traffic ticket under the South Carolina law.
Parking Tickets – Other than moving violations, parking tickets could cost you a lot even though they are non-moving. Every motorist should park in designated areas and have a parking permit for areas requiring one.
All these traffic tickets can be challenged in court and won, as long as you have the correct argument for your case which DoNotPay can help you with.
How to Dispute Traffic Tickets in Horry County, SC
If you feel that your reasons are good enough to dispute a traffic ticket, Horry County allows you to do so in the following ways:
Appear in court on the designated date and plead not guilty. This will allow the court to set a date for trial so that you can defend your case.
Write a not-guilty plea and submit it to the court. You may be required to post the bail first as you wait for trial, where the court will determine your case.
Request for trial by a written declaration. Traffic tickets issued for infractions are eligible for a trial by written declaration because you'll not need to appear in court for the case physically. Before requesting for trial by a written declaration, ensure that the due date for posting bail has not expired.
The court may also offer an extension for bail payment or for you to appear in court. Therefore, if you cannot make it to attend to the traffic ticket on time, you can always request for extension. To do that, you must go to the Clerk of Court's office in person or call the office at 843-915-5081.
How to Pay Your Traffic Ticket in Horry County, SC
Horry County has an elaborate online system that accepts payments for traffic tickets. Here is how to go about it.
Go to Horry County's online payment system.
Ensure that you read through the terms of service on the page and click on "Accept."
Follow the onscreen instruction on the new page to complete the transaction.
If you are a participant in the Traffic Education Program (TEP), you can get all the charges dismissed after completing the program. The TEP was established in South Carolina to help drivers become better at using the roads to save more lives.
Contest Horry County Traffic Tickets in Less Than 120 Seconds
The Business Insider published about how DoNotPay successfully handled over 200,000 ticket cases in different states. Rest assured that it can easily help you with yours. DoNotPay is familiar with most traffic regulations in different counties so you can bet that it is well-versed to take on your case.
You'll only need to provide details of your traffic ticket to DoNotPay and let it contact the relevant authorities on your behalf or draft an appeal letter that best expresses your argument.
Here's how to get started:
Log-in to DoNotPay and go to the Ticket Disputes category. Select the correct product based on your traffic ticket.

 

Upload a photo of your citation.

 

Provide us with some details on why you believe the citation issued is a mistake.

 

Select whether or not you want the letter mailed to the traffic ticket issuer on your behalf! 
That's it! You'll receive an appeal letter that contains state vehicle codes to boost your case.

 
It's that simple! Look out for your traffic ticket issuer's response to discover whether you won.
What Else Can DoNotPay Do?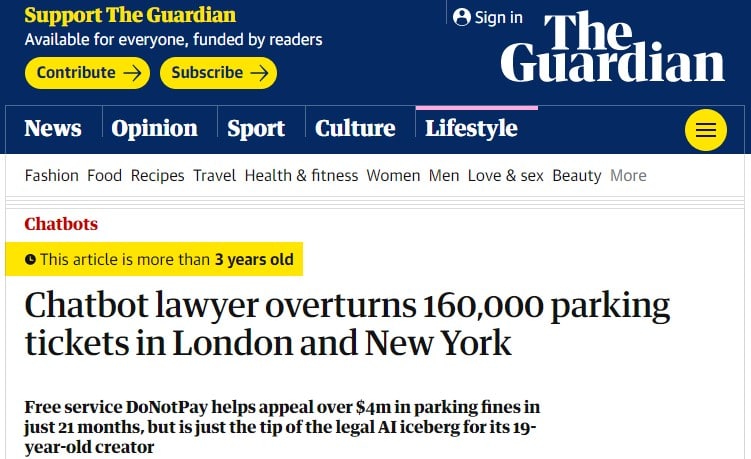 You can use DoNotPay to challenge an unjust traffic ticket, no matter where in the country you may be. We have successfully overturned:
Aside from dealing with wrongful citations, DoNotPay offers other services that are also note-worthy. Here are some related solutions you might be want to check out:
and let the world's first-ever robot lawyer give you top-notch legal assistance without the expensive fees.