Identity Theft: Home Depot Credit Card Fraud
In 2020 alone, FTC received a whopping 1.4 million identity theft reports. The interesting thing about them is 29% of them were repeat victims.
That said, just because the Home Depot data breach of 2014, led to new and updated security measures, you are not completely safe. There is still a huge possibility of being a victim of .
In case it happens, you need to deal with it immediately to prevent more damage. However, the normal methods used to deal with card fraud are a bit slow and the longer it takes, the more the purchases being made with your card.
In this guide, we will look at the normal method of dealing with credit card fraud, and the faster, more convenient alternative. But first:
What
Is
Credit Card Fraud?
Credit card fraud is a form of identity theft that involves stealing a person's credit or debit card information. involves opening a fraudulent Home Depot credit card, specifically. This information is used to make payments to other accounts or make purchases in the name of the original owner.
| | |
| --- | --- |
| Credit card fraud | When someone uses your credit card to make unauthorized purchases. |
| Identity theft | When someone uses your private information to open lines of credit (sometimes including credit cards) in your name. |
There are several types of credit card theft. The five most common are:
Card-not-present fraud - The information is used to make online purchases.

Credit card application fraud

- The information is used to apply for a credit card which they then use to make purchases.

Account take over - The stolen information is used to contact the card's issuers pretending to be the owner and request a password change.

Credit card skimming - A device is attached to the ATM or the merchant terminal to steal card information which can be used in other types of credit card fraud.

Lost or stolen cards - Involves stealing the physical card, or intercepting cards sent via mail. The card is then used to make purchases.
Signs That You May Be a Victim of Home Depot Credit Card Fraud
Taking all the steps to prevent credit card fraud only reduces the chances of your identity being stolen. It does not guarantee your safety. That said, it is important you know how to spot fraudulent activity to prevent further damage and in some cases, regain your losses.
Here's what you should look out for.
Inaccuracies or unfamiliar transactions on your credit report

A bank or credit issuer contacting you for suspicious activity on your card

Being contacted by a collection agency or creditor about unknown debts

Your credit report showing loan requests you had nothing to do with

Denial of credit that you qualify for
What to Do in Case of a Credit Card Fraud
If you notice the above signs and conclude your credit card information has been stolen, you need to put a stop to further damage right away. Here is what you need to do immediately.
Call your issuer so they can issue you a new card and start investigations

Change pins and passwords to your financial accounts

Ask for your statements and credit report and check the extent of the damage

Remove the card with fraudulent activities from your online shopping account if it was saved
Credit Card Fraud vs. Identity Theft
Credit card fraud and identity theft are often taken to mean the same thing while they don't. There are differences in what they involve and how they affect their victims.
Identity theft is a crime where someone obtains another person's personal information and uses it to commit fraud or deception. Credit card fraud is a form of identity theft that involves fraudsters stealing credit card information and using it to make unauthorized purchases.
How to Deal With a Home Depot Credit Card Fraud by Yourself
To do it yourself, you only need to follow the steps listed under "What to Do in Case of Credit Card Fraud" above. In case your card is lost or stolen, call Home Depot customer service toll-free at 1-800-677-0232 immediately to help reduce any risk.
But it's a race against time. The more time you waste researching how to do a certain step, filing reports, looking for card issuer and credit reporting bureaus contact information, and then calling them, the more your information is being used for fraudulent activities.
On top of that, you are likely frantic so you can't think clearly. At this state it is easy to miss an important step in preventing further damage. That said, you should not deal with identity theft on your own if you want to stop further damage immediately.
If you know the fraudster and they have been caught, you can sue them.
What to Do If You Can't Deal With Credit Card Fraud by Yourself
The reason why you may not be able to deal with credit card fraud yourself is the multiple procedures involved. It is hard to keep track of all of them, leave alone do them right and on time to stop further damage.
The best way to handle it is using DoNotPay. It takes only a few steps to complete the whole procedure and report the identity theft. You don't even have to keep track of them. Everything is intuitive and it directs you on what to do next. It is the most convenient way of dealing with Home Depot credit card fraud.
How to Deal With Identity Theft Using Do
N
ot
P
ay
Whatever your reason for not being able to do it yourself, DoNotPay can do it for you in just 3 steps.
1. Search "identity theft" on DoNotPay and select the type of incident you would like to report.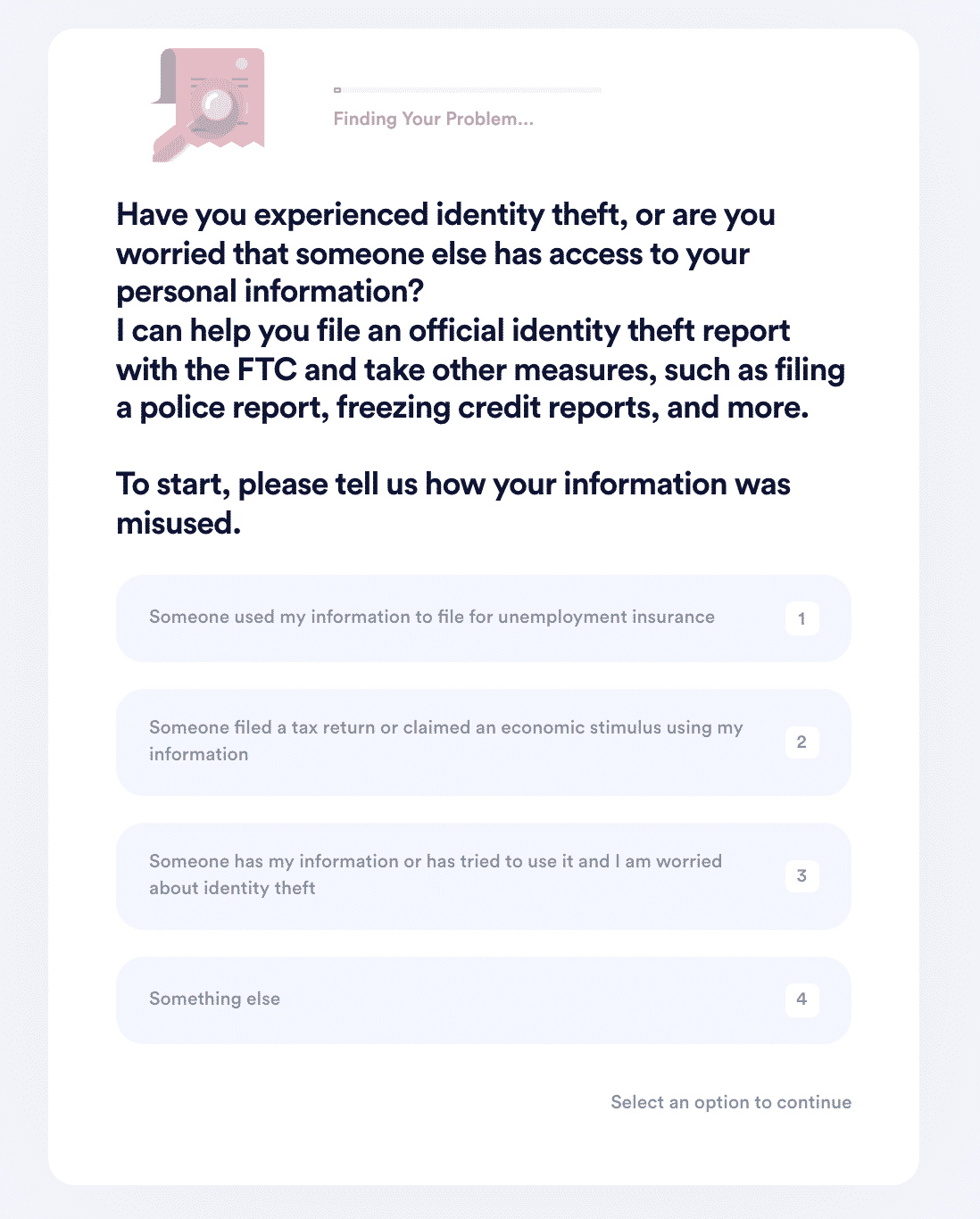 2. Tell us more about the incident that occurred, including the location, date, time, financial loss, and any suspect information you may have.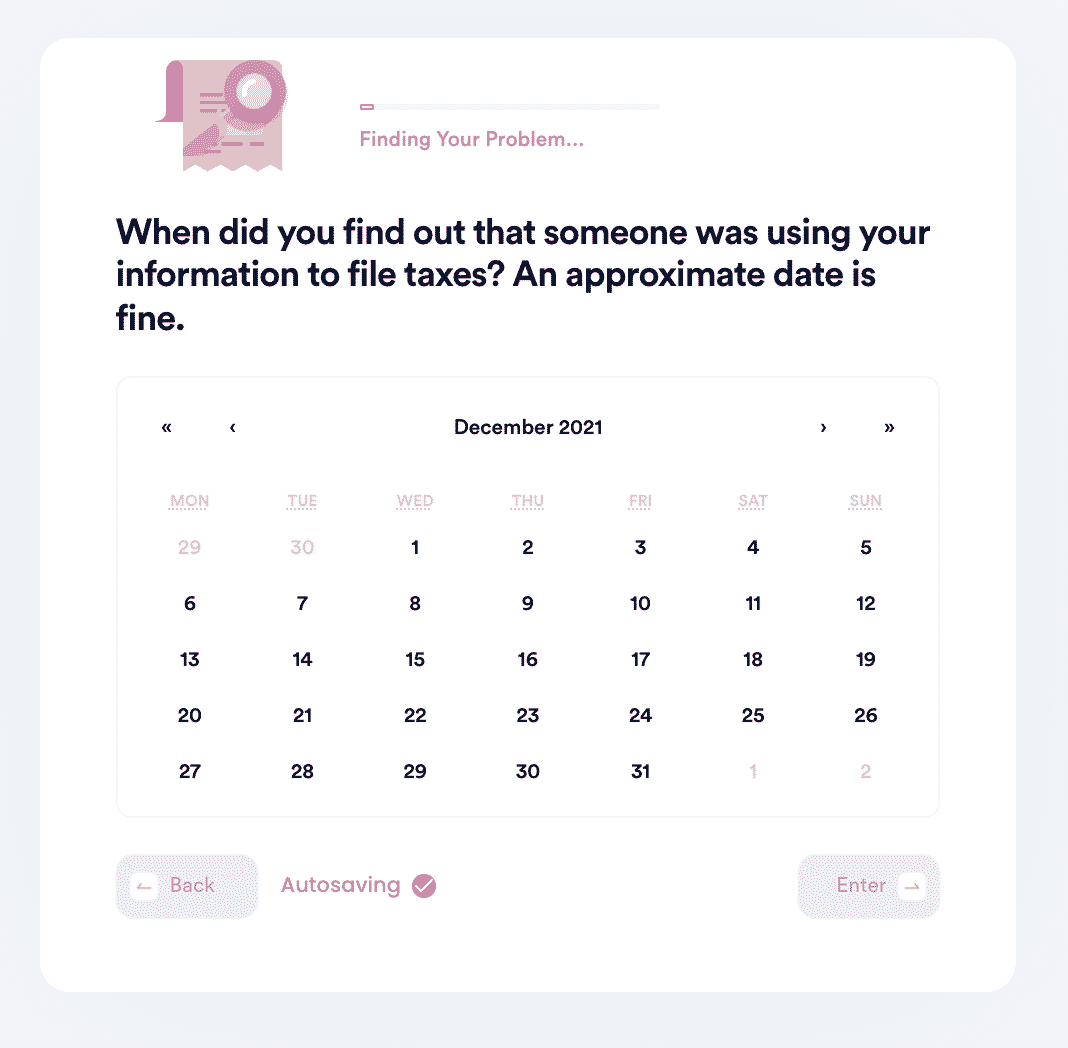 3. We'll identify whether you should file an FTC report, contact the IRS, freeze your credit report, contact state agencies, or file a police report. Once we guide you through the best options, we'll automatically submit the reports on your behalf!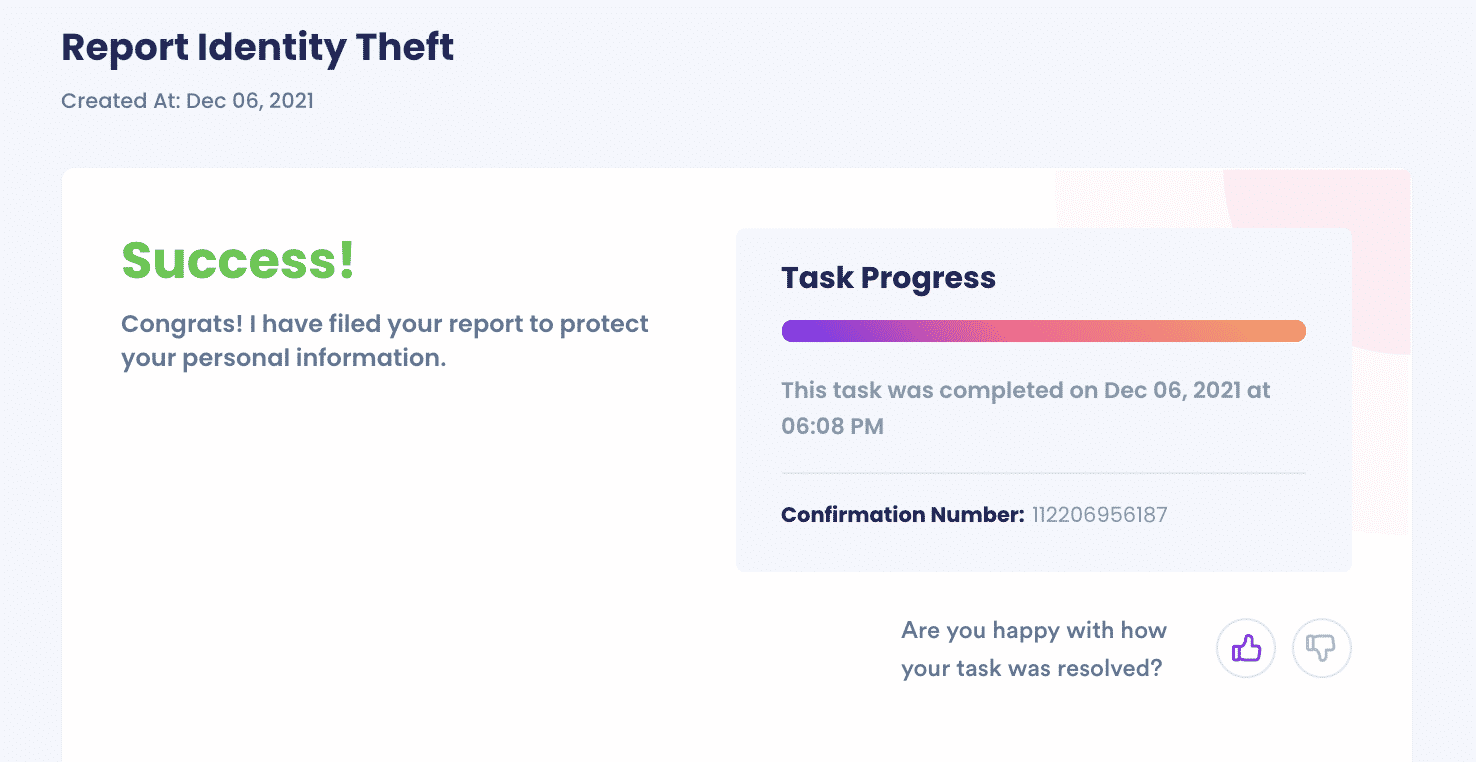 What Else Can Do
NotP
ay Do?
DoNotPay is a hub for solving all your problems. Dealing with identity theft across all industries is just one of them. The other things it can do include:
Demanding compensation for victims of crime

Unemployment identity theft
The harsh truth is that no matter what lengths you go trying to prevent credit card fraud, you can never rest easy. Criminals are getting smarter by the day so you are always at risk.
As such, you need to be aware of what to do immediately in case of credit card fraud.
But the normal method is not all that efficient. That is why DoNotPay is the best way to handle these incidents. It is fast, needs only three steps, and you are guaranteed to prevent any more purchases from being made using your card as soon as possible.
If you are dealing with Home Depot credit card fraud and you need fast results, DoNotPay has got you covered.