Contest Your Garden Grove Traffic Ticket and Win 
Getting issued a  can be a lot of trouble. Not only will you have to pay a hefty fine but this could also trigger an increase in your insurance policy premium. Apart from the unwanted expense, there's also the time-consuming trials and all the hassle that you need to deal with. It is essential to know what you can do if you are issued a traffic ticket.
The Superior Court of California, County of Orange Traffic Division, handles traffic and minor offense violations filed within Orange county. Traffic violations in California do not only involve vehicles on the road, but you can also get a Garden Grove traffic ticket if you are not keen on parking regulations. When caught on the wrong side of the traffic law, you can either pay the hefty fines or contest the charges.
If you choose to contest the charges on your own, the chances of winning are minimal. However, DoNotPay can help you dispute or reduce  charges. DoNotPay can also help you with:
Types of Traffic Tickets in Garden Grove, CA

There are too many , and finding yourself on the wrong side of the law can be a matter of minutes. Therefore, it is important to know about these tickets, which include:
Speeding Ticket – California's speeding ticket averages $170 for a $35 base fine. On top of it, the average insurance cost increases for a speeding ticket of 1-15 MPH over the limit amounts to $288 for three years. A speeding ticket of 16-29 MPH over the limit can hike up to $317. Still, California drivers have the right to contest a speeding ticket through Trial By Written Declaration.
Red Light Ticket – This is the second most expensive violation in California. The average cost of a CA red light ticket is around $450. On top of it, the average insurance increase is approximately $272 annually for three years.
Cell Phone Ticket – However important your call is, you can get pulled anytime and issued a ticket. Imaging a second call can cost you an average of $178. The average insurance increase is $224 for three years. You can fight a traffic ticket with a Trial By Written Declaration.
Stop Sign Ticket – Violation of stop sign tickets can cost you an average of $278 and an additional insurance increase of $272 for the next three years following the stop sign infraction.
Carpool Lane Ticket – If you are issued with a carpool lane ticket, you can have to part away with over $490 and an insurance premium increase by 19% for the next three years.
How to Appeal My Traffic Ticket in Garden Grove, CA
The first step to  is to understand the statute the law enforcer has accused you of violating. You can contest your traffic ticket within 21 days of issuance or 14 days after the offense notice.
Afterward, you will have to deposit the amount of the fine and a signed statement to the City of Garden Grove, P.O Box 409 Tustin, CA 92781-0409 within the stipulated period. You will also have to explain the reasons for contesting. Then, you can be called for a hearing in person or receive an email.
In CA, drivers issued any traffic ticket have the right to fight traffic tickets using Trial by Written Declaration. This type of trial does not mandate an appearance in court.
How to Pay Your Traffic Ticket in Garden Grove, CA
You might want to avoid making a fuss completely and prefer to just pay the fine so it could all be done with. Here's how:
By Phone
Call 800-453-1606 and use the Interactive Voice Response System
By Mail
Write the citation number and license plate number on the money order or your check. Send it to:

City of Garden Grove

P. O. Box 409

Tustin, CA 92781-0409

Online
Go to pticket.com
In Person
You may visit either of these 2 offices:

Municipal Service Center

13802 Newhope Street

Garden Grove

Or

Garden Grove City Hall

11222 Acacia Parkway

Garden Grove
Ensure that you are ready to provide all information necessary when processing your payment. We recommend that you think this through though. Remember that you can always try to dispute your  using DoNotPay.
How Does Traffic School Work?
You can go to a traffic school if you meet the following qualifications:
Have a valid driver's license.
The offense while driving a non-commercial vehicle
Your ticket is for an infraction that is a moving violation.
If the court declares that you are eligible for traffic school, a confidential conviction will be recorded on your driving record at the DMV, but you will receive no point on your driving record.
How to Fight a Traffic Ticket in Garden Grove Court
If a police officer issues you with a Garden Grove traffic ticket, you can have to contest the traffic ticket in a court of law. However, if you do it on your own, the chances of losing are higher.
Hence, you would have to hire a professional traffic ticket lawyer in Garden Grove who understands the law and knows what people to talk to at the court and the kind of deals they can be willing to take.
The traffic ticket lawyer can also understand what specific proof the officer must present to the court and when there is insufficient evidence to support the traffic ticket. Nonetheless, hiring a lawyer for a Garden Grove speeding ticket can be time-consuming, tedious, complex, and costly.
Contest Traffic Tickets in Garden Grove in Less Than 120 Seconds Through DoNotPay
You don't have to endure all the trouble of contesting a Garden Grove traffic ticket on your own. Insider has attested to the fact that robot lawyer DoNotPay has successfully beaten 160,000 parking tickets. Your Garden Grove traffic ticket can be next.
All you need to do is fill in the following information to get started:
Log-in to DoNotPay and go to the Ticket Disputes category. Select the correct product based on your traffic ticket.

 

Upload a photo of your citation.

 

Provide us with some details on why you believe the citation issued is a mistake.

 

Select whether or not you want the letter mailed to the traffic ticket issuer on your behalf! 
That's it! You'll receive an appeal letter that contains state vehicle codes to boost your case.

 
What Else Can DoNotPay Do?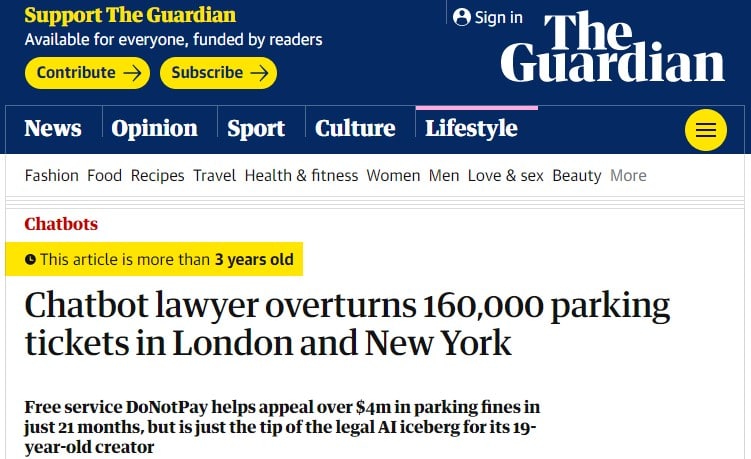 Apart from helping you contest a Garden Grove traffic ticket, DoNotPay can also help you with:
 today to learn more about how you can fight red tape and assert your rights without paying expensive lawyer fees.