FOIA Improvement Act of 2016—What Is It About and How To File a Request
The Freedom of Information Act (FOIA), originally created in 1966, had several changes over the years. One of the most prominent amendments to the Freedom of Information Act is the FOIA Improvement Act of 2016. This article will elaborate on the changes that occurred with the 2016 bill.
The FOIA, in general, ensures that anyone can file FOIA requests and access public information from agencies unless it falls under one of the exemptions. You can even file a FOIA appeal if you believe you were denied your right to information.
You can find out more about how to file a FOIA request easily and effortlessly with DoNotPay.
The
Freedom of Information Act 2016
The Freedom of Information Improvement Act, also known as Bill S.337, was passed in 2016. The FOIA Improvement Act changed how agencies reveal information to the public. The amendments to FOIA were:
The records and documents must be available in an electronic format such as PDF or online download

The agencies need to make records that are requested often—three or more times—available to the public on the FOIA or agency's website

If an agency is overdue in its response, it can't charge the fee

The federal agencies must reveal the requested information unless they reasonably foresee the release of the documents as harmful to national security, trade secrets, or medical information

Records that are older than 25 years have to be disclosed

Mediation services can be used to resolve disputes concerning the validity of an agency's response to a FOIA request between federal agencies and FOIA requesters 

To increase efficiency in responding to FOIA requests, new duties are assigned, for example, for Chief FOIA Officers. The position of a Chief of FOIA Officers Council is also created

The Director of the Office of Management and Budget (OMB) must supervise the new online FOIA request portal that will enable requests on one particular website
How To File a FOIA Request With the
FOIA Improvement Act Commencement
Agencies post the information that the citizens frequently request, typically more than three times. Before you submit a FOIA request, you should check whether the documents you're looking for have already been posted.
Once you determine that the information you're after isn't available, you can file a FOIA request. We'll go through:
What kind of information a FOIA request has to include

Steps you need to follow when filing the request
What Does a FOIA Request Need To Include?
Every FOIA request letter must contain the following:
Your full name

Address or an email address

Your phone number (if you want the agency to contact you directly)

A detailed description of which documents you're requesting—title, name of the author (if applicable), date, etc.

FOIA fees

category or if you're eligible for a fee waiver

Whether there's the need for expedited treatment

A signed perjury statement or a notary statement if you're requesting records about yourself

A third-party release statement if you're requesting documents containing someone's personal information
If you're making a FOIA request on yourself, you'll also call on the Privacy Act.
Instructions on How To File the FOIA Request by Yourself
Since a central FOIA office doesn't exist, you'll need to submit your FOIA request with the agency that holds the information you're looking for. Most of the agencies encourage requesters to file FOIA requests online using forms on their websites. Some of them also enable you to check your FOIA request status. There are also agencies that accept FOIA requests only in writing.
To file a FOIA request, follow the steps below:
Do thorough research to determine the specific record you're looking for

Find out which agency holds the data you're after

Write a request letter and include the required information

Submit your FOIA via email, letter, fax, or an online form, depending on the agency
How To Make a FOIA Request With DoNotPay
Because the process of filing FOIA requests can be time-consuming and energy-draining, DoNotPay made it faster and easier. Our tool can generate the request letter automatically.
Even though FOIA applies only to federal agencies, DoNotPay's tool works with both state and local agencies.
Open our platform in your web browser to file a FOIA request with DoNotPay's help:
Access the FOIA feature by entering a keyword in our search box

Provide information about yourself, the agency, and the format you want to receive the records in

Choose whether you need a fee waiver or expedited request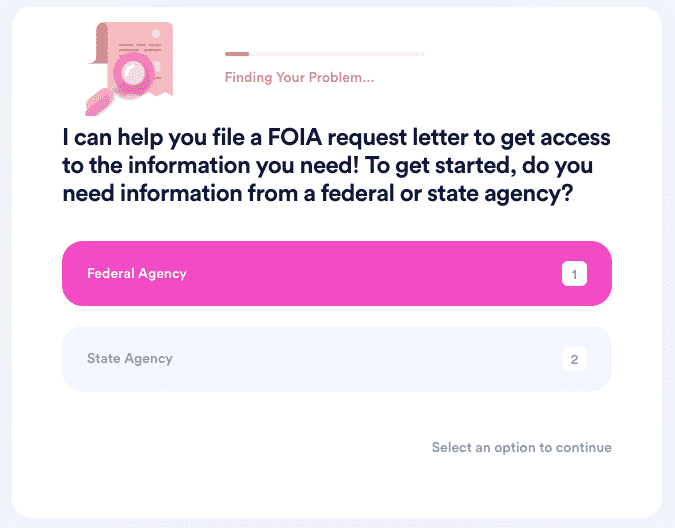 Other Agencies DoNotPay Can Help With
Our platform can help you file the FOIA request with any agency. You can check out some of them below: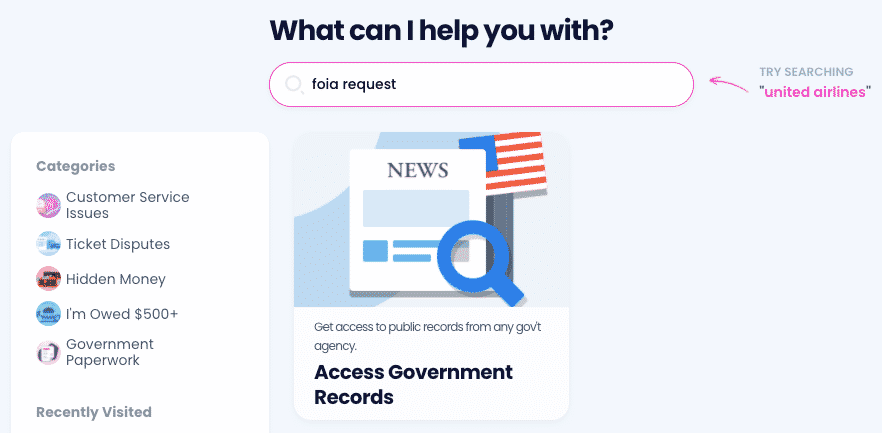 Want To Avoid Tiresome Admin Processes? DoNotPay Will Handle Them
Applying for a clinical trial, free trial, copyright of your work, or any service without phone number verification is a time-consuming task many people want to avoid. Fortunately, such processes are DoNotPay's specialty.
If you feel like a company or individual has wronged you, you can sue them in small claims court. DoNotPay will handle the paperwork, and all you need to do is show up in court and win the case!
With our robot lawyer's help, you will also be able to protect your work from copyright infringement, deal with various credit card issues, deal with high bills you cannot pay, and appeal speeding, parking, and traffic tickets in no time.
Report Companies or Individuals That Won't Give You a Break
DoNotPay also makes it easy for you to report and earn off persistent robocalls, email spam, spam text messages, and stalkers and harassers. 
Once you sign up for our handy app, you won't have to deal with any of these. We'll even make it easy for you to schedule a DMV appointment or jump the phone queue when getting in touch with any company's customer service!