File a Police Report Online in Miami
Notwithstanding all your best efforts to avoid getting involved in incidences that require police involvement, sometimes this is inevitable, and you will have to file a police report in Miami. Whether you are filing a report for identity theft, a stolen phone, a hit-and-run, a car accident, a stolen wallet, a stolen package or other stolen items, or even reporting a scammer, the process can be frightening.
After your ordeal, the next steps you take can determine whether the criminals get away with the crime – whether you are able to get back your lost items or whether the right culprits are held responsible. Fortunately, you do not have to go through this process alone. DoNotPay can help you and other cities where you fall victim to such crimes.
Reports That Can Be Filed Online
In Miami, only the following crimes and incidences can be reported online:

Verbal threats
Theft
Lost property
Civil landlord/tenant issues
Harassing phone calls
Criminal mischief/vandalism

Before you file your online police report, ensure that:

There were no weapons used, no injuries were incurred and the suspects remain unknown
The incident did occur in a county school
You are 18 years of age or older
You have a valid email address

Crimes That Cannot be Reported Online
In the city of Miami, you must call or visit the police station in person to report the following crimes:

Vehicle accidents
Violent crimes
Lost or stolen vehicles
Lost or stolen license plates
Violent crimes
What Is Required to File an Online Police Report?
You may need to provide different pieces of information depending on the type of crime you are reporting. In general, be ready with the following information:
The location of the crime
The date and time when the crime occurred
Whether you are the victim or the witness
Any additional information you may have
Your personal details, such as your name, address, phone number
Any information you may have on other witnesses
How to File an Online Police Report in Miami on Your Own
Did you know that you could file a police report from the comfort of your home, or from wherever you can access a computer? This will save you a lot of time as you will not have to wait for an officer to respond.
Using the online police report system, you can immediately submit a report and print out a copy of this report for no charge. This report can be subsequently used to file with your insurance company. All the cases filed on the system are reviewed, but not all of them are investigated. Nevertheless, if the police need any additional information, they may directly contact you.
How to File a Report With the Help of DoNotPay
If you are reporting an emergency or an ongoing crime, always call 911. For other types of crimes and nuisances, however, DoNotPay makes it easy to file an online police report in three easy steps. These are:
1. Search "police report" on DoNotPay and select the type of incident you would like to report.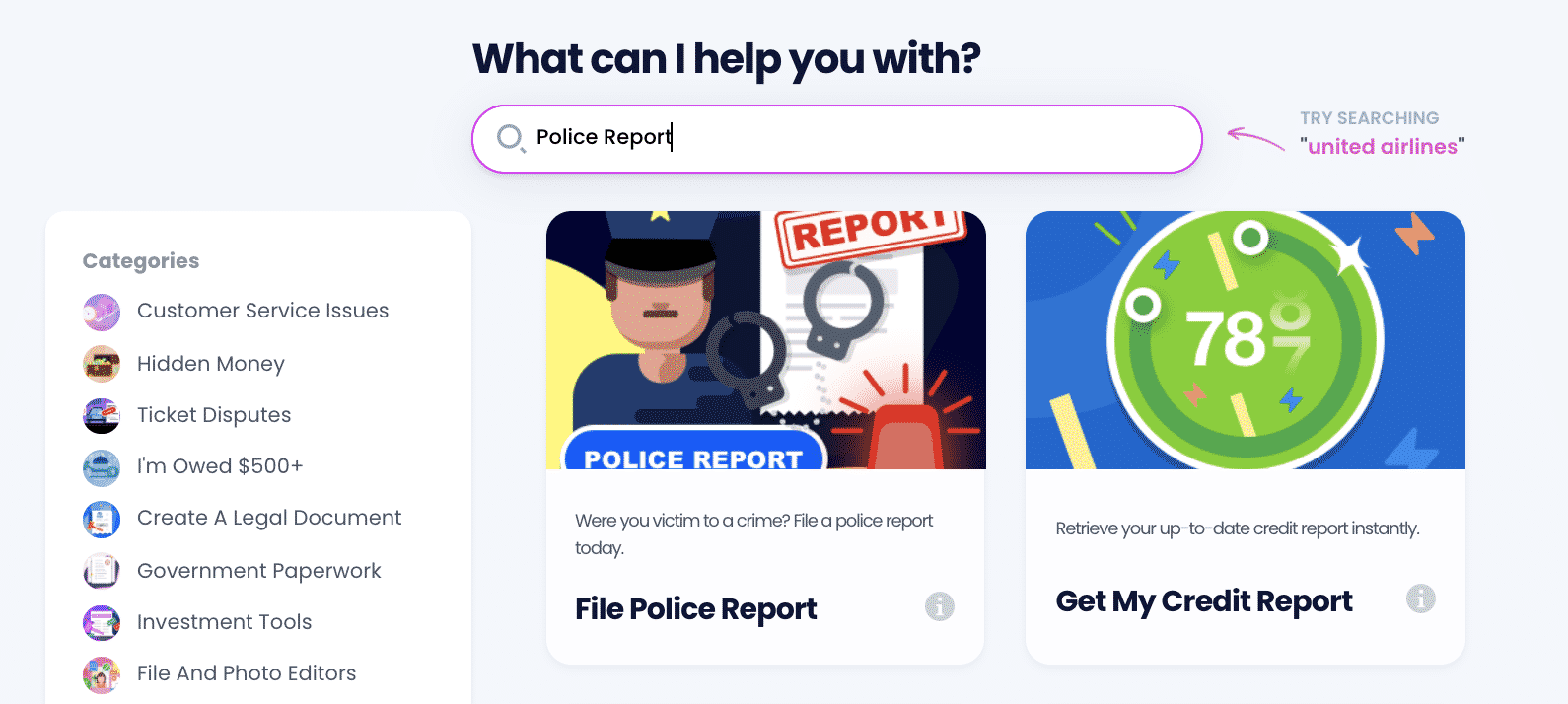 2. Tell us more about the incident that occurred, including the location, date, time, and sequence of events. Include information on financial losses, personal injuries, or property damage that happened as a result.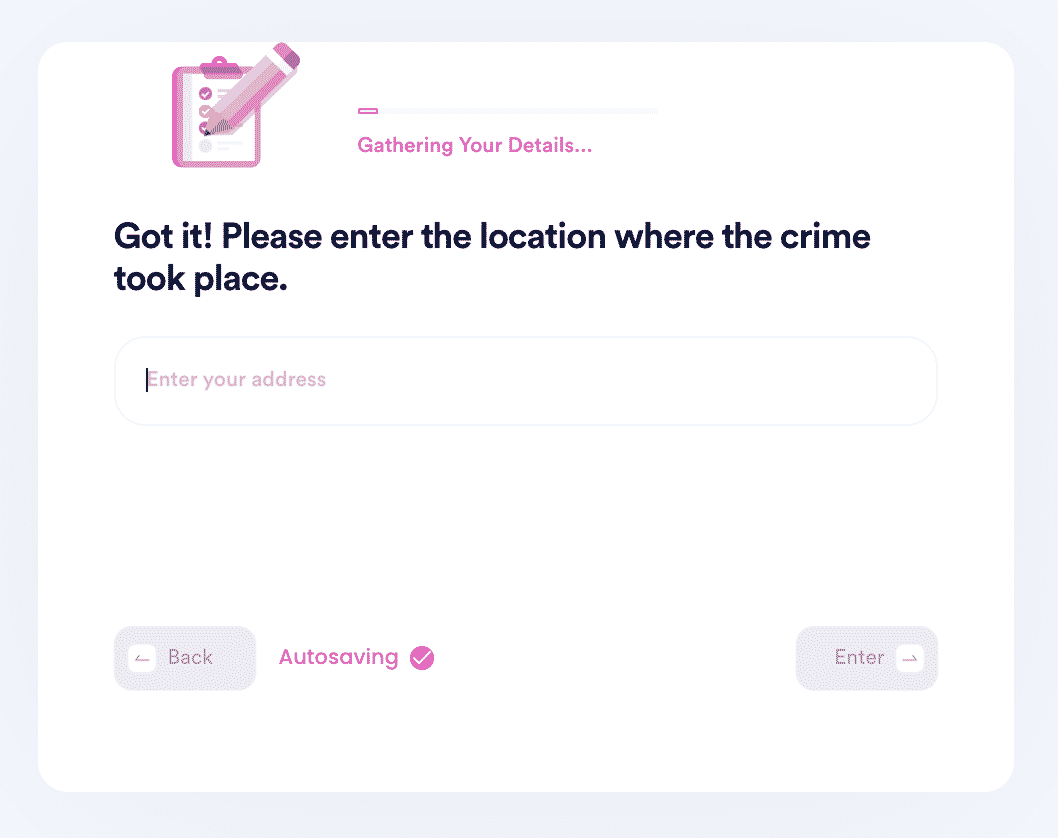 3. List any suspects or witnesses you are aware of, verify your contact information, and submit.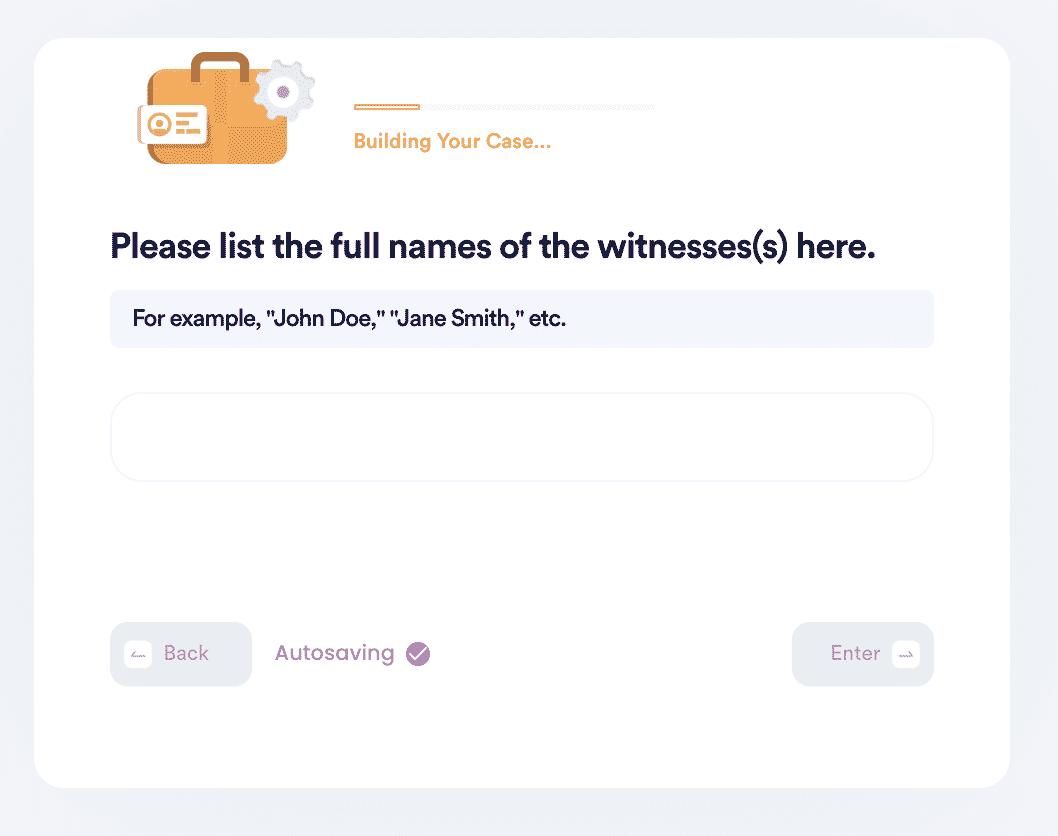 And that's it! DoNotPay will file the police report on your behalf to the police department that regulates the district the incident occurred in. You should hear back from them with further questions and status updates within 2 weeks.
Why Use DoNotPay to File an Online Police Report
The advantages of using DoNotPay are:
DoNotPay is easy to use – You don't have to struggle to fill out tedious forms or keep track of all the steps involved in solving your problem.
DoNotPay is fast –You don't have to spend hours trying to solve the issue.
DoNotPay is successful – You can rest assured knowing we'll make the best case for you.
DoNotPay Works Across All Companies/Entities/Groups With the Click of a Button
It is not just that DoNotPay can help you with. In fact, DoNotPay can help you resolve the issue with many different entities:
1. DoNotPay can help with recovering Spotify account passwords the same way it can with Amazon, eBay, or Steam.
2. DoNotPay can also help you get your birth certificate in Kentucky the same way it could for California.
What Else Can DoNotPay Do for You?
DoNotPay is your robot lawyer for navigating the most confusing legal and financial aspects of modern society. We're here to help you file police reports and so much more:
We can help you set up a revocable living trust
Do not exhaust yourself trying to solve these complicated situations by yourself. Let us make the process easy for you. What are you waiting for? Get in touch with DoNotPay today!