Need to File a Police Report in Nashville? Here's How to Do It Easily.
Incidents that may endanger the lives of others, such as a car accident, need to be reported as soon as possible. However, did you know that you can file a police report in Nashville online for smaller crimes?
It's an easy way to alert local law enforcement about misdemeanors before they evolve into ongoing problems. Unfortunately, many people don't know how to file police reports online. It's definitely not as simple as dialing 911. That's why many concerned citizens prefer to use DoNotPay.
What Kind of Police Reports in Nashville Can Be Submitted Online?
Typically, you can only file a police report online if the incident isn't an emergency. These issues may include:
Theft of Personal Items
Reporting stolen items is important, as it could be a sign of a widespread theft operation. It's especially important to report stolen wallets and phones, which can be used by criminals to steal your identity!
Mailbox Thieves
Stolen mail is a felony offense punishable by both fines and jail time. Stolen packages are even more common in rural areas and during the holidays!
Scammers
Scam companies frequently tout themselves as legitimate big businesses, trying to steal your information (identity theft) or extort money over the phone. A scammer could also be a local business that has taken your money without delivering a promised service.
Hit and Run Incidents
If your car has been damaged and the perpetrator is nowhere to be seen, you can report it online. However, if someone has been physically hit by an unknown vehicle, you should call the police directly.
Traffic Enforcement
Drivers that run stop signs and red lights might not seem like a big deal, but they could cause serious accidents. You can also report any instances of speeding or aggressive driving, especially on residential streets.
Miscellaneous Criminal Activity
Although some crimes don't directly harm individuals, they still need to be reported! These offenses can include vandalism, abandoned vehicles, loitering, disruptive noise, and other suspicious behavior.
Crimes that Should Be Reported Immediately
Some issues cannot wait to be addressed by police, such as:

Violent assaults
Burglaries in progress
Fires or arson
Severe car accidents
Kidnapping
Altercations involving weapons
Terroristic threats
If you're unsure how to report a crime, ask yourself the following questions:
1. Are you or someone else in immediate danger?
2. Has someone already been severely injured?
3. Does the perpetrator have a history of violent crime?
4. Are firearms or other weapons involved?
5. Did the incident occur on a highway?
6. Has the issue been ongoing?
If you can answer yes to any of these questions, it's best to contact law enforcement immediately. For anything else, you can file a police report virtually.
Filing a Police Report in Nashville On Your Own
All of Nashville's online police reporting forms can be found on this page. Select the one that best applies to your issue and describe the incident that occurred, including the time and date.
Police reports cannot be anonymous, so you'll need to provide your personal information. You should also name any involved witnesses or known suspects.
Once you've provided as much information as possible, you can submit your report. You can obtain a copy of the report for $0.15 per page.
Although the filing process seems simple, many reportable crimes in Nashville still go unnoticed. Sometimes the crime in question falls into two different categories, creating confusion.
For example, and sightings of wanted criminals. If you saw the wanted person committing criminal activity, which form would you file?
You can submit multiple police reports, but it can make the process more tedious and annoying. If you'd rather report everything all in one place, we've got a solution.
The DoNotPay Process of Filing a Police Report in Nashville
When you've seen a crime in action, it can be jarring and leave you wondering how to proceed. Even small crimes should be documented with DoNotPay's Police Product report. It's incredibly easy to use!
If you want to file a police report in Nashville but don't know where to start, DoNotPay has you covered in 3 easy steps:
1. Search "police report" on DoNotPay and select the type of incident you would like to report.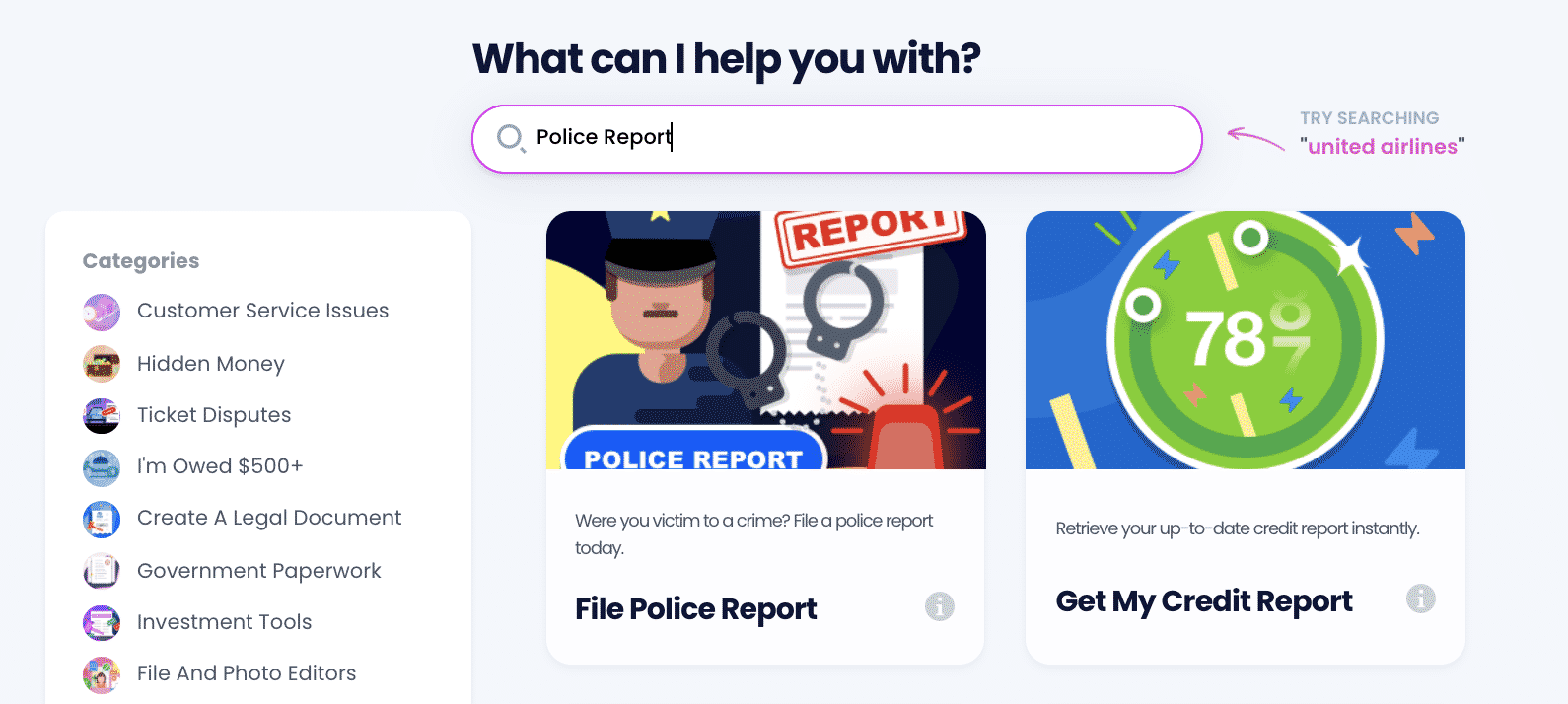 2. Tell us more about the incident that occurred, including the location, date, time, and sequence of events. Include information on financial losses, personal injuries, or property damage that happened as a result.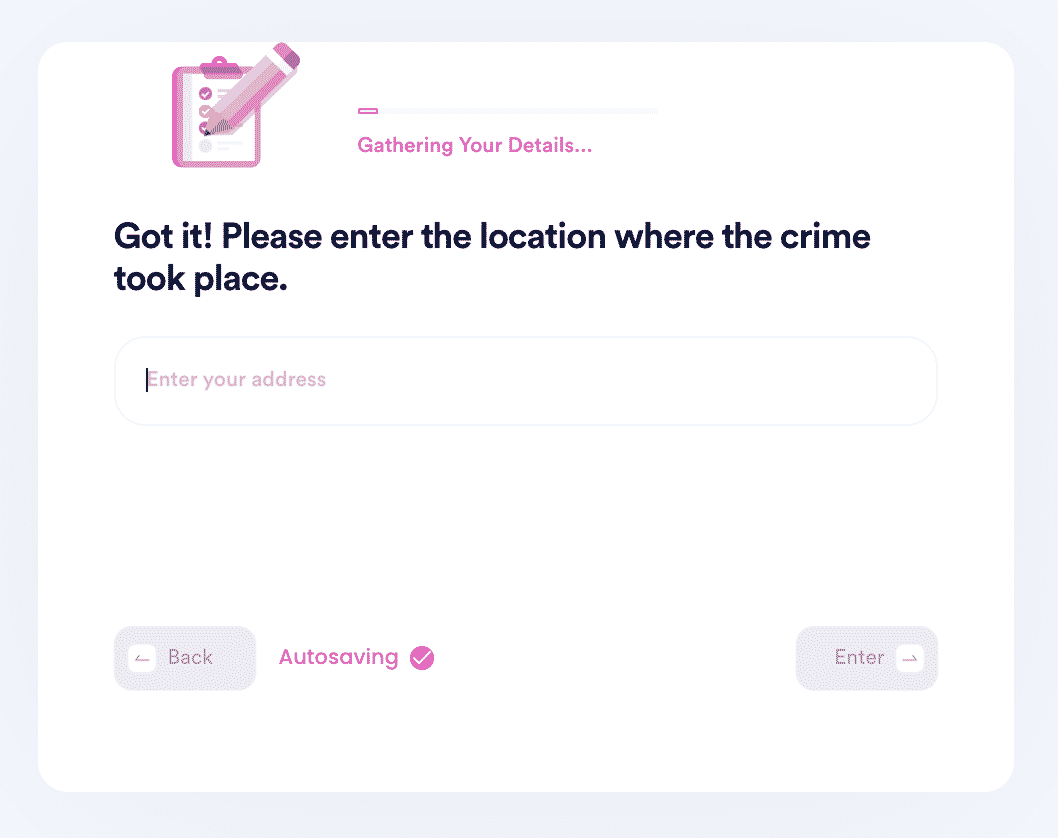 3. List any suspects or witnesses you are aware of, verify your contact information, and submit.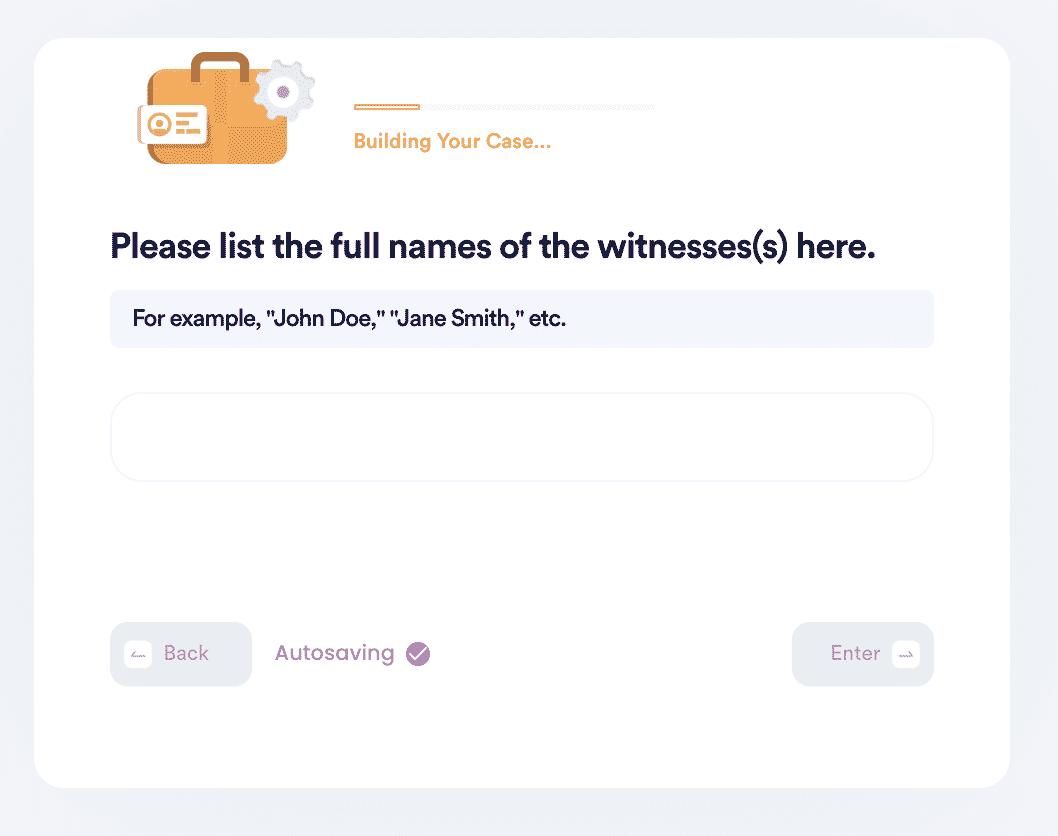 When you file a police report with DoNotPay, it gets done:
Immediately – Your report is submitted in a few clicks!
Stress-free – No more worrying about filing multiple reports!
Securely – We send the report directly to law enforcement in your area!
Submit Any Important Complaint With DoNotPay
Here are just a few issues that you can also report with DoNotPay:
DoNotPay Keeps the Whole Community Safe, Starting With You!
Common issues that don't seem like a big deal can potentially get worse. Email spam could infect your computer with malware. Falling behind on a few bills can land you in debt and severely impact your credit report.
When these things happen, you can feel overwhelmed and struggle to take action. That's why all of DoNotPay's solutions are simple to use and give you quick solutions!