How to Easily File a Police Report in Tucson
Crime is something that is occurring every day all over the world. People are committing crimes like scamming others, stealing packages, and identity theft. This article will tell you how to file a police report in Tucson.
If you are a victim of or witness a crime like a stolen phone/wallet or a hit-and-run and other car accident, there are steps you should take. If you can't file a report for whatever reason, DoNotPay can help. DoNotPay will gather information from you and on your behalf.
What Types of Reports Can Be Filed Online in Tucson?
There are certain crimes that can be reported by filing online in Tucson. Here is a list:
Suspicious circumstances
Damage to property
Vandalism
Theft from auto
Bike theft
Non-criminal death case
Civil matters
Shoplifting
Theft
Theft of auto accessories
Trespassing
Lost property
Harassment
Convenience store robbery
What Is Required to File an Online Report in Tucson?
If you want to file an online police report in Tucson, these are the requirements:
Be eighteen or older
Have a valid email address
Be able to fill in the information about what happened in an online form
How to File a Police Report in Tucson by Yourself
Only file a police report if you are positive a crime occurred, as it is illegal to file a false police report. Three main methods to file a police report are online, in-person, and over the phone.
You can file certain crimes online, but if you are in the middle of a crime occurring, you need to call 911.
| | |
| --- | --- |
| Online | Check this site to see if the crime you witnessed or were a victim of can be submitted online. If the crime is on the list, scroll down the page and fill out the form. Fill out as much information as you have. Make sure to hit "Submit Report" at the bottom of the page. |
| In-Person | You can always go down to your local police station to file a report, as well. Check out this page to find the closest police station to you. You will have to fill out a form or talk to a police officer about what happened. You may be asked additional questions to get clarity on what happened. |
| Over the Phone | If the crime is currently happening or you are in an emergency situation, call 911. The non-emergency number you can call is (520) 791-4444. You can also submit a tip about a crime while remaining anonymous at this website. When you call, you may end up waiting on hold if the police department is busy, but someone will pick up and take down everything you know about the crime. |
You may not have the time to drive down to the police station or wait on hold for a while to speak to someone. If that is the case, DoNotPay can help by filing a Tucson police report on your behalf.
File a Police Report in Tucson With the Help of DoNotPay
Rather than driving down to the police station or waiting on hold to talk to an officer, let DoNotPay handle your Tucson police report for you.
If you want to file a police report but don't know where to start, DoNotPay has you covered in 3 easy steps. These are:
1. Search "police report" on DoNotPay and select the type of incident you would like to report.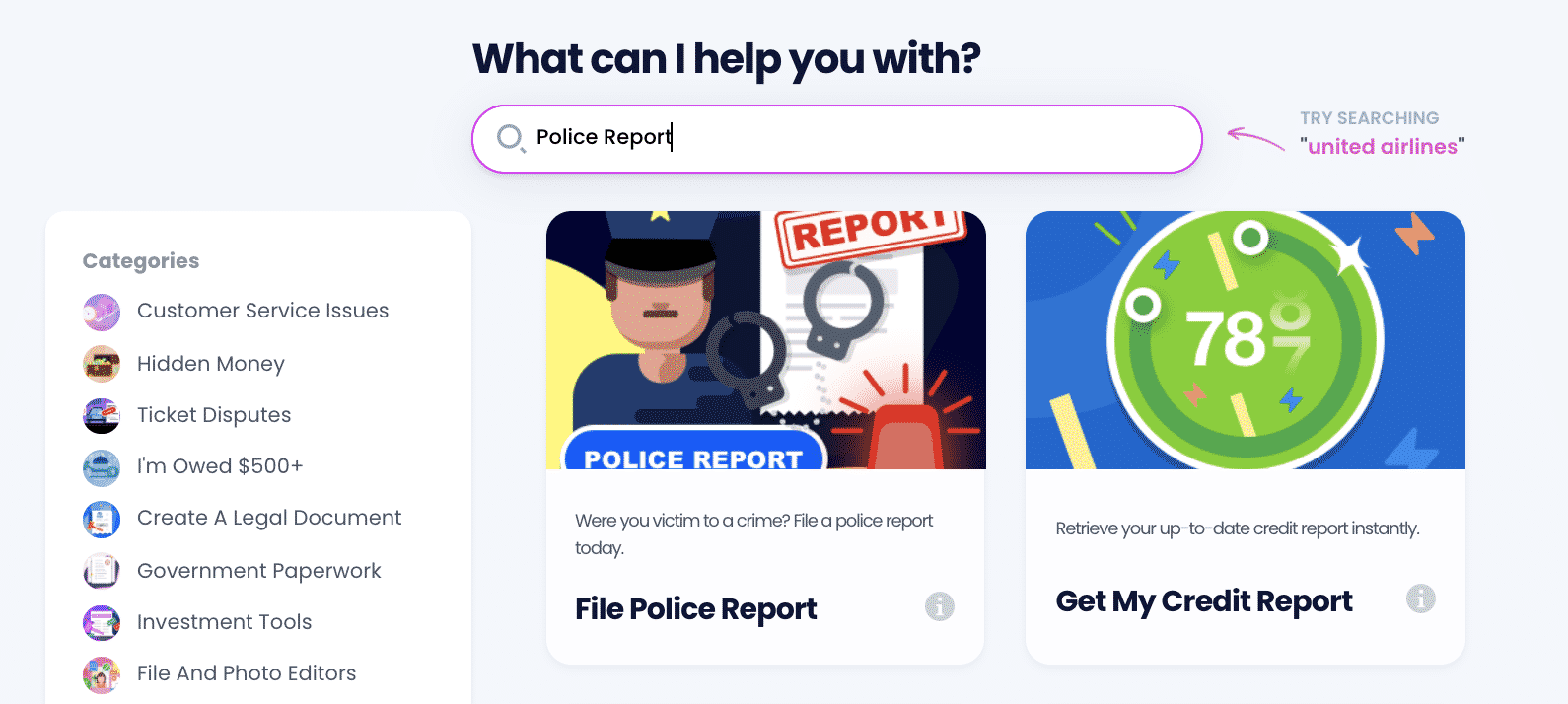 2. Tell us more about the incident that occurred, including the location, date, time, and sequence of events. Include information on financial losses, personal injuries, or property damage that happened as a result.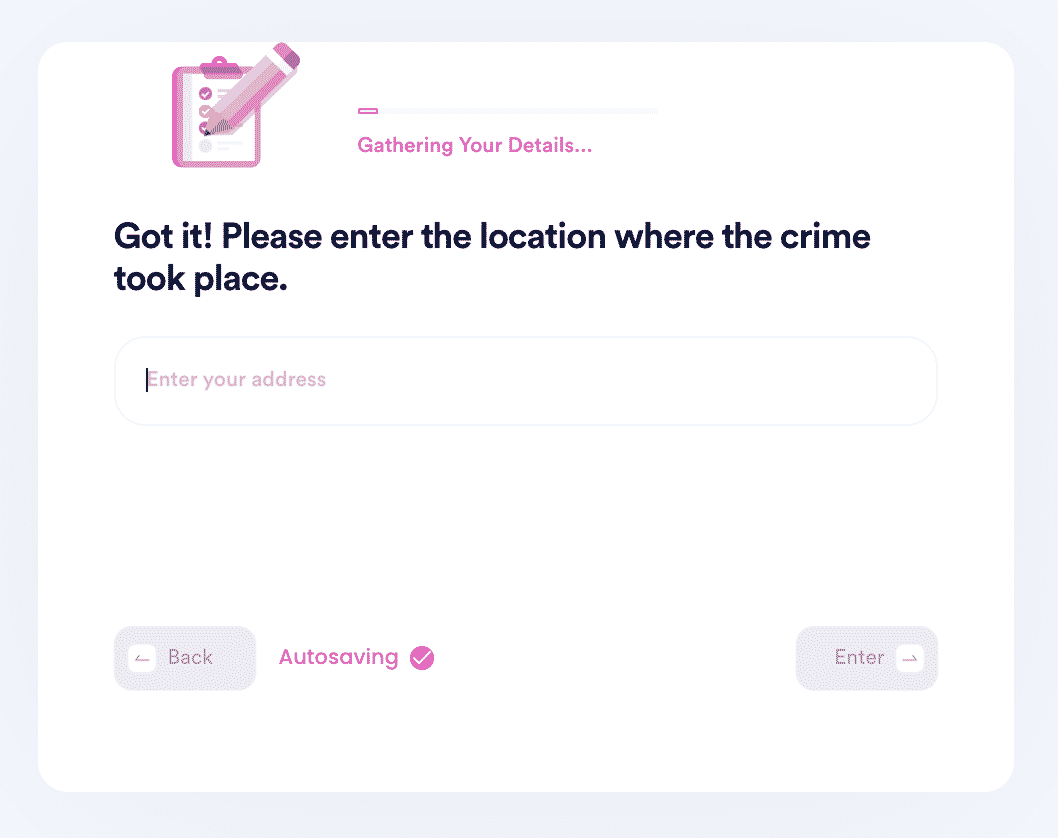 3. List any suspects or witnesses you are aware of, verify your contact information, and submit.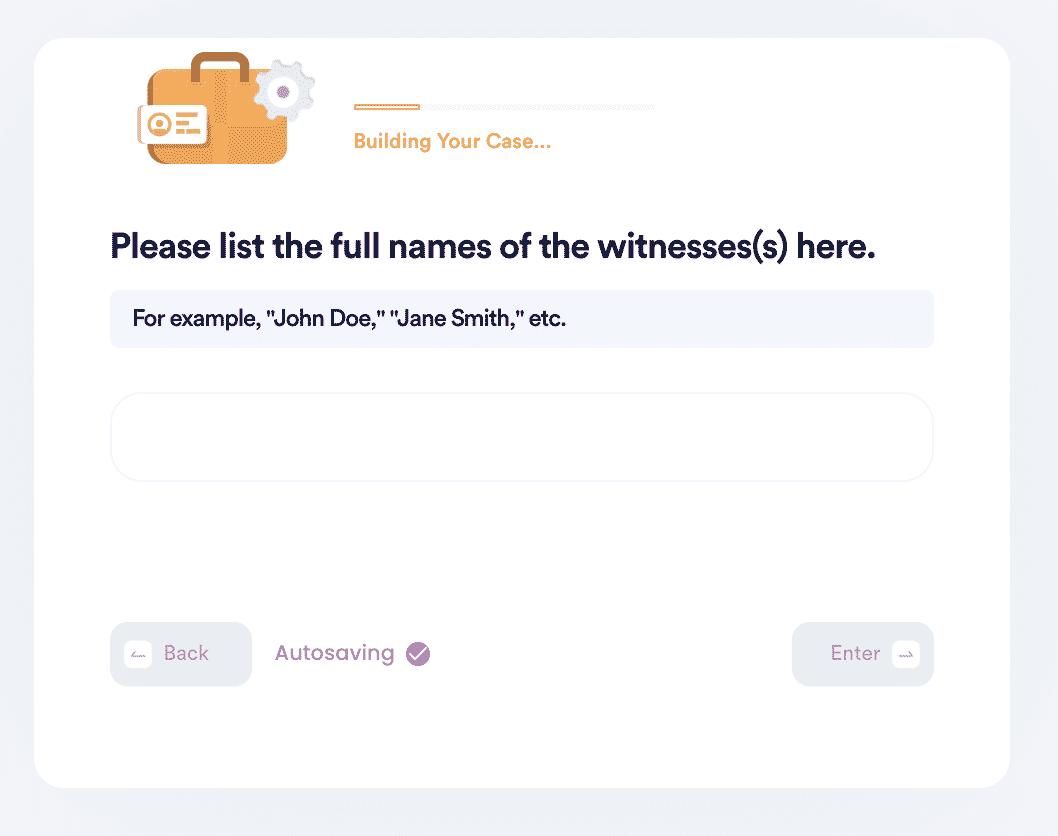 Why Use DoNotPay to File Your Tucson Police Report?
Crime is an unfortunate part of our society, and as citizens of the United States, it is our responsibility to help solve them. This means if we witness a crime or find the results of one, we are encouraged to file a police report, even if it's just for stolen items.
However, we don't always have the time to go down to the police station or wait on hold to talk to an officer. In that case, contact DoNotPay, and we will file a police report for you.
Here are three big reasons why you should use DoNotPay to :
It's fast – You only have to spend a little time entering information, and then you are free to do whatever you need.
It's simple – All you need to do is enter some information, and we will do the rest.
It's successful – You can trust that DoNotPay will file your Tucson police report.
DoNotPay Works Across All Companies/Entities/Groups With the Click of a Button
While we can easily handle filing a police report for you, there are also many other tasks we can complete by working with a variety of companies/entities. Here are some examples: