Filing a Police Report Online in Washington State for Discreet Help
The ways that Americans are communicating with police officers have changed after the nation reviewed its policies regarding police accountability, funding, and their relationship with the public. One improvement for the public included a new method for individuals to communicate with police officers online and file police reports that way. For those who want to avoid the phone or prefer online communication for expressing themselves, they can now .
When people have non-emergency reasons to contact the police, they may not wish to dial 911 and tie up police resources. Others could have what they consider minor issues that don't require a squadron of police cars frightening their neighborhood. When it comes to the police departments themselves, some procedures require data entry and little actual encounter with the public. From there, other departments might be responsible for the case and a crime victim can easily file a report online to save themselves time.
DoNotPay has a variety of options for individuals to file police reports. We can help with filing a police report online regarding these cases:
Have you lost a passport in Washington state or had other property not listened above stolen? Here is a resource for how to file police reports in Washington state for all stolen property.
What Police Reports Can You File Online in WA?
Every state has its laws about what reports can be filed online and what must be handled in person. One Washington website has provided the following information as to what can and cannot be filed online. Although it was created by Washington's largest police department, that of the Seattle police, the guidelines likely apply to other jurisdictions that model their policing upon the major metro area.
Online

Report crimes that have no known suspects, aren't presently happening, and do not include anyone experiencing bodily harm. When there is a chance to catch the culprit, an expedient police response could stop a crime in action. Other crimes that involve injuries may require emergency medical attention and insurance claims could require proof that the incident caused damage based upon what the police saw and documented in the police report.
Crimes that don't need evidence procured, such as a crime scene that needs to be combed for clues to identify a suspect.

Not Online

Crimes within the last 30 minutes
Violent crimes
Sex crimes
Crimes involving firearms
Drug theft
Stolen vehicles and license plates
Burglary and robberies
Hate crimes
Road rage incidents and some traffic accidents involving insurance and other claims
Civil disputes
Check fraud
Noise complaints that require noise reduction
How to File a Police Report Yourself
yourself by going to the police station where the crime occurred, call 911, or call the police non-emergency line.
If you do not know where to file a report or which police station has jurisdiction over the crime, then be prepared to be directed to another location or department to speak to those officers.
Before contacting the police, keep in mind that filing a false police report is a crime and can land someone in legal trouble.
Depending upon the nature of the crime, it can be useful to have a supportive person by you while calling the police. If you are afraid of police officers, it might be wise to arrange for someone to keep you company before they arrive. If you are reporting in the station, then take your supportive friend or family member with you.
Bring identification with you or have it handy on the form. You will often have to provide a license or other form of identification.
If your situation is an emergency and is causing a mental health crisis, then consider reporting the crime in person as opposed to the Internet. Many departments have Mobile Crisis Units that work with the police or special units for supporting victims that can help you process distressing crimes.
Next Steps for Filing a Police Report if You Can't Do It Yourself
Report the crime online if you are:
Having difficulty speaking about a crime or reporting it due to a fear of the police
Unable to locate the right branch
Have social anxiety
Unless the situation is an emergency or one of the crimes listed above, then you would probably prefer to have a less personal interaction with the police. Reporting crimes online is the least personal way to interact with the police. When you file a report online, there's no fear of them judging you, and it's impersonal. Click here for how to file a police report.
How to File a Police Report With the Help of DoNotPay
The easiest way to file a police report online is with DoNotPay since we will walk you through the process. If you are filing a police report online through their system, then there is no one to guide you. When you use our service, we will do the legwork for you.
If you want to file a police report but don't know where to start, DoNotPay has you covered in 3 easy steps:
1. Search "police report" on DoNotPay and select the type of incident you would like to report.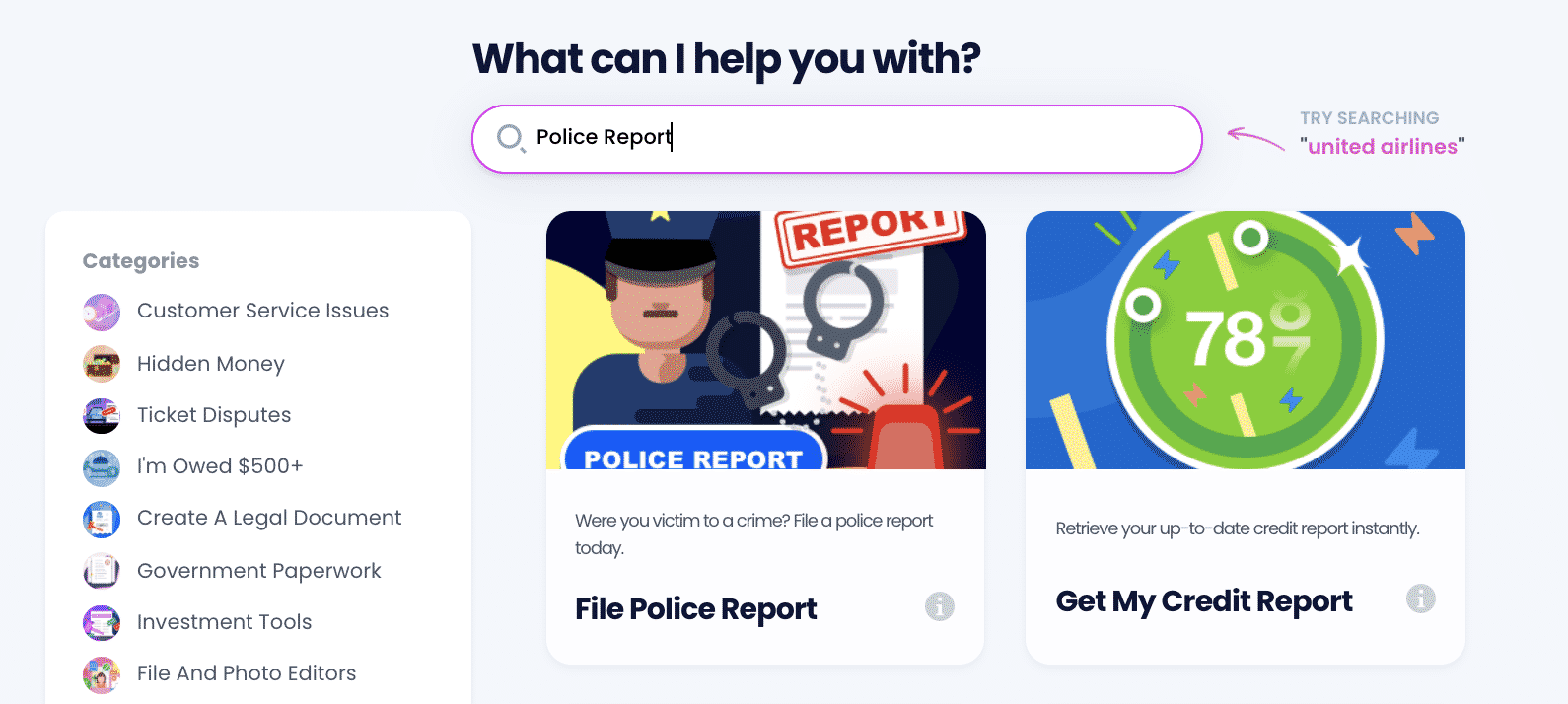 2. Tell us more about the incident that occurred, including the location, date, time, and sequence of events. Include information on financial losses, personal injuries, or property damage that happened as a result.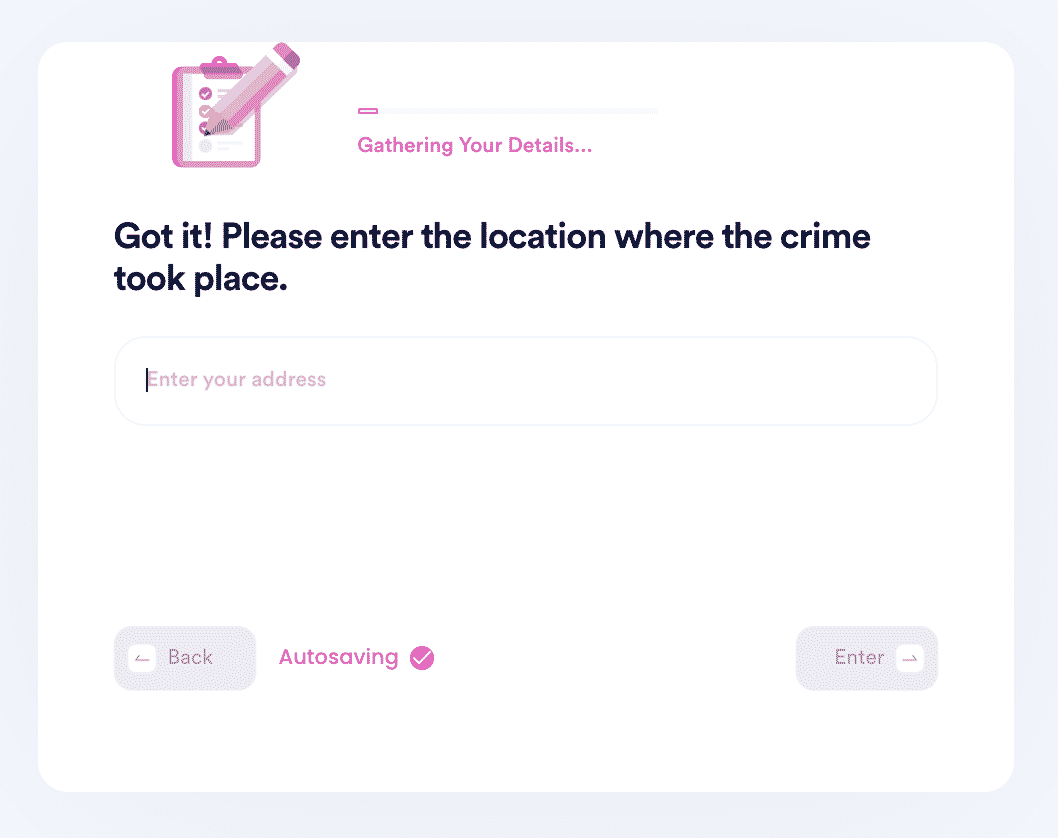 3. List any suspects or witnesses you are aware of, verify your contact information, and submit.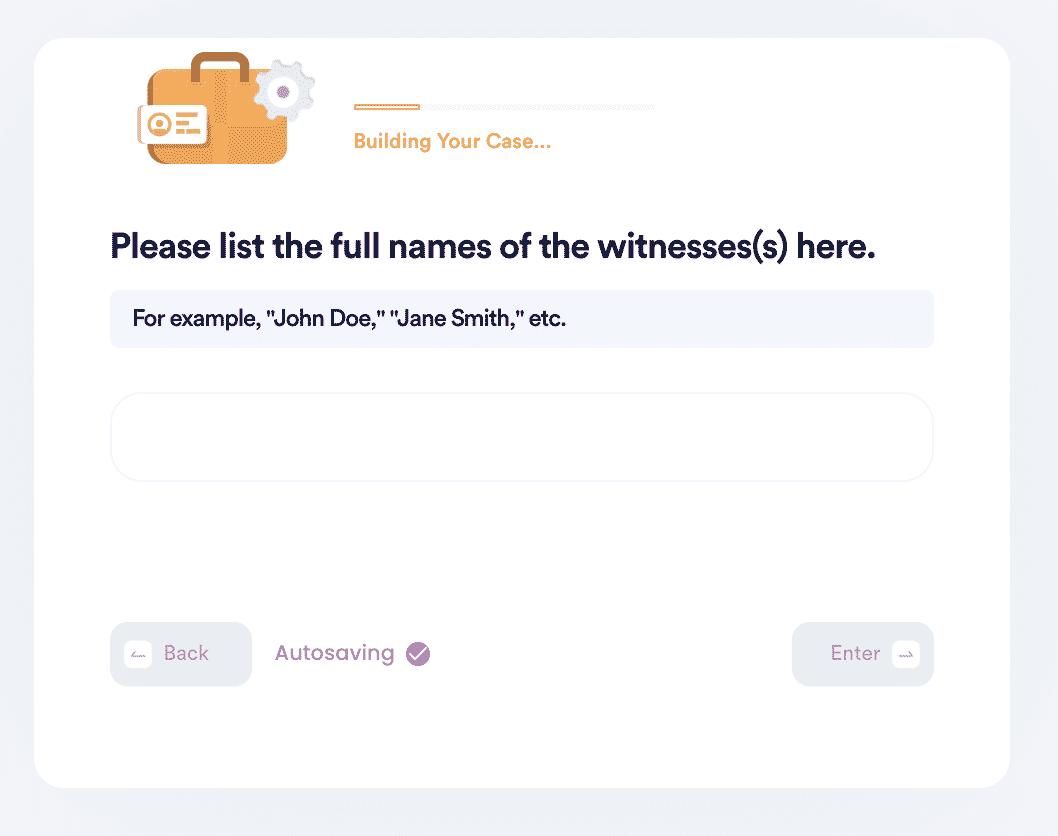 When people experience crime in Washington state, they shouldn't have to worry about . Use DoNotPay to help guide you through the process of filling it out correctly. We can help you complete this process when you are not at your best and struggling with the issue at hand. DoNotPay may help you report and resolve a crime that you would otherwise be too upset to report or brush off.
Let's get started now!