How to Easily File a Police Report Online in Orlando
Crime is, unfortunately, a part of our daily lives, and it may impact you in one way or another. You may be a victim of a crime or you may witness one. If you need to file a police report online in Orlando, this guide will show you how.
Common crimes are:
However, not everyone has the time to deal with filling out a report. If there is some reason why you can't file the report yourself, let DoNotPay handle it. DoNotPay can file your Orlando police report for you.
What Types of Reports Can Be Filed Online in Orlando?
In Orlando, you can file a report online for the following crimes:
Theft
Vandalism
Lost property
Vehicle break-in
Harassing phone call from an unknown caller
What Is Required to File an Online Report in Orlando?
To file an online police report in Orlando, Florida, these are the requirements:
Be at least eighteen years of age
Have information on a crime and be able to describe it on an online form
Have a valid email address
Crime occurred in Orlando
How to File a Police Report in Orlando by Yourself
You should never file a false police report as it is illegal. Only submit a report if you are positive someone committed a crime. The three main ways to file a police report are over the phone, online, and in-person.
Phone

Remember that if you are in an emergency situation or the crime is ongoing, call 911.
Otherwise, you can call the Orlando police non-emergency line at 407.246.2470.
If the department is busy, you may have to wait on hold, but someone will eventually pick up. Then, you will tell them everything you know about the crime.
You will receive a tracking number that you can refer to if you need to update information about the crime.

Online
In Orlando, Florida, if you are in the middle of a crime occurring or you know who committed the crime, you need to call 911 so an officer can be dispatched. However, in other circumstances, you may be able to file online.

Check out this page to see if the crime you need to report qualifies to be reported online.
If the crime is on the list, gather all the information you have and click on the "Report a Non-Violent Crime Online" button.
Enter all the information you can, and make sure to hit submit.

In-Person

There is always the option of going down to your local police station to make a report.
The address for the Orlando Police Department is

400 South Orange Avenue

Orlando, Florida 32801

Once you are there, you will either fill out a form or discuss the crime with an officer.
The officer may ask clarifying questions, either way, to make sure they have the whole picture.

Depending on your personal circumstances, you may not have the time or energy to deal with going to the police station or waiting on hold on the phone. In that case, let DoNotPay handle filing an Orlando police report for you.
File a Police Report in Orlando With the Help of DoNotPay
Avoid waiting on hold on the phone or having to take time out of your day to drive to the police station, and let DoNotPay file a police report for you.
If you want to file a police report but don't know where to start, DoNotPay has you covered in 3 easy steps:
1. Search "police report" on DoNotPay and select the type of incident you would like to report.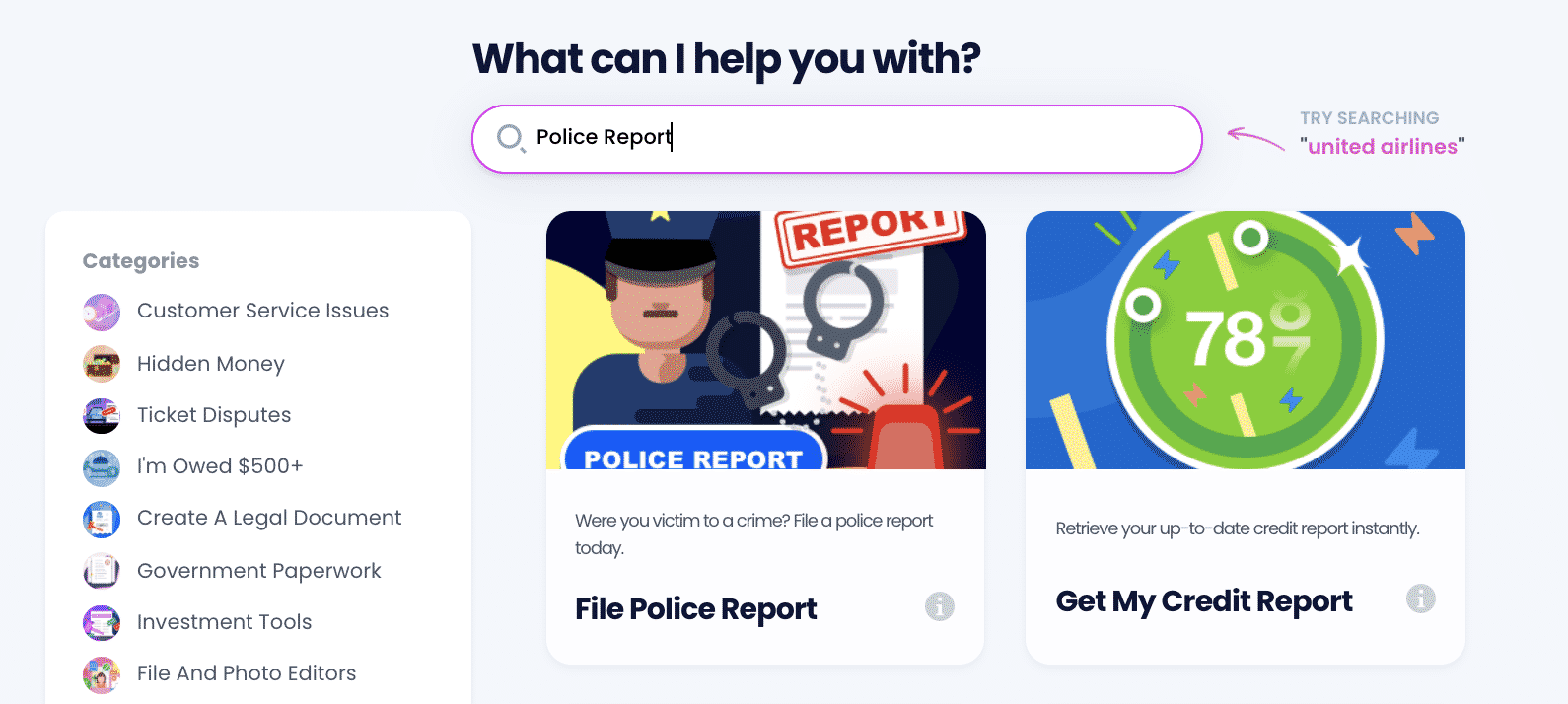 2. Tell us more about the incident that occurred, including the location, date, time, and sequence of events. Include information on financial losses, personal injuries, or property damage that happened as a result.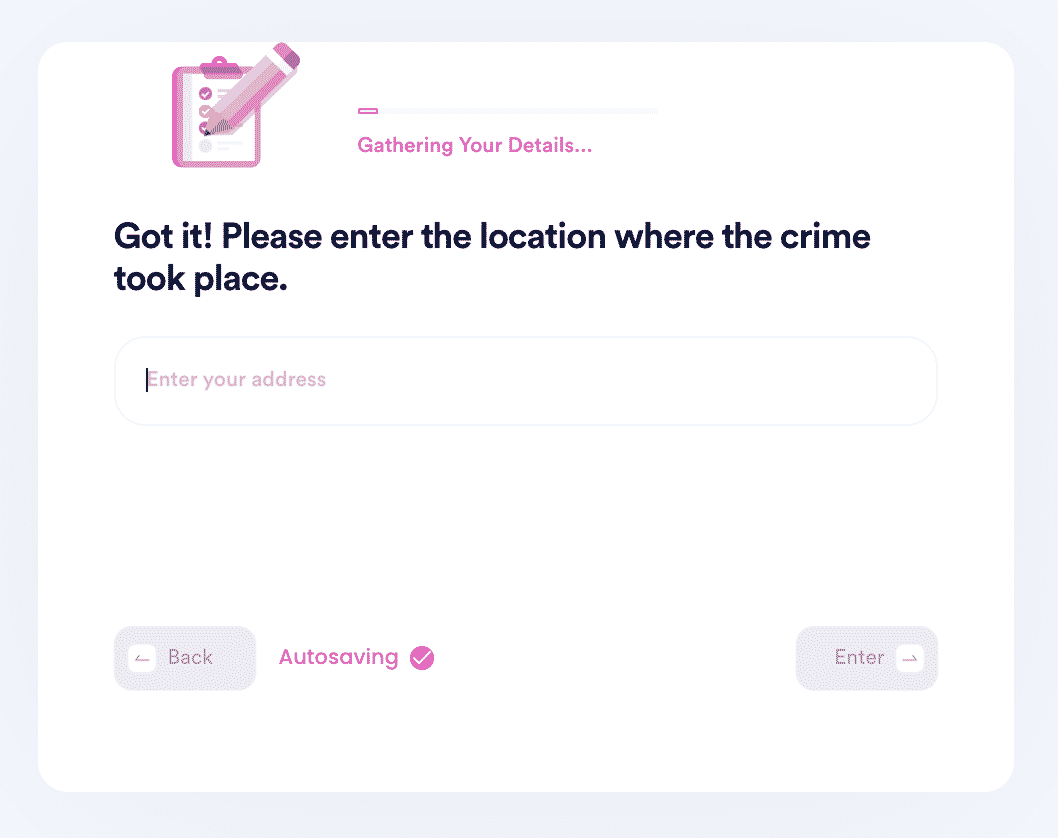 3. List any suspects or witnesses you are aware of, verify your contact information, and submit.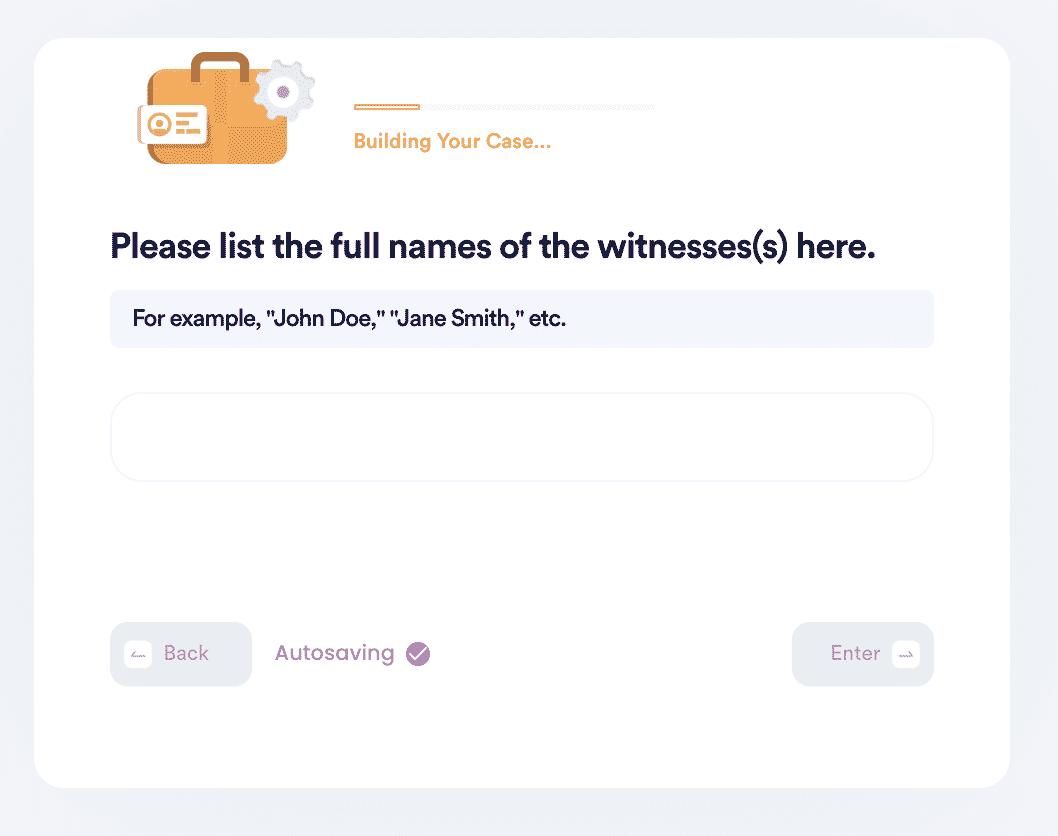 Why Use DoNotPay to File Your Orlando Police Report
There are three significant reasons why DoNotPay should be your go-to for filing a police report.
It's fast: The only time you lose is the time it takes to enter a little information.
It's simple: You give us information about the crime, and we handle it from there.
It's successful: You can trust DoNotPay to file your Orlando police report.
DoNotPay Works Across All Companies/Entities/Groups With the Click of a Button
DoNotPay doesn't just handle filing police reports online in Orlando. We work with a wide variety of companies/entities and can complete many tasks for you. Here are a few examples.