Contesting a Traffic Ticket Has Never Been Easier
It can be unnerving to get a traffic ticket. The officer who issues the ticket is a professional at trying to convince you that you're in the wrong, and most people assume that the officer is right.
DoNotPay is here to remind you that you are only accused of wrongdoing when you get a traffic ticket and that you are innocent until the officer proves your guilt in court. You can opt to .
Is it Worth Fighting a Ticket?
Whether the ticket is justified or not is something that only you can determine. Extenuating circumstances may make your actions reasonable, or you may have just gotten caught speeding or running that red light. Either way, the decision to fight is up to you. Some people argue for a lesser offense so their insurance premiums don't increase. Every situation is different.
Strategies for Contesting a Ticket

Here, we'll go over the best ways to .
1. Get Lucky
You can always take the chance that you'll show up in court and the officer won't—that's an automatic dismissal. The risk you run is that when you get the ticket with the court date on it, the officer already knows that it's "his" day to be in court.  In some states and counties, you can ask for a continuance ahead of time, pleading that you have a large conflict that day and hoping that the officer won't show up for the rescheduled hearing.
2. Challenge the Officer's Accusations
Most traffic tickets are your word against the officer's. They made a subjective judgment on your actions, but you can question whether that judgment call is reasonable. Here are a couple of circumstances where this might work:
Following too closely
Exceeding safe speed for the conditions
In both these instances, you could argue that you were following at a reasonable distance for traffic, speed, and weather conditions and that you were driving defensively and safely. Point to your clear driving history to back up your assertion. You could also question the officer's vantage point for the infraction — Did they have an accurate view of distance or speed?
You can also question what the officer saw —  Did he have the correct angle or distance to be sure you ran a red light or stop sign?
However, DO NOT try the following to bolster your case:
Use photos of the scene
Point out any obstacles that could be in the way — things like trees, other cars, or hills
Challenge the officer's word, only their observation.
3. Circumstances Were Beyond Your Control
This is called a "mistake of fact" in court — you made an honest and reasonable error in judgment. For example, if a broken tree limb is impeding your view of a stop sign or a speed reduction sign, that's an honest mistake. Photos of the scene are a huge help in helping the judge see the same thing you did, as are witnesses who were with you in the car.
4. The Violation Prevented Greater Harm
If you've ever seen a mad dash to the hospital when a woman is in labor on TV, that's a textbook example of preventing greater harm. Now, most officers would not continue a traffic stop with a woman panting in the back seat, but not all circumstances are this vivid. If an unlicensed driver is rushing someone in cardiac arrest to the hospital, the officer will not delay them — but they could write a ticket once they're at the ER. You have a decent chance of beating this ticket if one was issued.
This Sounds Complicated. Don't I Need an Attorney?
Well, yes and no. DoNotPay can assess your evidence and determine your best course of action. We are AI attorneys that work in every state and county in the US, so whether your infraction was in New York, Las Vegas, LA or anywhere in California, we can help you out. All it takes is a few minutes and a few clicks.
Here's how:
Log-in to DoNotPay and go to the Ticket Disputes category. Select the correct product based on your traffic ticket.

 

Upload a photo of your citation.

 

Provide us with some details on why you believe the citation issued is a mistake.

 

Select whether or not you want the letter mailed to the traffic ticket issuer on your behalf! 
That's it! You'll receive an appeal letter that contains state vehicle codes to boost your case.

 
With just a few mouse clicks, you have the tools you need to contest your ticket—quick and easy.
I'm a Fan. What Else Can DoNotPay Do?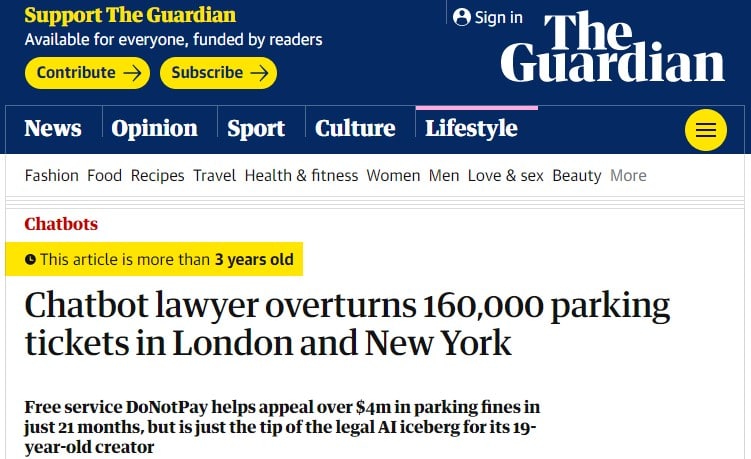 DoNotPay is like your personal life hacker. We can help with any driving-related concerns:
DoNotPay has been successfully helping thousands of people and you can be next.