Everything You Need to Know About Salary Request Letters
You may have noticed that as the cost of living rises, your buying power decreases. Your work ethic has not decreased, but the value of your salary decreases as inflation rises. If you want to know how to write quality to request an inflation-based pay raise, also known as a cost of living raise, DoNotPay is here to help.
Why Do Companies Give Cost of Living Raises?
Inflation-related raises, or cost-of-living raises, are raises given to keep employee wages reasonable compared to living expenses. Other reasons that companies may give cost of living pay raises include:
Reduced employee turnover.
Ability to attract new employees if the cost of living raises are part of the benefit package.
Some employers, such as government agencies, are required to give raises.
Labor unions may help negotiate cost-of-living raise increases for employees.
Not everyone has the benefit of guaranteed cost of living adjustments, or even a union to negotiate on their behalf, and they have to request salary increases on their own. Although it can be intimidating, it is not impossible to achieve.
How Do You Request a Cost of Living Raise?
To request a cost of living raise, you need to be prepared. You are trying to justify a cost of living raise, so it is important to have all of the necessary facts and statistics to support your request.
Do Your Research

Research the statistics regarding inflation and the Consumer Price Index.

Research national and local average salaries for your position.

Research your industry's projected growth and job turnover rate, especially if this is relevant to your salary request.

Craft a Quality Salary Request Letter

Your

should give an overview of how long you've been with the company and the value you add to the company and your position.

Briefly explain how cost-of-living increases have negatively impacted you and how that affects your job performance.

Provide the statistics you researched about inflation, cost-of-living, and salaries.

Include the salary you make now and the raise you feel you should receive to offset inflation.

Your letter should be persuasive and factual. You should also check for grammar, spelling, and punctuation mistakes. You do not want to submit a request by way of a poorly written letter.
Even though you can clearly see the decrease in your spending power, it can be time-consuming and tedious to research inflation, changes in cost-of-living, and how this directly affects you. It may also be difficult for you to write a salary request letter in order to negotiate a cost of living raise. You may be great with numbers and data, but if you aren't comfortable with your negotiation and writing skills, you may be intimidated by putting your findings into words. DoNotPay can help you write a salary request letter that puts you in a positive position for a pay raise.
Let DoNotPay Write Your Salary Request Letter
How to submit an inflation pay raise request using DoNotPay:
If you don't know where to start with a salary request, DoNotPay has you covered in 5 easy steps:
1. Enter the name of your company and supervisor as well as how long you have worked at the company.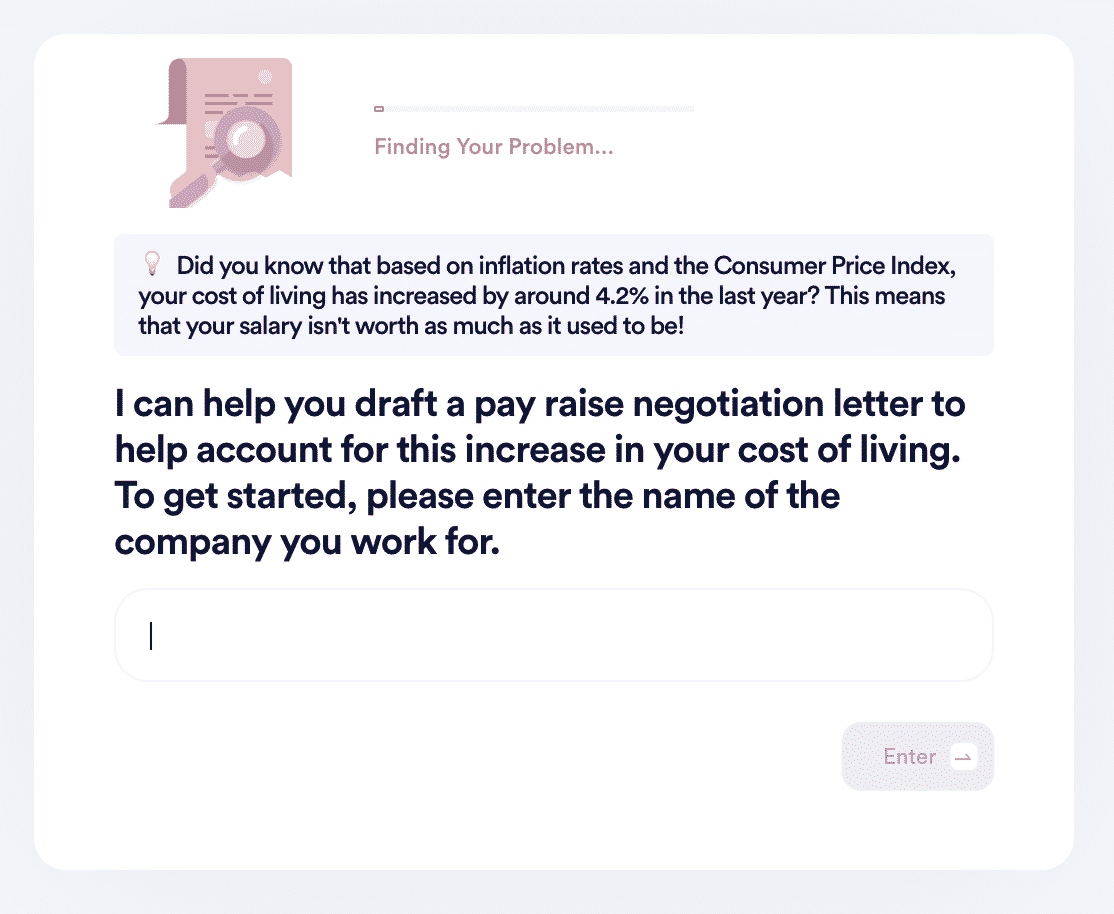 2. Select which industry your job position falls under so we can find the right year-over-year wage growth.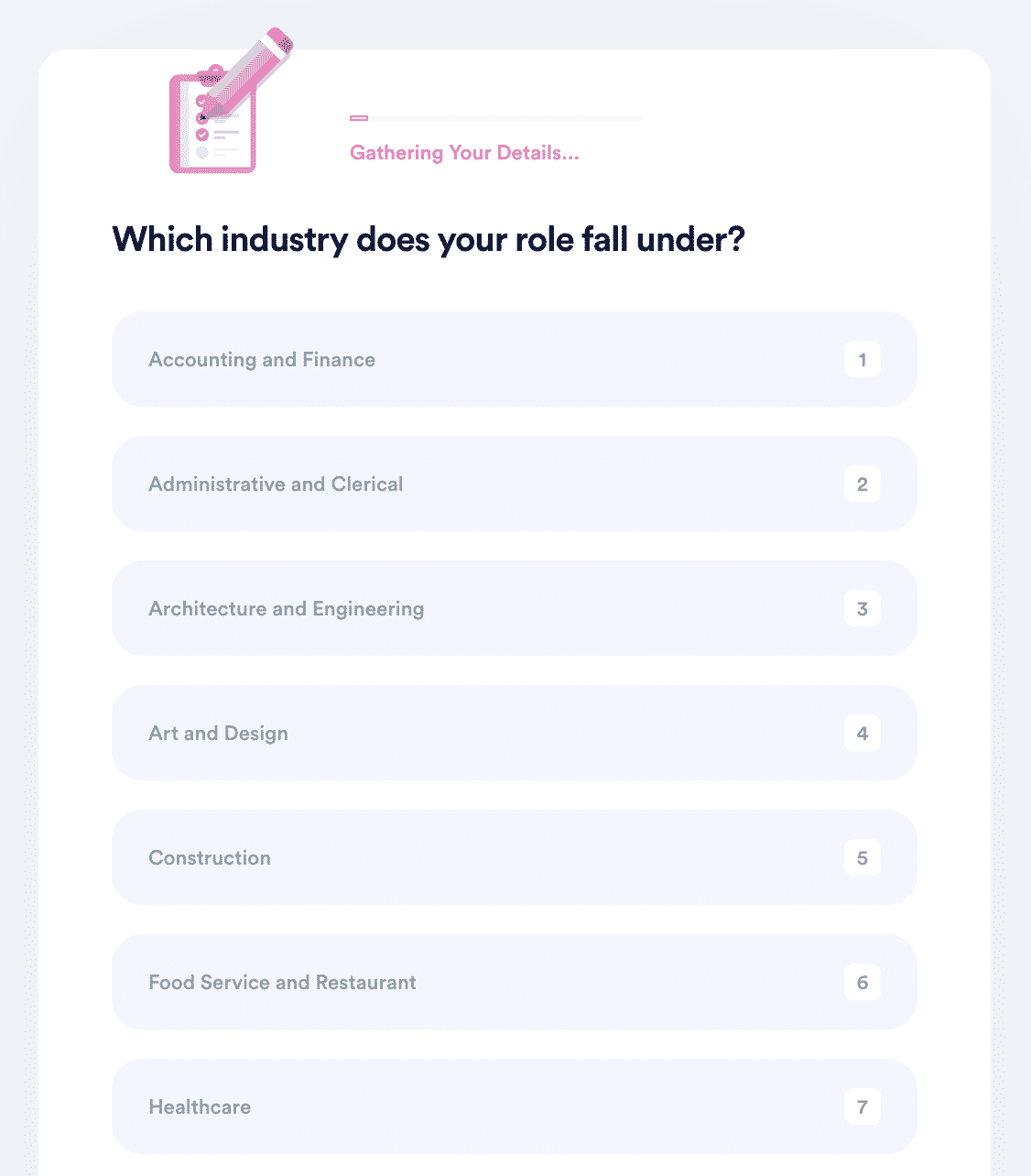 3. Enter the salary increase (as a percentage) you would like to ask for. The recommended number is ~6%.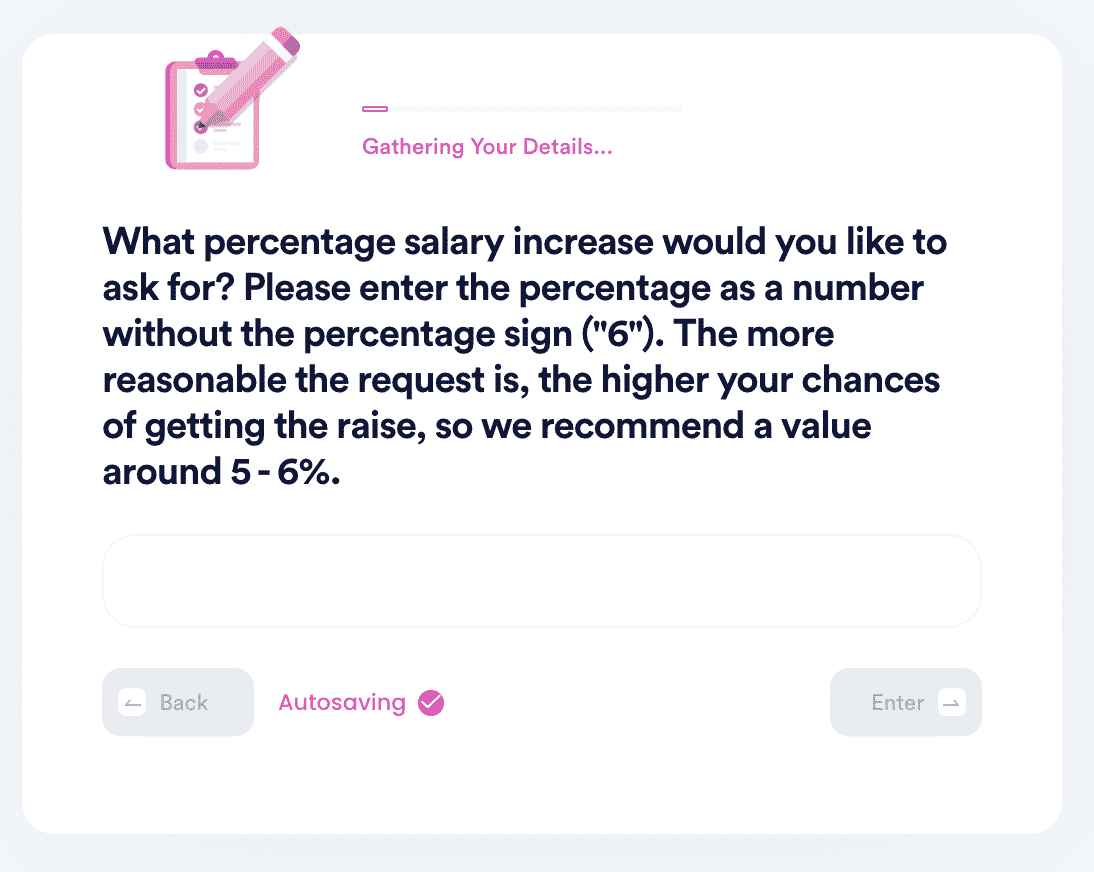 4. List your recent goals and accomplishments to make a more convincing argument for your raise.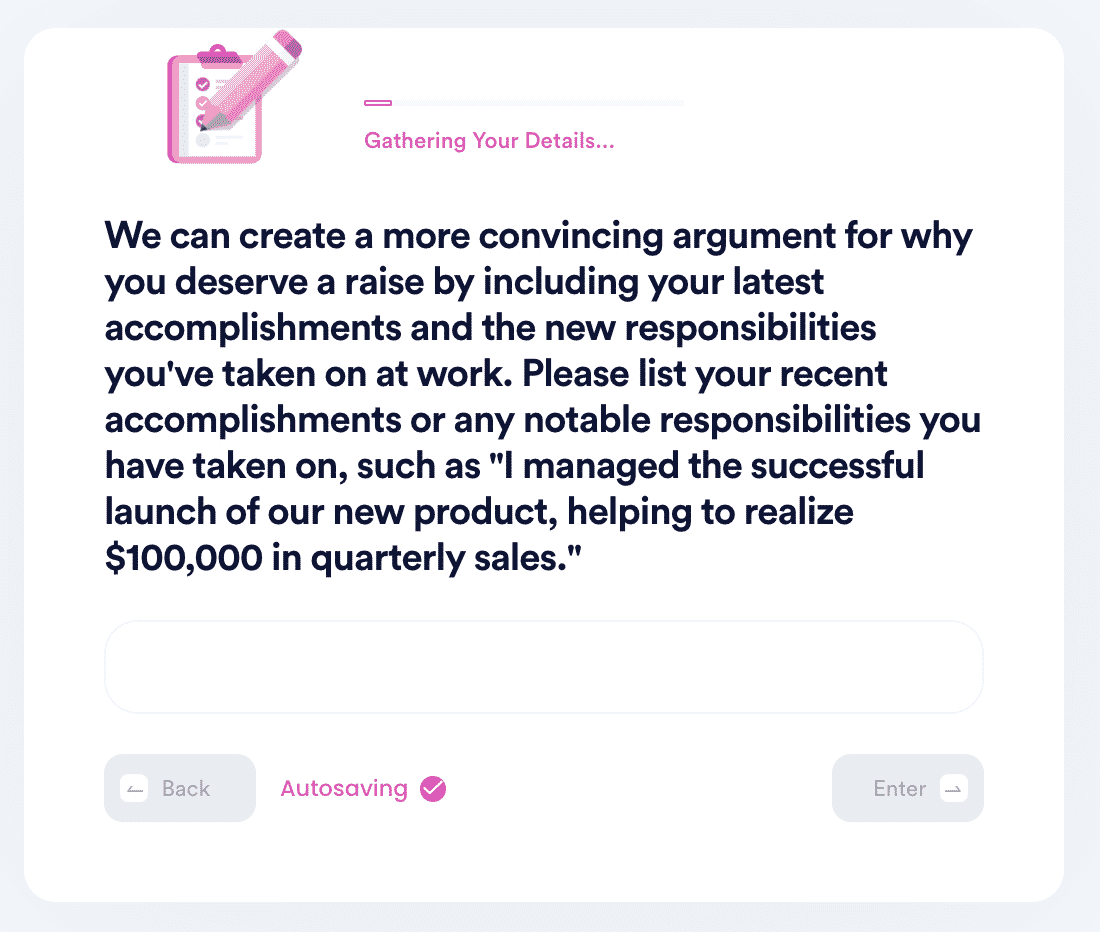 5. Choose whether you would like us to email this request to your manager/supervisor on your behalf. If not, we'll generate the request as a PDF that you can deliver to them yourself.
Why Should You Use DoNotPay to Help with Salary Request Letters?
DoNotPay understands that requesting a salary increase can be intimidating. It requires a lot of time and effort to do the appropriate research and write a persuasive letter. That is why DoNotPay is here to help you negotiate a fair salary with fast, easy, and successful results. You do not have to spend hours researching inflation, studying cost-of-living effects on rent, groceries, and gas, or worry about how to put your findings into a persuasive salary request letter. All you have to do is provide basic information to DoNotPay, and we will create a convincing letter on your behalf.
DoNotPay Helps With Other Salary Requests as Well
While DoNotPay is confident in our ability to help help you write a salary request letter, we can help with other types of salary requests as well. If you want to request a merit-based raise, DoNotPay can help you create an ideal salary request email or a general raise proposal. We can help do this for any field, whether you work in the legal field, finance, medical field, or any other industry. DoNotPay is here to help.
How Else Can DoNotPay Help You?
DoNotPay has a history of solving a variety of problems in the workforce and elsewhere. For example, we can help with the following:
This is just a small example of how DoNotPay can help you. If you have questions, concerns, or problems that need to be solved, DoNotPay has the answers.