DoNotPay Answers: How to Ask For a Raise via Email
In the age of remote work and social distancing, knowing how to ask for a raise via email is one of the most crucial skills you 'll ever learn. Most people think you need to ask for a raise in person. If you're one of them, then this is just the post that will change your life. An without coming across as pushy or ungrateful for what you have.
There are many reasons why someone might want to request a salary increase. Maybe you've been at your company for a while and the pay is not keeping up with inflation. Or, maybe you're looking to switch jobs but need some negotiating leverage before making the move.
Whatever your reason may be, it's important that you know how to ask for a raise effectively--or else you could end up sabotaging your chances of getting one. DoNotPay is here to help you out.
What Kinds of Raises Can I Ask For?
There are a few different kinds of raises you can ask for:
Annual Raise - Usually, at the end of the year, managers will consider giving their employees an increase in pay to keep up with inflation and maintain morale.
Promotion - It is standard for a raise to go hand-in-hand with a promotion.
Cost-of-Living Raise - If your cost of living has increased dramatically, you might want to consider taking this route instead. Your company may be more willing to give you extra money if it means they can avoid having an employee leave because they feel underpaid.
When is the Right Time to Ask for a Raise?
Now that you know what kinds of raises are available, it 's time to figure out when you can ask. There are two main times when it's appropriate to ask for a raise:
Before You Start - If you're starting a new job and feel like your salary isn't in line with the market, then asking for a raise before you start is an excellent way to get what you want.
Anniversary Date - If you've been with your company for more than a year, then asking around the anniversary date of when you started is a great time to ask for a raise.
What Should I Put in My Email?
Let's get down to the nitty-gritty. To , you need to craft an effective message that doesn't come across as demanding or entitled. Here are some things you should include:
| | |
| --- | --- |
| A Clear Request | You want your request for a salary increase to be specific and straightforward. |
| You're Not Asking for the World | A good way to get your email across is by asking for a small raise that you know will be achievable. If they give in, then it's clear that more money could have been given if asked for. You'll go into negotiations with some leverage over them. |
| A Personal Touch | The last thing you want to do is send an email that comes across as robotic and impersonal. You should always aim to make a personal connection with whoever will be reading your message. Make them see you as a real person, not just a number on their payroll ledger. Instead, you should try to come across as someone who's willing to work hard and make the most of whatever opportunities are available. |
| Include a Request for Their Thoughts | In your email, ask them if they have any thoughts on how it would be possible for you to get a raise. This gives them an opportunity to show that they support what you're asking for. |
| Thank Them For Their Time | Don't forget to thank them at the end of your email! This will show that you appreciate their time and are grateful for everything they've done in helping you get this far. |
Keeping all of these things in mind, you should make your email as professional and respectful as possible. When you're asking for a raise, it's important to remember that your employer is not just a faceless entity.
What If They Say No?
If they say no, take it gracefully. It's important that you don't end up burning any bridges because you never know when your job might need to come first. Be polite and ask them what would be the best way to approach it next time. Keep in mind that there's always a chance they could turn around and say yes if given enough time and incentive, so even if they tell you no, there's no reason to give up.
An Example of Asking For a Raise Via Email
If you need some inspiration, here 's an example of what your email might look like :
Subject Line - Asking for a Raise
Hi (insert name), I hope you're having a wonderful day!
I wanted to take this opportunity to ask about the possibility of getting my salary increased. Right now, I'm currently making $52,500 a year and I think it's time for me to get a raise.
I know that my contract ends in three months' time, so I thought this would be the perfect opportunity for us both to come together and discuss an extension with a salary increase of $6000 per year. This is just a small request that I'm hoping we can both come to an agreement on.
I know that you've been very helpful in my career so far, and I want this to be the first step for me to build up trust with you as well! Let me know what your thoughts are here - otherwise, let's talk about it next month when we meet again!
Thank You For Your Time,
I hope to hear from you soon!
Tina White
Tina is showing the company some appreciation and gratitude for their support over her time there, as well as being clear about what she wants - more money. She's not asking for anything too drastic--it's something that the company can afford. She also requests their thoughts on how to approach this next time so they know she is serious about it and wants to do better in the future.
Tina ends her email with a thank you for taking some of your time out of your busy day to read through her request as well as sharing what her thoughts are on it.
How to Craft a Pay Raise Request Email Using DoNotPay
Let 's face it, writing an email to ask for a raise can be really intimidating. You might think that you're just not good enough or don't have the knowledge needed in order to get what you want, but it's always better to try than give up before even trying!
With DoNotPay, all your questions will be answered and you'll never feel lost or confused again. You'll have access to a robot lawyer who will help you craft the perfect email asking for your raise.
If you want to request a raise through email but don't know where to start, DoNotPay has you covered in 5 easy steps:
1. Enter the name of your company and supervisor as well as how long you have worked at the company.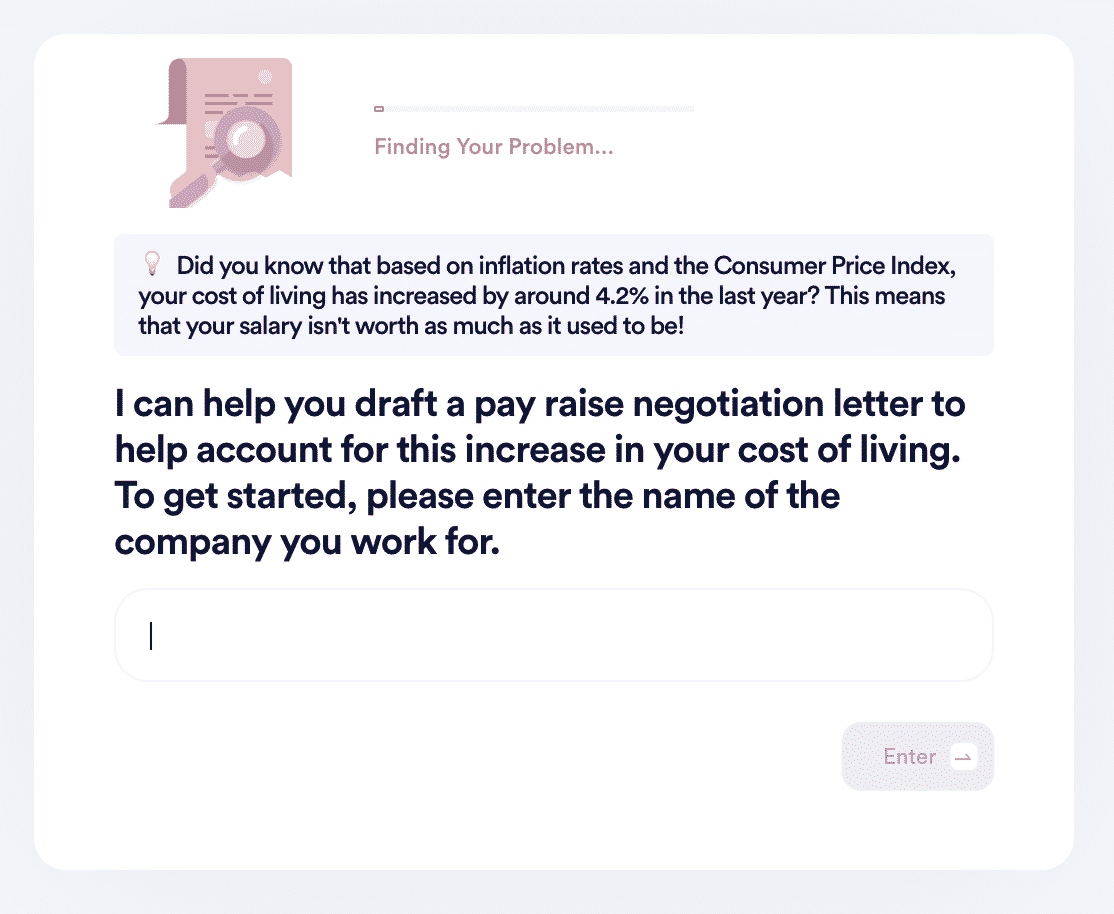 2. Select which industry your job position falls under so we can find the right year-over-year wage growth.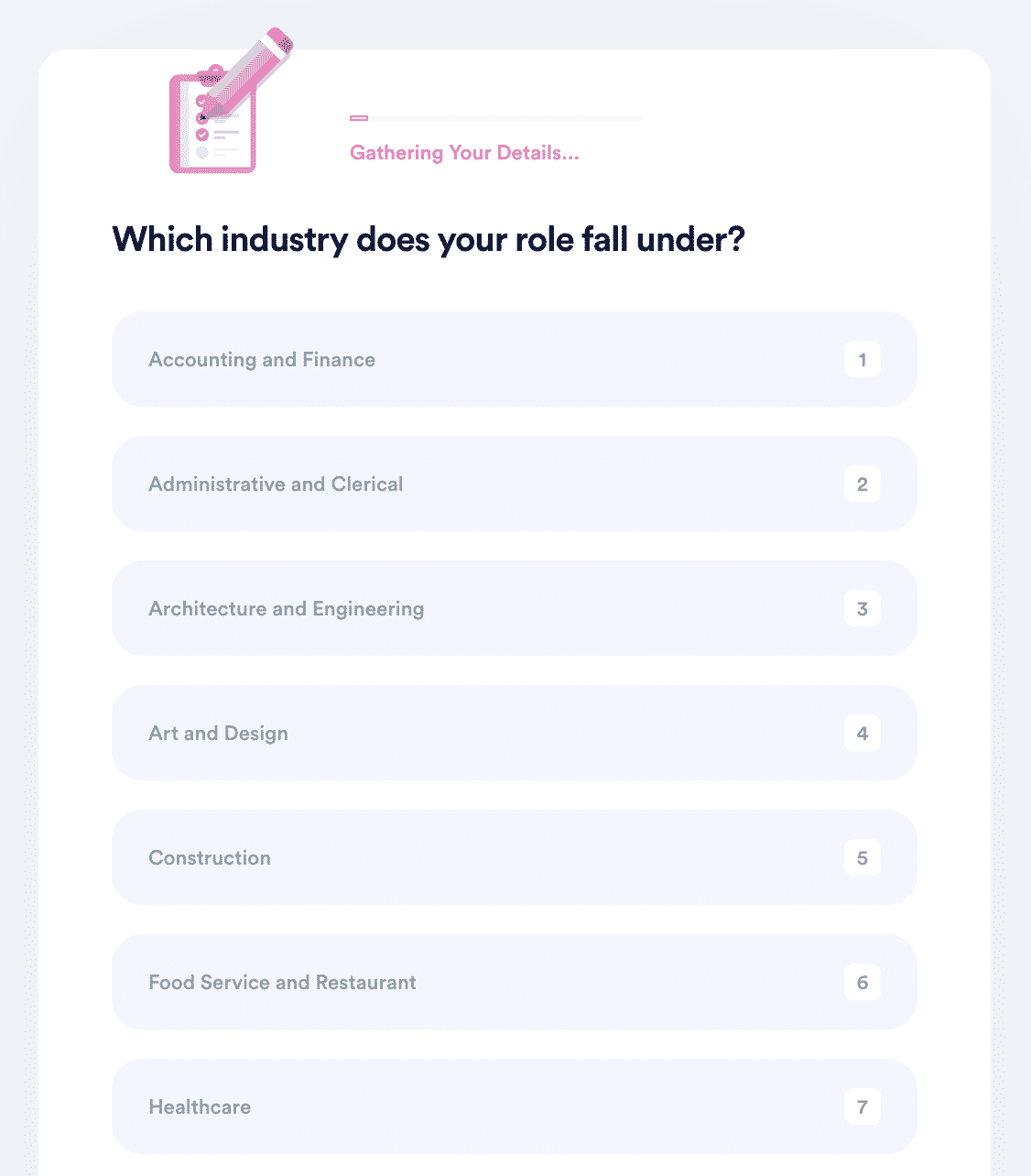 3. Enter the salary increase (as a percentage) you would like to ask for. The recommended number is ~6%.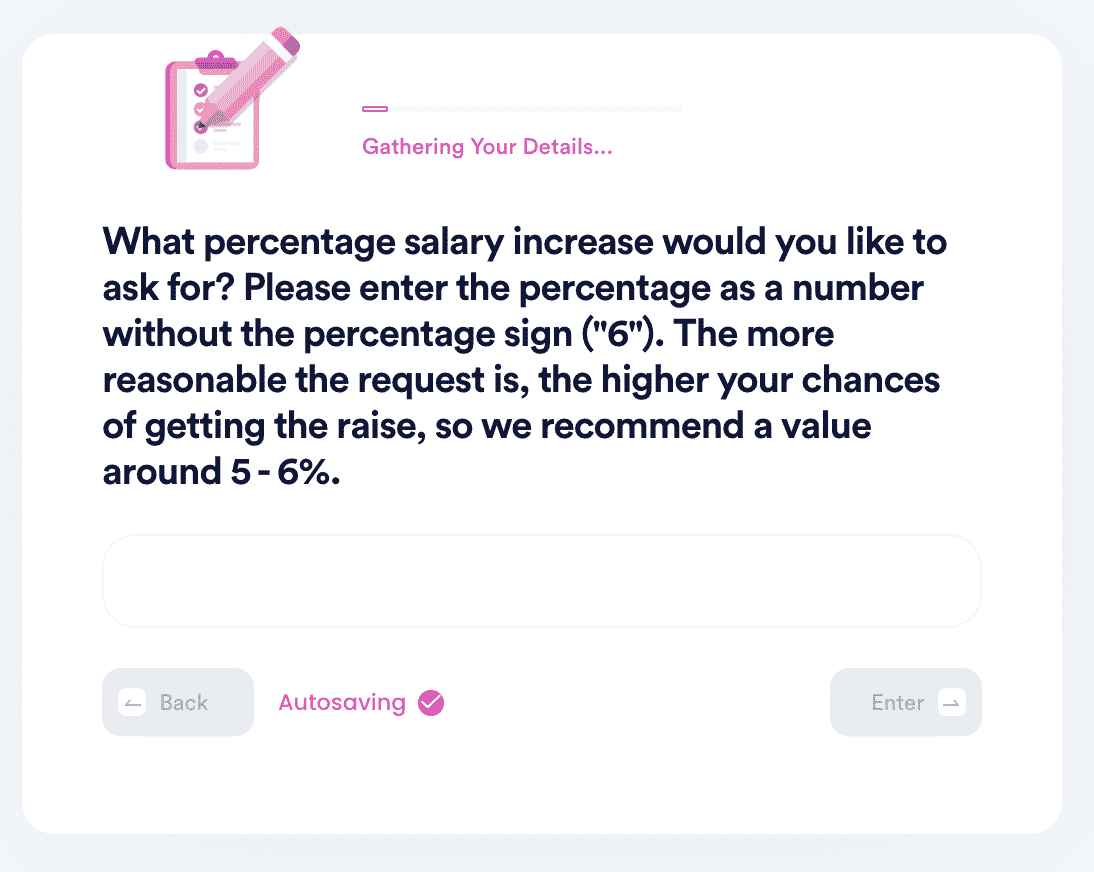 4. List your recent goals and accomplishments to make a more convincing argument for your raise.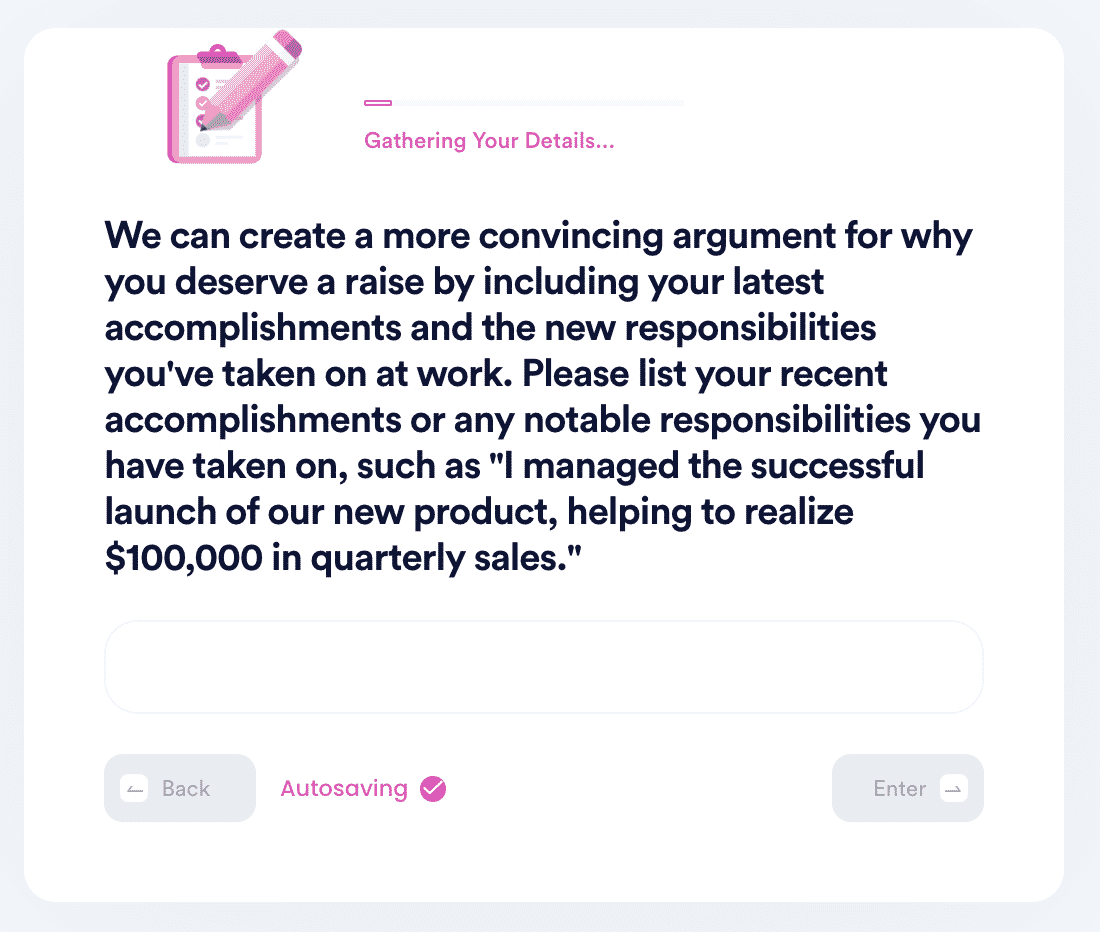 5. Choose whether you would like us to email this request to your manager/supervisor on your behalf. If not, we'll generate the request as a PDF that you can deliver to them yourself.
Why Use DoNotPay to Write a Pay Raise Email
The last thing you want is to write a poorly worded email that doesn 't get your point across. With DoNotPay, you'll see a list of sample sentences and questions to help you write your email so it's as clear as possible.
This is a great tool for those who are really struggling with writing their emails or even those who are just looking for a little inspiration. You don't have to feel like you're not good enough or like you don't deserve it - DoNotPay is here to help and make your life a little easier.
DoNotPay Can Help With All Pay Raise Emails Across Every Industry
Whether you're a lawyer, a teacher, or even an IT professional - DoNotPay is here to help with any pay raise email. It doesn't matter what kind of job you have - DoNotPay is ready to help with any pay raise email!
DoNotPay can help you ask for an increase in pay with your current employer or negotiate a new salary when starting at another company.
No matter what you're trying to ask for, DoNotPay has the perfect template with sample sentences of how to phrase your email.
What are you waiting for? Use DoNotPay to get the pay raise you deserve!