Easily Get Free Gas With QuikTrip's Fuel Rewards
Purchasing an item at any QuikTrip store can get you rewarded with loyalty points. You can claim the using your loyalty points to reduce your fuel costs.
You have to present your card at the pump to enjoy the reduced fuel price. However, your card might get lost, misplaced, or stolen. Lacking the card can cause frustrations as you will have to purchase fuel at a non-discounted price. DoNotPay saves you from the inconvenience by letting you redeem the points from your phone.
What Are Fuel Rewards?
A fuel reward program is a loyalty program that helps you save money by paying less for fuel by using shopping points from a particular store. You can instantly redeem fuel rewards, unlike traditional reward programs, where you have to attain a specific goal to redeem the points.
To earn fuel rewards, you only need to shop, dine or buy groceries and medicine at participating stores with the fuel reward program to get cents per gallon discount on fuel. The points lower the fuel price while at the participating fuel pumps.
In addition, some fuel reward programs offer benefits and discounts that you earn by paying for gas with a credit card.
What You Need to Know About QuikTrip Fuel Rewards Program
At QuikTrip, you can accumulate your rewards points to get larger discounts. However, the points expire after one year from the time they were earned. Plus, there's a limit to the number of rewards that you can use due to pump limitations.
You can only redeem the points up to the price advertised at the pump. The remaining points will continue to be accumulated in your account for later fuel purchases. There are three types of cards within the QuikTrip reward program. They are:
QuikTrip gift card - The card is for anyone who is within a particular budget for a specific amount of fuel, food, or drinks.
QuikTrip fleet Mastercard - With this card, you can set control, including the spending limit. You can customize the reports and manage your account online with 24-hour customer service. The card helps you save 5 cents off per gallon at every QuikTrip location.
QuikTrip fleet Mastercard plus - The Mastercard plus provides the basics of fleet Mastercard benefits with an added convenience of up to 90% card acceptance of fuel nationwide. Depending on your monthly fueling volume, you can save up to 3 cents off per gallon at every QuikTrip location.
Below is a table that summarizes the fuel reward program at QuikTrip convenience stores.
| | |
| --- | --- |
| Savings/ gallons | Save up to 5 cents off per gallon |
| How it works | The members will save 3 to 5 cents depending on their card. In addition, they can only fuel up to 20 gallons of fuel |
| How to sign up | Create a new account by filling in the necessary details on the QuikTrip webpage |
| Additional benefits | There is no limit to how many points you can accumulate |
| Where is it available? | QuikTrip stores, Lil' Reasor's fuel station, and other participating fuel stations |
How to Sign Up for QuikTrip Fuel Rewards Program on Your Own
To claim QuikTrip fuel rewards, you must be a QuikTrip member and hold an account with them. To become a member, you can register in one of the following ways:
Register Online for the QuikTrip Fuel Rewards
You can register through the store's website to enjoy unlimited offers and fuel discounts at all participating stores. To apply for the fleet MasterCard, visit their website, fill in the form with all the necessary details, and submit it for approval.
For the fleet MasterCard plus, you can also apply online by visiting the website and filling out all the necessary details. After completion, submit the form by clicking continue. You will receive a confirmation email after a successful registration.
Your account will be ready for use after getting the confirmation email. Use your card details when redeeming the points at any QuikTrip store or any participating fuel stations.
Sign Up for Fuel Rewards via the QuikTrip App
Download the QuikTrip application from the App Store or Play Store. If you registered through the website, use the details to log in to your account and start enjoying the cardless form of redeeming points.
However, if it's your first time, create a new account by specifying the type of card you'd like. Fill in the presented form with all the necessary details and wait to get a confirmation email. Upon receipt of the email, your account is now active and ready for use.
Register for QuikTrip Fuel Reward via Phone
QuikTrip reward programs cannot be registered by visiting the stores. However, you can contact the customer service team by calling them on 1-888-737-7633 or sending a note through the form provided on their website. The team will assist you with the registration process.
How to Sign Up and Claim QuikTrip Fuel Rewards with the Help of DoNotPay
Relying on your card to claim fuel rewards is not ideal especially when you lose it or forget it at home. DoNotPay provides you with a better alternative to claim your fuel rewards straight from your phone and take advantage of Quiktrip fuel discounts.
If you want to get discounts and rewards for fuel but don't know where to start, DoNotPay has you covered in 3 easy steps. These are:
1. Open DoNotPay and click on the Fuel Rewards Product.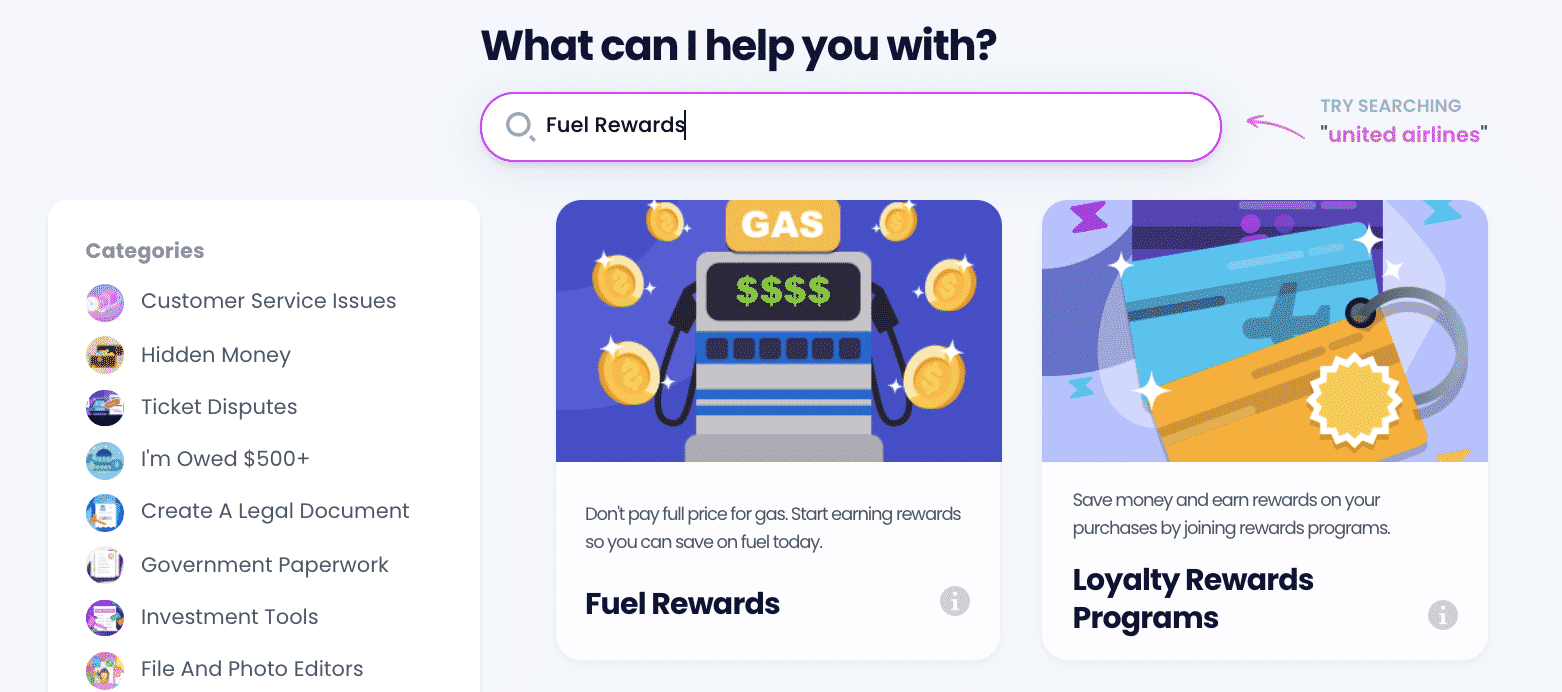 2. Choose whether you would like to 1) Sign up for a new rewards account, 2) See your Alt ID, or 3) Check on your fuel points. If it's your first time using our product, you'll be prompted to sign up for a rewards account first.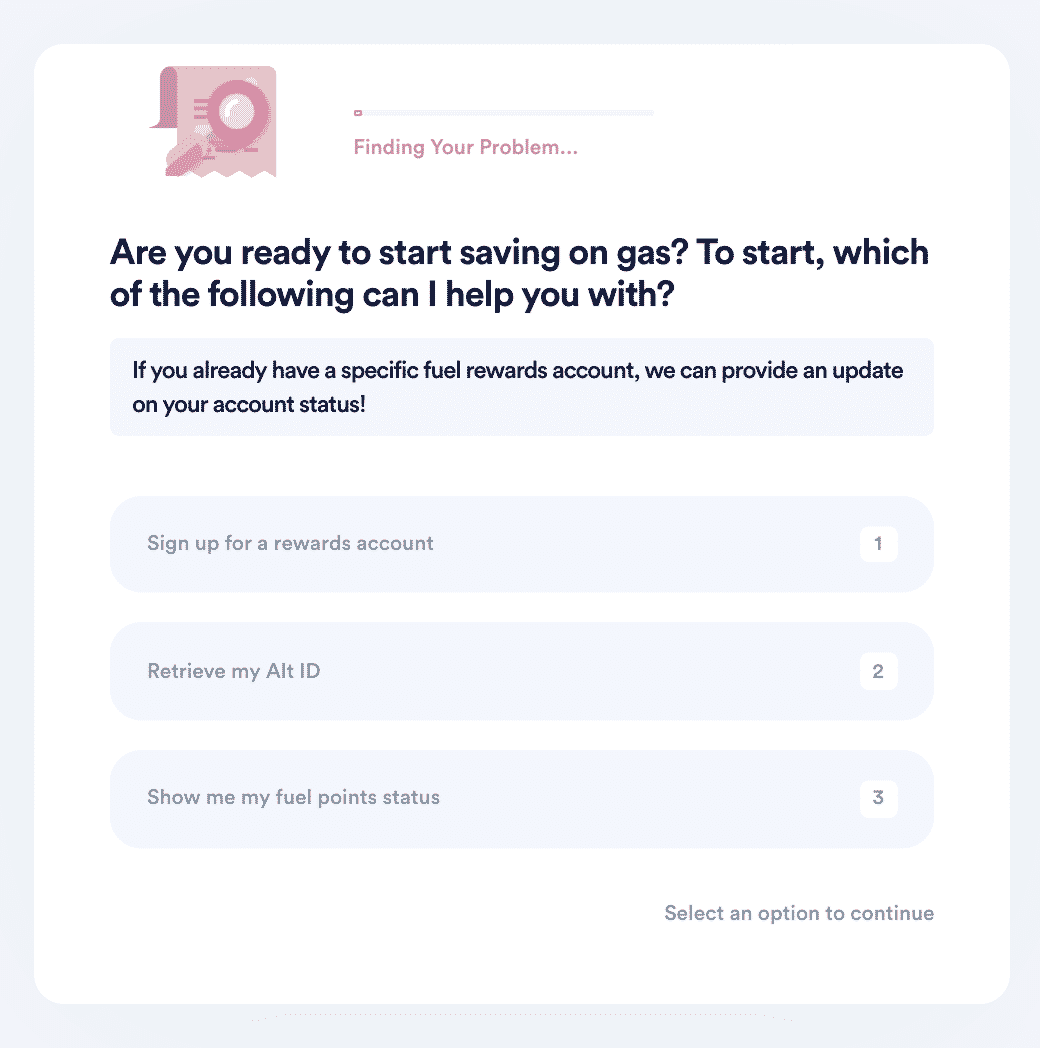 3. If you choose to see your Alt ID or fuel points, DoNotPay will display that information for you. Otherwise, we'll guide you through a few questions so we can sign you up for a rewards account at your favorite gas station on your behalf.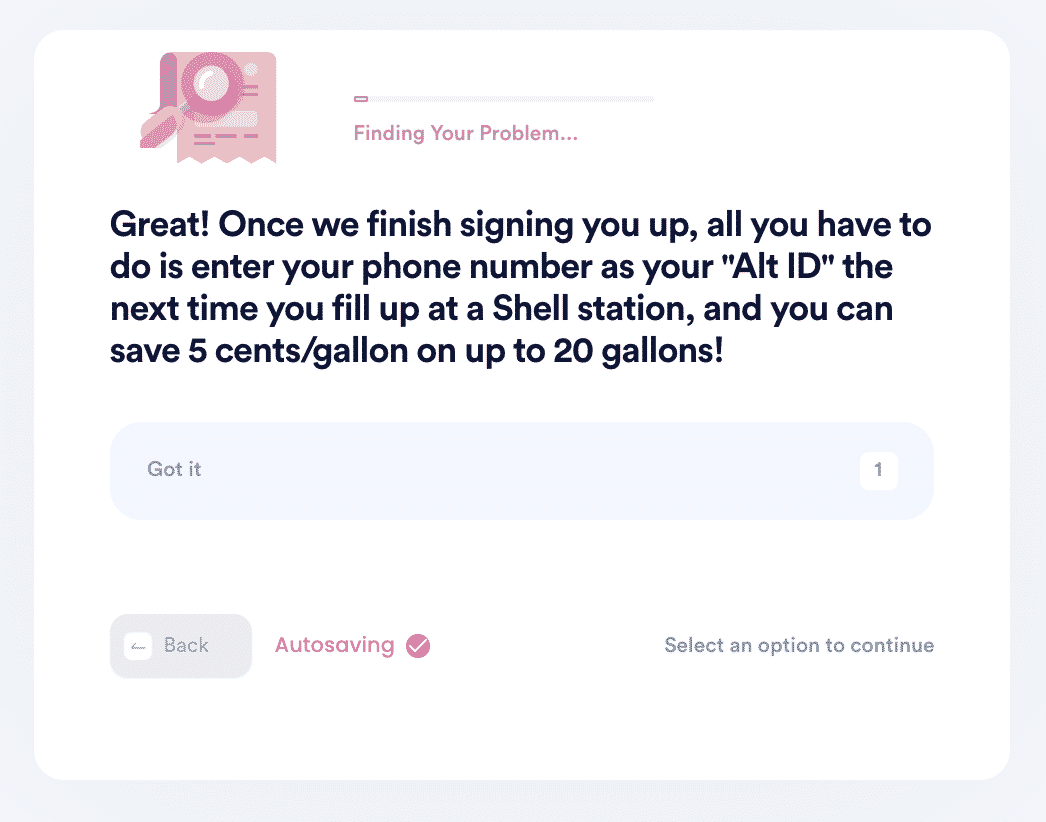 DoNotPay Works Across All Companies/Entities/Groups With the Click of a Button
DoNotPay helps you access, redeem, and track your QuikTrip fuel reward points conveniently. In addition, you can receive other promotional messages concerning the latest items in the stores with great discounts. To claim your , you must have your card with you at the station. If you lose your card you may end up missing out on great discounts. DoNotPay allows you to claim your QuikTrip fuel rewards without a card, by simply tapping on your mobile device. Other companies you can find on DoNotPay include:
Shell Fuel Rewards Guide

BP Fuel Rewards Guide
DoNotPay provides you with access to a variety of other services straight from your device or browser, including:
Sign up today to access convenient services with DoNotPay.