Easily Get Free Gas With Kwik's Trip Fuel Rewards
A great way to save money while spending it is by joining a reward program like the program. When you claim your rewards, you get to buy gas at a discounted price. You can earn your loyalty points by dining, shopping, or purchasing medicine and groceries.
To access your points, you are often required to log in through your browser, and it's not uncommon to forget your login details. In this case, you will end up using money to purchase gas at a non-discounted price. However, by using DoNotPay, you can access your points without logging in multiple times and enjoy discounted fuel and gas prices.
What‌ ‌Are‌ ‌Fuel‌ ‌Rewards?‌
A fuel reward program is a loyalty program that saves you money by paying less for fuel through points. The program works by adding shopping points from a particular store to purchase fuel or gas at a lower price from participating stores.
In addition, some fuel reward programs offer benefits and discounts on top of any rewards that you can earn by paying for gas with a credit card. For example, the fuel reward program helps you get cents off every gallon of fuel purchased.
You can buy groceries, shop, or dine at selected stores with a fuel reward program to earn fuel rewards. The total points are combined to lower the fuel price when you redeem the points to pump gas or fuel.
What‌ ‌You‌ ‌Need‌ ‌to‌ ‌Know‌ ‌About‌ ‌the‌ ‌Kwik Trip ‌Fuel‌ ‌Rewards‌ ‌Program‌
You can earn fuel rewards from Kwik Trip by purchasing qualifying in-store items. Most of the items have a gray label that shows the number of rewards you will earn after buying the item.
Notably, you can only redeem your fuel rewards once on a single fuel purchase with a limit of 30 gallons. For instance, you can't combine 10 gallons from one pump and 20 gallons from the next pump to use a discount on the combined 30 gallons.
There are three types of Kwik Trip rewards:
Kwik rewards - The rewards under this category include: discounted fuel price, an exclusive coupon, free food, and merchandise.
Kwik rewards credit and debit - Under these groups, the rewards include automatic 3 cents off per gallon of gas, 5% off most in-store purchases, and the basics of Kwik rewards.
Kwik rewards fleet - Here, the rewards include getting points for buying commercial fuel, earning points based on your monthly amount spent on selected fuel stations, and earning digital punches by swiping your rewards card with qualifying items.
Below is a table with a summarized format of how the fuel reward programs work.
| | |
| --- | --- |
| Savings per gallon | Kwik Trip members will receive $0.019 for up to 30 gallons. |
| How it works | The members will receive $0.019 per gallon for up to 30 gallons, valid for single-use only. |
| How to sign up | Pick up a Kwik Rewards card at any Kwik Trip location, then register it online. |
| Additional benefits | There are many types of fuel and gas offered by Kwik Trip, allowing you to choose the best. |
| Where is it available? | Kwik Trip gas stations and participating Shell gas stations. |
How to Sign Up for Kwik Trip Fuel Rewards Program on Your Own
There are three main ways to become a Kwik Trip member and save on gas with the reward program.
Online Via Kwik Trip Website
For you to register for an online account with Kwik Trip, you need to pick up your card at any Kwik Trip store. Then, visit their website and enter the 16-digit code found on the card for registration. Fill in the application form with your details, including a valid phone number and email address.
To apply, you must be at least 13 years old to join and if you're a minor, you'll need permission from your legal guardian or parent to enroll in the fuel reward program. When your details are verified, the account will be activated and your card will be ready for use at any Kwik Trip store.
Using the Kwik Trip App
Download the Kwik Trip application on the App Store or Play Store. Use the same log-in details you created during website registration. If you have forgotten your email or password, click log in, then forgot password, and follow the prompts.
If you do not have a rewards account, visit the nearest Kwik Trip store near you and pick up a physical card. The card will have a 16-digit code that you will use for registration. After entering the code, click sign up and fill in the form with the necessary details.
In-Person Registration
Although you cannot register for the reward program at the store, you can always visit your local Kwik Trip store during business hours and days. Seek help with registering your cards online or via the application.
Call/Mail
Alternatively, you can call 608-781-8988 or send a mail to:
Kwik Trip, Inc.
1626 Oak Street, P.O. Box 2107
La Crosse, WI 54602-2107
How to Sign Up and Claim KwikTrip Fuel Rewards With the Help of DoNotPay
You don't have to leave your house or make any phone calls to claim your Kwik Trip fuel rewards. DoNotPay can help you claim your fuel rewards with the click of a button.
If you want to get discounts and rewards for fuel but don't know where to start, DoNotPay has you covered in 3 easy steps. These are:
1. Open DoNotPay and click on the Fuel Rewards Product.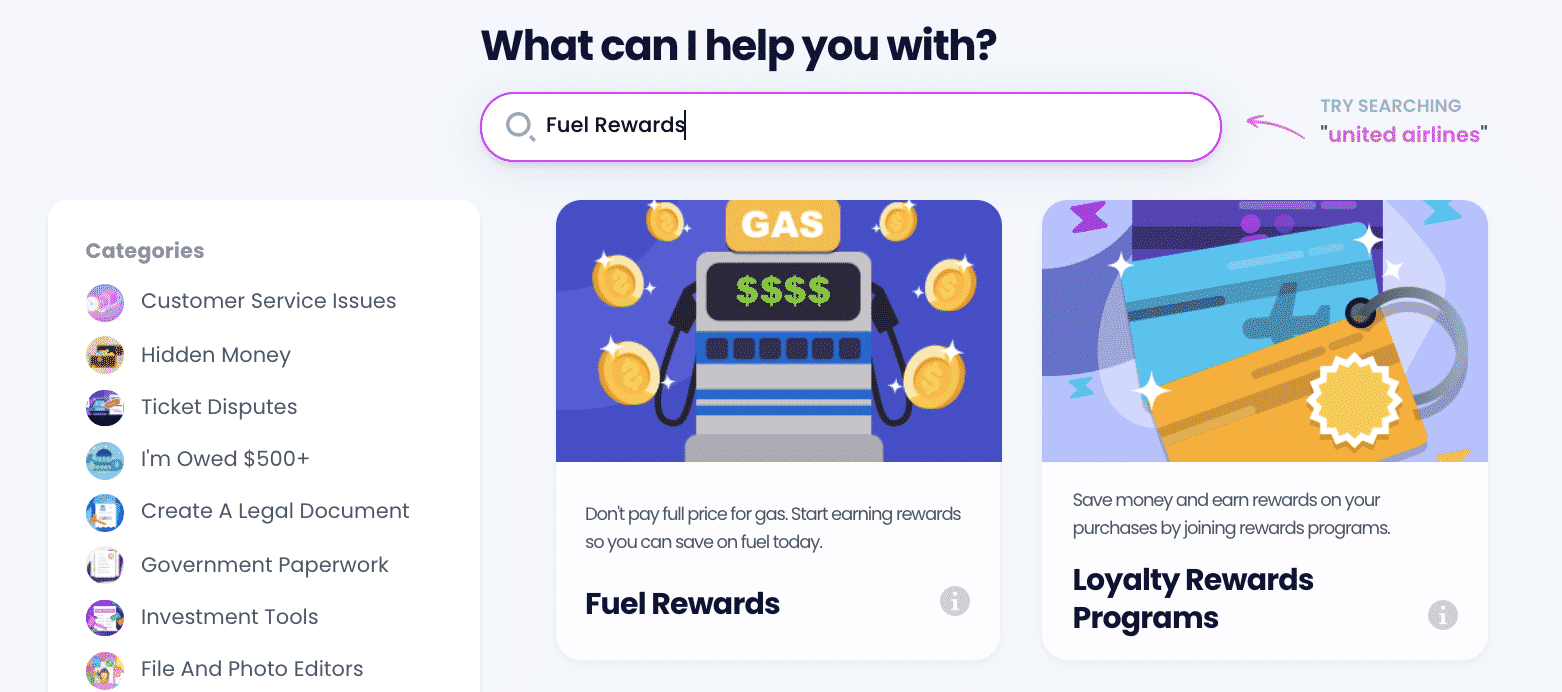 2. Choose whether you would like to 1) Sign up for a new rewards account, 2) See your Alt ID, or 3) Check on your fuel points. If it's your first time using our product, you'll be prompted to sign up for a rewards account first.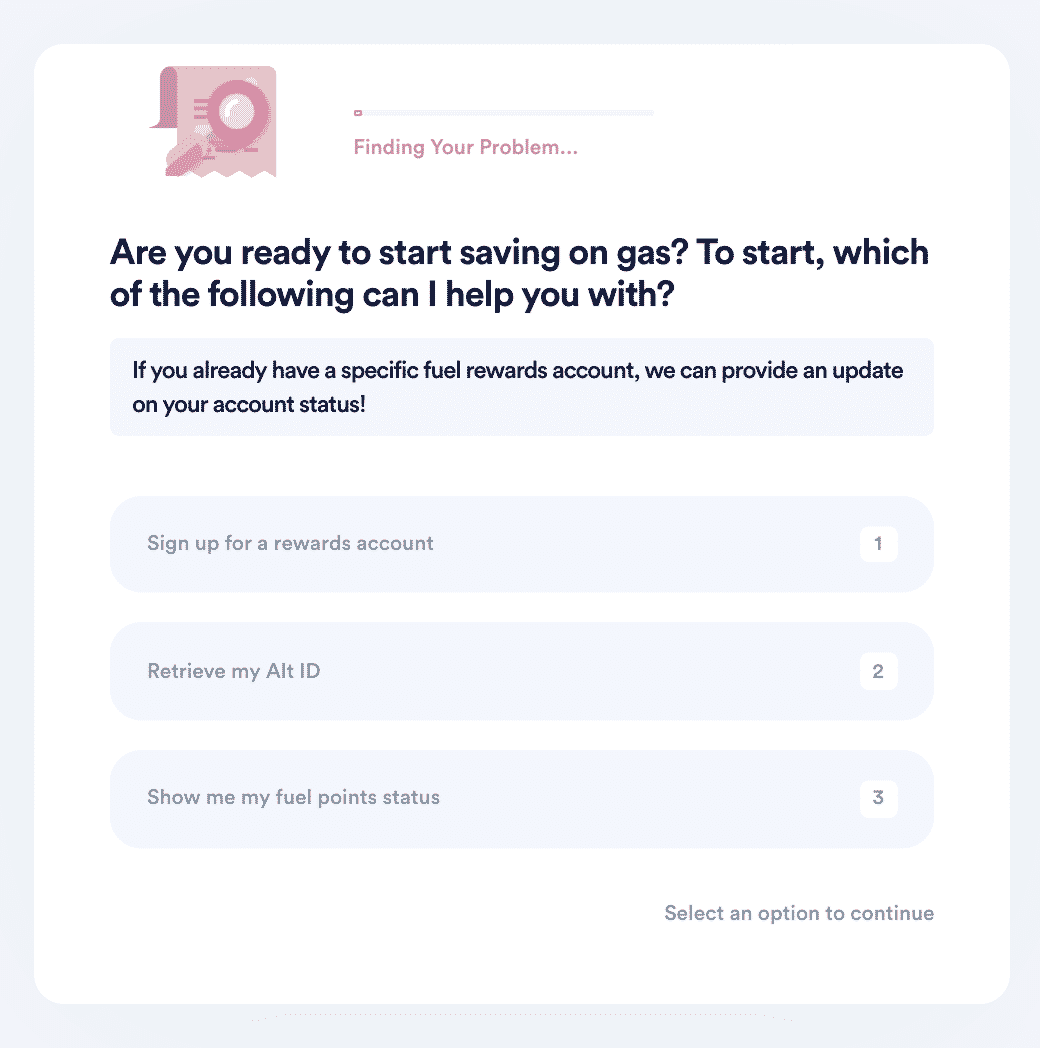 3. If you choose to see your Alt ID or fuel points, DoNotPay will display that information for you. Otherwise, we'll guide you through a few questions so we can sign you up for a rewards account at your favorite gas station on your behalf.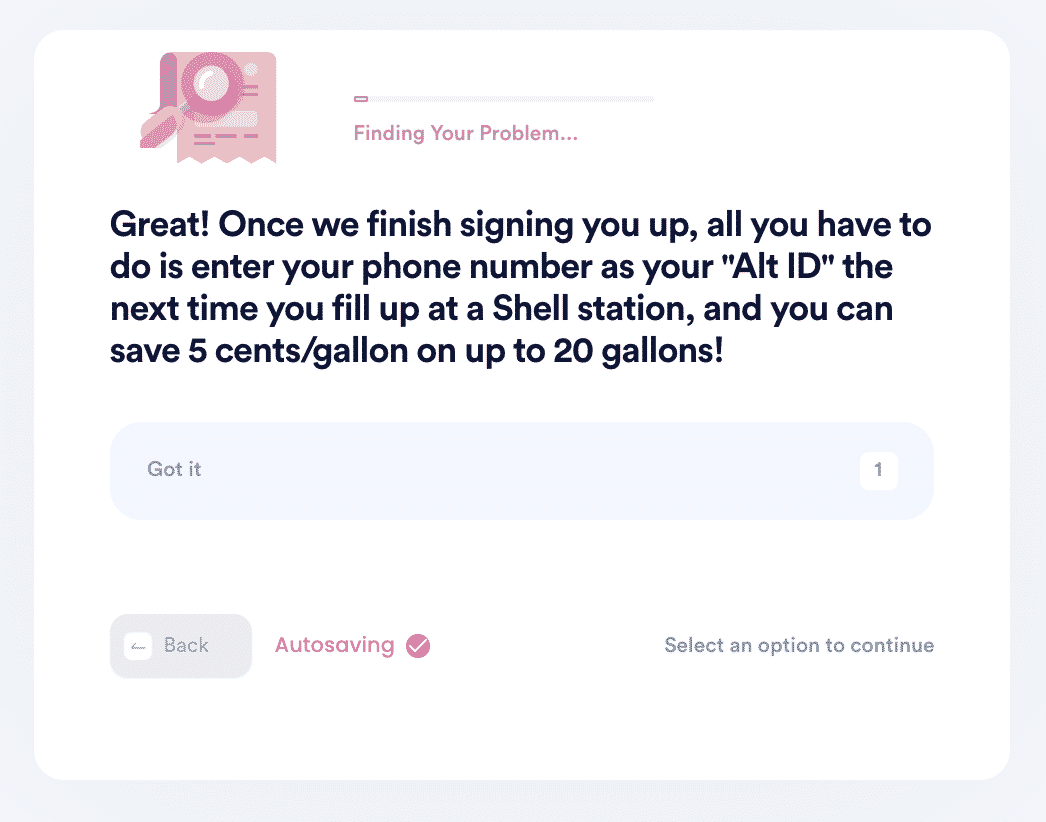 DoNotPay Works Across All Companies/Entities/Groups With the Click of a Button
DoNotPay helps you access, redeem, and track your fuel reward points conveniently. In addition, you can receive other promotional messages concerning the latest items in the stores with great discounts. Claim your using DoNotPay and enjoy fast, secure, and reliable services. Here are the companies that we can help you with:
Shell Fuel Rewards Guide

BP Fuel Rewards Guide
Other Services You Can Access Through DoNotPay