My Car Was Repossessed, What Are My Rights?
When lenders or collection agencies use their authority to take your property to settle a debt, you are subject to repossession. However, borrowers also have rights.
When a car is seized, repossession regulations and consumer safeguards prevent lenders and repossession businesses and agents from behaving unlawfully.
Your creditor has the authority to repossess or take back your automobile without having to go to court or, in many places, without prior notice.
Taking back a car that has fallen behind on payments is perfectly lawful.
Keep in mind that you used an automobile to secure a loan. The collateral protects the creditor. To repossess your vehicle, no judgment is required.
However, wrongful repossession is illegal. If your vehicle was wrongfully repossessed, DoNotPay can help you file a demand letter for unlawful possession using your state's laws and help you reclaim your car.
Car Repossession Laws Vary by State
After one late or missed loan payment, California law allows automobiles to be repossessed. Cars can also be repossessed if you do not make insurance payments on time. There is no legal requirement for a grace period, and the repossession company is not obligated to notify you that your automobile is being repossessed.
A lender may include a grace period in a contract and send you a letter stating that they will repossess your vehicle, but these activities are not legally required.
However, you are entitled to multiple written letters following the repossession, including one outlining how to reclaim your car. Also, when the repossession agent comes to take your automobile, they are limited in what they can do.
Here are the ways to help you get back on your feet after a repossession:
Inquire why your vehicle was repossessed.
Check to see if you can get it back.
Understand your legal rights.
If they have sold the automobile, find out if you owe any money.
Improve your credit score by squaring up with the bank after a repo.
What is a Breach of Peace?
A breach of peace exists when a repo agent acts violently or is abusive to you. The legislation prohibits a repo person from causing a "breach of the peace during the repossession procedure." Using or threatening physical violence and breaking into locked facilities breaches the peace during a car loan repossession.
What Is Wrongful Repossession of a Vehicle?
Wrongful repossession occurs when the lienholder takes back the collateral you put up for your loan, either intentionally or unintentionally.
The repossessors should respect your right to privacy and should not take your automobile from your home without legal authorization. They should do it professionally, without resorting to threats or deception.
How Repo Agents Must Behave During a Repossession
Actions Repo Agents Cannot Lawfully Do:

During the repossession, they cannot damage your property or car.
They can't enter your house unless you permit them.
They won't be able to get into your locked garage to get to your automobile.
If the police come, the repo agent won't be able to threaten you with arrest or force you to hand over your keys.
"Break the peace" by behaving badly or threatening you with physical violence.
What Happens if You Don't Pay
Most states have thorough repo laws at this point. Although these businesses are not required to give you notice before a repossession, they must send you a post-repossession notification. If they don't comply, or if the notification is incorrect, they will be unable to make any judgment in court.
The creditor can often repossess your vehicle even if you are only one day late on a payment in many states.
What do you do if your Car is Illegally Repossessed?
Repossession can be illegal at times. Hiring a lawyer might be quite beneficial if your car was taken illegally from you without your permission. A good lawyer will tell you if the repossession was legal or not. They will then submit a complaint with the lender or sue them in court to help you take back your vehicle.
If you believe your car was taken from you even though your payments were made on time, contact DoNotPay.
Can You Sue for Wrongful Repossession?
Yes. You could seek damages if your car was unlawfully repossessed. You can sue the repo firm (and the lender) for damages if they unlawfully repossess your vehicle. The defendants may be required to pay your legal fees and court expenses, depending on the circumstances.
Alternatively, if they don't comply with your demand for compensation, you can escalate the case to Small Claims Court using DotNotPay's Sue Now product.
How to let DoNotPay Help you with Car Repossessions
DoNotPay can help you file a demand letter for wrongful possession using your state's laws and help you reclaim your vehicle. If the repo is valid, you will have to pay off any balance you owe to reclaim your vehicle. If you can't afford the payments, DoNotPay can help you ask for a payment plan or negotiate the balance you owe.
1. Search "car repossession" on DoNotPay and select whether your car has been repossessed or is in danger of being repossessed.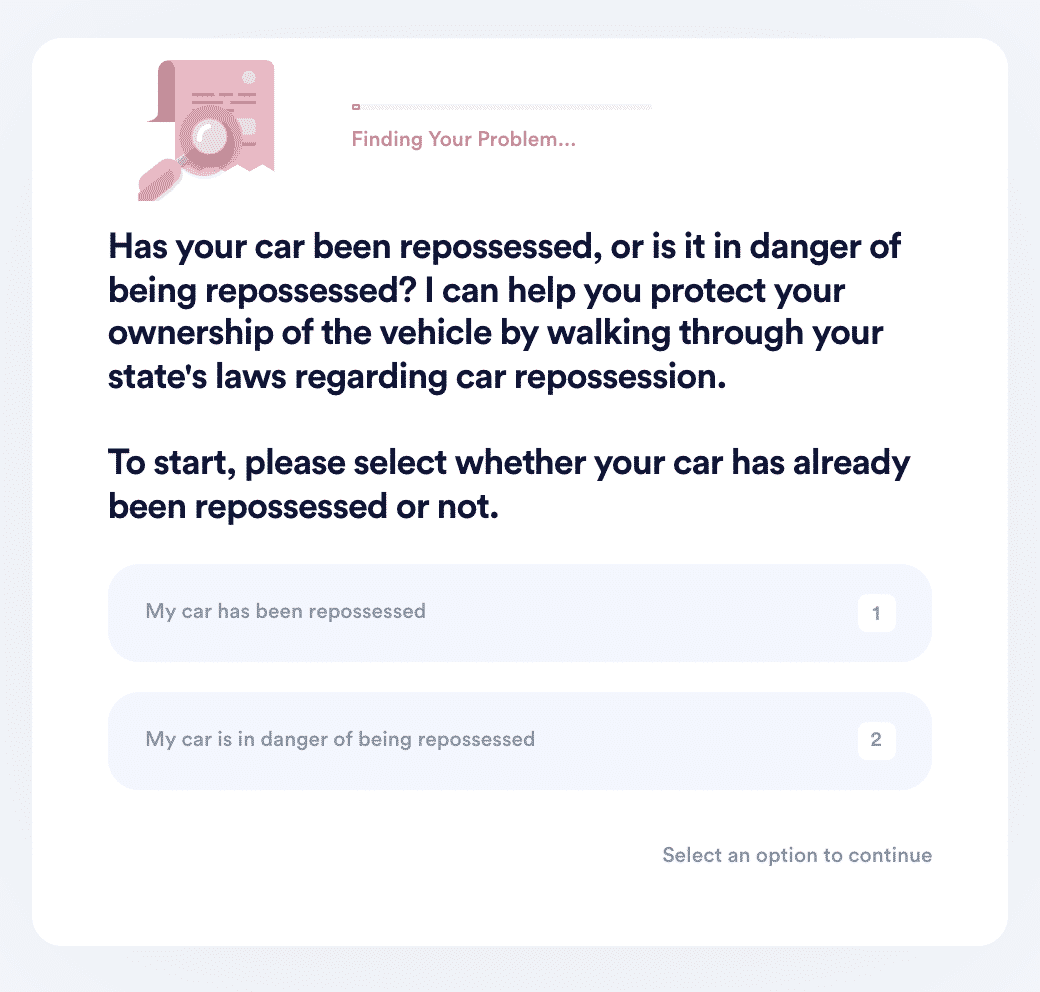 2. Enter the state you financed this vehicle in, and let us walk you through your state's repossession laws to see if your car was or is being wrongfully repossessed.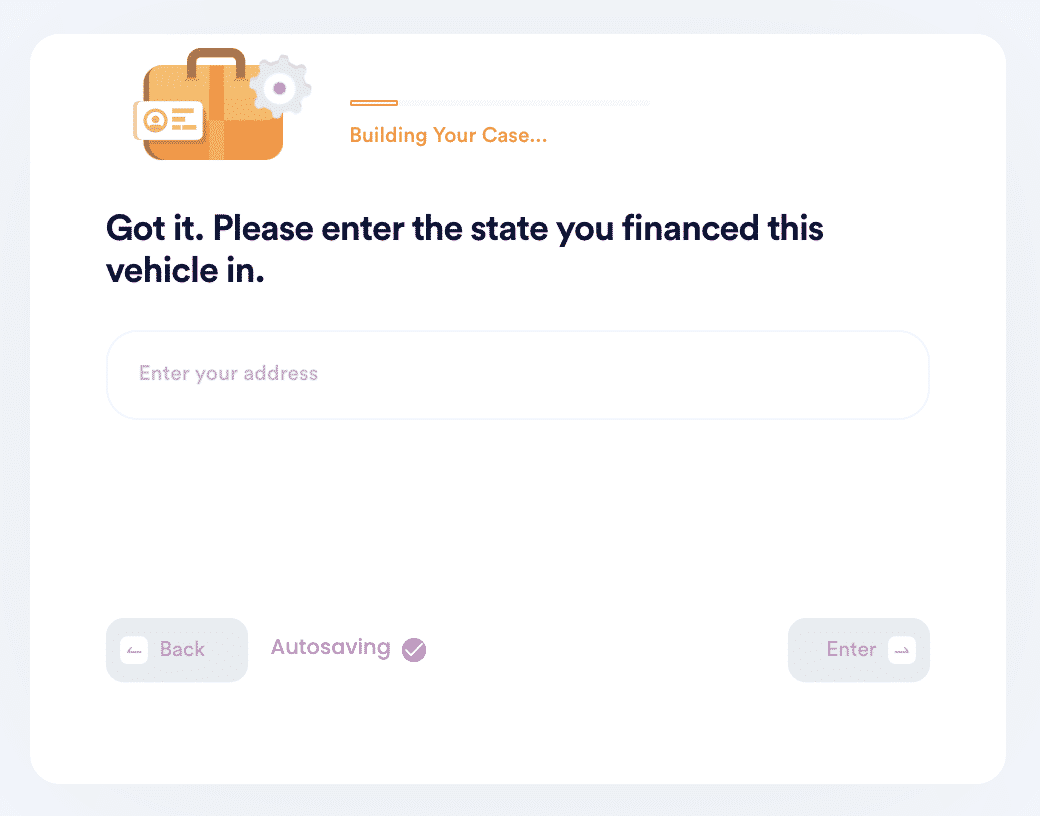 3. If we can make a case for wrongful repossession, DoNotPay will file a demand letter on your behalf to the lender to fight against.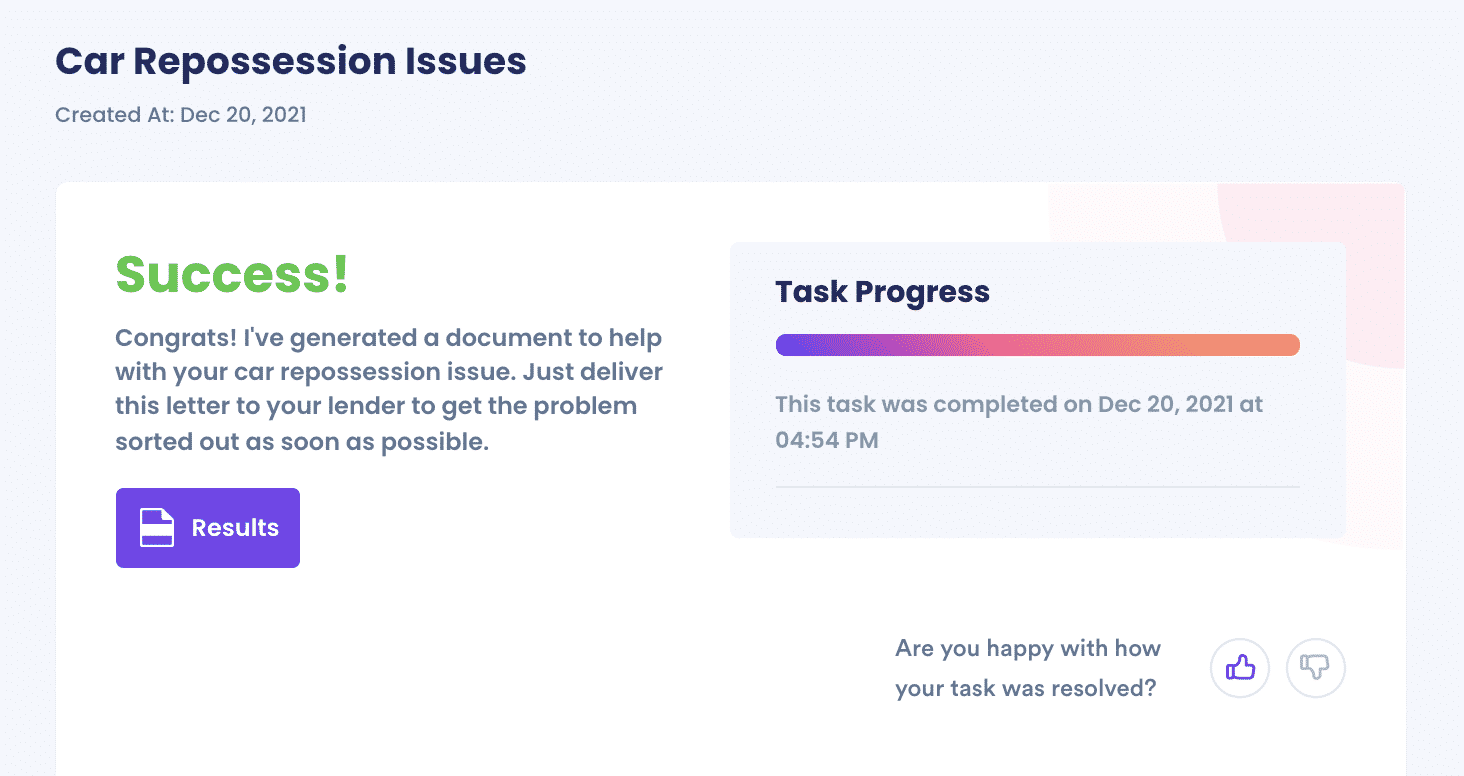 And that's it! DoNotPay will make sure your problem gets sent to the right place. We'll upload confirmation documents to your task for you to view, and if the contacts need information, they will reach out to you personally.
Why Use DoNotPay to Help you with Car Repossessions
DoNotPay is the best option because it's:
1. Fast—You won't have to wait hours for your automobile to be repossessed.
2. Easy—You won't have to waste time filling out lengthy documents or keeping track of all the stages involved in repossessing your vehicle.
3. Successful—You may rest comfortably that we'll present your case in the best possible aspect.
DoNotPay Works Across all Companies/Entities/Groups with the Touch of a Button
DoNotPay can help you resolve other issues with many distinct entities. If you're having financial troubles, try it for:
Canceling timeshare contracts
Avoiding evictions
Saving money on hotel fees
And more
But that's not all.
What Else can DoNotPay Do?
DoNotPay also offers other services, like:
Was your car wrongly repossessed? DoNotPay can assist you in filing a demand letter for wrongful possession and reclaiming your vehicle using your state's laws. Also, if the repossession was genuine and you can't make the payments, DoNotPay can assist you in requesting a payment plan or negotiating the outstanding sum. Try it today.